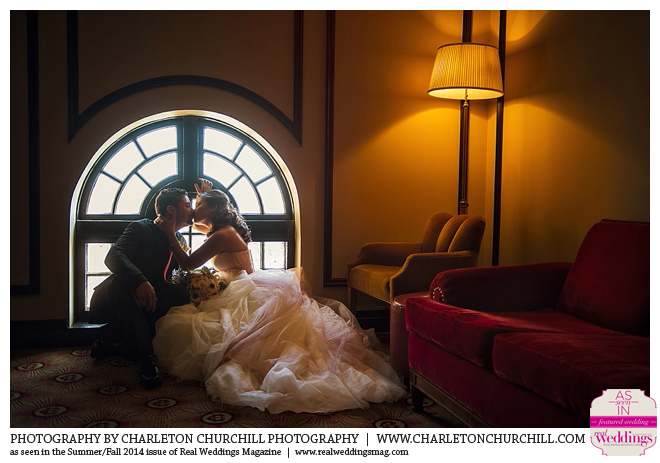 Sparkling in hues of lavender, pink and ethereal light, the Crocker Art Museum took on the glow of a fairy tale for the June wedding of Sandra and Hendrick. The fairy tale inspiration was Alice in Wonderland, and the architect of the fit-for-a-princess wedding was the bride herself, a fashion and event producer for the entertainment industry.
The museum, however, wasn't the only thing sparkling and perfectly color-coordinated on that sun-dappled day: The bridesmaids glowed in short chiffon pink dresses, and the groomsmen wore ties to match. Sandra's elegant and whimsical strapless gown flitted and flowed through the wedding and reception, which Sandra terms "a dream come true and just as I imagined it."
The matching of the wedding party's attire reflected the best match of all—Sandra and Hendrick, who waited long enough in life to know their perfect match when they saw it. At least Hendrick knew. Recalling their meeting through a mutual friend at a pool party Sandra hosted, Hendrick says, "I knew she was the one the moment I saw her, but I played it cool for a while. Maybe not the best plan, but I have to do what works," he jokes. Trust between them quickly formed, and that trust is what they consider their strongest attribute together.
Eventually, Hendrick asked Sandra to marry him, and the planning of their special day swung into motion. Sandra recalls some frustration with certain elements during the planning process, as well as getting Hendrick involved. "He kind of stepped back from the planning, but I'd get upset and he'd straighten up for a while," she laughs.
Sandra's intense efforts and detail orientation paid off when 150 guests joined them for their special day. The ceremony took place outdoors in the courtyard, which was adorned with Alice in Wonderland-themed backdrops, including life-sized custom-made chess pieces and a potion bottle. Hanging from the trees were glass-spun ornaments to catch the light; the aisle was decorated with moss cones and lovely flowers inside; and as an added—and adorable—touch, the flower girl held a moss-flocked teapot for her petals and the ring bearer carried a moss-flocked top hat.
"I will never forget the look in my parents' eyes," recalls the groom. "I have never quite seen that look before and it was very special."
The couple cherished the ceremony being conducted by their church pastor, and their family and friends gathering around them as they exchanged vows. Hendrick recalls, "I will never forget the look in my parents' eyes—I have never quite seen that look before and it was very special."
At the indoor reception within Friedman Court, the magic continued with Sandra's impeccable decorative touches throughout. The dramatic environment was lightened up by humorous touches, the highlight being Hendrick's uncle going full "Ron Burgundy" on the jazz flute.
With their wedding's blend of romance, beauty, humor and family, the duo began their life together exactly the way they dreamed and deserved. And as an added bonus, they are now expecting their first child. Could there be a little Alice in their future? OO
—Carrie Poggio