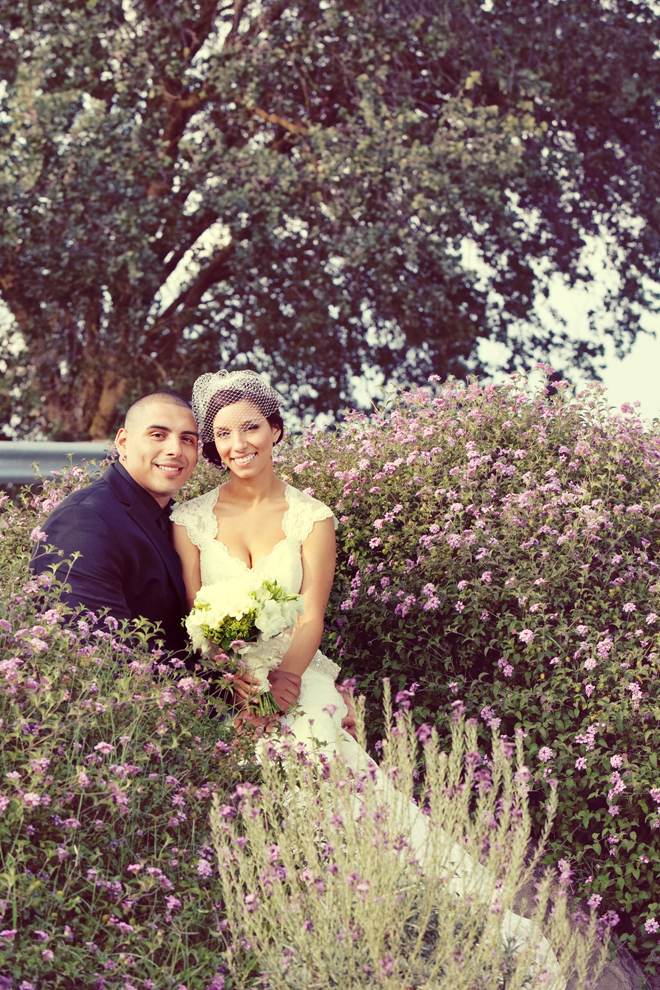 Sometimes romance comes a knockin' twice. After meeting at a bar in downtown Sacramento, Serina and Mike went on a first date, and while they both had a great time—they didn't get together a second time.
But as fate would have it, the chemistry moment struck months later when they saw each other back at the same bar on Serina's birthday. And this time, things clicked in a major way.
Fast forward a few years—the two were planning a party for friends and took a break to go to the mall where Mike told Serina to pick out an outfit while he secretly slipped away to pick up the ring. Afraid she might put her hand in his pocket, he hid the sparkly treasure in his boot. Afterwards they headed to the park where Mike decided to wait to propose since it seemed a bit too crowded that day. Back at their house he popped the question to which Serina screamed in astonishment. "I think I startled him. I was like, 'No! It's a good thing that I'm screaming.'" That night they were able to celebrate with friends ending the day in a perfect way.
In planning for their nuptials, both were thoughtful to make sure it was special and especially them. After visiting several venues, they opted for the peaceful and exquisite Scribner Bend Vineyards.
Having the festivities in the midst of the vineyard among the lush vines further complemented their color scheme choices of black, green and white. Mike even made the lattice that displayed photos. Quirky Mad Libs let guests give their best wishes in a funny and personalized way.
For the ceremony, both Serina's father and stepfather walked her down the aisle—a truly wonderful moment for her to have them both there supporting her. As for the vows, there were no tears or getting choked up. "We were pretty cool customers," Serina laughs.
The couple decided to write letters to each other beforehand and then placed them in a box for the future. Later, they chose a bottle of wine to be opened in five years when they read the letters and celebrate with friends.
And then the party began. Both remember the dancing as a wonderful time to just hang out with friends who all knew each other. And all of the guests got into the photo booth that was outfitted with eye patches, feather boas and wigs.
Their advice to other couples getting ready to tie the knot is that the whole process should always be seen as fun. "When it inevitably gets a little stressful, just back off and do something you love with the person you love," Serina says.