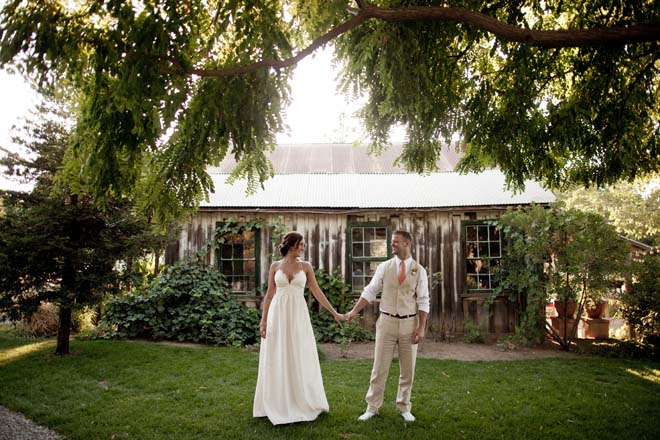 Shawna and Brandon knew each other for years through mutual friends, but it wasn't until a houseboat trip with those friends that the two finally got together. "All I could think the whole weekend was, 'why the heck I hadn't gotten to know this guy earlier,'" says Shawna.
They dated for more than a year and then got engaged in a very romantic way. Brandon, a police officer for the city of Folsom, surprised Shawna, a business development manager for a biotech company, with a night out. After dinner at The Kitchen, they went to the Hyatt Regency Sacramento. The hotel room was filled with "hundreds of candles, roses, a bottle of my favorite wine and an engagement," Shawna says, noting that Brandon recorded the proposal on video.
After an eight-month engagement, they married on a late summer day in front of 175 guests. Brandon's stepfather officiated the ceremony, which also included the couple's own vows.
Shawna and Brandon read love letters to each other during the ceremony.
"By the end of the ceremony there wasn't a dry eye in the house," she says. "It was so filled with emotion, love and happiness."
Brandon's favorite wedding memory was waking up the morning of the wedding. "I woke up to no butterflies, questions, no second thoughts," he says, noting, "I do not think I have ever smiled bigger, laughed harder, or simply enjoyed my life as much as I did on my wedding day."
Shawna didn't want a typical wedding gown so she bought a simple bridesmaid dress and "completely redesigned it." The result was an A-line dress with small straps that crisscrossed under her shoulders, a low back, and a plunging v-neckline.
She accessorized with jewelry, including thin gold hoops with one pearl on each earring and three thin gold chains: "One with the letter M, for Monsoor, one with a cross, and one with my grandmother's pearl," she says.
Brandon and his groomsmen dressed in a tan linen vest and slacks, white shirts with rolled up sleeves and peach colored ties. The finishing touch? White Converse Chuck Taylors.
Bridesmaids picked out their own short dresses, which matched the blush, tan and fawn paint swatches Shawna gave her bridesmaids for inspiration. "This way they knew the color palette!" she says.
Although the couple had a first dance and a parents' dance, they wanted their event to be "a big party rather than the traditional wedding."
Since Shawna and Brandon consider themselves "major foodies," they had their caterer prepare "paella in four-foot wide pans in front of our guests during the cocktail hour," says Shawna. "The paella was filled with different types of shellfish, calamari, chicken, pork and summer veggies."
Instead of wedding cake, the couple served homemade build-your-own ice cream sandwiches from CREAM.
Another part of the wedding fun? A banner in front of the venue that said, "Happily Ever After Starts Here."