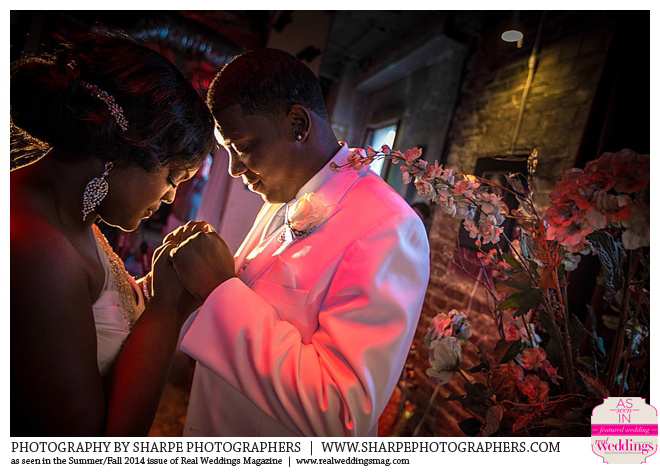 Just call it the "love boat." Sonya and Keenen found love in the middle of the ocean on a cruise in 2010. They first met when Sonya took a picture with Keenen, who was an artist on the One Love Gospel Cruise. Their paths crossed again later that night at an after-party, and they talked until 6 a.m. "I immediately knew this was the man I wanted to marry," Sonya says. "The peace and excitement my heart felt was its way of telling me that he's definitely 'the one!'"
Because Keenen lived in Georgia and Sonya was in California, the beginning of their romance was a little rocky. They took turns visiting each other, and after a vacation to Monterey, Keenen realized that he wasn't going to let this woman go. During a trip to Atlanta, Keenen proposed 72 floors up at a rotating restaurant. Sonya said yes, and they couldn't wait to start planning their wedding.
"My wife was six steps ahead of me when it came to planning," Keenen says. "I have to say that our process was pretty seamless—virtually no hiccups whatsoever. We got the very first venue and church that we picked and everything came together in just five months. To me, it exceeded all expectations." For the bride and groom, the highlight of the planning process was the food and cake tastings. "Every vendor's food was so awesome," Keenen remembers.
For the ceremony and reception, the couple planned to be rather traditional. Keenen followed all parts of something old (a handkerchief from his mom that belonged to his grandfather), something new (microphone-shaped cuff links), something borrowed (an earring from his wife's collection) and something blue (a microphone he used during the reception). They also opted not to see each other prior to the ceremony. And for Sonya, she had to have her father walk her down the aisle. "That moment was extremely precious and valuable to me, because I'm very close to my father and am his first daughter to have a big traditional church wedding," she says.
One wedding tradition they broke was having a wedding that actually started on time! That's when the nerves hit Keenen. "I'm a stickler for time so I got a little antsy, but my best man assured me that everything would be fine. Then, I was back to my nerves of steel," he says.
"I remember seeing my wife walk down and it was almost surreal," recalls Keenen. "I was never the marrying type, but as she walked down the aisle I remember seeing her face and [thinking], 'That's the woman I want to spend the rest of my life with…stinky morning breath and all."
Keenen walked down the aisle with his mother by his side and was moved by seeing all of the people who had been a part of his life gathered for his special day. But once he saw Sonya, she took his breath away.
"I remember seeing my wife walk down and it was almost surreal," he remembers. "I was never the marrying type, but as she walked down the aisle I remember seeing her face and [thinking], 'That's the woman I want to spend the rest of my life with…stinky morning breath and all.'"
—Kourtney Jason