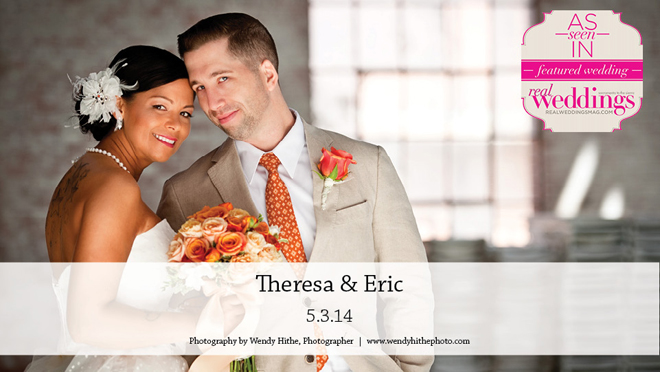 It takes a special person to make the sacrifices needed to serve our country. Theresa and Eric are both part of that elite group of U.S. military. They met while stationed in England, but remained merely acquaintances for nearly a decade. The powers of Facebook reconnected them despite living in two different states. During an annual military awards ceremony, Eric proposed to Theresa, and the event's guest speaker announced the engagement in front of all 300 attendees. The power couple wed by proxy in 2012, but waited until 2014 to have a formal wedding when they could finally be together. Well, that was their plan anyway.
They had saved for a long time in order to pay for their own wedding, but some unforeseen circumstances forced them to dig into their wedding fund. Theresa had already begun planning and working with Marnie Stiles, event coordinator for Carvalho Family Winery, but sadly had to call to either cancel or reschedule the wedding due to both limited funds and not knowing where they would be stationed next.
Unbeknownst to the couple, Marnie gathered some of the area's top vendors who all graciously worked together to create "Operation Wedding" and give Theresa and Eric the wedding they deserved. Before Theresa knew it, they had two wedding planners and all of the vendors they needed offering their services free of charge. The couple was in shock. Carvalho Family Winery, Wendy Hithe, Photographer, Cain Event Planning, Conway Creations and Events, Design with Floraé, Music on the Move DJs and MCs, Reverend Ronald David Beams, Cupcake Magic, Angela Dal Bon for Invitations Ink, About Time Limousine, Camellia String Quartet, Crisp Catering, Celebrations! Party Rentals & Tents and Jimmie Joy Jewels all gathered to make this dream wedding a reality.
The day of the wedding Theresa recalls feeling a little guilty not having to exert any energy or worry about a thing because between all of the amazing vendors and her sister, Yuri, everything had been taken care of. She found herself enjoying wine while getting her hair and makeup done, excited to finally have a "real" wedding.
Operation Wedding was complete with each and every detail the couple could have hoped for and more. Though pink is Theresa's favorite color, she opted for orange and creams to incorporate Eric's favorite baseball team: the Giants. Eric even sported San Francisco Giants socks and shoelaces. She was also able to pay tribute to her Japanese heritage with handmade Japanese crane streamers. Japanese tradition says that 1,001 origami cranes strung up at the wedding will bring the couple good luck. So, thanks to Theresa's sister, there were the requisite number of beautiful origami cranes at the wedding.
One of the most special moments of the wedding was the mother-son dance. Eric's mother had taken ill and was in a lot of pain at the wedding, but managed to boogie down almost the entire night. She passed away exactly three weeks later, making Theresa and Eric all the more grateful that they were able to have the wedding when they did.
We were happy with the way things turned out. Everyone worked so hard to put this together for us and we were complete strangers to them. I felt so lucky, like we had won the lottery," remembers the couple.
A huge Real Weddings thank you to Theresa and Eric and all the men and women who continue to serve our country. And a special thank you to all the vendors who came together to give this couple the wedding they deserved.
—Kelley Saia