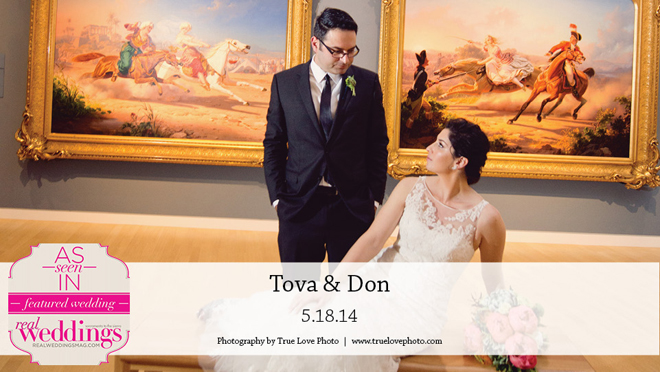 Tova, a resident physician in ophthalmology, was tired from a long, busy day when she arrived at her Los Angeles home and found a surprise. She knew Don, who works in business development for a software company, was visiting from San Francisco on a business trip. But she didn't know he'd filled her entire apartment with flowers and candles. "Don was there. There had been no business meeting and he proposed," Tova says. "It really turned my day around!"
The couple—who met online and had dated for more than  three years before getting engaged—married at the Crocker Art Museum. "It is beautiful and elegant and as a Sacramento native, I appreciated its significance as a local landmark," says Tova. "It's really a special place. In addition, we liked that we could have an outdoor ceremony followed by a reception indoors."
Tova's fit-and-flare gown was sleeveless and lace with an illusion top. She wore an extra long veil as well as pearl and diamond flower earrings that belonged to her maternal grandmother. Don, who wore a charcoal grey suit, was stressed about the wedding, until he saw Tova. "In that moment, I felt this incredible sense of relief and calm," he says.
Their traditional Jewish ceremony, in front of 160 guests, had some modern twists. Even the invitations were written in English on the left and Hebrew on the right. Before the ceremony, they had a tisch (table) where the groom greeted guests, recited a few words and was interrupted by guests' jokes, toasts and songs. "Traditionally, this is for men only, but ours was outdoors and all of the guests could participate," Tova says.
Next came the "bedeken," where Tova and Don signed the ketubah (wedding contract). During the ceremony, they invited family and friends to recite the seven blessings for them under the chuppah.
Lithuania was a common theme at their wedding since that's where Don was born and lived until he was three. It's also the place where Tova's paternal grandmother was born. The wedding program featured a lithograph painted by Don's cousin in Lithuania. "During the ceremony, there was a blessing over the wine," says Tova. "We used a kiddush cup, a ceremonial wine glass, that was used by my great grandmother at her wedding 100 years ago in Lithuania."
Having a Kosher menu was a challenge, but it worked out perfectly. And since neither Tova nor Don wanted wedding cake, they served a plated dessert with mini chocolate lava cake and a lemon pound cake with raspberry sauce, in addition to a candy table.
Don loved having a band that played a mix of traditional Jewish music, Hebrew, rock and soul. Tova's favorite wedding memory was the hora. "We entered the reception hall and immediately launched into one of the most spirited, joyful dances surrounded by all of our guests," she says.
"Every single person was on the dance floor. It was a wonderful feeling to dance with our entire community of family and friends."
—Kristen Castillo