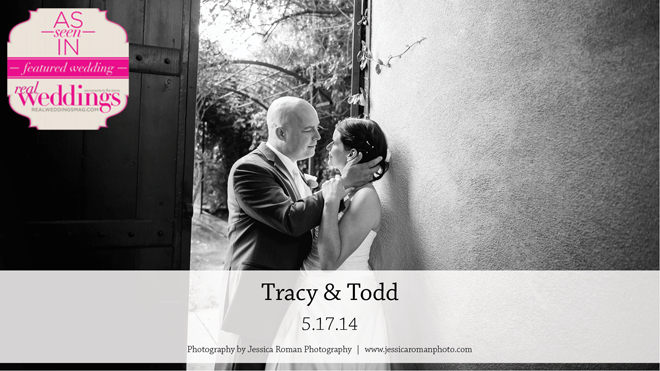 Tracy and Todd's wedding was all about family. Both had been married before and each had two daughters.
"We focused on bringing two families together—more than just two people," says Tracy. "I tried to involve all the girls with the wedding planning."
Tracy, a greenhouse manager, and Todd, a plant manager for a beer company, met through mutual friends at a Memorial Day party. The friend set them up on a not-so-blind date after the party. "We both knew on that first date that we had found something special," says Tracy, noting that Todd called her on his way home from that first date to ask for a second date!
After two years of dating, they got engaged on a family vacation to Maui. A year and a half later, they married in an outdoor ceremony under an arbor at Wisteria Gardens. Eighty guests attended the wedding, including many out-of-towners from Ohio, South Dakota and Nevada.
The couple celebrated family throughout the day, including integrating the parents' entrance into the ceremony, with their respective parents walking up the aisle in front of the wedding party to Louis Armstrong's "Wonderful World."
"The wedding attendants were our children," says Tracy, noting that the grooms "maids" were Todd's daughters, ages 14 and 11; while the bridesmaids were her daughters, ages 21 and 17. The couple had a necklace exchange for their daughters during the ceremony. The bride's mother also made beaded bracelets for all of the bridesmaids, as well as one made of antique beads for Tracy.
"The dress I wore to the wedding was actually the second dress I purchased," says Tracy, who, five months before the wedding, found out that she was pregnant. She had to replace her form-fitting gown with a new one. "I had a corset panel sewn into the back of the gown to give me some room to grow after the final fitting," she says, explaining that she was a little stressed about fitting into the gown on the wedding day.
When Todd, who wore a modern tuxedo, saw Tracy for the first time he thought she was, "the most beautiful thing I've ever seen."
Upon seeing Todd, Tracy says that she was "giddy with excitement." Her favorite wedding memory was seeing her groom get teary when she walked down the aisle.
At the reception, guests enjoyed a buffet BBQ dinner with tri-tip, chicken, pasta and grilled vegetables. For dessert? Cupcakes, cookies, pies, brownies and lemon bars from Above and Beyond Cakes.
The couple gave guests homegrown succulents from their garden, which Todd said the guests really liked. "We used chalkboard paint on the pots so that people could write their names on them," says Tracy, remembering, "the next morning when we were cleaning up, I found a bunch of messages from our guests to us written on the chalkboards.  It was pretty cool."
The couple haven't taken a honeymoon yet because they're busy enjoying married life and parenting—their son Everett Colt was born in July!
—Kristen Castillo