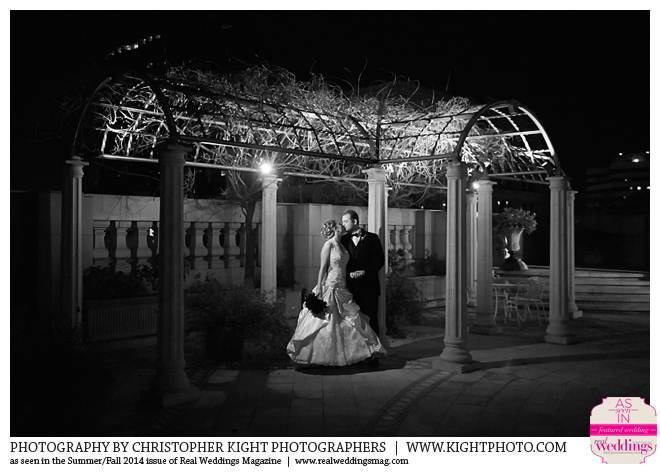 Whitney and Shawn met in high school and started dating in college. Seven years later, they got engaged.
Here's the story: Whitney had her eye on a certain ring and wanted to be surprised for the proposal. That's just what happened when Shawn proposed during a fireworks show (Whitney's favorite thing) the night before Fourth of July. "He put the ring on my finger and we watched the fireworks finale together," say Whitney. "He told me later that his three goals for the proposal were for there to be fireworks, to get the right ring and for it to be a surprise. I told him that he got all three perfectly."
Engaged for a year and a half, Whitney and Shawn married at the Sacramento Grand Ballroom where they celebrated with 105 guests. The bride loved the venue's setup, explaining, "We got married in front of the big revolving door at one end of the room and above us over the door was a beautiful old clock."
"Shawn is my best friend…he truly was the one I wanted to walk out to and marry, and spend the rest of my life with," Whitney says.
The wedding colors, gold and midnight blue, were a fit for the venue's marble, warm lighting and blue and gold ceiling architecture. As a coincidence, blue and gold also matched the couple's school colors, since they're UC Davis alums.
The bride wowed in a sleeveless v-neck Maggie Sottero ball gown, accented by her aunt's wedding veil and her grandmother's diamond watch, which had been from Whitney's great-grandfather. The bride's aunt, Catherine, officiated the ceremony, which included a memorial candle lighting in honor of Whitney's grandparents and Shawn's father, who had all passed away.
While the wedding was emotional, Whitney calmed herself by remembering, "Shawn is my best friend…he truly was the one I wanted to walk out to and marry, and spend the rest of my life with." Shawn, who remembers how "quick and smooth the evening went," says that his favorite moment was "standing in front of the aisle, seeing all of our friends and family, and then seeing Whitney walking out with her father."
With a little help from her bridesmaids, Whitney handmade the invitations. She and Shawn chose a cocktail-style dinner so that "guests could eat, dance, drink and mingle," says the bride, explaining that they had signature drinks, carving and seafood stations, a mashed potato bar, and a dessert station featuring chocolate-dipped macaroons, honey almond bars and a three-tiered wedding cake crowned with Whitney's grandparents' cake topper.
One of the celebration's highlights came at the end of the party. The couple rented the Sacramento Grand Ballroom's roof space for the end of the reception, so that they, along with their guests, could do a New Year's countdown and watch the fireworks show in Old Sacramento. "Since fireworks from Old Town were a part of our engagement, it made it really special," Whitney says.
—Kristen Castillo