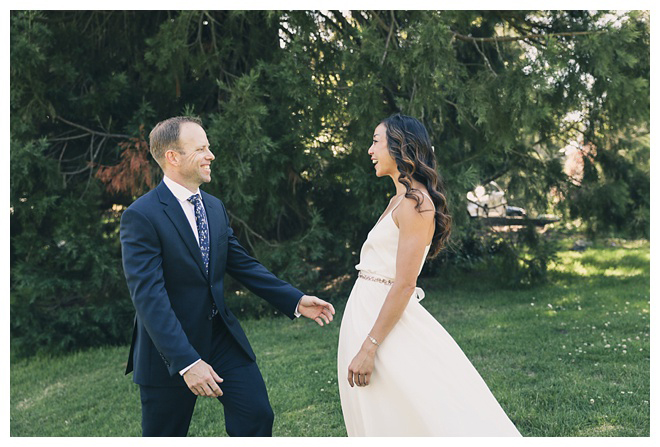 The Couple: Christi & Greg
Wedding Date: June 29, 2018
Photography by Keri Aoki Photography
Tell us a little about you and your beloved: Greg and Christi met through working for Ironman Triathlon, and they actually had their first date on the big island in Hawaii, while they were working at the Ironman Triathlon World Championships. They are both very active and enjoy the outdoors – Greg proposed during a run along the Berkeley Fire Trail at "the bench" which is a special place for Christi, as she used to run there often with her triathlon teammates while she was in college at UC Berkeley. Greg and Christi were living in Fort Collins, CO while planning their wedding and had to do much of their planning remotely, so they based most of their planning off reviews and word of mouth and it went off surprisingly smoothly!
What was the most amazing part of your day? The morning of the big day, we organized a group run/walk up the Berkeley Fire Trail up to "the bench" which takes you to a beautiful view of the bay. This is the place where Greg proposed and our friends secretly brought champagne for a special toast at the top of the bench! We also loved just being surrounded by our friends and family the whole weekend.
Ceremony and Reception Site: The Brazilian Room
Officiant: Marie Claire Lamb
Photographer: Keri Aoki Photography
Caterer: Serves You Right Catering
Cake/Desserts: Eastern Bakery
Flowers: Kay Wolff Design
Bridal Attire: And Something Blue
Bridesmaids' Attire: Various
Hair and Make-up: DIY
Invitations: Shutterfly
Signage: Christi designed all signage (Purchased everything from Michael's)
DJ/Entertainment/Band and Lighting: The Celebration DJ
First Dance Song: "All Around You" by Sturgill Simpson
Any advice you'd give to our readers who are planning their weddings right now? Weddings do not have to cost an arm and a leg! If you are creative and are able to find a place that allows you to bring your own alcohol, that can add significant savings to your budget. We also picked a venue that was overall quite beautiful and had the space allowed for us to not have to spend a lot of money on flowers and decorations, because the space was so naturally beautiful.
I also really felt like I hit the jackpot with a WONDERFUL caterer who handled all set-up and tear down of tables/chairs who made our lives so easy on the day of, and we didn't even have to hire a day-of wedding planner!
One of the best and most favorite things that we did was our wedding turned into a wedding weekend – we had a casual get together the night before the wedding at one of our favorite bars in Berkeley, then had the pre-wedding morning run/walk for anyone who wanted to join us, we had our wedding and reception, then the morning after we had a get together in a local park for the afternoon where we provided food and games. With that, I really felt like we had so many opportunities to see and visit with our guests – which really was the best part – being surrounded by so much love all weekend long!
Anything that you would have done differently if you were given the chance? If only we could figure out a way to turn back time, I would happily go back to that weekend, time and time again!
Photography by Keri Aoki Photography.
Blog post by Real Weddings Magazine's Social Media Maven, Aimee Carroll.
Subscribe to the Real Weddings Magazine Blog! Click here: