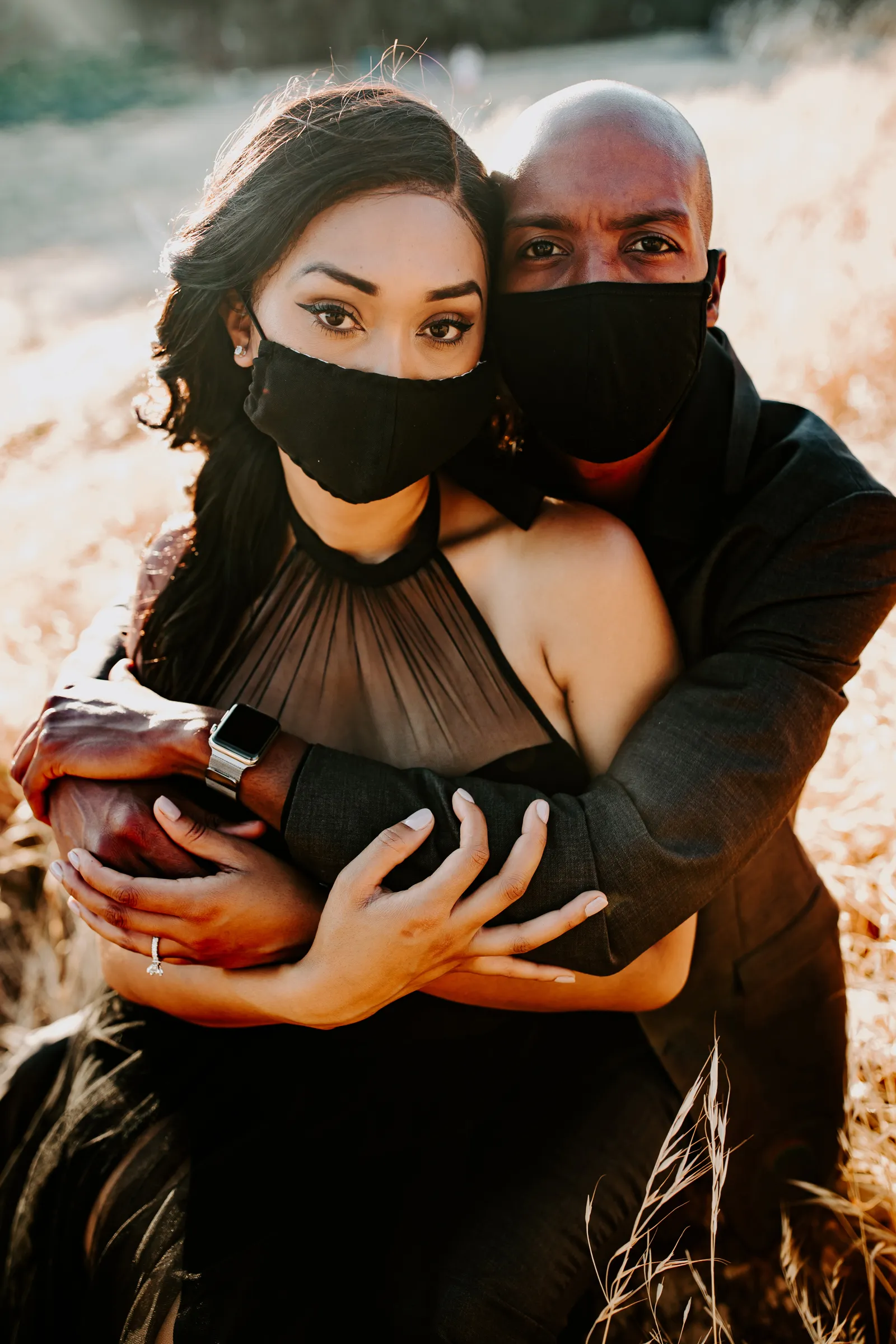 Stephanie & Dave Covid-19 Engagement Session by James Young Photography
Weddings these days look a lot different than the celebrations of year's past. Lovebirds who planned to get married in 2020 had to cancel, postpone, or completely reimagine the happiest day of their lives; and couples who have weddings planned for later this year are left in limbo trying to figure out what to do.
Couples can now get married online. Zoom receptions are now a "thing." Some couples refuse to wait and are eloping now, and then planning for an in-person reception later. And don't even mention the honeymoon. It will likely have to wait until later in 2021 or 2022.
In 2019, the wedding industry brought in $72 billion in revenue. Last year's revenue was nothing close to that. The vendors who have had a whole year of events get pushed back have been impacted just as much as the couples who have been dreaming, planning, and saving for their special day.
In his 25 years of experience in the events industry, Extreme Productions Entertainment's CEO Matt Brys has witnessed vendors and clients alike overcome many unforeseen obstacles, including wildfires, floods, power outages, and travel restrictions. "Though we could have never planned for a pandemic that would reshape our world to this scale, what I can tell you is that we've got this. Our industry is filled with professionals who are highly creative, passionate, calm and collected in times of high stress," he says. "We will do what it takes to overcome this pandemic as we love on our clients—albeit with appropriate social distancing, six feet apart—and use our hearts and passion towards celebrating together. Love always wins."
While the current pandemic has flipped the wedding industry upside down, it hasn't stopped couples from getting engaged. Whether you've postponed your wedding or you are newly engaged and wondering where to start when planning your wedding during this pandemic, these local Northern California vendors have shared how they're connecting with couples and looking ahead to brighter, happier days.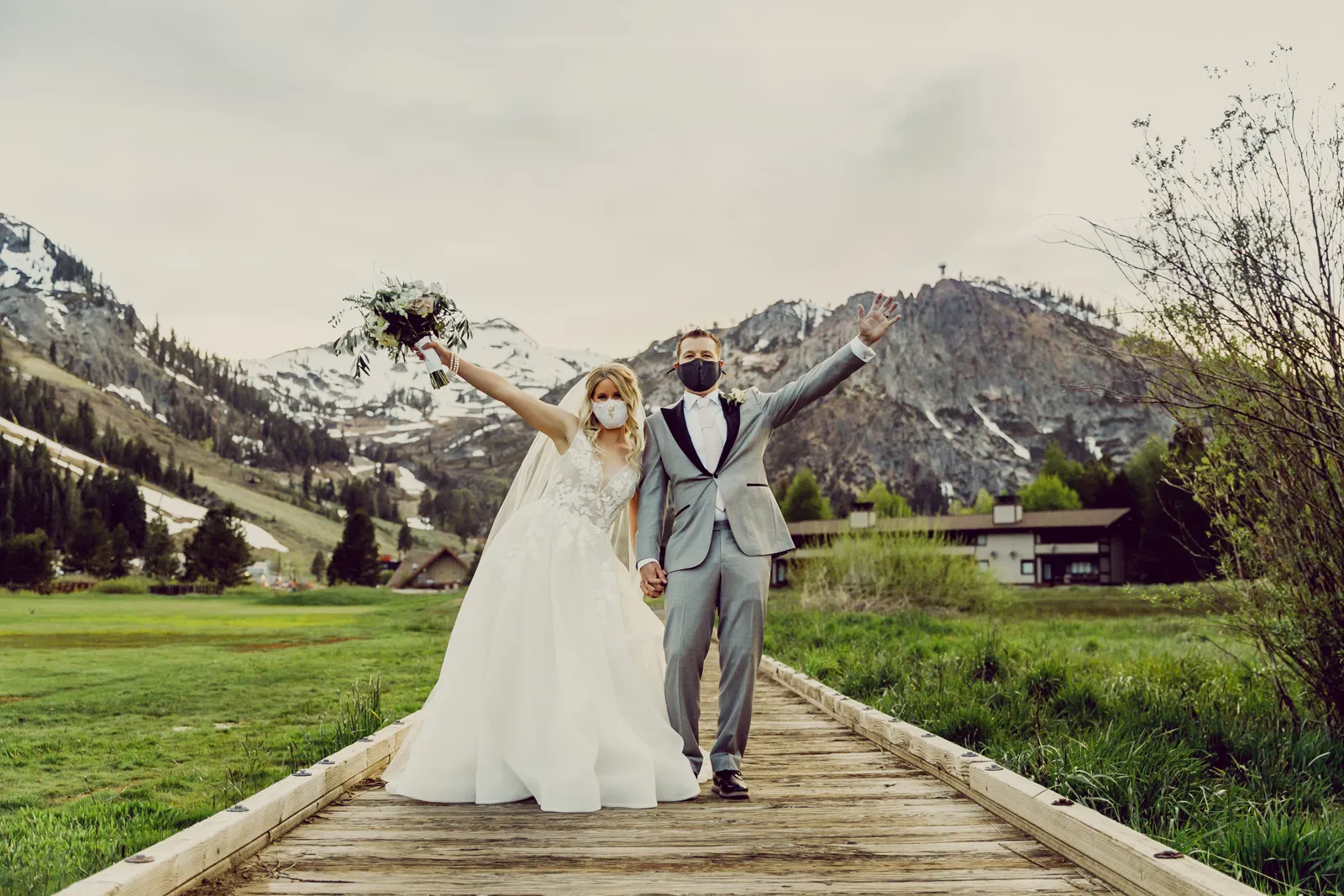 Kelsey & Joe Elopement / Photo by Dee & Kris Photography
BRIDAL BOUTIQUES
A bride's wedding attire is the most self-expressive garment she will ever purchase, says Sandra Gonzalez, founder and creative director at Sparkle Bridal Couture. However, shopping for and trying on dresses is a bridal experience that will change to enforce COVID-19 precautions. At Sparkle Bridal Couture, Gonzalez continues to focus on creating a safe space for plus-size brides.
"We are known for our spacious bridal lounges, and now we've made them even more ample to accommodate for social distancing," she says. "We've expanded our virtual experiences too—from direct-to-bride shopping and curbside pick-up, to video consultations and Zoom party calls with the bride's loved ones who cannot be with her at her appointment, along with more options to accommodate brides' schedules and needs."
At The Clothes Mine, Owner Tracy Lindenberger has been navigating the changes at bridal appointments to ensure the safety of both the store's staff and the customers. "Brides will need to be prepared that their dress shopping experiences will be different no matter what," Lindenberger says. "Stores will be different—but we promise to still make it special."
She suggests brides call the stores in advance to make appointments and ask how the appointment will go. "Find out what will be different and how you should be prepared for new safety precautions," she says. "At The Clothes Mine, we avoid close contact during bridal appointments. I suggest brides bring a friend or relative who can help in the fitting room to zip up and secure the dresses. We'll request everyone wear masks. The experience will be slightly more self-service, but we will make sure we're assisting and sharing our knowledge."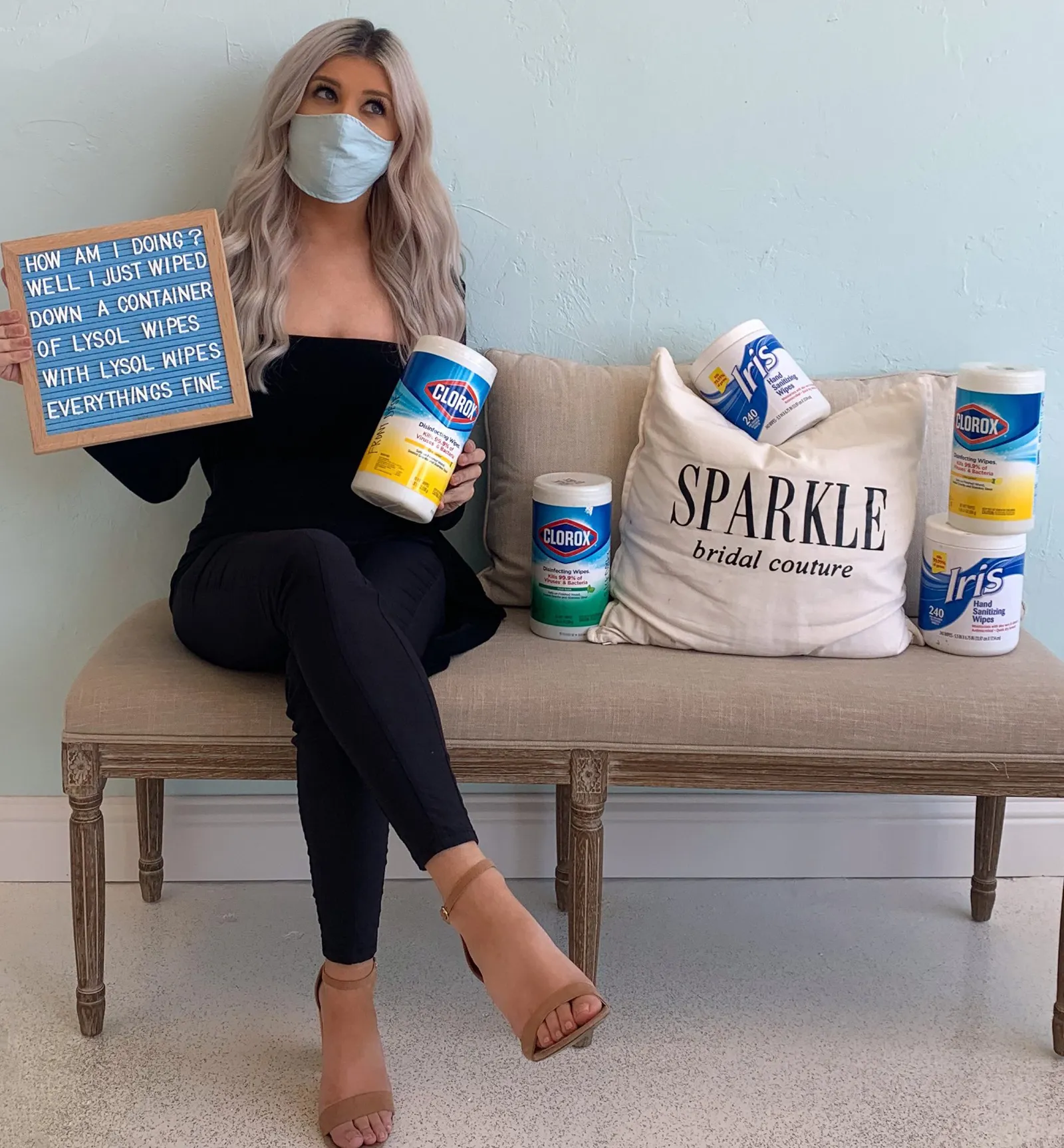 More signage will be posted around the store to answer frequently asked questions, including how long it will take to order and ship the dress. "If you are proceeding with your original wedding date, ask the store if they'll sell a dress to you off the rack. It can take four to six months to order a dress. Or you can ask if you can buy the samples, or ask about other options the story may offer," she shares. "Rush shipping is also an option, and you should trust the expertise of the store you're working with."
Liz Eisen, owner of De La Rosa's Bridal & Tuxedo, is continuing to work with brides and grooms on their orders, some including rush shipping. "We have been trying to be mindful with our brides as they come in with their wedding plans set in the upcoming months," she says. "We have been able to get gowns right away, whether in stock or on a rush order. Because we do on-site alterations, we've been able to accommodate our customers with fast turnaround alterations. The tuxedo company we work with is also able to still send out tuxes or suits for the men. We are all in this together and we will get through it in time."
WEDDING PLANNERS
Veronica Enns, owner and wedding planner at The 530 Bride, is continuing to work remotely, while providing support to her clients through email, phone, and virtual planning sessions. "We're leveraging our online planning dashboard," she says. "We have created a process for assisting couples with the steps for being prepared to postpone to hopefully make that process a bit more streamlined and less of an impact on couples."
Communication is key, not just with updating your vendors but also alerting guests to any changes. "We recommend using your wedding website to update any changes or even having one family member or your planner assist with reaching out to guests if any changes need to be communicated or confirmed with guests," she says.
Cain Event Planning Owner Rachelle Cain-Wiggins is focusing on being flexible during this time. "Couples need empathy first," she says. "It's an emotional time. Wedding logistics and details come second after acknowledging their feelings and how I can best service them during this time."
Kristina Foerster of Events by Kristina Elyse is also adjusting to follow the orders from the Governor's office as they are released. "This is new for everyone, so all we can do is stay flexible, patient and positive."
Danielle Roe is making herself available to clients at any given time. "We are working with our clients to provide nearly round-the-clock management of the rescheduling of their big days," the owner of Danielle Roe Events says. "From negotiating with vendors to keeping a positive outlook and remembering that we are all in this together, we're working on providing options to meet the needs of our clients. In the end, being kind, staying level-headed, and providing top-notch communication will only help to build our business and strengthen our relationship with our couples."
Most weddings are now smaller, which means more work behind-the-scenes, according to Lynne Zavacky-Barth, owner of eNVy Event Management. "You would think that would mean less work, but with new policies and procedures put in place from each venue, this could result in a bit more work, especially on the day of," she says. "Keeping guests socially distant will be the biggest factor."
Epic Thyme Events Founder Christi Nasser shifted her company's policy to allow clients to move their weddings without penalty. "Moving forward, we are doing our best to keep our couples motivated and excited to plan during this time," she says. "We've added helpful work-from-home tools to our meetings and we're building virtual programs around topics like budgeting and floral design."
Kendall Erlenbusch of Kendall Melissa Events is turning to virtual sessions to stay connected to her clients. "I feel it has been a huge silver lining throughout this whole pandemic. I truly feel closer to my couples than ever before because we are hopping on Zoom, chatting on FaceTime, and meeting up on Google Hangouts. We should be doing more of this," she says. "Schedules and distance sometimes make it hard to meet up as often as we'd like, but now we have the realization that it doesn't have to be that hard to pop in and say hello more than we once did." She's focusing on being a source of positivity through these uncertain times. "As we continue to plan, I try to inject as much positivity as possible into each conversation to keep them excited about planning their wedding when I know it is tough to keep trucking along when the world seems upside down," she says.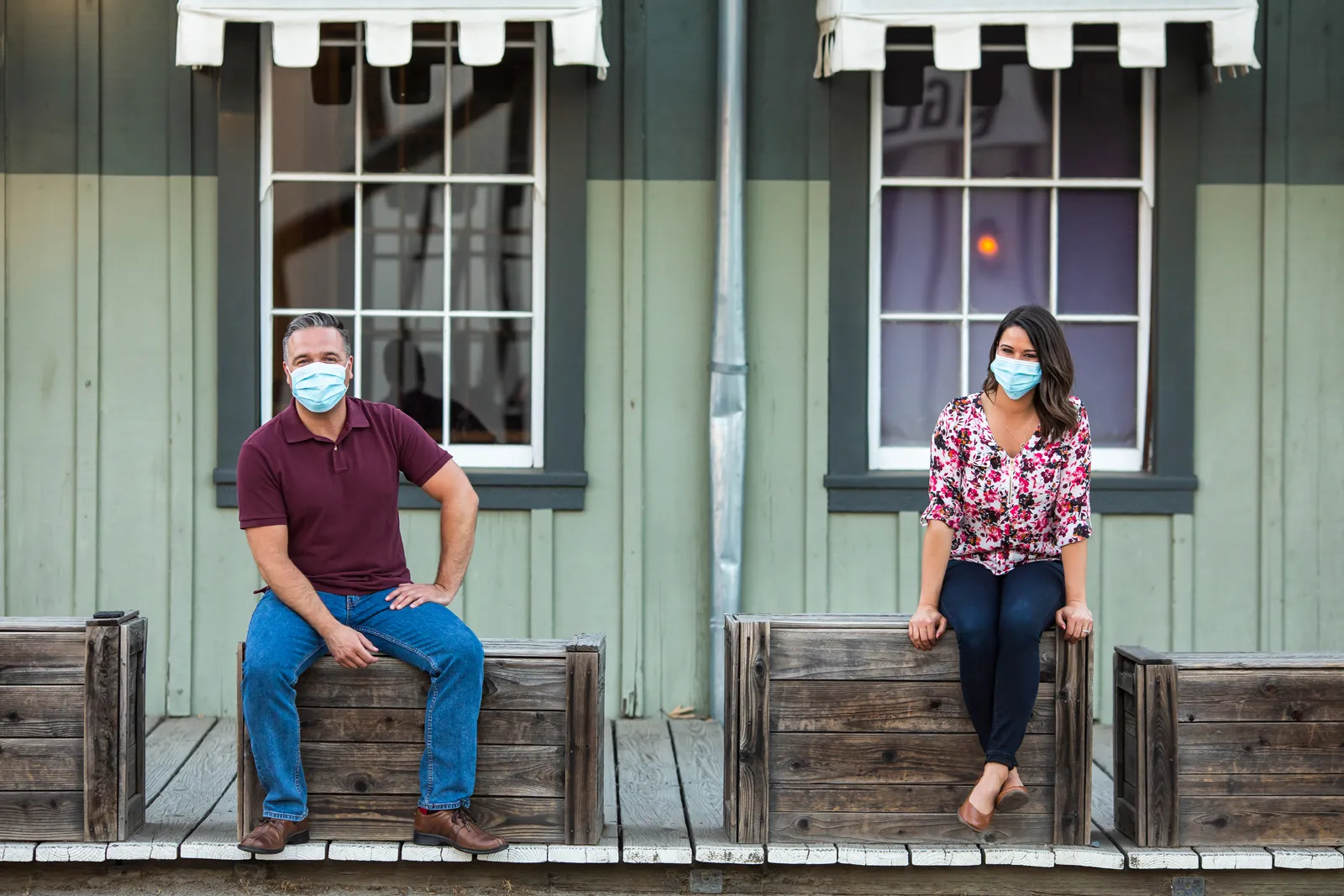 Landon & Christina Covid-19 Engagement Session / Photo by Green Vintage Photography
VENUES
Many local venues and event staffs are proactively communicating and working in tandem with the couples expecting to get married in the coming months. Whether the event is postponed a few months or for an entire year, these venues are all supporting the difficult decisions that must be made.
Wise Villa Winery has created a small wedding package for under 10 guests on its wedding lawn, Director of Sales Sarah Lemberg says. "We will continue to do so as the gathering numbers increase and change as well," she says. "It's important to be flexible right now, and having 36 acres allows us to be creative in several different spaces that we have around the property, which can be utilized for their big day."
The team at Arden Hills is taking every precautionary measure according to the CDC, Sales Manager Kathy Cameron says. "With larger groups, we are able to keep social distance between guests by allowing our clients to have their events outside by our pool area on our beautiful grounds," she says.
Couples can learn more about Catta Verdera Country Club through virtual tours and phone planning sessions, says Events Manager Christina Addiego. To fill your time at home, Addiego shares a number of fun wedding planning projects. "Use the planning checklist from Real Weddings Magazine's The Planning Guide to get organized. Browse save-the-dates and invitations, and save your favorites. Research cake designs and ask for quotes. Research makeup artists and ask for quotes. Create your music playlist. Register for gifts. Write your wedding vows," she says.
Director of Events and Culinary Services Kathleen Mahan says Helwig Winery is focusing on social distancing guidelines while re-working the event spaces to accommodate the "new normal." "We are working closely with our vendors to ensure we are in the loop and helping each other provide the best experience and safest practices to our couples," she says.
The Willow Ballroom and Event Center Owner Angelica Whaley has been postponing events as mandated by state and federal law. "For all couples hoping to get married in 2021, book your venue, caterer, DJ, photographer and videographer, and relax," she says. "Enjoy being engaged. This will give you something amazing to look forward to."
Vizcaya Sacramento has a virtual tour available, and they are booking new weddings for 2021. "There are many factors that go into each event and no two are alike," says Rachel Ryland, event coordinator and sales manager. "We are taking the couple's specific requests and desires into consideration while looking at their event as a whole."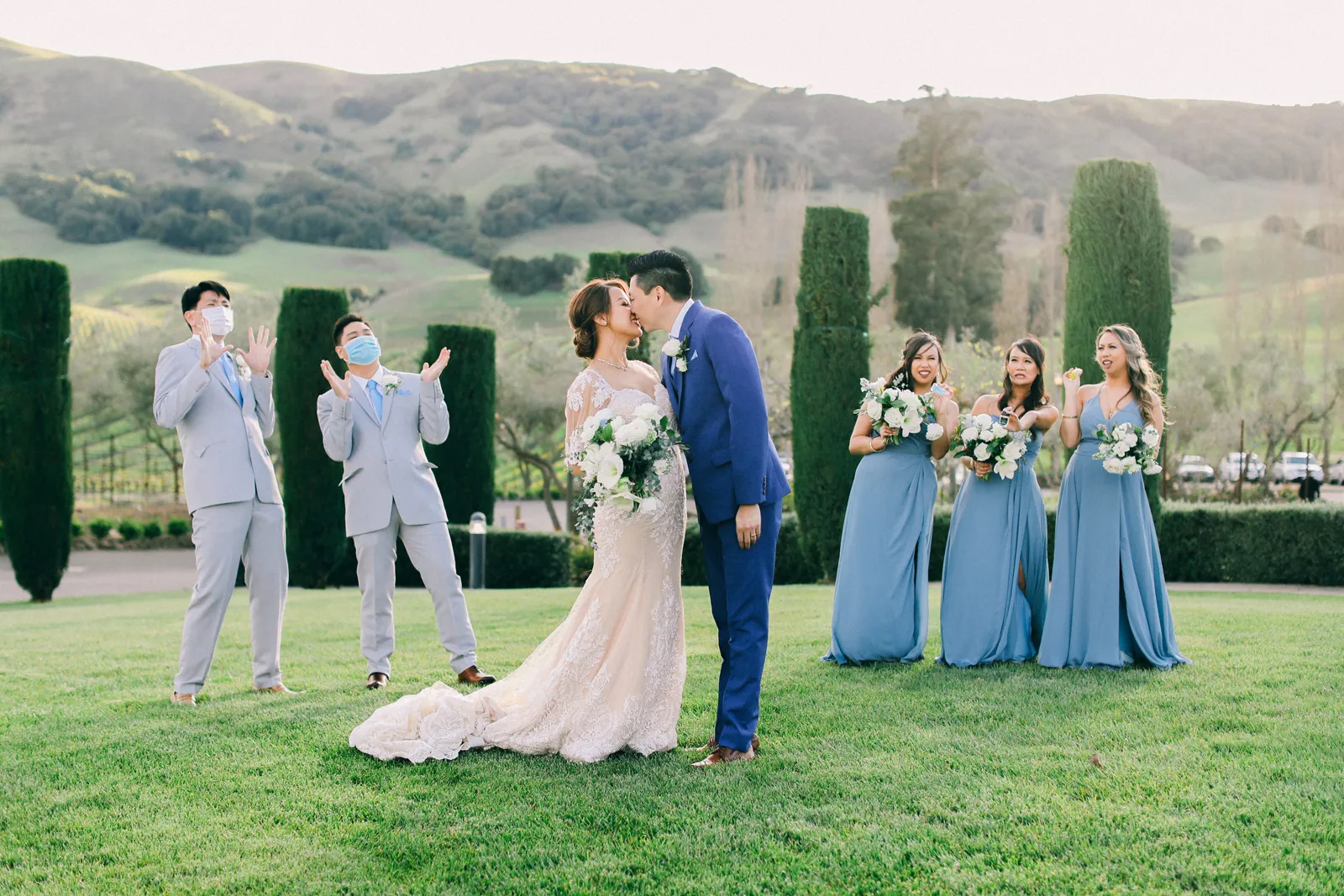 Julienne & Derrick Covid-19 Wedding / Photo by Lyka Mac Photography / Planning, Design & Production by Tan Weddings & Events
Hotel Sutter General Manager Ruthella Turner says all wedding parties for 2020 were either cancelled or rescheduled, as most couples were not been interested in limiting their event to 10 guests. "For couples, they want to share their big day with family and friends, and if they can't, then they are looking for quick and easy weddings and a larger party later or they have simply adjusted their date."
Sandra Dominey, event sales manager of The Ridge Golf Course and Events Center, is responding to couples in a timely manner to assist with their concerns and working with them to reschedule their dates and transferring deposits to a future date. "Most venues will reschedule your date to a future date, if it's available," she says.
Silt Wine Company Director of Events Robyn Lazzerini says newly engaged couples should still plan their weddings. "Most weddings are planned at least nine months in advance. Don't let this deter you from planning your wedding," she says. "We'd love to talk to couples about their special day." Lazzerini is meeting with couples over Zoom and offering virtual tours and slideshows of the space.
At Rough and Ready Vineyards, Assistant Manager Amanda Rodgers says they are booking weddings and continue to give tours by appointment with masks and social distancing guidelines in mind. They are happy to do video planning meetings, share videos of the location, and offer digital contracts.
"When booking your vendors and venue, be sure that there will be no additional charges for rescheduling your date due to COVID-19," she says. "If there is a resurgence and the governor shuts everything down again, you want to be sure that you can reschedule without penalty."
RENTALS
Brad Isbell, general manager at Celebrations! Party Rentals and Tents, is feeling the impact of the pandemic. "There is no easy way to go from a routine and successful sales forecast down to nearly zero in revenue almost overnight," he says. Isbell wants to make the weddings special for the couples keeping their dates. "We want customers to feel like they are being treated fairly and that we are providing rentals that have followed strict cleanliness expectations set by our ownership," he says. "A lot of people have grand ideas for their big day but in the world of COVID-19, a 50-person (or fewer) wedding can still be as memorable and they can consider having a secondary event at a later date to include the other guests who were not able to be at the smaller affair."
Celebrations now offers date nights delivered to people's doors, which includes a small two-person sweetheart table. "We can deliver a small amount of the good ol' days to people, even if it is only for a few hours one evening."
At Sacramento Event Co., Owner Jennifer Corrigan is looking ahead to weddings later this year. "We all know these clouds will clear. And once they do, all event companies will be extremely busy. We, along with a lot of other local wedding vendors, are currently updating our inventory and prepping our offices and warehouses, so we can once again provide top service to all those who are planning events," she says. In the meantime, she's doing everything virtually at the moment with her clients, including digital renderings to visualizing their weddings.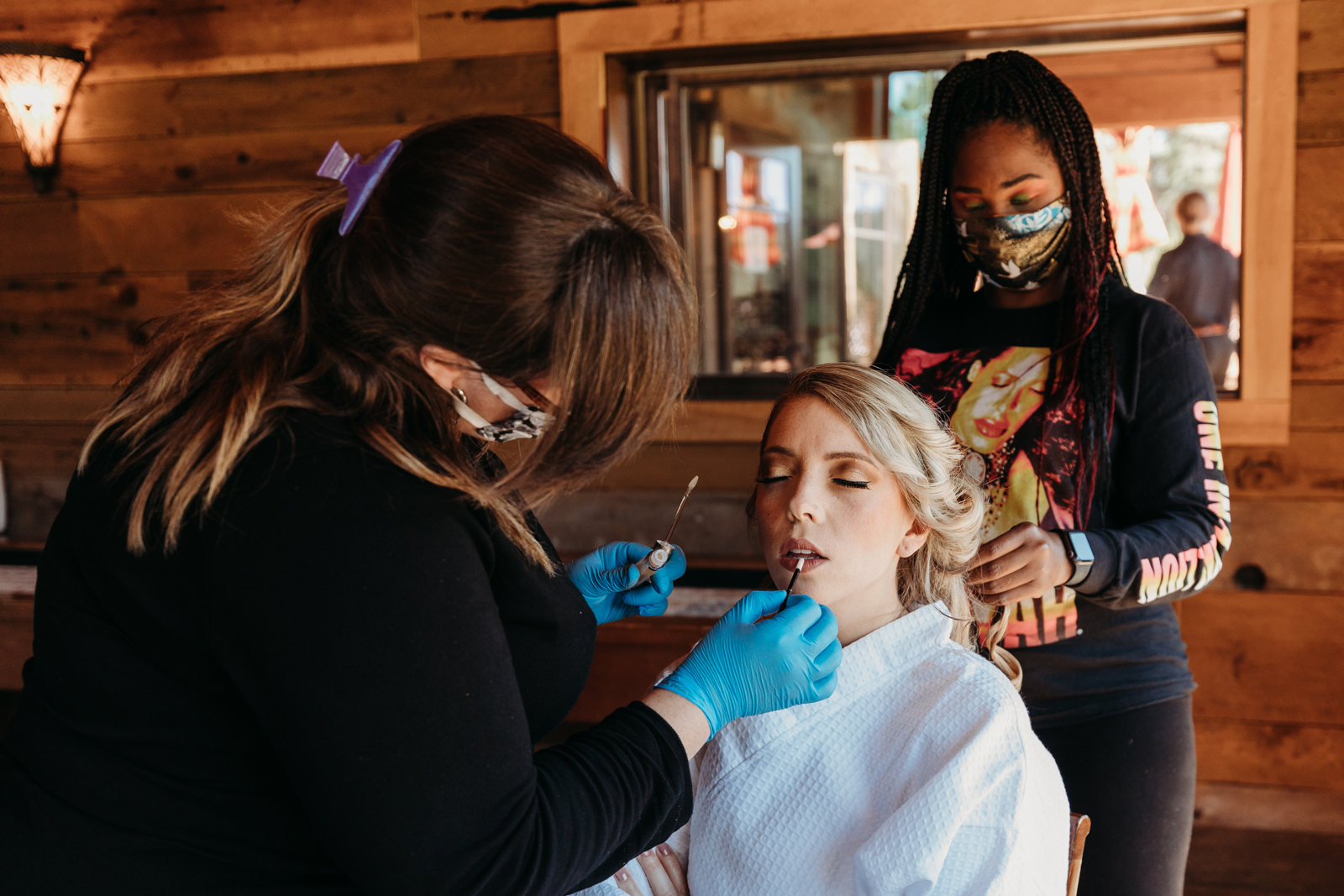 Arrvada Isom and Aloha London with Personify Bridal working on real bride model Kylee at our "The Mountains are Calling" photo shoot / Photo by Liz Koston Photography
HAIR + MAKEUP
All Dolled Up Beauty + Bridal is adjusting its business model to offer more virtual services to temporarily replace in-person trial runs, says Owner Melissa Oretta. She's also adding a postponement policy that offers a 24-month window in which clients can postpone their date once without fees, rate increases, or penalties. Oretta has extended the company's operating hours, in order to maintain communication with her clients.
Haley Purser, owner of Thee Makeup Girl, has been checking with her couples to make sure she's available for any date changes.
Owner of Personify Bridal, Arrvada Isom, suggests that brides should ask what sanitation procedures their glam team uses and what precautions they may be implementing. Isom is changing her cancellation policy by not enforcing the cancellation fee for events canceled due to the pandemic. "We are personally changing a few things," Isom says. "We are limiting the size of the team we take to people to accommodate their parties, we are implementing the use of masks for our client's protection and adding a few new sanitation procedures. We are already hyper-sanitary, but we are making a few changes to further enforce our sanitation procedures."
At The Lash Lounge with locations in Roseville and Sacramento DOCO, Owner Mahaneeya Sarathi says private lash parties offer both privacy and safety for the bridal parties. "These parties, when booked ahead, allow us to close the entire salon for the wedding party for half a day," Sarathi says.
Happi Ybarra of Happily Beautiful Makeup Artistry & Skin Studio is working to maintain top-notch sanitary procedures. "Personally, I always keep a very sanitary makeup kit," she says. "I always have individual makeup application tools for each client. It is very important to me and I feel it gives a sense of assurance to my bride and her bridal party."
CAKES + DESSERTS
Treat yourself during the pandemic by having a date night cake tasting at home with your beloved. Local businesses Above & Beyond Cakes and Go West Baking and Events are offering curbside tasting pickups. Meghan and Daniel Jimenez at Above & Beyond Cakes also offer electronic consultations.
At Go West Baking and Events, consultations include a couple different stages. "A tasting sample kit is put together based on the event's time of year, location, and style of wedding," says Owner Brandy West. "The couple schedules a pick-up time, followed by a scheduled FaceTime or Zoom meeting to navigate the tasting and design consultation. We discuss all the needs of their special day, and handle any questions or concerns, just as we would face-to-face."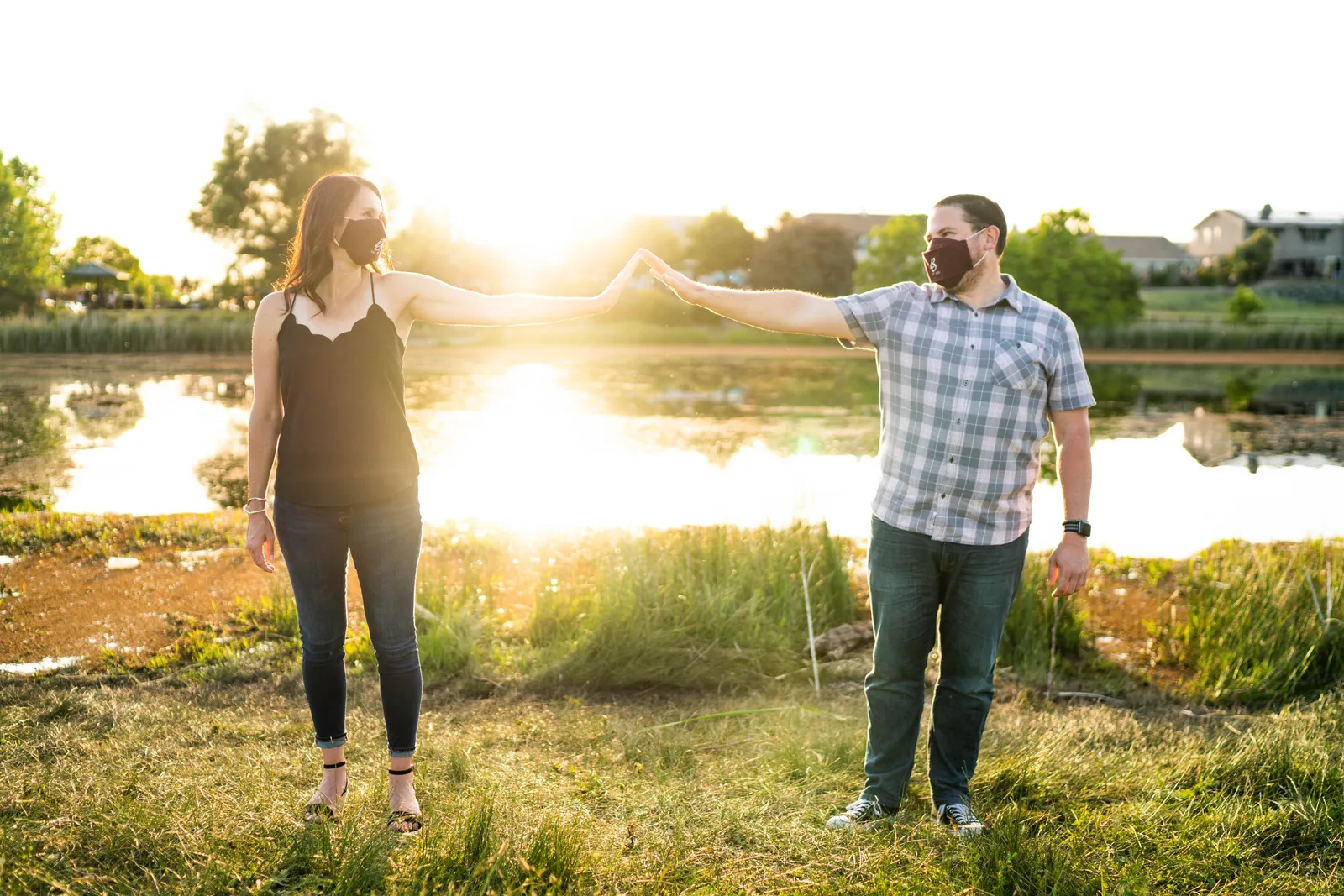 Krista & Adam's Covid-19 Engagement Session by Valley Images Photography
CATERING
Local chefs and caterers are maintaining flexibility when it comes to planning menus and dishes for weddings and events.
"There is nothing to say that future lockdowns may occur and that dates/venues might have to change. Fluidity is the key," says Diane Wilkinson of Diane Wilkinson Catering. Wilkinson lets prospective clients know the food supply available for their special day may be drastically different from what they want and what was bid. "In order to secure what business is still out there, I am being generous and over the top to at least get the cash flow going. Now is a great time to book," she says.
Chef Russ Landers of The Hidden Table suggests couples spend this time researching their wedding vendors online. "You can learn a lot about each one without leaving the comfort of your sofa," he says. "Social media has a lot of information to offer. Like or follow a few of their business pages and watch what they are up to."
Landers looks forward to having in-person meetings and tours when it's safe to do so. He is currently using Zoom or FaceTime and offers virtual kitchen tours. Couples are able to do curbside no charge tasting pickups on Sundays.
Diana Burke-Fuentes, owner of Simple Pleasures Restaurant & Catering, is encouraging couples to plan smaller, intimate events that stagger their guest list. "For example have a family and bridal party only wedding day with a fabulous meal and a great videographer to capture all of the moments. Then, have an after-wedding cocktail party or barbecue for your close friends, which includes a screening of your ceremony and intimate moments, so that they can still be a part of it," she says.
At Fat Family Restaurant Group, Fat's Catering Manager Cindi Chilelli says they are waiting to make any specific changes until they have a better picture of what restrictions will look like for weddings and events. She suggests couples hold off on putting down deposits and signing contracts until you feel confident about what you want. "Don't let anyone pressure you into something you are not 100% sure of," she says.
David Hanson of Off the Vine Catering has had Zoom meeting requests, though he prefers in-person meetings, which he'll still do as long as everyone follows precautions. "We will do whatever the couple feels most comfortable with," he says. He says his staff will wear masks along with gloves for future events for
the foreseeable future. "We have always worn gloves while serving and clearing," he says. "This will be changing the whole wedding and event business for a long time."
PAPERIE
When it comes to the details on your wedding invitations, Little Bird Paper Company Owner and Designer Michelle Celaya suggests couples try to keep wedding details flexible. "Since invites go out months in advance and social distancing guidelines seem to be changing week by week, couples should keep the finer details as loose as possible," she says. "Instead of including a hard and fast schedule of events with their invitation inserts, many of my clients have been encouraging guests to check their wedding websites as final plans unfold in the weeks leading up to the big day."
On her end, Celaya has been giving her clients more space and time to make decisions. "I typically follow up with emails within 48 hours if I haven't heard back from clients about design decisions, but lately I've been allowing up to a week before I follow up with them," she says. "In addition, I have also managed to keep all of the clients that have had to reschedule their events on my calendar. It means that I will be working some very long hours towards the end of this year, but it was important to me to be as accommodating as possible during this uncertain time."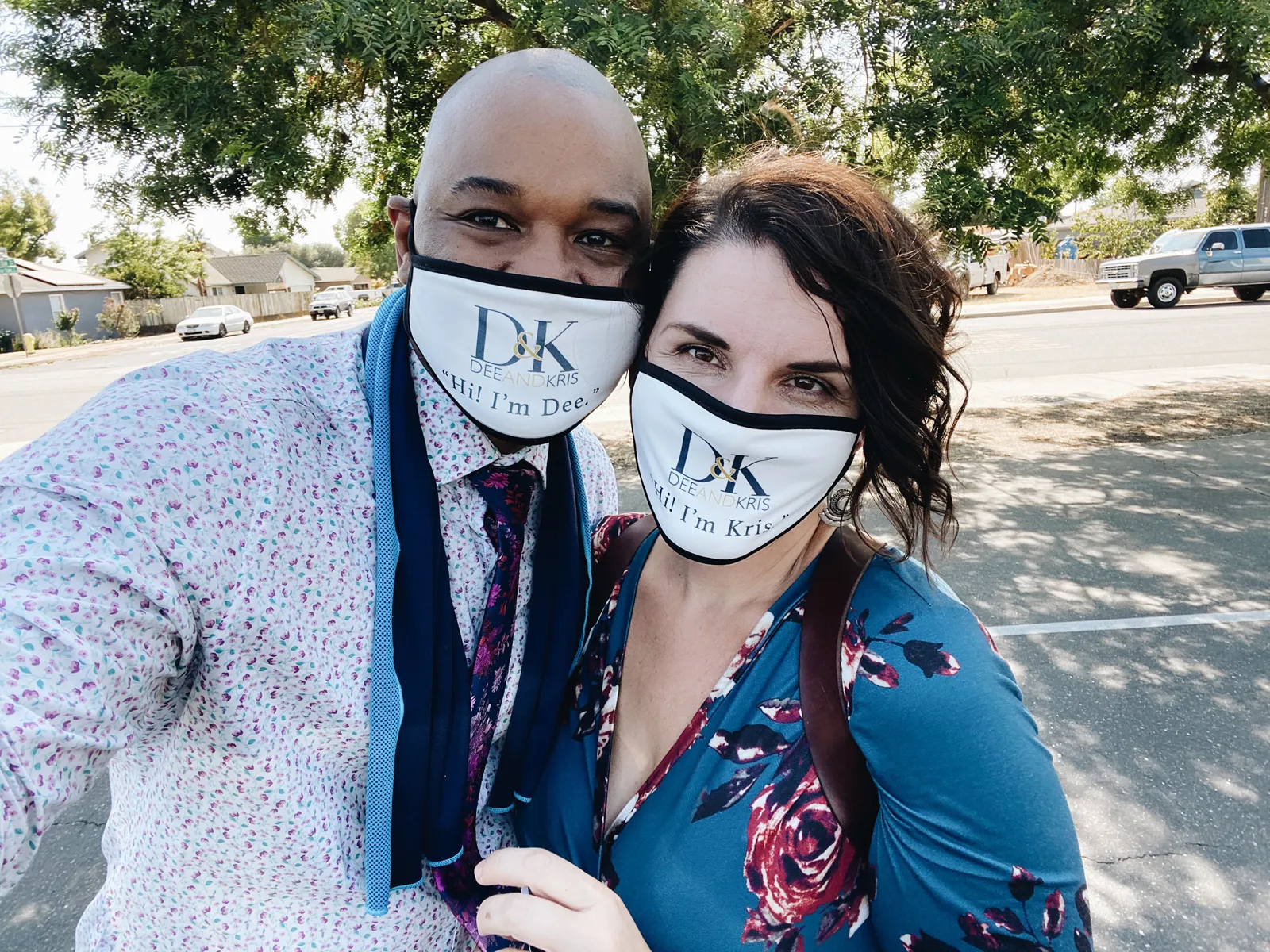 Dee & Kris Photography showing off their Covid-19 masks by Minuteman Press Midtown
PHOTOGRAPHY + VIDEOGRAPHY
No matter the size of the wedding, every couple will want photos and videos to capture the magical day. Many local photographers and videographers are prepared to wear personal protective equipment (PPE) for the event so that they can document every special moment.
Michelle Hewitt, owner of and photographer at Valley Images Photography, wants to remain flexible with her clients. "If they need to move their date, I move with them," she says.
Image Society's Lolita Vasquez allows her couples to change their date for no extra fee, as long as she's still available for the new date. She'll also work with them to adjust their package, if they end up having a smaller wedding than previously planned.
Shellie Kennedy of Capture Photography shot her last wedding before CODID-19 in February 2020. "This has been the longest we have gone without one in 15 years," she says. "We long for the 'I do's' and the first kiss and the love like you wouldn't believe." For upcoming weddings, Kennedy meets all the couples on FaceTime or Zoom. She's seeing an increase in videos as well. "If not everyone can attend, watching it back from start to finish, especially everything you wouldn't see as a guest, is sometimes even better than being there in person," she says.
Sweet Marie Photography's Mindy Aagaard proactively reached out to all her clients for 2020 to ensure they'd all be on the same page navigating this pandemic. She is not charging any change fees for events that have to move dates or locations. "Ultimately, we want to see our couples marry and we want to tell their story," she says. "Truly the best thing we can do as vendors is realize how this affects us all and we can find what works best."
If the original photographer you booked is unavailable on your rescheduled date, Amber Shoop Felts of Shoop's Photography will honor the deposit already given to the initial photographer. "We understand that when some couples choose a new date, their original vendors may not be available," she says. "If we are available, we are honoring the deposit (up to $500) so that their original photographer doesn't have to provide a refund and the couple doesn't have an added expense."
Liz Koston of Liz Koston Photography is making it a goal to be upfront and transparent with her clients. "I am trying to accommodate my couples and be as flexible as possible," she says. "If a client's wedding is affected, I am not tacking on any additional fees to reschedule. I understand that things are already hard on couples and I want to be as accommodating and as helpful as possible. Their happiness is a priority to me." Couples can also use this downtime to do their wedding homework.
"There's always plenty of inspiration and advice to be found on the web and in print," says P.J. Oswald, owner of Fits and Stops Photography, who is also currently offering refundable deposits. "Now more than ever, magazines and vendors are publishing the content that they've been too busy to share during their busy seasons. And while many businesses may be closed to foot traffic, I expect that most wedding vendors, like myself, would be thrilled to chat with you by phone or Zoom in the meantime."
James Young of James Young Photography is working very closely with couples who have had their dates taken from them. "I am working with couples who have opted for elopements," he says. "This includes planning the locations, dates, times, etc."
Jennifer Clapp of Jennifer Clapp Fine Art Photography is also allowing her couples to postpone without any repercussions. "It is the right thing to do," she says. "I can't even imagine what these couples are going through."
FLORALS
A wedding isn't complete without flowers. Local floral designers from Wild Flowers Design Group and Morningside Florist, along with FiftyFlowers.com are all working alongside their clients who are postponing or reimagining their wedding days.
Angie Luna of Wild Flowers Design Group says they're offering complimentary date changes for any couples who have had to move their wedding date. "We talk to heartbroken couples every day that have been required to either move their weddings to another date and/or cancel," she says. "We want to be there to help make their dreams come true and make any transitions to their new date as easy as possible."
Morningside Florist Owner George White shares some questions engaged couples should ask themselves as they proceed with wedding planning. "Secure the dates for your venue, and other suppliers, like florists. Consider how social distancing will affect your wedding day. What if there is another spike in infections?" he says. "Will you be able to postpone or cancelwith minimum expense? What should you do about deposits to hold the dates? Will they be refunded if your wedding is postponed or canceled?"
Liza Roeser, CEO and founder of FiftyFlowers.com, is seeing an increase in intimate backyard weddings. "We have the ability to accommodate flowers for these intimate settings," she says. She
added that it's important to note that the decision to cancel or postpone the event may come from the venue if they're ordered to shut down, rather than the couple. "I think it is important to keep in mind that venues may have to cancel the event," she says. "Make sure to keep open lines of communication with your points of contact and have another plan if you still want to be married on the day you have chosen."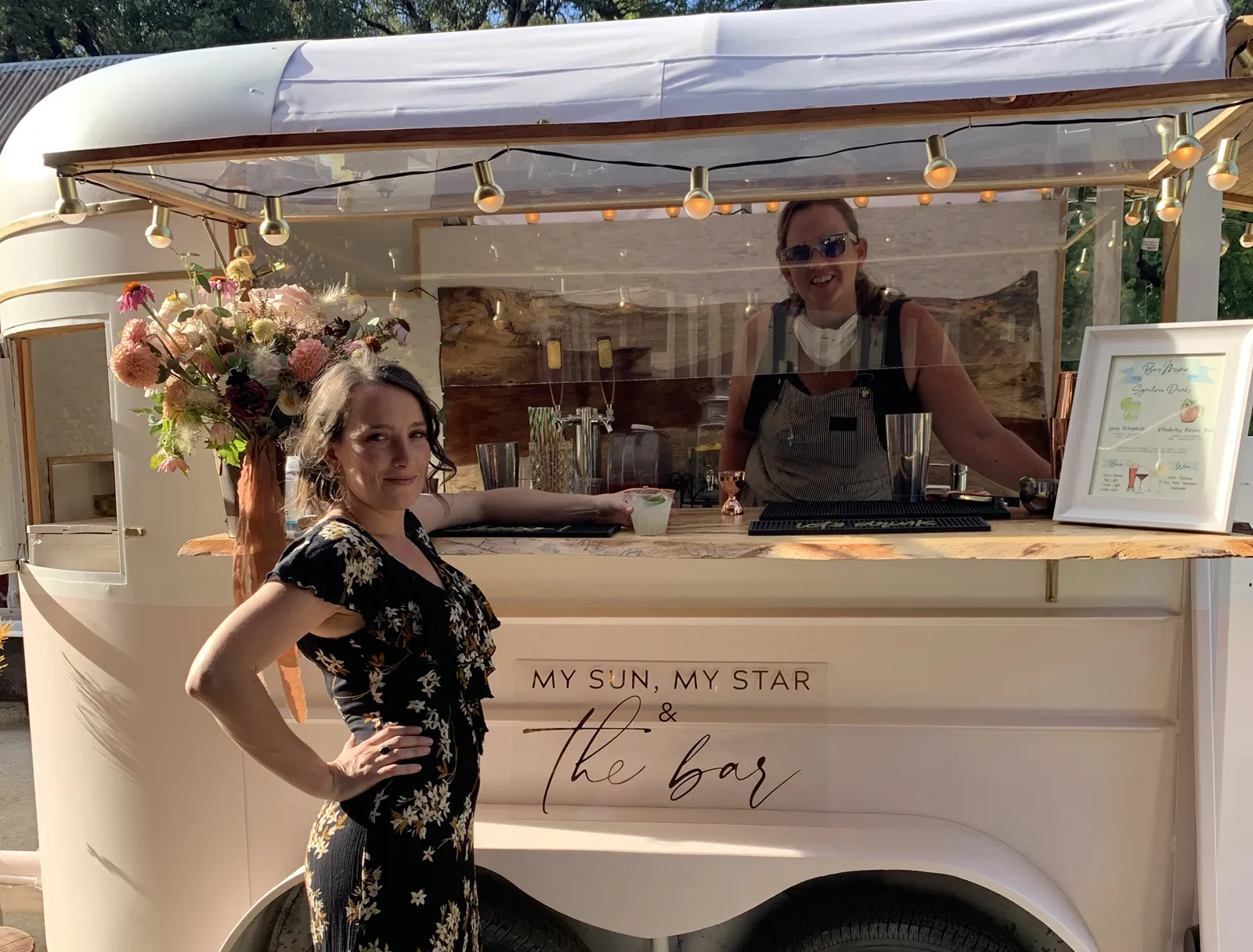 Alyson Pace from Belle Aventure Mobile Bar Co. shows off the new plexigass shield in her "Rosé" mobile bar
MOBILE BARS
Alyson Pace, co-owner and operator of Belle Aventure Mobile Bar Co., says planning during the pandemic requires more flexibility than we've needed or seen in the past. "We are seeing flexibility in dates, locations, and guest counts. Many of our couples are focusing on the experiences and vendors that they can't live without, and building a new plan around that, shifting from larger venues to private property and having plans for different degrees of guest counts."
At Belle Aventure, they are adding elopement or small wedding packages. "Smaller groups naturally lend themselves to even more cocktail creativity and personalization which can be exciting," she says.
PHOTO BOOTHS
Chelsea Evans, owner of The Wandering Photo Bus and Capture Create Studios, wants couples to remember that we're all in this together. "When it comes to your vendors and your guests, everyone wants to be accommodating," she says. "If you need to postpone, try to reach out to your vendors as quickly as possible to see what their contracts state, if they are available, and how they can help you during this crazy time. Because trust me, if there is anything your vendors want, it's to be in the loop as much as possible, and to also be helpful when need be."
If you're planning for a 2021 wedding, she suggests planning as much as you can as soon as possible. "We are letting new 2021 couples know to find dates as soon as they can because this year is going to be a lot busier than an average wedding season," she says.
Couples should also consider wedding insurance. "Planning your wedding during this time can be very stressful and scary," she says. "To give couples a little more sense of security we have started telling them about wedding insurance. Just like vendors are required to have liability insurance in case of a catastrophic event, it makes sense for couples to protect their day by having coverage as well, due to unforeseen circumstances."
DJs
Extreme Productions Entertainment's CEO Matt Brys has pivoted all in-person planning sessions to virtual sessions via Zoom and Skype. "It's as close as we can get to being in person and allows us to connect with more impact than a phone or email exchange," he says. Additionally, couples can utilize the company's live-stream capabilities. "We can include guests that cannot physically join them at their live celebration but still experience the special day through a private, virtual platform similar to a TV broadcast," Brys says.
Bryan Greenwalt, owner of Music & More Entertainment, says it's normal to be worried and stressed right now. "Most of this is completely out of our hands and we can't do much about it, so it's best to take it day-by-day and make logical choices instead of emotional ones," he says. "It's also important to understand that things are changing almost day to day, so it's ok to wait until 30 days out before you make a final postponement decision."
At his company, they are not charging cancellation fees because of COVID-19-related changes. "We are also making sure that couples that are considering booking or have booked for the future are confident and know that we are going to work with them through this and they won't be penalized if they have to make changes due to COVID-19 shutdowns. We've left consultations and planning sessions up to our couples. We have Zoom, FaceTime and Skype available as video conferencing and we can take care of almost everything leading up to the event while being 'socially distanced' if that's what they prefer," he says.
When weddings come back—and they will come back—they will be huge celebrations. "The ones after the COVID-19 situation are going to be off the hook," Greenwalt predicts. "People need the release and the time to just let go. Dance floors are going to be amazing after this ends!"
Melissa Oretta with All Dolled Up Beauty + Bridal sums it up best with this advice, "Keep your eye on the most important prize—you are going to be marrying your best friend! Nothing can stop that!"
By Kourtney Jason
Article appears in the Fall 2020 issue of Real Weddings Magazine.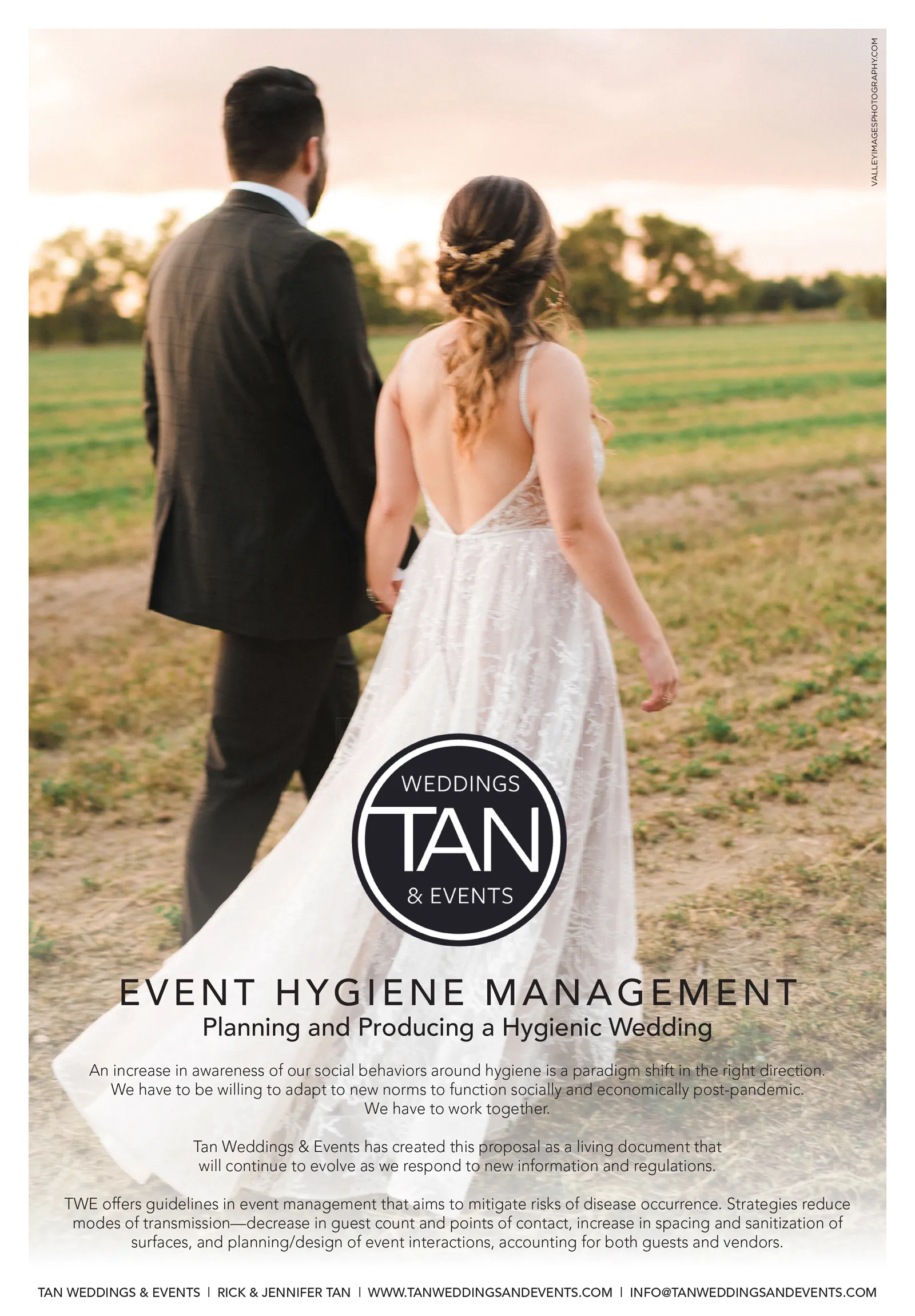 CHECK THIS OUT!
In response to a new paradigm that demands better hygiene practices, Tan Weddings & Events created a guide called "Event Hygiene Management."
Start your wedding vendor search on Real Weddings Website! You'll be able to find the area's best wedding pros to help you plan your most perfect wedding, micro-wedding, elopement, big party, reception, intimate get together….whatever works best for you, Real Weddings has the vendors who can help!


Real Weddings Magazine — the premier wedding planning magazine, inspiration guide and website resource for Northern California.

Real Weddings Magazine is the most widely-distributed wedding magazine in northern California, and features the very best Sacramento and Tahoe weddings, ideas, inspiration and resources to help you plan your most perfect wedding day! From Lodi, Sacramento, Davis, Chico and Redding to Tahoe, Yuba City, Reno, Sutter Creek and beyond, let Real Weddings Magazine help you put together your wedding dream team including photographers, videographers, venues, floral designers, cake makers, planners and coordinators, djs, dresses and tuxes, destination wedding resources, caterers, gifts and gift registries, bridal hair and makeup, officiants, invitations and wedding stationery, photo booths, rentals, transportation, travel services and wedding gown cleaning and preservation…Real Weddings Magazine has it all!
Follow us on social!
Pinterest // Twitter // Facebook
Instagram // Youtube