For the first time in the history of Real Weddings, we had a real wedding during a photo shoot! Okay, so it was a "surprise" vow renewal but still entirely real.
Rich and Angelina Ellis of Tahoe Elevated Events celebrated 13 years of marriage this year and honored this milestone by confirming their love and respect for each other and their family during our "Beautiful Valley" photo shoot. The couple owns and operates the planning, design and rental company, and provided pieces along with design for our photo shoot.
Angelina had the idea of surprising her groom with a vow renewal, and convinced Rich to head home mid-photo shoot to freshen up for our Behind-the-Scenes interview and grab the kids. Meanwhile, Cassidy Braddock of styled.by.sass did Angelina's hair and makeup for the occasion, and then we put her in a beautiful gown (courtesy of The Clothes Mine) so that she could walk down the aisle in style. Accompanied by an impromptu guitar serenade by our real groom model, Tony, Angelina strolled up the aisle to meet Rich at the altar where the couple shared words of promise with their two kids, Tristen and Ivy, by their sides, all officiated by Rich's mom Lori—and the kids received commitment rings too! Tears. Were. Flowing.
Everyone on set stopped what they were doing to witness this beautiful exchange of love, followed by a short and sweet reception complete with cake from Frank Vilt's Cakes, bubbly from Helwig Winery and a mini-concert by our real couple models and real-life musicians, Tony and Kat (check out their band, The Tin Dears). Truly, the most beautiful and emotional wedding we've seen.
Keep scrolling to read Angelina's experience throwing her husband (and business partner!) a surprise vow renewal.
Video by JB Wedding Photography.
"It was 11 days until the shoot when I asked Wendy about her thoughts on sneaking in a vow renewal with my husband at the photo shoot we had coming up. It was not the first time the thought crossed my mind but I was really ready to put it out there (with shaking hands and the rewording of the same text 25 times). Her response was a resounding "YES!" and came with all the goosebumps and all the exclamations points you could fit in a single text!
I knew that it was the right thing to do.
Our marriage had probably gone through the roughest of patches most of early 2019 and we began to question our happiness as well as each others personal happiness. We had been married for 13 years and let me tell you, life changed drastically in those years: learning to be married, becoming homeowners then parents, earning new jobs and loosing jobs, then lastly becoming business owners together. Over those years you  learn to love each other in completely different ways and for completely different reasons. It truly is so important to accept one another's growth both together and individually but always remember what you fell in love with in the first place. Sometimes being in the midst of the everyday journey and chaos you can lose sight of that; what you love deep down. But while questioning our happiness I never questioned that I loved him and he loved me.
That is again why this was the right thing to do.
So back to 11 days before the shoot—planning it would be no problem—we had been designing the shoot for months so it was mostly set. Now keeping a secret from my husband is something I had never done (maybe the occasional gift…maybe!) and this what was the hardest part. We share everything from our Facebook account and bank accounts to our business so him seeing an email or message gave me a taste of bridal anxiety. It was a new level of wedding planning I had never experienced before. HA!
I had told Rich that Wendy wanted to do a small piece on our business and she wanted the kids in a photo. Once he had left that morning I set out clothes for them. He agreed to pick them up from school and get them dressed if I just picked it all out. (Perfect!)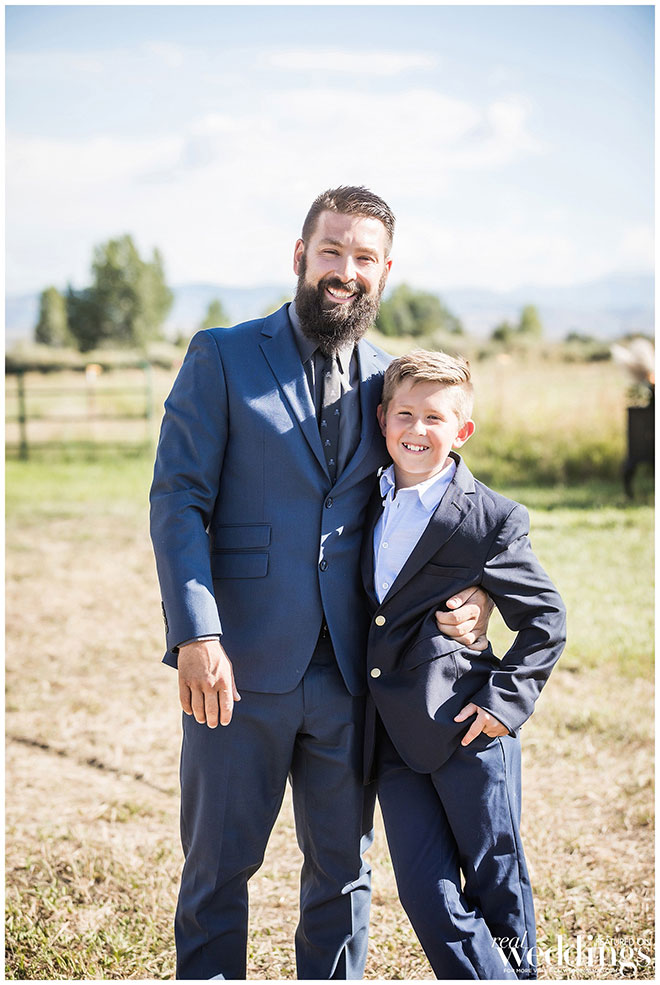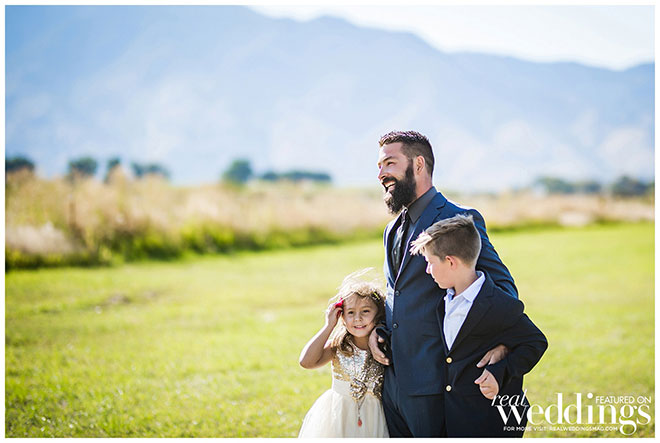 I tried with the kindest of smiles and sweetness to get him to leave the shoot early so I could get ready but being so prideful of our shoot and business it was tough to get him to leave. UGH! Once he was gone, I felt like a princess shuffled behind the scenes in a Broadway show. (Thank you Cassidy and Wendy!) His mom showed up with vows written for us and a few precious metals. I had barely gotten ahold of her the Friday before unaware she was going on a cruise and wouldn't be home until midnight the night before the shoot. So, THANKS MOM-IN-LAW! Glad you made it in time!!!
The entire time I was in the makeup chair I felt like I jumped at the site of every shadow just waiting for his truck to pull up. I was more nervous than my actual wedding day! I never questioned his love for me but the element of surprise mixed with an insanely difficult year was all boiling up to the next few minutes. The whole team on set was on board and you could feel the energy and excitement in the air. The real groom model, Tony, for the photo shoot had brought his acoustic guitar and offered to play as I was being escorted by Wendy and my mother-in-law. I see Rich see me and in all honesty the whole world disappeared…only to hear "Don't Stop Believin'" playing. It was perfect if not only for those exact lyrics…(and my dad's all time favorite song!).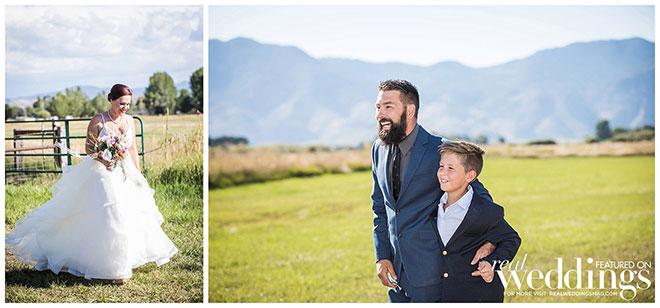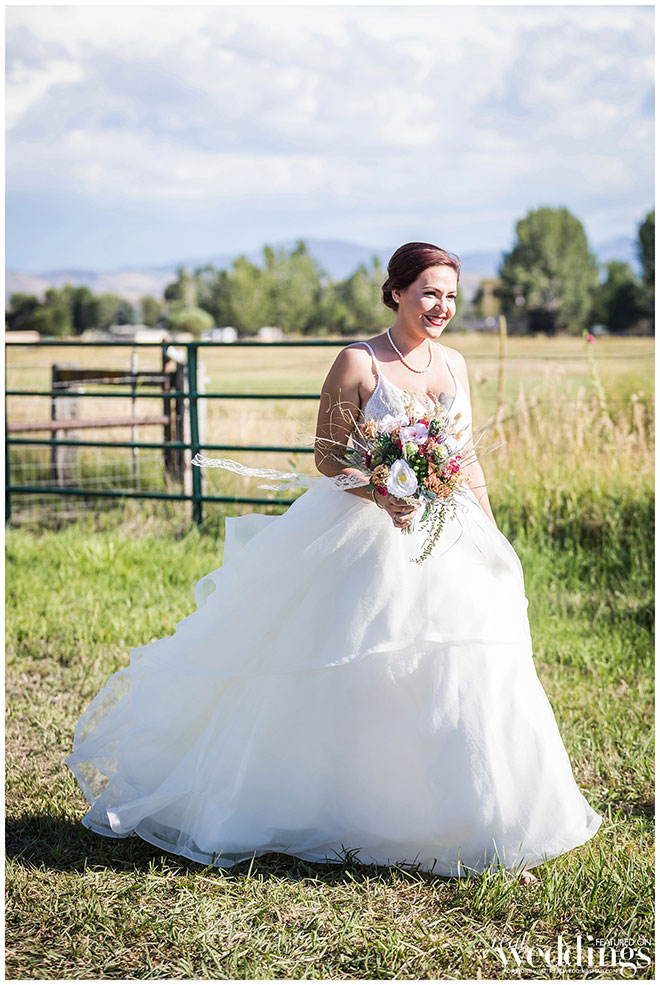 It was the absolute right choice. Saying I do 13 years ago and at that moment. I will never stop believing…in you….or in us. We got this babe."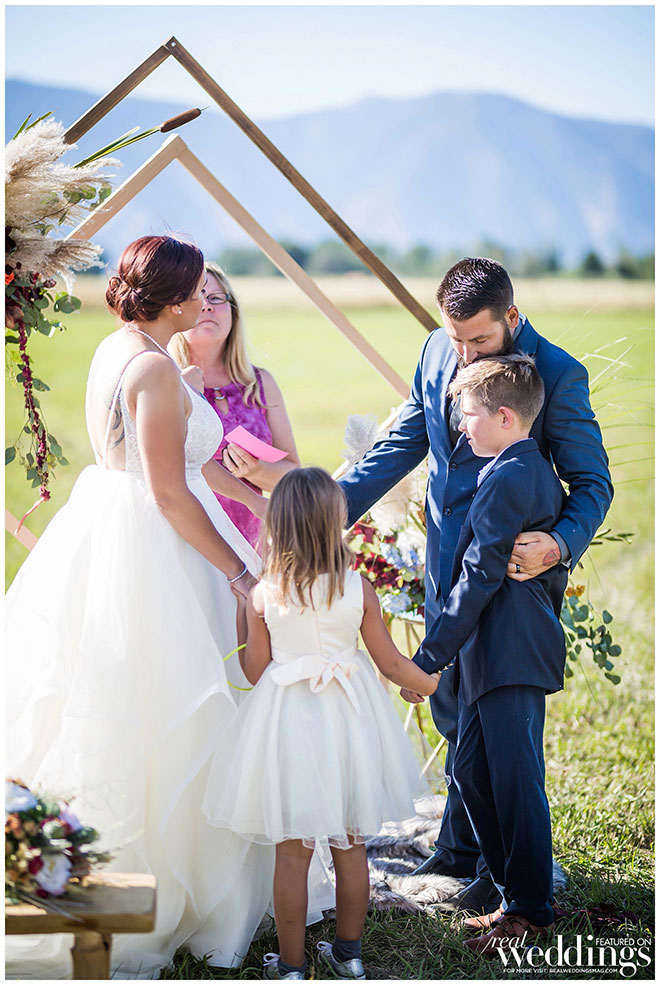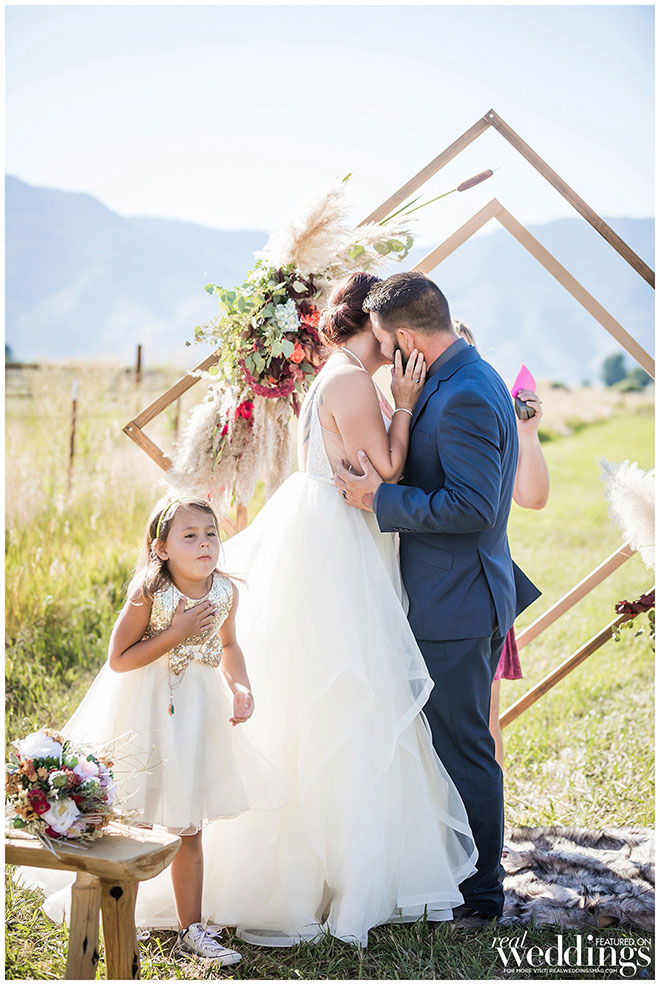 We love love too, Ivy!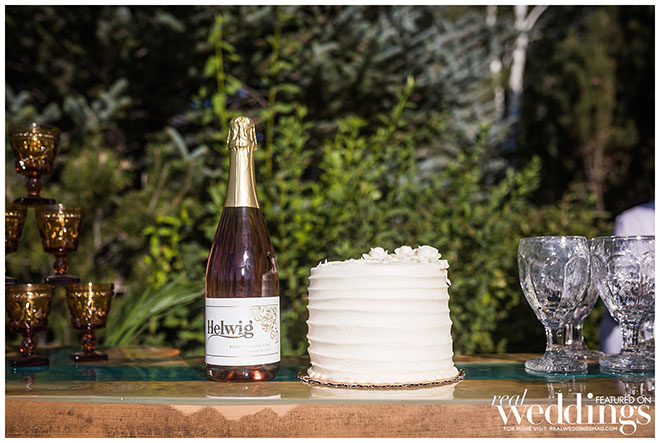 The perfect mini-reception featuring cake and sparkling wine!
Real couple models Katharine & Tony performing at The Tin Dears!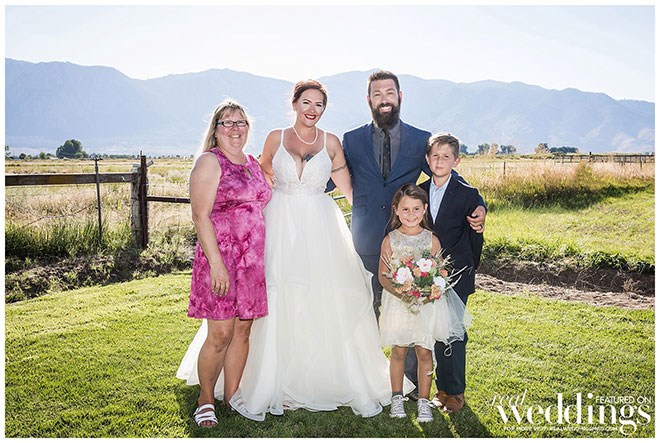 The happy family with officiant (and Rich's mom), Lori.
P.S. Thanks to the talented team behind "Beautiful Valley" for their contributions to Angelina & Rich's vow renewal!
THE DETAILS
VENUE  //   East Fork Ranch  |  eastforkranch.net 
PHOTOGRAPHER  //  Rachel Lomeli Photography  |  rachellomeli.com
CO-DESIGN, STYLING AND COORDINATION  //   eNVy Event Management  |  envyeventmanagement.com
CO-DESIGN, STYLING AND COORDINATION  //   Tahoe Elevated Events  |  tahoeelevatedevents.com
ADDITIONAL VENDOR COORDINATION  //  Carson Valley Visitors Authority  |  visitcarsonvalley.org  
STYLING AND FLORAL DESIGN  //   A Wildflower Florist  |  awildflower.net
BRIDE AND GROOM'S FLORAL DESIGN  //  Carson Valley Florist  |  carsonvalleyflorist.com
CAKE DESIGN  //  Frank Vilt's Cakes  |  frankviltscakes.com
CHARCUTERIE  //  Sierra Chef  |  sierrachef.com
BAR SERVICE AND BEER BURRO "LEVI"  //  100 Proof Bar Service  |  100proofbarservice.com
HAIR AND MAKEUP ARTIST  //  Styled by Sass  |  instagram.com/styled.by.sass
GOWNS  //  a&bé bridal shop  |  aandbebridalshop.com/sacramento/bridal-shop
The Clothes Mine  |  theclothesmine.com
SHOES  //  DSW  |  dsw.com
TUXEDO  //  The Clothes Mine  |  theclothesmine.com
JEWELRY AND TIES  //  Macy's  |  Moka Davis, My Stylist@Macy's Roseville Galleria  |  macys.com/mystylist 
JEWELRY AND CUSTOM NAPKIN RINGS  //  Style Avenue Studios  |  styleavenuestudios.com
RENTALS AND DECOR   // Tahoe Elevated Events  |  tahoeelevatedevents.com
LINENS   //  Creative Coverings  |  creativecoverings.com 
CUSTOM SIGNAGE, NEVADA STATE GUEST SIGN AND CUSTOM PILLOWS  //  Swoonable  |  swoonable.net
PAPERIE  //  The Stylish Scribe  |  thestylishscribe.com
VIDEOGRAPHER  //  JB Wedding Photography  |  jbweddingphoto.com
Special thanks to the Carson Valley Visitors Authority, along with our real couple models, Katharine & Tony, and all of the professionals who contributed to this feature!