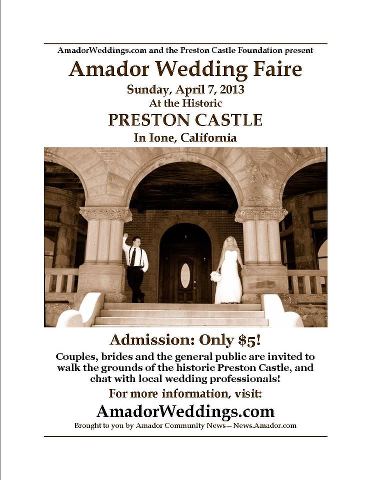 Have you ever wanted to get married in a castle? Well, grab your prince charming and head over to the Amador Wedding Faire THIS SUNDAY, April 7th, from 12-4 p.m. at historic Preston Castle in Ione!
Stop by our booth at this event for your FREE copy of Real Weddings Magazine and our planning resource, Real Weddings Magazine's The Bride's Guide! Plus, enter to win a $100 gift certificate to Time Out Resort & Spa!
Here are the details for this enchanting event:
When: Sunday, April 7, 2013
Time: 12 – 4 p.m.
Where: Preston Castle in Ione
Cost: Admission is $5 at the door. All proceeds go to the Preston Castle Foundation.
About: Engaged couples need not think Disneyland or Vegas to dream of being married in a castle, when the bride and groom can be king and queen for a day at the Preston Castle in Ione, California!
Those who have never been to Preston Castle are encouraged to come to the faire, walk around the castle grounds and take a mini-tour.
For more information, please click here.
Be sure to tell them you found out about the event from Real Weddings Magazine!
Hope to see you there!
Photo courtesy of and copyright Amador Weddings.
Blog post by Real Weddings Magazine's Social Media Maven, Aimee Carroll.
Subscribe to the Real Weddings Magazine Blog! Click here: [subscribe2]