Every now and then, it's necessary to get out of town to decompress and restore. Don't you agree? What better way to do it then with a trip to Sin City with your #bridetribe for some partying, relaxing and reconnecting?
For our girls' weekend getaway (please note that this was pre-COVID), we hopped on a quick Southwest flight and jetted to The Cosmopolitan, the ultimate luxury resort on the Las Vegas Strip.
The moment we walked into the lobby, we knew we were going to be spoiled. The property exudes luxury and sophistication with a touch of sexiness (and dare we say a little naughtiness?), a place where you can lose yourself in a whole lot of fun.
The main center point that caught our eyes—just past the lobby—was The Chandelier Lounge, which is split into three different levels, providing a captivating visual experience. The stunning beaded curtains of lights were alluring, too—making us feel as if we'd stepped into a scene of Lifestyles of the Rich and Famous. Surrounding the lounge were the magnificent sounds and flashing lights of the slot machines with all the classic casino table games. ("I have to admit that my favorite slot machine is Wheel of Fortune, and—while Lady Luck didn't smile on me during this trip—there's something exhilarating about playing a few rounds with Pat and Vanna!" said one of the girls.) Tucked away in the far corner was a Starbucks, which, of course, became the staple for our morning coffee; be prepared to wait in line though—it's a pretty popular place!
For this trip, we decided to splurge and chose the Terrace One Bedroom Fountain View in the Boulevard Tower, but boy was it worth it! Stepping off the elevator onto our floor, we were greeted with a seductive wall hanging of a woman wearing a black lace mask with bunny ears that instantly put us all in a feel-good mood. The dim lighting in the hallway set a tone of relaxation as we walked to our room. Entering the one-bedroom suite, I immediately felt a rush of excitement; this room was to die for: alluring artwork, a cozy couch, spacious dressing area, and a room with a king-sized bed adorned with sumptuous linens. The bathroom looked like it was straight out of Architectural Digest—complete with a private toilet room, vanity sinks, a huge shower, and a step-up Jacuzzi with a view of the strip. The pièce de résistance, however, was the huge balcony with sliding doors that overlooked the fountains of the Bellagio, Paris Las Vegas, and the strip.
Day one meant poolside drinks, of course! The Cosmopolitan offers three different pools to choose from: The Boulevard, The Chelsea, and Marquee Dayclub. If you want the ultimate club experience, then the Marquee is your scene—complete with an extension of a nightclub in the evening.
Both The Boulevard and Chelsea offer cabana and daybed reservations, which can be made ahead of time on The Cosmopolitan's website. We opted for The Boulevard, considering it was conveniently located in the same tower as our room. Poolside dining meant a variety of fresh and fried deliciousness and drinks aplenty, including frozen margaritas. Pro tip: Arrive early to get the best lounge chairs, as the pool fills up quickly. Poolside cabanas and daybeds were also available, but need to be reserved in advance and have food and drink minimums.
After soaking up some rays and enjoying our good eats and drinks, we were ready to freshen up and hit the strip for some evening excitement. If you're not certain what you want your evening plans to entail, then send Rose—The Cosmopolitan's "Resident Mischief-Maker and Digital Concierge"—a text; she'll provide you with restaurant recommendations and show suggestions.
Las Vegas offers a plethora of activities, from concerts, dancing, and gambling, to zip lining on Fremont Street, or soaring 550 feet above the center of the strip on Linq's High Roller Observation Wheel. Our group opted for the latter: the world's tallest Ferris wheel 360-degree views of the Las Vegas Valley and The Strip. We chose the Happy Half Hour ticket (available from noon-1 a.m.), which meant an open bar in the sky. Pro tip: Going at night provides the best views of the city and gives you more of a Happy Hour party vibe.
Having stayed out into the wee hours of the morning, it was time to indulge in some pampering. I strongly suggest booking a penthouse suite for you and your girls at The Cosmpolitan's Sahra Spa, Salon & Hammam. Words can't explain this beautiful desert-like oasis.
Our host Kimesha provided us the ultimate royal treatment with the perfect amount of attention and privacy. With room for up to 10 guests for four hours, the penthouse suite provided our group with an indulgent retreat to hang out, relax, and gab. Kimesha greeted us with Champagne and refreshments, and when we were done oohing and aahing over the suite's private living and treatment areas, were able to avail of two whirlpool tubs, a eucalyptus steam room, showers, and a vanity area. Several of the girls opted for individually hosted treatments, including massages, facials, and mani/pedis. We spent a good portion of our day in the private retreat unwinding and relaxing. On our next trip, we'll definitely be booking a treatment at the hammam (a ritual space that contains a heated motherstone slab, two whirlpools, steam rooms, and stone loungers that can be used privately or with up to three people).
All that relaxing makes a girl really hungry! Luckily, Vegas is a culinary mecca, and the dining options at The Cosmopolitan are abundant and impressive. From all-day breakfast spot Eggslut and comfort food favorite District: Donuts. Sliders. Brew., to American-small plates at Beauty & Essex, and Zuma, a high-end Japanese place with an izakaya-inspired menu, there's something for everyone. We checked in with Rose, our trusty mischief-maker for advice, and decided on Wicked Spoon: a multicultural, high-end buffet. The array of dishes from around the world was a feast for the senses, complete with amazing visual displays, invigorating smells, sizzling sounds, and satisfying tastes. Pro tip: Make reservations in advance for groups of eight or more and opt for the Bottomless Beverages package.
No trip to Vegas is complete without a show, and we opted for Voss Events' Drag Brunch at Señor Frogs, featuring Vegas' finest female impersonators. Admittedly, this show isn't for prudes, nor are you going for the food really, but it's pure entertainment. These fabulous divas know how to put on a show and work the room. It lives up to all the hype and is a guaranteed good time. I even got on stage with a bunch of other ladies in a dance contest to show what we non-professionals had going for us (but we're not sharing those pictures!). Be prepared to be picked on (if you're lucky) and to be impressed by the divas' talents. Pro tip: Opt for the VIP package for premium, reserved seating, full open bar, and to meet the performers after the show. Oh, and bring lots of singles (the performers dance throughout the room, and you can't help but want to reward them!).
With easy flight access from Sacramento, Las Vegas is the perfect choice for a girls' getaway. And, thank goodness what happens in Vegas stays in Vegas. Pro tip: Make your girl tribe do a pinkie swear to reiterate, just in case!
—Sonja Rayne Lee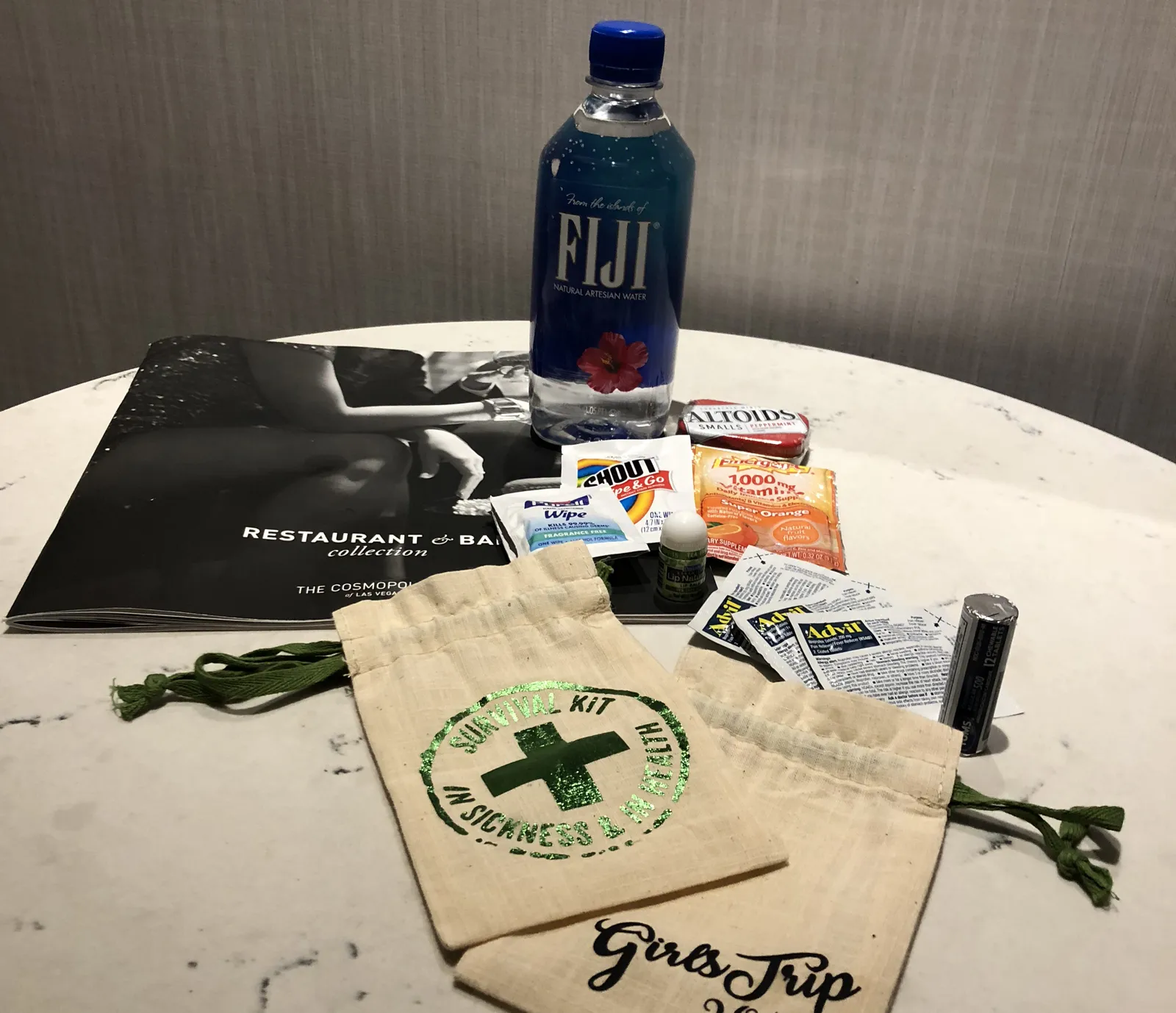 Knowing there would be a fair amount of adult beverages consumed during this trip, I put together survival bags for all the girls and recommend you do the same.
Girls' Getaway Survival Bags
• Shout Wipes
• Purell Hand Sanitizing Wipes
• Earplugs
• Lip balm
• Altoids
• Emergen-C
• Advil…and lots of it!