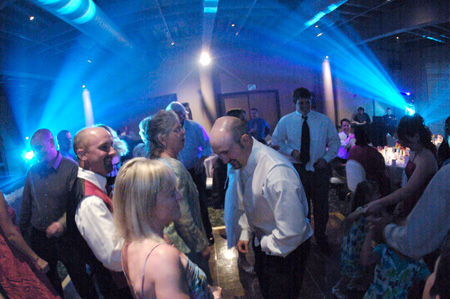 Just when we thought Michael Anderson, Wedding Entertainment Director™ at Creative Memories Entertainment had shared all his valuable tricks of the trade, he's come at a third time with another great tip. This time, he grabs the microphone and discusses..drumroll please…reception introductions!
"You both said 'I DO,' the photos are done, now it's time for the party to begin! We have all been to countless weddings where the wedding party gets introduced with nothing more than their first names and a song in the background, if they're lucky.
The truth is that this celebration is more like a family reunion for the first time. Although everyone in the room will know who the two of you are, not everyone will know who the wedding party is and why they are so important as to be picked to be in the wedding party.
One way to ensure a great start to your reception and create a lot a fun is to incorporate a custom introduction with the help of your emcee.
A personalized biographical introduction is a great way for your guests to get a glimpse into the memories you have had with the members of your wedding party. You can include information about your relationship to each (relative, friend, how long), where they live, their occupation and /or educational status (i.e. college student, high school student), their relationship status (single/engaged/married), etc. Also feel free to include such information like, what they would be most famous for or most likely voted likely to do in life. The size of your wedding party should determine how much detail you will go into. You don't want it taking too long or it will lose its appeal. Inside jokes will never come off well as it will leave most of your guests in the dark about the true story behind the story.
If you do choose this style of introduction, it is extremely important that your entertainment vendor fully understands how to do this properly so it won't be presented poorly. Ask to see video footage of them doing this style of introduction to see what the guests reaction is and how well they present the beginning of your wedding celebration."
Thanks Mike for the great advice!
Stay tuned to Real Weddings Magazine for more guest bloggers with expert tips!
For more information on Creative Memories Entertainment, visit them at www.creativememoriesdj.com or call 916-344-7000.
Also be sure to check out Mike's profile on Real Weddings Magazine and check out his blog!
Blog Post by Always a Bridesmaid Columnist Darren Elms.
Photo courtesy of Mike Anderson, Creative Memories Entertainment.
---
---
Looking for local Sacramento wedding vendors?
---
Subscribe to the Real Weddings Magazine Blog!