The finalists have been chosen, and now it's time to vote! One of these lucky couples will win their dream wedding worth more than $30,000 in the Sunset Whitney Country Club's Classic Wedding of a Lifetime Contest!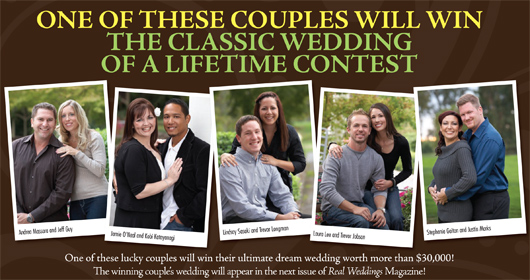 This week, we're highlighting the five finalist couples so that you can get to know them better, and then cast your vote for your favorite! You can vote once per day, and remember that voting ends on February 1, 2011.
Couple #4…Jaime O'Neal & Kobi Katayanagi

Why should you win the Sunset Whitney Country Club's Classic Wedding of a Lifetime Contest?
Our love story began seven years ago and our wedding has been in the works for at least half that time, but unfortunately major financial obstacles and family tragedies have halted our progress.  Together we've already faced more hardships than many couples will ever deal with.
The past few years have been very difficult for our family, but the bond that we share has only gotten stronger.  Our love has already stood the test of time and now we need your help to win the wedding that we could only dream of otherwise.
When and how did you meet?
Our love story began over 7 years ago when I took a job at a computer company where he worked at the time. I remember smiling to myself when I first noticed him during a tour of the office and on my first day of work, I was pleasantly surprised to find that my new cubical was right next to his. I never believed in love at first sight until I met Kobi.
How did you know that you were meant to be a couple?
I knew right away that things were different with him. Even before the first kiss, I knew I was in love with him. The past 7 years has proven our love is real.
What is your favorite characteristic about your spouse to-be?
Kobi's Response: Jamie is a very loving and caring person. She will do anything that she can for her family and friends. I often feel guilty because I don't feel that I can properly reciprocate the amount of love that she has for me, but it definitely gives me motivation to be like her in that regard. I truly admire that quality in her; she is the love of my life.
Jamie's Response: Kobi is my best friend and he gives me strength. He's the most loving man I've ever met and he has a big heart which is just one of the many things that I love about him.
Tell us about your proposal. When did it happen, how did it happen?
The original proposal was very sweet and spontaneous. Kobi made a makeshift ring out of the aluminum ring from the top of a soda bottle which he bent to fit my finger. He got down on one knee and asked if I would be his wife. It was so romantic and sentimental; I still have the ring he made for me.
Why should we pick you to win the Sunset Whitney Country Club's Classic Wedding of a Lifetime Contest?
Kobi's Response: We should be chosen because my Fiancée does so much for everyone else in her life that she deserves a wedding far greater than what I can give her, a day that will always be cherished because that's the approach that she uses to take care of us as a family. I also believe that we deserve to win because we will appreciate it more than you could possibly imagine, things like this just don't happen to people like us and it would be the greatest event of our lives.
Jamie's Response: Our wedding has been in the works for over 3 years now, but unfortunately life has gotten in the way several times, derailing our plans. I feel blessed in so many ways to have such a wonderful man, without him I don't know what I would have done. We've have been through so much over the past few years and Kobi has been my rock! A few years back I was diagnosed with a painful medical condition, needless to say it's been a struggle. Some days are pretty rough but he keeps my spirits up and can always make me smile.
We experienced another setback when I was laid off from my job, which forced us once again push the wedding back. Just when we thought things couldn't get much worse, we got a reality check. Tragedy hit our family hard. My only sister and my 7 year old nephew went missing, it's been a nightmare! Everything else became so insignificant, our wedding got pushed to the back burner and my focus quickly became searching for my sister and nephew full-time.
It's now been 2 years since my sister and nephew were last seen. We have very little to go in regards to the disappearance but I refuse to give up. I'm currently working to start a non-profit foundation to help other families facing the same type of tragedy. Through all of this Kobi has been right by my side. I realize that together we have faced more hardships than most couples will ever have to deal with. It's only made our bond stronger and I know we can overcome anything.
Be sure to check out all of the participating wedding professionals who are part of this extraordinary dream wedding giveaway! They include:
Always Elegant Bridal & Tuxedo
Sugar & Spice Specialty Desserts
Photos of the couples by Image Outfitters Photography.
Do you have the new Real Weddings Magazine iPhone and iPad App?
Download it from the Apple App Store Today: REAL WEDDINGS MAGAZINE!
---
---
Looking for local Sacramento wedding vendors?
---
Subscribe to the Real Weddings Magazine Blog!