Let's face it, during the wedding planning process, it's easy for our poor grooms to get lost and forgotten in the excitement and anticipation of the big day.
Sadly, wedding planning will not be the last time your groom gets bumped on your priority list. If you're planning on having any babies, your sweet hubby might be feeling a little neglected all over again. Sometimes it's hard to maintain the relationship you've become accustomed to with your man between all of the nursing, diapers and long sleepless nights.
That's what happened to me. First came love, then came marriage, then came baby in a super fast baby carriage. I'm talking the Ferrari of baby carriages!
Don't get me wrong, we were over-the-moon thrilled and excited to welcome our honeymoon baby. It has by far been the most incredible blessing of my life. My husband completely blew me away with his selfless love for us. I always knew he we would a great husband and father, that's why I married him. But, I could have never imagined the "better than my dreams" dream man that he has become.
I wanted to do something for him. I wanted to thank him for supporting me and having to take a back seat to the baby. He had asked me for "special" photos of myself before, but being shy and feeling modest, it's not something I ever really considered.
So, in the interest of surprising my husband, I dove way out of my comfort zone and decided to take the plunge.
After all, I was doing it for him… wasn't I?
I had an unexpected revelation after I decided to take these pictures. Maybe I needed this just as much as my husband. Maybe I had forgotten to do something for myself sometimes. Maybe I just needed to feel beautiful.
Whether you call them glamour pictures, boudoir photos or sexy shots, it's really just about feeling great in your own skin.
Every girl has her own reasons for wanting to take photos. Whatever her reasons are, I guarantee that each girl walks away feeling the same way… uplifted, confident and gorgeous.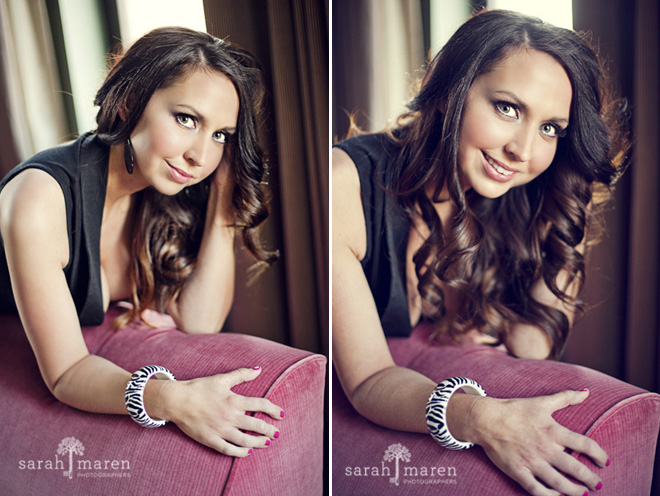 I am proof that you don't have to be a super-model to take boudoir photos. I spend my days with a 9-month old on my hip, dried banana bits on my PJs (yes, I rarely get dressed), crazy messy hair and I just can't ever seem to make it into the shower. Oh, and makeup? Forget about it! You should see how excited my poor husband gets when I actually get ready to go somewhere.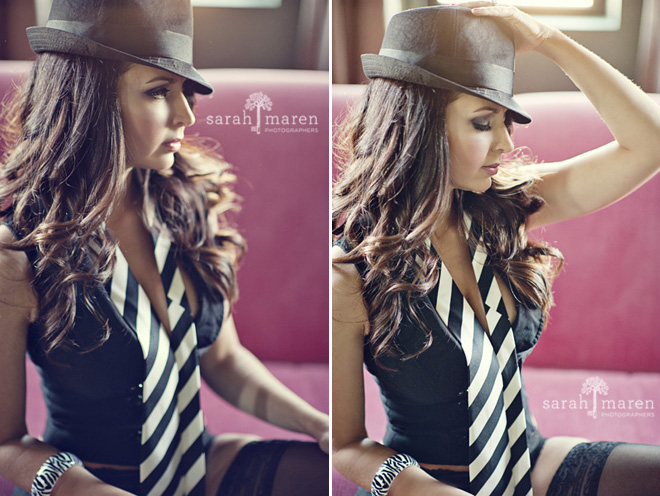 Ok, so I'm no super-model, but I was lucky enough to have an amazing group of girls helping me get "camera ready" for the shoot. I arrived at Sarah Maren Photographer's "Closed Door" marathon photo shoot at The Citizen Hotel and was greeted by endless mimosas and the incredible three-some of Hello Glam. These girls are the Charlie's Angels of beauty and had me vixenized in no time.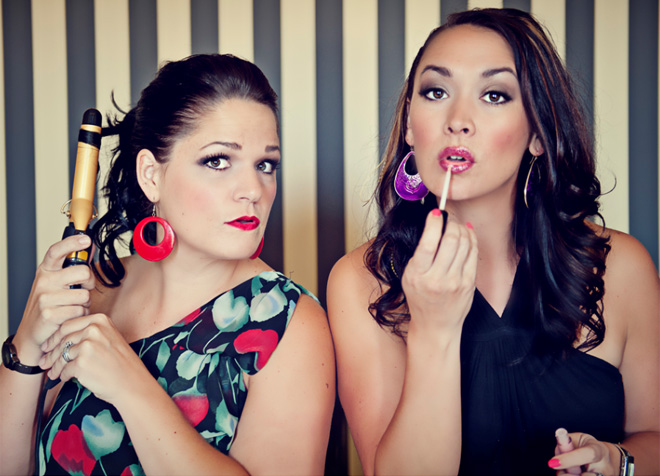 I had a blast getting ready for this shoot! I've gotten my hair and makeup done before, but it has always been for weddings and other special events where I needed to look "natural." The fun part about this is that you can go crazy with your hair and makeup and do things you wouldn't typically do. A lot of girls have a "look" they want to go for, but I just told the girls of Hello Glam to surprise me and I was so happy with the results!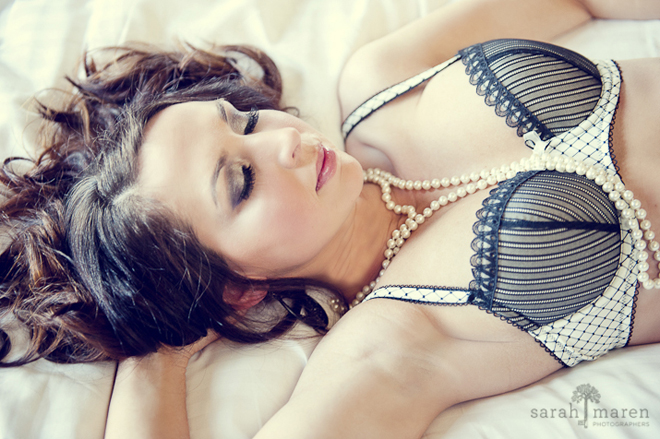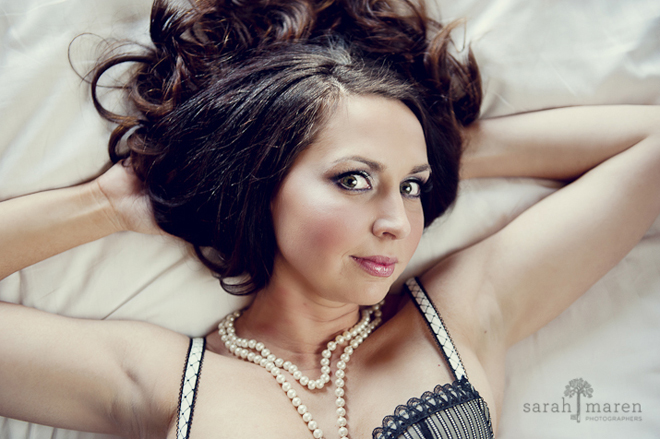 Not only did Hello Glam get me ready for the camera physically, they got me ready mentally. From the second I sat down to get glamourized, I felt like I was chatting and laughing with my old girlfriends that I had known for years. These girls gave me the extra little confidence boost I needed to feel comfortable in front of the camera.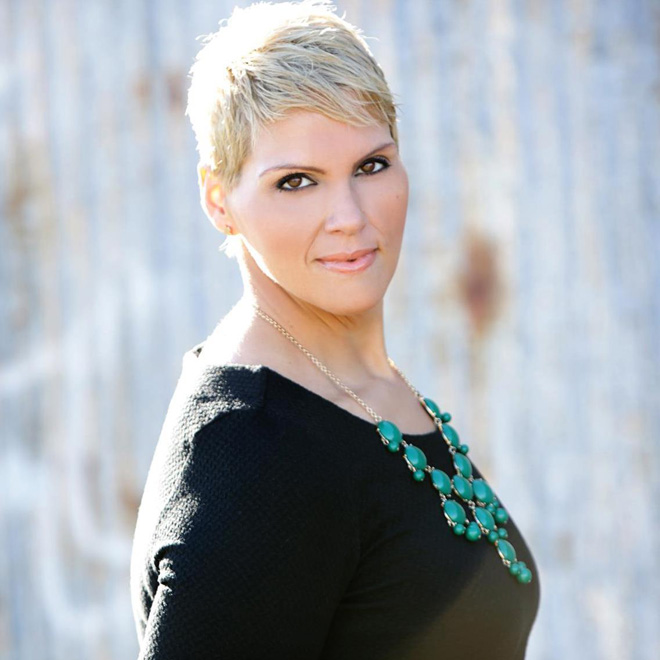 Enter the talented Sarah Maren. Sarah had photographed my engagement and wedding photos, so I knew going into this that I would feel at ease and extremely relaxed with Sarah working her magic behind the lens. Not only does Sarah have a way of making you feel comfortable, it's almost guaranteed that she will have you laughing through your entire photo shoot. And, come on, have you seen how incredibly stunning all of her photos are? This lady is one gifted artist!
I know some girls have shied away from taking boudoir photos because they don't want to be too revealing. I think there's a misconception that you have to dress like a stripper or that you must have the perfect body to take great boudoir photos. The beauty of this is that you can wear as much or as little as you feel comfortable with.
Sarah says, "I have photographed women who want to be fully clothed, but give a sense of sensuality, and then there are other gals who want to do something a little more out of character as a gift to their significant other. I try to achieve the most beautiful images of you possible, no matter how much or how little clothing you have on."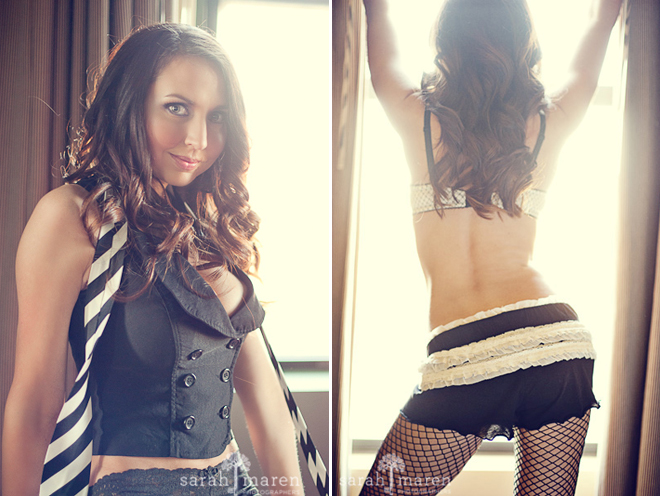 For me, I decided that I felt comfortable revealing as much as I would in a bathing suit. But, that is a personal decision that's up each individual. I've seen the "fully clothed" shots and they are just as gorgeous and intriguing as ones showing a little skin.
All in all, this has been an extremely positive experience. I am so happy that I left my comfort zone and got to take a short vacation (even for one day) from frumpy, baby-toting, ol' me.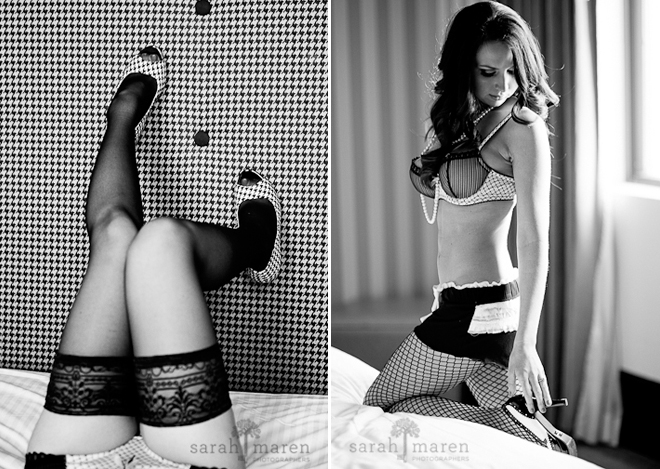 During my pre-photo pep talk, Leilani Miladi Meninga from Hello Glam told me that "A woman's beauty has the power to create life, start wars and bring a man to his knees." I will never forget how I felt leaving that shoot…feeling like I had the power to do anything.
Oh, and my husband? He got to see the photos just in time for Valentine's Day and he loves them! He got a "little black book" of special photos for his eyes only.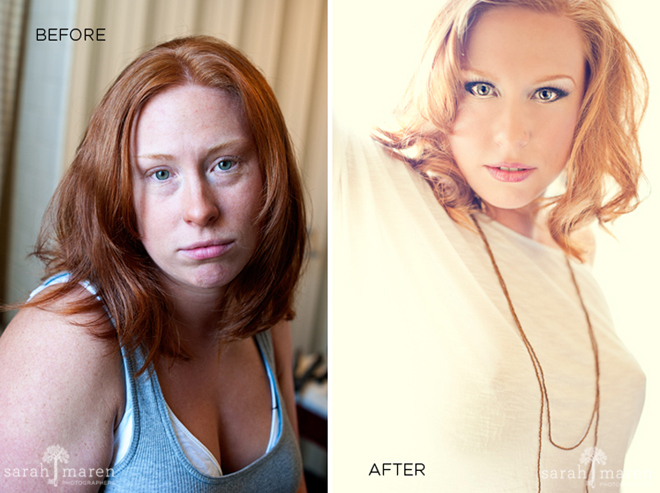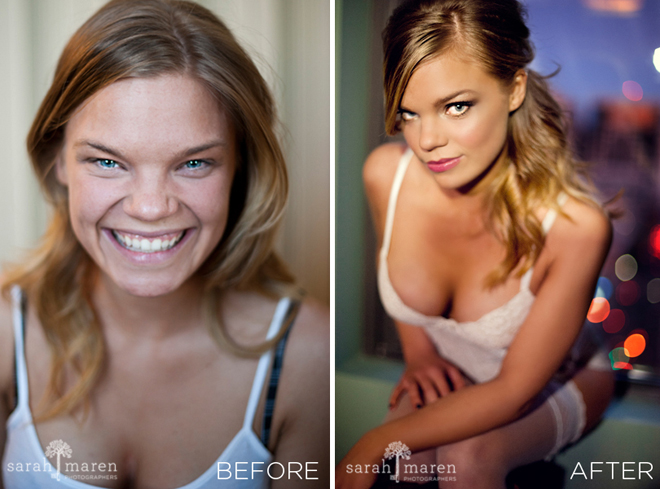 I cannot end with post without congratulating Katie and Kristina on their amazing boudoir photos (pictured above)! Katie, from 107.9 The End, lost over 40 pounds and decided to take the photos to celebrate her new body! She is such a great example of what a boudoir session is all about. She was nervous before coming in, but by the end of the shoot she felt like a million bucks and took gorgeous photos!
Bride-to-be, Kristina, walked into Sarah's closed door shoot as I was leaving and I got to hear all about her amazing plans to surprise her groom. Kristina had been saving herself for marriage and decided to take these photos to give to her hubs-to-be right before the wedding. How incredible is that?
Now that I've gotten a taste of glamour, I may need another dose of Hello Glam and Sarah Maren soon. The girls will be hosting another "Closed Door Marathon Photo Shoot" later this summer!
Make sure to "like" Sarah Maren Photographers on Facebook for future marathon announcements, facebook.com/sarahmarenphotographers.

Blog Post by Real Weddings Magazine's resident Girl Tested, Bride Approved Columnist.
Photos courtesy of Sarah Maren Photographers.
Subscribe to the Real Weddings Magazine Blog! Click here: [subscribe2]