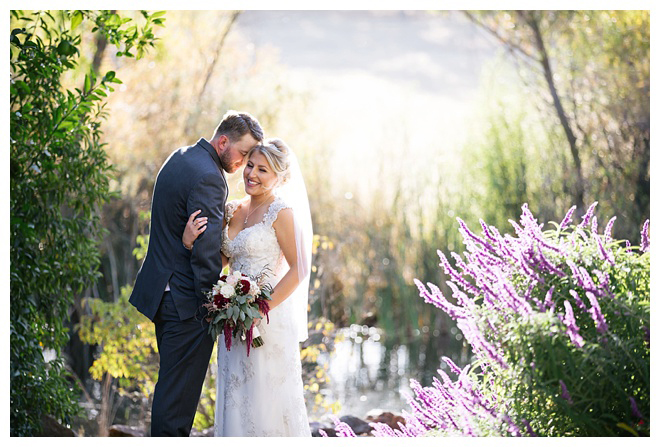 The Couple: Dana and Jack
Wedding Date: October 14, 2017
Photography by Andrew and Melanie Photography
Tell us a little about you and your beloved: Jack and I met through a dating app called Tinder. After talking for about a week, we decided to meet over a beer on May 30th, 2014. Jack showed up straight from work in filthy dirty clothes (sign of a hard worker – HA), sweaty hat, dirty hands, but an adorable smile. Our short date turned into a whole evening chatting over dinner. When it was time to leave, Jack gave me a sweet kiss goodnight in the parking lot, and we went our separate ways.
As soon as I got home I received a text message saying, "You are not moving anywhere anytime soon are you?" Ha, no I was not… After 10 months of dating long distance, Jack moved from South Lake Tahoe to live in North Lake Tahoe to be with me. Over the last few years we became closer, and knew that this was going to be forever.
I did not know this at the time, but Jack had asked my grandfather for my hand in marriage when we were visiting on May 30th, 2016. My grandfather gave Jack his blessing, and said he would be honored to know that I am taken care of and in good hands. My grandpa was in his final stages of life, and passed away in October 2016. My grandfather was supposed to walk me down the aisle, and while we won't get that chance, I am so thankful we have his blessing.
We planned a trip to New Zealand in November 2016 to visit some friends and explore the country. On the third day of our trip, we planned a day trip with two of our friends to visit Milford Sound, New Zealand. The most beautiful place we have ever been: We saw more waterfalls that day than some people see in a lifetime. It was a magical place that we will never forget. Towards the end of the boat excursion, we were approaching Milford Sound, the main waterfall. Our friends were taking pictures and a video of the moment that was about to happen (I had NO idea). Jack kissed me, told me he loved me, and got down on one knee. I was so shocked; I lost my breath and couldn't believe the moment I had only dreamed of was finally here. I kissed Jack, and said YES! We laughed, we cried, and we had the rest of our trip ahead of us as an engaged couple.
We knew we wanted to get married outdoors in the Fall of 2017, but we were a bit stuck on where the exact location would be as Tahoe in the Fall is too unpredictable with weather to be outdoors. I run the Special Events Department for Tahoe Mountain Club in Truckee and had met Melanie Soleil during one of my weddings at work. After working with her and seeing her work I instantly knew that I wanted Melanie and Andy to shoot my wedding someday. I reached out to Melanie and told her that we wanted a venue that was primarily outdoors, rolling hills, oak trees, vineyard, and a Modern barn. Her response, "You are describing River Highlands Ranch and Vineyard, it has everything you want." When we looked at the venue we knew that was it, that's where we were going to say "I DO" and start our forever.
What was the most amazing part of your day? Our favorite part was having all of our family and friends together in one location celebrating our marriage. We can't describe it, it's just a very special day that brings all of your loved ones together to celebrate YOU! Make sure you take time to take a step back and watch all of your guests interacting, that's a moment we will never forget!
Our ceremony was also very special to us with personal touches throughout: My brother walked me down the aisle since my grandpa passed away, we wrote the entire script, we wrote our own vows, we included a "Blown Kiss" that everyone threw to heaven at the same time for our loved ones that have passed, for our unity ceremony our mothers came up and signed our marriage license during the ceremony, and we ended with a streamer finale when we were pronounced husband and Wife. It was AMAZING!
What else would you like to share about your big day? It's true what they say, the day flies by!!! So make sure you take in every moment and don't sweat the small stuff. No one will know that you didn't plan it that way unless you make a big deal about it. I tell my Husband all the time, "Can we get married again?" His responses is typically, "Only if its free this time, ha!" The day was so much fun, the best day ever!
Spend the money on a videographer! We watch our highlight film all of the time, and I'm sure we will watch the extended footage on our anniversary for the rest of our lives. You get to see so many moments that feel like a blur, and your loved ones that couldn't attend get to see a glimpse into your wedding day.
Make sure you take the time to talk with your vendors you're looking to hire, and make sure you vibe with them! I have seen it too many times that my clients hire the most affordable choice or a friend that offers to do the job for free. That doesn't mean they are the best choice. A lot of time, effort, and money goes into your wedding day, so make sure you spend the extra money to hire the vendors you really want, trust, and that have been in the industry for awhile! After all, they are the ones that execute and make your Special Day perfect!
I do want to extend a special THANK YOU to all of our vendors! We love each and every one of you and appreciate everything you did for us on our wedding day. You are more than vendors, you are great friends that we love and respect.
Ceremony and Reception Site: River Highlands Ranch and Vineyard
Photographer: Andrew and Melanie Photography. They are THE BEST, and will have you laughing all day! We cannot thank Melanie and Andy enough for the photos and moments they captured.
Videographer: Davey Hibler Productions
Wedding Planner: Wild and Lovely Events
Officiant: Bob Snyder. Bob is my best friend's Father. I took Jack over to meet her family on our second date. He has knows our relationship since the very beginning, and we knew we wanted someone to marry us that could speak to our relationship and journey together. He nailed it!
Bridal Attire: Camarillo Bridal Boutique
Hair: Kolor by Kori
Makeup: Amanda's Aesthetics and Makeup by Susie
Wedding Rings: The Gem Shop
Wedding Band: Macy's
Bridal Jewelry: Poetry Bridal on Etsy (Necklace and Earrings)
Bridesmaids' Attire: Lulus and Azazie.
Groom and Groomsmen: Blue Garter Bridal and Tux
Invitations:  Invitations by Dawn
Save-the-Dates: Shutterfly
Guest Book: Beau and Ursula Sorenson, Hide Stitch and Hook.
Flowers: Kathy Mooney, Jodi Goux and Laura Santamaria.
"Love" Sign Rental: Tin Roof Farmhouse
Tableware and Bar Rentals: SRC Party Rental
Linen Napkins: Linen Tablecloth
Napkin Bride/Groom Monogram: Designed and printed on vinyl with a Cameo Silhouette. I personally monogrammed 155 napkins with our initials. This was one of my favorite (but tedious) projects.
Catering: Antonio's Catering.
DJ/Entertainment: DJ Klick
Cake: Kendra McGargill
Favors: Personalized Stemless Wine Glasses purchased online from The Knot.com
Accommodations: Gold Miners Inn
Honeymoon: Maui and Oahu, Hawaii
First Dance Song: "Thinking Out Loud" By Ed Sheeran
Any advice you'd give to our readers who are planning their weddings right now? It's never too early to start planning and checking things off your list. The day will sneak up very fast, so get everything done as soon as you can. It was my goal to have all my projects completed one month out, and it made the process "stress free" in the weeks leading up to the big day.
Anything that you would have done differently if you were given the chance? Don't let other opinions effect you and your decisions. Once you make a decision, trust in it, and go with it and be confident in that decision. It is YOUR day and you deserve to enjoy it that way you have visioned.


Photos courtesy of  Andrew and Melanie Photography.
Subscribe to the Real Weddings Magazine Blog! Click here: