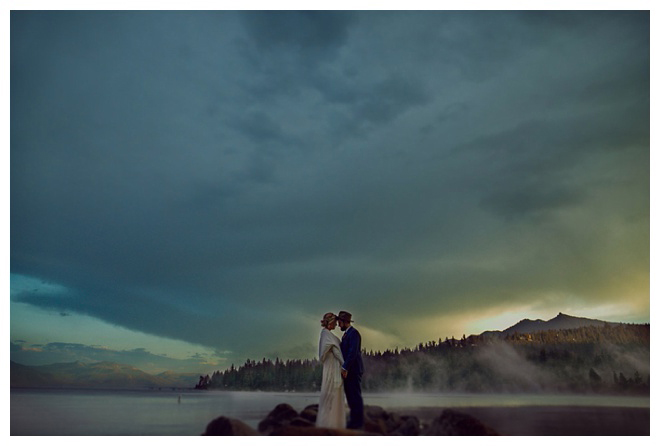 The Couple: Megan & Jon
Photography by Dee and Kris Photography
Tell us a little about you and your beloved: Before they were two ships docking on the lovely Tahoe shore to wed one another, Megan and Jon were two ships passing each other in the night. Both were deeply absorbed in their respective industries, living the young, single, fun life that San Francisco so readily offers. Both were independent, fun loving seekers of magic and fun on their own paths, having a blast.
First they met when Megan, as a representative for her wonderful company and work family Lagunitas, took Jon and his amazing work family at The Independent up to The Lagunitas Brewery on a party bus. Fun times ensued, obviously, but Jon and Megan only met briefly and then went their separate ways.
Their paths crossed again when Lagunitas did an event at The Independent a few years later. Megan came by the venue in the afternoon to do a walk through with Jon's close friend andcoworker, Lani to plan the event.
Megan and Lani had known each other fondly for years, and Lani asked Jon to come out and participate in the walk through, having no idea what she was about to set off.
Jon was immediately smitten, and decided to insert a few well timed, horrible jokes in throughout the meeting. Luckily Megan took a shine to Jon and his horrible jokes.
When Megan left, Jon quickly asked Lani if Megan was single. Lani informed Jon that she was, but also that it was unlikely he had any shot. Jon, ever the dreamer and schemer, and not always smart, figured he'd go for it anyway, odds be damned. As is the case with our modern world these days, Jon's first move was reaching out to her on Facebook. She accepted his friendship! Jon had his foot in the door. BAM!
One day not long after, Megan saw a picture Jon had posted of his beloved dog Freddy running happily in the park, and commented on it. Megan also loved dogs, and had a great little one named Herbert. She suggested to Jon they should take their dogs to the park sometime together. SUCCESS!
Having seen that Megan would be attending the Prince concert the next night at The Fox Theatre in Oakland, Jon made his next move and said they should meet up at the concert. Both were ecstatic to find out the other was a HUGE fan of Prince's music. Jon had Lani show up EXTRA early and get a great spot in the house to see the show. When he arrived he had her invite Megan, her sister Cali, and Megan's friends down to their viewing spot.
Now as you can imagine, a Prince show can be quite the romantic environment and is certainly not a poor place for sparks to fly. Prince was magical that night, and amidst dancing as a group, suddenly Jon and Megan's ships began drifting towards each other to the tune of 'Let's Go Crazy'.
Their first date was at Vesuvio in North Beach. A favorite spot andneighborhood of both of theirs from each others single lives. They wandered around Washington square park and the rest of the magical neighborhood that night, each step of the way impressing one another with their knowledge of the best places to have a drink and watch the world.
It seemed very quickly obvious to both that they had met each others match. The laughter was more than plentiful, and their lives seemed tailor made to seamlessly turn into one, wonderful, weird adventure together.
The next year was a perfect year. They traveled to Mexico, Rome, London, Paris, Joshua tree, and many other magical destinations. There was perfect laughter and great adventures all the way through. And with each day, their old lives where they were two lone ships in the night seemed further and further in the distance.
After trips spending time with each other's families, Jon had no doubt that he had found the woman of his dreams.
He brought her back to the place of their first date and he nervously pretended it was just another night. But it wasn't! He took her to Washington Square park again, where at the foot of Saints Peter and Paul church had her stand in a circle of lights while serenaded by an accordion playing their song 'La Vie En Rose', and asked her if she would spend her life with him. Guess what?!? SHE SAID YES!
What was the most amazing part of your day? Having all the people we love most in the world all be in one place together was truly heartwarming. The amount of love we felt from everyone was a force to be reckoned with. Despite the most insanely epic storm anyone had ever seen right before the wedding, everyone had the times of their lives.
Tahoe was a special place for both us and our families. We both grew up vacationing there, so it wasn't even a question where we'd want to get married. We wanted to share Tahoe with all our friends and family for a long celebration. We basically had a 4 day long party to ensure everyone had the best time ever and we got as much time as possible with all our friends and family.
What else would you like to share about your big day? The largest thunder storm any of us had ever seen happen right before the ceremony and we had to move the outdoor ceremony inside the tent. It actually made for a much more intimate wedding and we got the coolest pictures ever after the storm ended. It hailed so much that it looked like it had snowed. We didn't care at all and made the best of it.
Ceremony and Reception Site: Meeks Bay Resort
Officiant: Our good friend, Reverend Kevin Duran (or Rev Kev as we call him now)
Photographer: Dee and Kris Photography. They were so fun to work with and took the most beautiful photos. We were blown away with how amazing they all came out. Dispute the major Thunder/Hail/Lightening storm that graced us that day. They were all hands on deck and truly helped us make the ceremony actually happen. We couldn't thank them enough and could not recommend them more. We felt like they were family after that epic day.
Caterer: Farm to Table Catering. We could not recommended them more! Our guests all commented how delicious and beautiful all the food was. They even said they felt guilty for how many times they went back for second servings. A sign of some darn good food!
Cake/Desserts: A very talented and nice friend made our cake and cupcakes for us.
Flowers: Sweet Roots Flowers. Gorgeous flowers and the sweetest people. They did all the bouquets and we got big buckets of extra flowers to do the center pieces ourselves.
Favors: We did them ourselves and made everyone welcome bags with big spray, Advil, tums, and a list of our favorite Tahoe spots to hit and enjoy while they were in town.
Bridal Attire: Grace Loves Lace
Bridesmaids' Attire: Lulu's
Hair & Makeup: Daymaker Bride
Invitations: Etsy and Wedding Paper Divas
Signage: DIY
DJ/Entertainment/Band and Photo Booth: DJ Brian
Honeymoon Location: Placencia, Belize
First Dance Song: "La Vie En Rose" by Louis Armstrong
Any advice you'd give to our readers who are planning their weddings right now? Start getting the little things done early like gift bags. Leave as little as possible to get done the day before the wedding or on your wedding day. You might think you will have time, but ya won't. You'll want to enjoy and relax with your wedding party as much as possible.
Anything that you would have done differently if you were given the chance? Not a thing.

Photography by Dee and Kris Photography.
Blog post by Real Weddings Magazine's Social Media Maven, Aimee Carroll.