Welcome back to another installment of Real Weddings Magazine's Partner Profiles!
This week we highlight Danielle Philipps, the lady-boss behind Omni Wedding & Event Planning. If you've been wanting to learn more about Omni Wedding & Event Planning, now's your chance! Take it away, Danielle!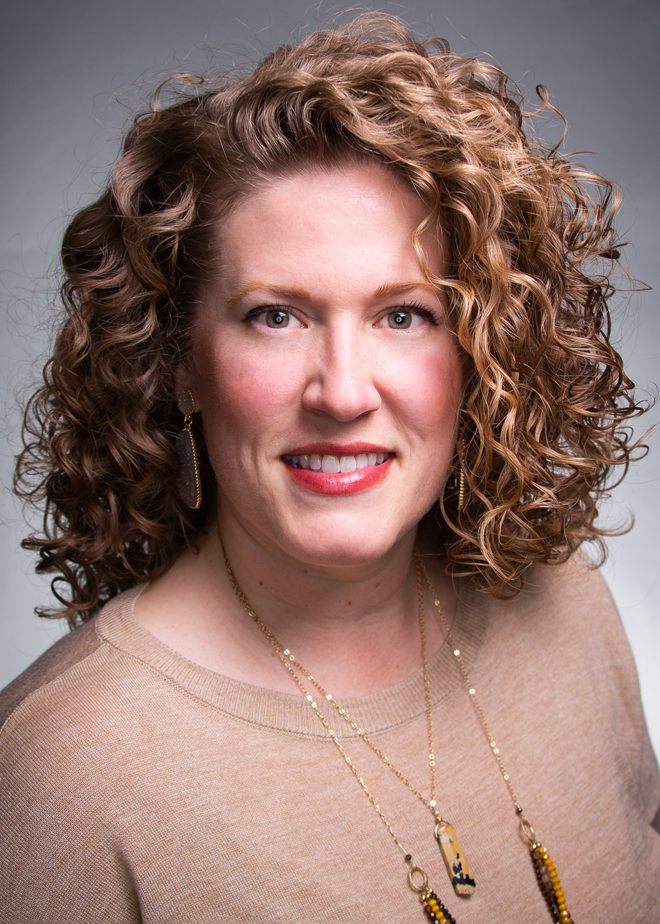 Omni Wedding & Event Planning
Tell us a little about your company? I have been in the hospitality industry since 2009. At Omni Wedding my goal is to stay small so I can focus on your big day. It's just me handling the day to day, but I do have regular assistants that I work with and like most wedding industry professionals, my spouse gets roped in to helping me occasionally as well.
When did you establish your business? I established Omni Wedding & Event Planning in 2017 after having just transitioned out of a full time Venue & Wedding Manager position from 2011-2017.
What sets you apart from your competition? I have the upmost respect for my fellow planners! We all bring something unique to the Sacramento industry. For my part I really hope to do more theme and geek weddings but love them all. I think the bar for wedding planners in Sacramento has been set exceptionally high and I would like to continue raising that bar!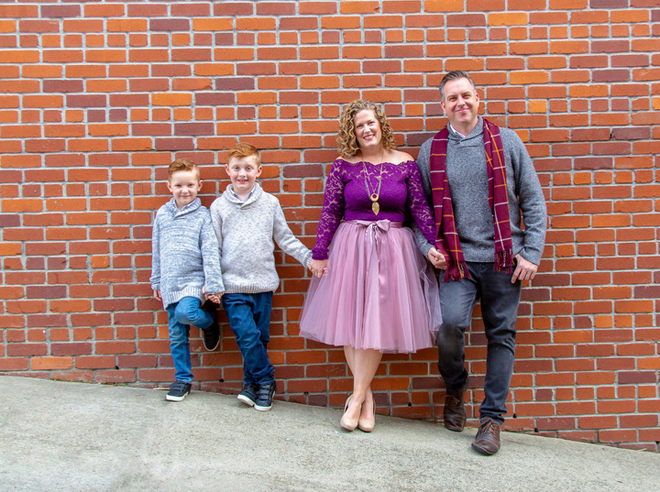 Where do you find inspiration? I am inspired by the geeky things I enjoy and color; most of my inspiration comes from color pairings. A clean crisp wedding is gorgeous but I LOVE colorful weddings.
What professional organizations are you a member of? I am a member of AFWPI (Association for Wedding Professionals Int'l) and The Bridal Society.
What trend do you see coming for weddings this year and beyond? I am not the best with coming trends if I am 100% honest but I don't see people being too in love with the Pantone color of the year, at least in our region. I still see sleeves being a big deal. I think people should be true to what they enjoy.
Can you share a funny/embarrassing/touching story about one of your clients? I have really had the best clients! Last year, I asked one of my brides for the contact info of her band – mostly Spanish speaking guests and my first time with banda (Mexican style music that is mostly mainstream pop but heavily influenced with a large horn section) so I was super excited! Her response was "I don't know. They're a bunch of old Mexican dudes – like in their 30's. They probably don't have emails." I responded, "oh sooo my age?" (face palm)
What's your favorite comment/compliment that one of your clients has given you/your business? I have received a lot of compliments from couples, family members and other guests when I worked at my previous venue and now that I am on my own. There are two that stand out, both at my previous employment. The first, I was able to diffuse a very difficult situation and turn it completely around, to the point where the mother of the bride and I stay in contact to this day. The second helped launch my business. I was touring a groom and his parents while busting out all the Greek I knew (which is very little), but I had also taken the time to brush up. They were so impressed and kept saying thank you for being so respectful of our culture and you are a wonderful wedding planner. I thought to myself "I am" and I need to do this for myself. One thing I pride myself on is being respectful of other cultures so it meant quite a lot to hear them say that.
What is your favorite fun thing to do locally? I know that people say you only go to Old Sacramento when you have company in town, but not me, I LOVE it so much!
What's your favorite local charity? I love that Sacramento is such an openhanded and generous community and I am lucky to be able to serve in a church that organizes multiple charitable events throughout the year. The causes that are of particular importance to me are foster care (don't tell my kids but I usually take about a third of their Christmas gifts to foster care agencies) and homelessness. I recently had the honor of becoming involved with the Mercy Coalition and their Winter Warming Centers for the homeless.
What's your favorite local restaurant? Asking me to choose a favorite restaurant in Sacramento would be like asking me to pick which one of my kids I liked better! They are all so amazing – I just need more time and money so I can visit them all!
Do you have secret vice or indulgence? What is it? I have many vices and indulgences; it really depends on the mood I am in. Currently it is whip cream straight from the can.
Do you have any hidden talents? No super secret hidden talent but I was a competitive baton twirler for ten years. I do like to say IF I had a super power it would be remembering names. Once I learn someone's name, I will never forget it! I have legit pretended to not know someone's name only because they didn't remember me; I think it makes people feel bad if you always call them out saying, "We've meet twice already".
If you weren't in the business that you are in now, what other business/profession would you have liked to have done? I would probably be back in accounting if I was not doing wedding planning. I am ok with somewhat repetitive work. Or maybe an IG travel influencer (in my dreams)!
If you were to plan your own wedding, or re-do your wedding, what element(s) would be most important to you? I would definitely spend more on a photographer but that aside maybe have one of those ultra-romantic elopement packages – they're so gorgeous and moody.
What advice would you can give to soon-to-be-married couples? The wedding aside, marriage is like a job; you have to work at it, sometimes really, really hard. Approach it with grace and humility. I have a couple amazing girlfriends who love me tell me, "Remember Danielle, when you are mad at your husband, God still loves him as He loves you. Slow down and remember that." It's not an easy lesson when you'd rather be mad. Counseling isn't just for those whose relationships are in trouble, it's for marriages that are going well. I would also encourage couples to maintain their independence and outside friendships; I think your sense of individuality can only help to strengthen who you are as a couple. Don't take things too seriously and be able to laugh with and at each other. Sorry, I know that's a lot of advice!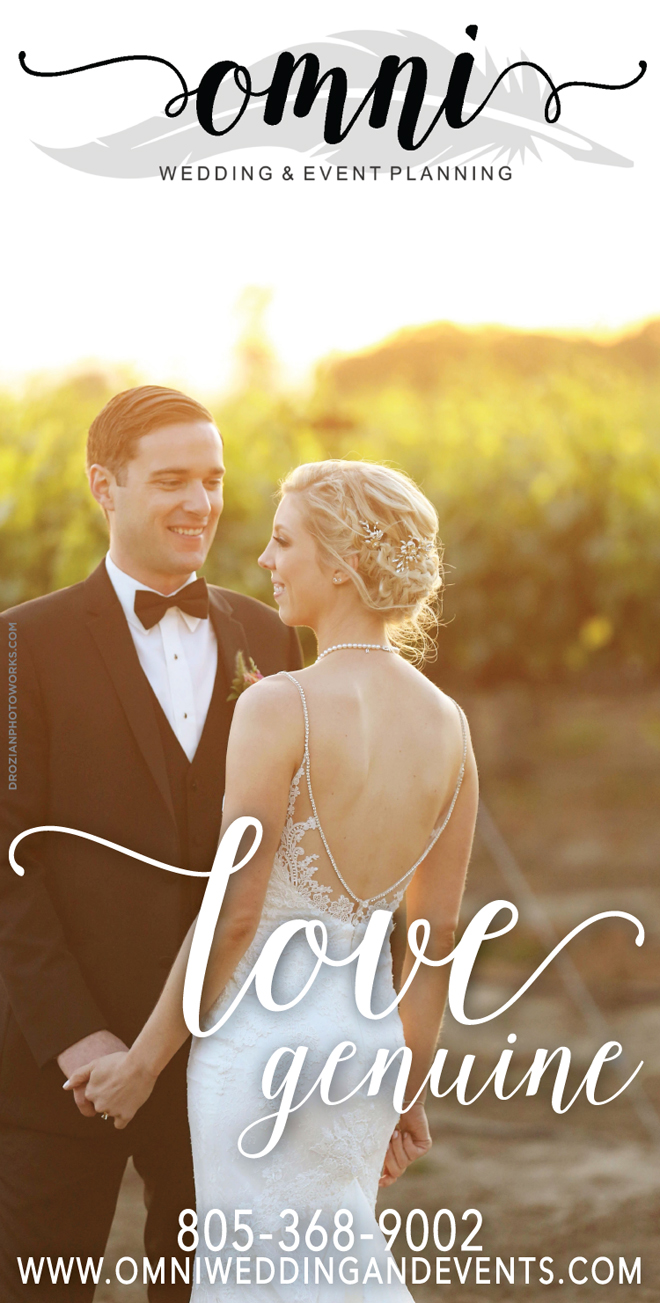 For more information about Omni Wedding & Event Planning, log on to omniweddingandevents.com or call 805.368.9002.
And, make sure to "like" Omni Wedding & Event Planning on social media @omniweddings.
Blog post by Real Weddings Magazine's Social Media Maven, Aimee Carroll.
Subscribe to the Real Weddings Magazine Blog! Click here:
[subscribe2]