Welcome back to our "Marriage of Metal: A Decor Inspiration Story" blog series from the current Winter/Spring 2014 issue of Real Weddings Magazine.
In this installment, you get to know a little bit more about real bride model Vanessa Sevart—um, can you say, gorgeous? Yes, she's absolutely stunning in person and on film―she just oozes sexiness, don't you agree?!  The bonus is that she's crazy sweet and super easy-going!
Vanessa had previously entered one of our cover model contests, but hadn't yet been selected as one of our cover model finalists. So when we were looking for a real bride to be our model for this styled concept shoot, we thought Vanessa would be ideal. We were thrilled when she said she'd love to do it—Vanessa, we're honored to have you be one of our Real Weddings Brides!
So without further ado, may we present Vanessa Sevart, our Real Weddings real bride model: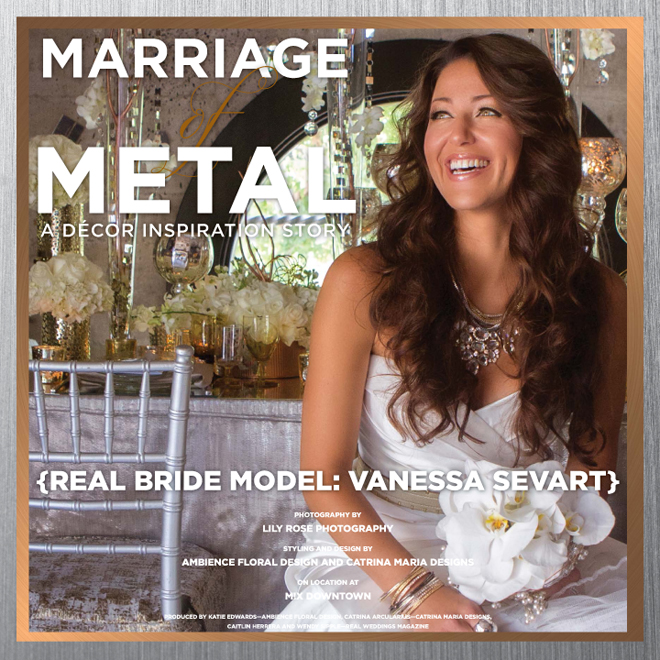 Real Weddings Magazine:  What made you want to model for this photo shoot?
Vanessa Sevart: Well, first and foremost, it was the fact that it was for Real Weddings Magazine. Being that I got married last year, I looked through their issues while planning my own wedding and saw some pretty amazing ideas from some of their past editorials—great inspiration and ideas, featuring local "real brides." Being asked to model for the magazine was such a privilege! (Editor's Note: Why, thank you Vanessa! We think you're amazing, too, and it was our privilege to have you!!)
RW: What was your favorite part of modeling?
V: It was really just being able to see myself in an entirely different wedding look from the one I chose for my own wedding day. From the dress to the hair and makeup, the look was fun and edgy and worked so well with the décor.
RW: What was your favorite part of this photo shoot?
V: I absolutely loved the theme of the shoot! I'm a huge fan of the color choices that were used, and I loved how they incorporated the mixed metals theme into the look with jewelry and accessories.
RW: Tell us about your own wedding day.
V: Our wedding took place on the first day of fall at my parents' home in Meadow Vista. Our goal was to implement my Mexican culture and throw the party of the year, leaving our guests with an unforgettable experience. There were many rustic-handmade touches including long, handmade benches that our guests sat on during the ceremony. The guests then enjoyed a traditional mariachi band during the cocktail our. We served the best-tasting Mexican food and traditional Mexican desserts. Our guests were also treated to a top-shelf tequila bar, so they could try something out of the ordinary. My husband, Ivan, and I wanted to make and/or create many items for our wedding to give it a special touch and to represent our creativity. And it did—it all turned out beautifully. Our day was perfect, crooked cake and all!
RW: What did your spouse and/or family think about you doing this photo shoot?
V: My husband was very excited for me, and was anxious to see how it all came together.
And, check out Vanessa's gorgeous cover of our 2014 The Planning Guide! You can pick one of these up at any of the bridal events we'll be participating at throughout 2014―check out our bridal events calendar HERE!
Or download our FREE MOBILE APP and get a free copy of our digital edition!  Just go to the iTunes app store or the Google Play store and search REAL WEDDINGS MAGAZINE!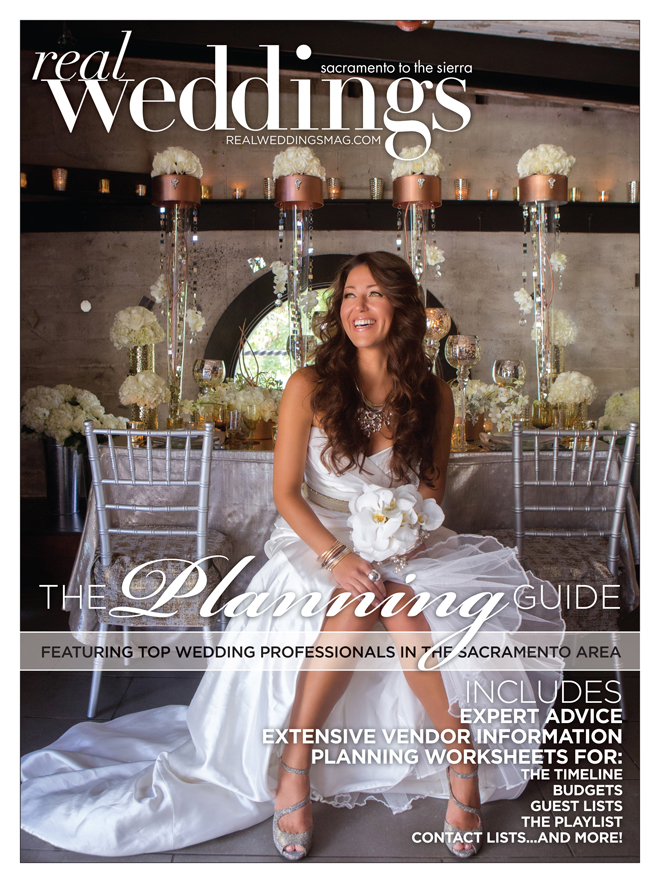 Tune back in to our next blog post for more detail on the fabulous tablescape featured in the shoot and to see more from our "Marriage of Metal: A Decor Inspiration Story!"
Thank you to all of the vendors who contributed to this piece: