Hey you gorgeous Real Weddingsbrides! I know we normally feature Dazzling Dresses on Thursday, but today we thought we'd break with tradition a little and present a little something something for the boys…Bonobos.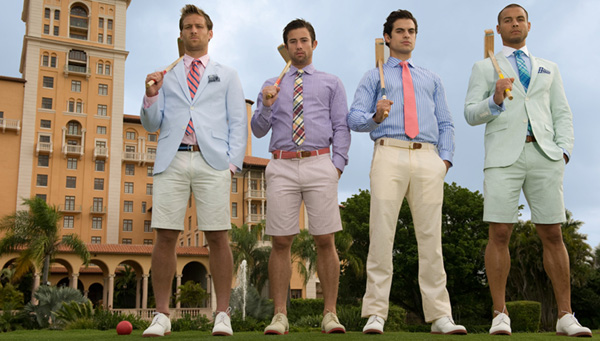 I first discovered Bonobos while traveling in a cab through Manhattan…appropriate, since the company is based in the heart of the Big Apple. I was watching one of those pre-tapped news segments on the way from JFK to the city and saw this story about a couple young guys who started a company that made men's pants…really cool men's pants. I was so struck by what I learned on the ride from the airport that as soon as I was able to log on to a laptop, I checked out their Web site.
Bonobos prides itself in its fit. Not too baggy, not too tight…just right. And they have variety: khakis, wool, seersucker, neutrals, bold colors, you name it. The pair I finally settled on was a brown wool number with a paisley back pocket liner (I love the details). It fits like a glove.
So now I'm sharing one of my best wardrobe secrets with you…the amazing pants that are Bonobos.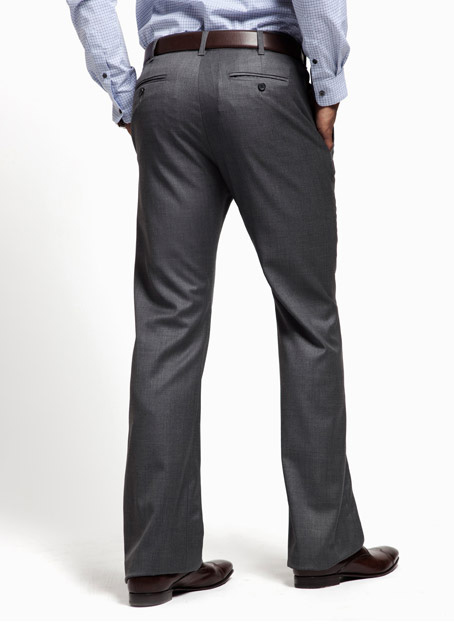 And guess what? They have a wedding page on their Web site just for your grooms-to-be. Here's how they break it down:
"Sure, it's not supposed to be about what you're wearing—But that doesn't mean you can't look great. Engagement parties, rehearsal dinners or The Big Day—Bonobos has you covered…
STOCK PANTS
Starting at $88. Wedding parties of 5 or more can take advantage of a group discount on any Bonobos available on our website.
ONE-OF-A-KIND PANTS
Starting at $180. Work with us to create your one-of-a-kind Bonobos look. Choose from our selection of colors and fabrics to make the perfect pant for the occasion.
BLAZERS
Starting at $450. Build your own blazers with a personal touch! We offer a variety of fabrics to pair with both solid and patterned liners.
Full suits available—pricing depends on fabric.
TUXES
Starting at $1100. Tuxes styled to your taste. Using our signature Bonobos fit, give yourself freedom from the world of rentals. We want to help you create the perfect tux for the big day and every day after.
Any Build Your Own Tuxes, Blazers, or Trousers will require a 6-week lead time from the date of delivery."
Check them out! Now!  Bonobos.com.
Blog Post by Always a Bridesmaid Columnist Darren Elms.
Photos courtesy of Bonobos.
---
---
Looking for local Sacramento wedding vendors?
---
Subscribe to the Real Weddings Magazine Blog!