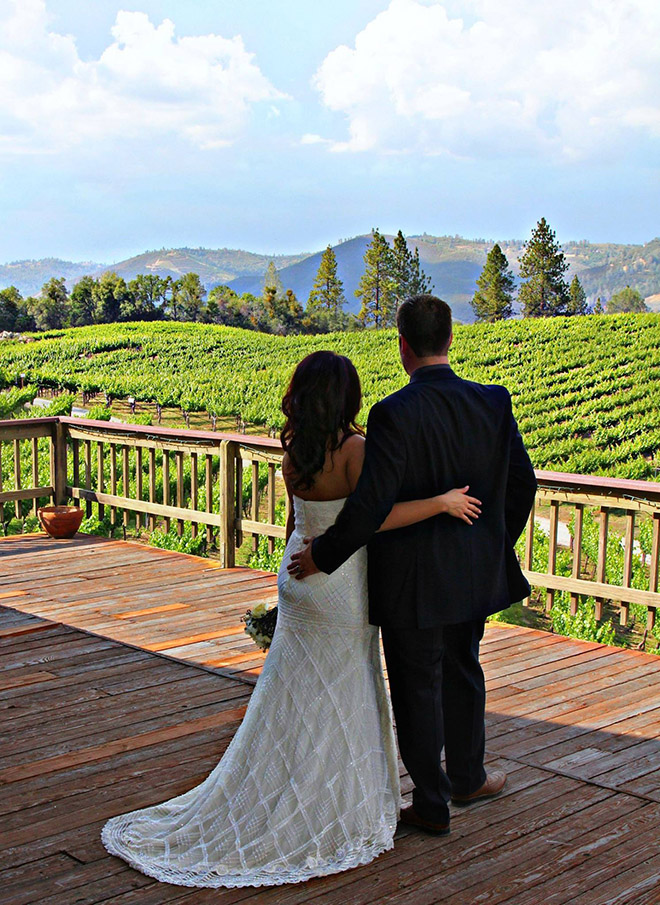 Couples looking for a vineyard setting for their wedding certainly have carte blanche in our area.
Vineyards and wineries in Northern California are commonplace and part of the reason Nor Cal is so fabulous.
One of our favorites is Gold Hill Vineyard & Brewery.
Located in El Dorado County, this vineyard is equipped to accommodate up to 300 guests with both indoor and outdoor facilities. Of course we also love the fact that it's dog friendly too!
An impressive deck overlooking the American River Canyon and Mount Murphy surrounds the 2,500 square foot hall. Guests can still enjoy the picturesque views from inside the hall thanks to the windows set throughout the space. The shared indoor/outdoor space can accommodate approximately 200 guests.
In addition to the banquet hall, Cornelia's Meadow at the Lower Pond is available May 15th through October 15th. This lush space can accommodate up to 300 guests and has a gorgeous ceremony deck with natural décor.
Either setting includes tables, chairs, bartending services and additional upgrade options.
Check out Kimberly and Andrew's Gold Hill Vineyard & Brewery wedding featured in the Winter/Spring 2016 issue of Real Weddings Magazine!
For more information on Gold Hill Vineyard & Brewery for weddings, wines or tastings, visit goldhillvineyard.com or call 530-626-6522.
And, make sure to "like" Gold Hill Vineyard & Brewery on Facebook HERE for updates!
Photo courtesy of Gold Hill Vineyard & Brewery.
Tune into the Real Weddings Blog next week to check out another featured vendor…!
---
Blog post by Real Weddings Magazine's writer, Kelley Saia. 
Subscribe to the Real Weddings Magazine Blog! Click here:
[subscribe2]