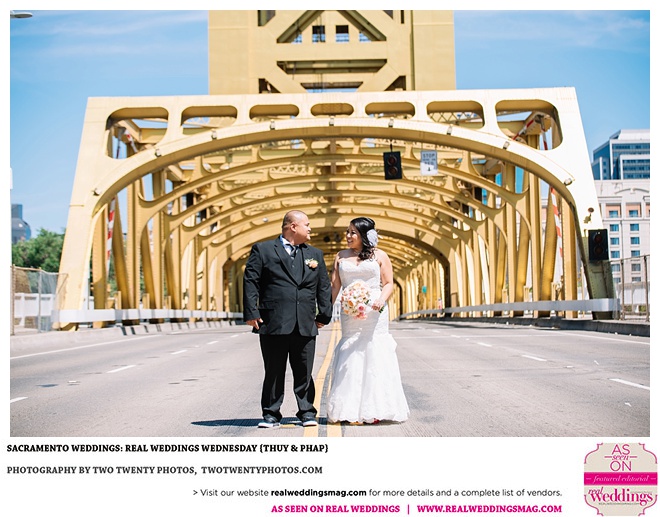 The Couple: Thuy & Phap
Wedding Date: July 11, 2015
Photography by Two Twenty Photos
Tell us a little about you and your beloved: Where should I begin? Phap and I met at a house party that my sisters and I hosted.  He was assigned as my beer pong partner and of course we won that day. We were supposed to meet up for dinner, but that never happened.
2 years later, my sister, Trinh and then fiancé (now they are married) asked me to attend a wedding with them, which I accepted (why not, wedding food, music, and drinks).  I did not know that Phap would be at the same wedding until I arrived and was, "hey your friend, phap, is here!"  We hung out and also danced the night way.  He asked for my number and called me the next day and 1/21/2013 began our chapter as a couple.
We were very open about family, relationships, when we want to get married and how many kids we wanted off the bat.  I always say to him, if we don't get married after a year…I will break it off.  We celebrate our 1 year in Las Vegas and still not engaged.  Beginning of April of 2014, Phap asked me to reserved 4/25 to go watch the Giants play.  I thought it was odd, since he never asked me to go see the game.  He's the biggest Giants fan, but never did we watch a game at the stadium.  I asked my boss for half day on the 25th and told everyone in the office, today is the day…I will be engaged after today.  We drove to SF, checked into our hotel and got ready for the game.
I curled my hair and put on my makeup, making sure I look presentable for the proposal.  I think we went through at least 4 innings when he asked do you want another beer.  I said yes and while I waited, the broadcast from jumbotron was heading towards me.  I was like OMG, jumbotron proposal.  So I fixed my hair and waited and wait and wait.  Jumbotron left our section and 10 minutes later, my boo returned with my beer.  I was upset the entire night.  After the game, I called it a night.  The next morning I was still annoyed at dimsum.  Every suggestion irritated me.  He asked if I wanted to take the harbor ride under the golden gate bridge because he wants to try it.  I agreed, but didn't want to go.  The weather was freezing, the currents were rapids and it was not fun!  When the boat neared the golden gate bridge, we moved closer to get a better view of the boat going under the Golden Gate Bridge.  I did not want to be there, but it was pretty cool.
When the boat made it turn under the golden gate bridge, he got down on one knew and had the ring box out.  I was shock but stuck out my hand and said yes. I did not even hear his proposal spill, I just said yes and he put the ring on, but the current was so strong, wasn't able to slide the ring all the way, I did.  Tears came down my face and everyone one the boat were cheering and taking pictures.  One of the tourist had my his phone and took pcitures and video.  One tourist said we made their day with a sweet proposal.  I told him let go get a beer, I need to let this all soak in.  I was shaking, but now I was engaged.  I asked him on our ride home back to Sacramento, how did the tourist had his phone.  He told me that when I was talking to the couple with the baby in the angry bird outfit, he was telling the tourist he was going to propose to me and if they could take pictures for him.  No wonder where I moved they moved with us.  I instagrammed "Engaged" to let everyone know.
It was like cloud nine until we started to plan out wedding.  We held our traditional Vietnamese engagement tea ceremony on August 2nd, 2014. We were in debate of our wedding date either 7/11/15 or 11/7/15 since I was a size 7 shoes he 11, size 7 ring and he 11. Then I thought about it I do not want to be 34 and married since my birthday is on 7/2, so I pushed the wedding date to 4/11/15.  A few weeks after my engagement, my sister, Trinh and I went dress shopping and she just found out she was preggo, and still not backing down as bridesmaid.  Her due date was really close to 4/11/15, that I decided to push the wedding back to 7/11/15 so she could be a part of it.  It worked out because now we have more time to save for the wedding we dreamt about.
I had a blast planning the wedding.  My husband had his input.  I got all my ideas (vintage theme, all shades of pink) from Pinterest.  Invitation was the hardest when we need to get addresses and with confirmation.  In the mist, we both celebrated our bachelor/bachelorette party.  He went to las Vegas with his boys and I went to Cabo with my girls.  21 girls invading CABO was a blast.  Upcoming to our wedding, everything was pretty much done.  I sat back and chilled.  Maybe it is because I'm a little OCD about lists.
The rehearsal went well and all the girls stayed with me that night.  We had makeup and hair done the next morning.  A 2nd quick tea ceremony and off to church we go.  The Party bus picked the bridal party up and we head to church.  My sister, Trang, opened a beer to ease her nerve since she will need to read the first reading. we made it through church, pictures with family n friends after church and off to Old Sacramento we go.  We had pizzas and salads delivered to our party bus for lunch while heading to Old Sacramento for formal pictures.  We had a slight detour back to my parents' house to pick up my sister, Trinh, because she was nursing and had to pump.  When we actually hit the road from Stockton to Old Sacramento, we blast the music, opened the Cordon Bleu and enjoy our mini bridal party.  Dancing and enjoying the free time on the bus for 45 minutes to 1 hr.  We took pictures at Old Sacramento and ended up at Laughs Unlimited for another round of drinks and live music.  We danced with the band and then we were off to the reception.
At the reception, seating chart was not going well, so we ended up siting wherever.  The night went quick and I did not drink. I remember the entire night from out entrance walk, to first dance, to father-daughter dance, speeches and then two bites of our food and off I go to change.  I changed to my Vietnamese traditional dress and we walked 48 tables to thank our guests that came and to have them blessed us also give us our gift. When we arrived at our last 2 table, my husband "found little brothers" made him down a little more than half of remy 1738.  At that moment, yea I get one sip, but nope he killed it with maybe a lick left.
After I changed back to my wedding dress for cake, champagne/hennie cheers, bouquet and garter toss.  I can honestly say, first wedding I was pretty sober.  We danced the night away and at the end of our reception, we did not know who to go home with.  My brother and his girlfriend were still behind so we jumped in and made it home.  I came home took my dress, hair extensions, jewelry off and was ready to enjoy the rest of the night.
What was the most amazing part of your day? The amazing part of the day is how all pieces of the wedding came together.  I did not even go over the design with my decorator, but was very impressed how she put my "all shades of pink" to a vintage touch at the reception.
What else would you like to share about your big day? Regardless how you plan, unexpected things will come up that will get you heated, but just breathe and enjoy the day.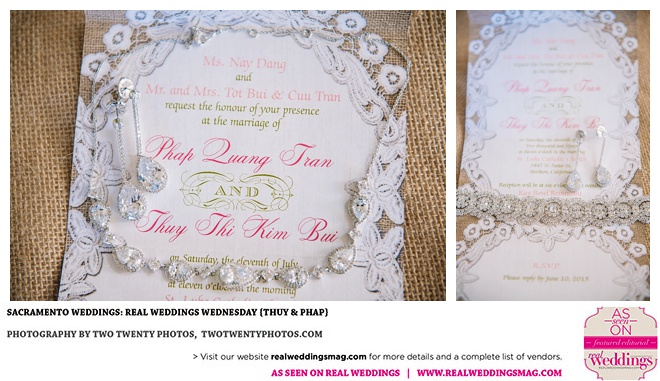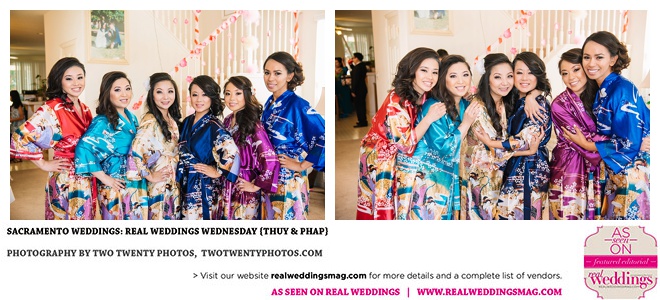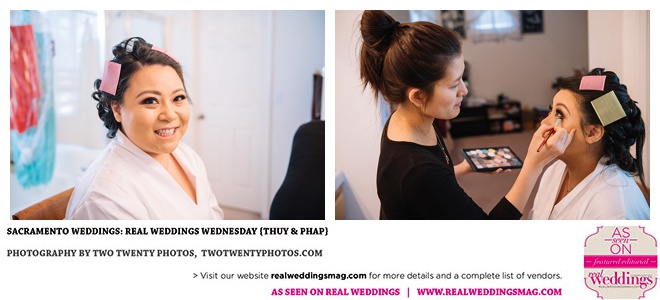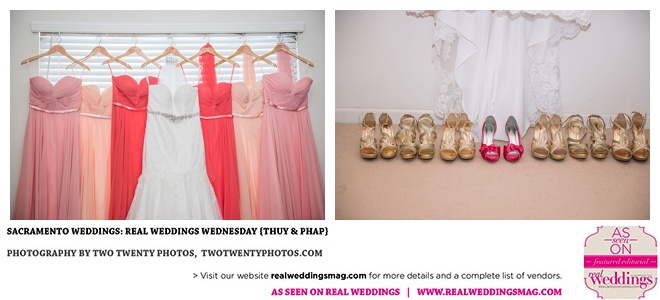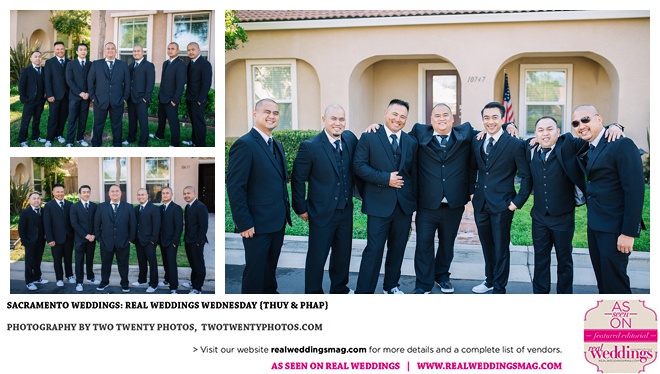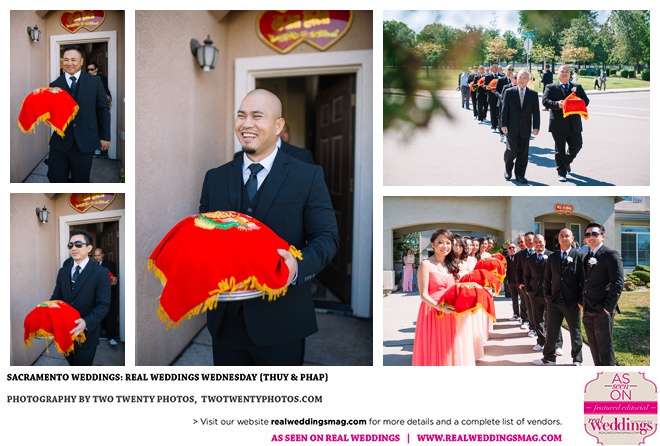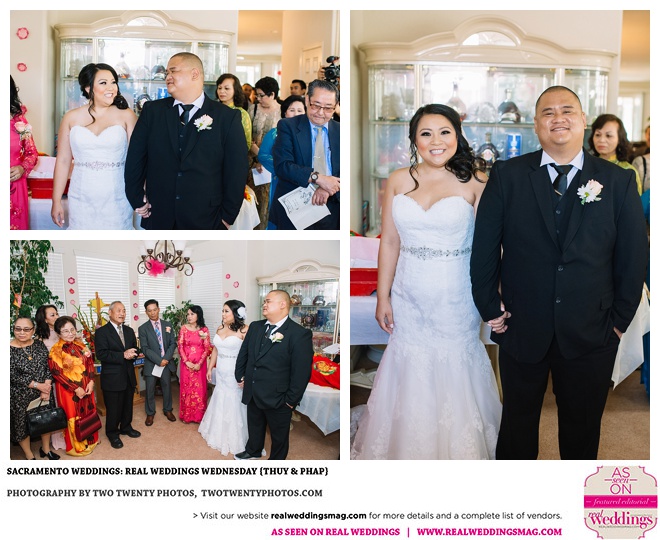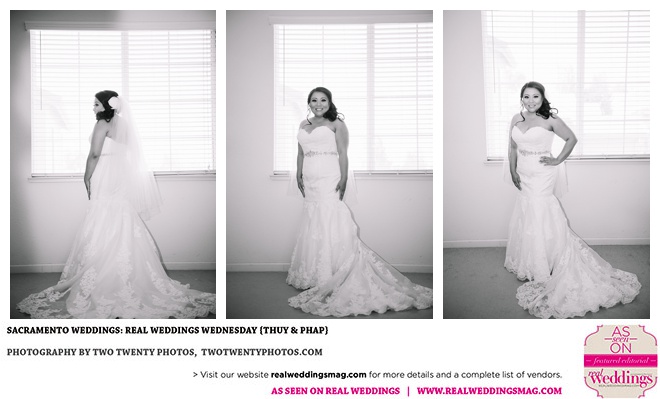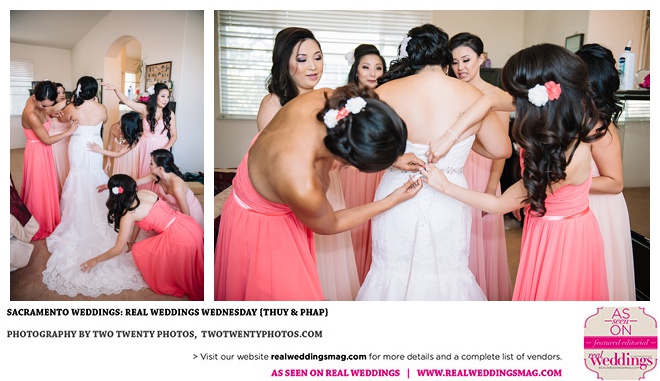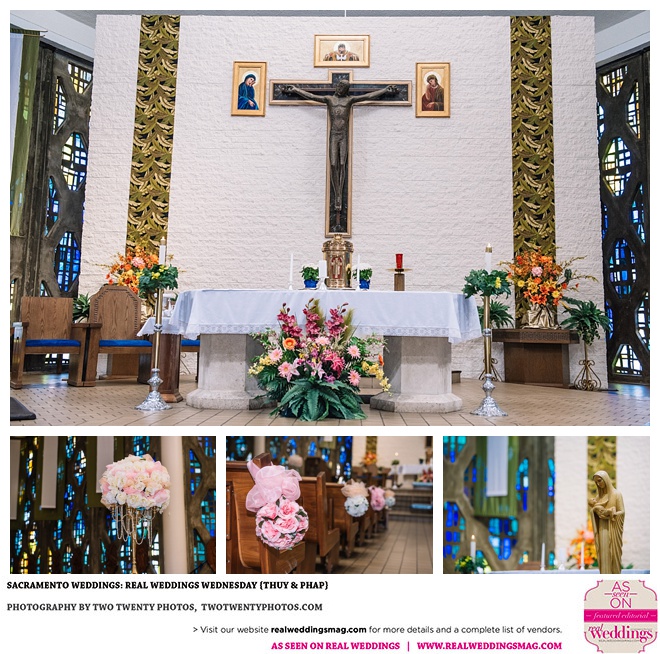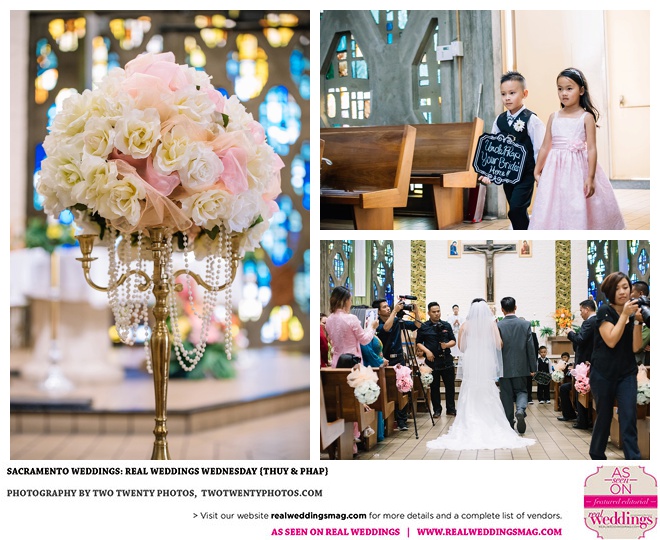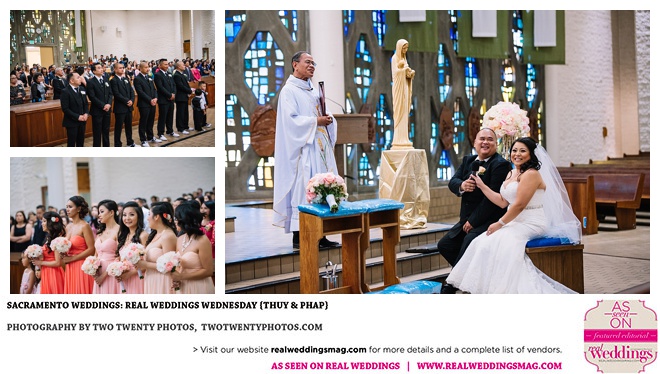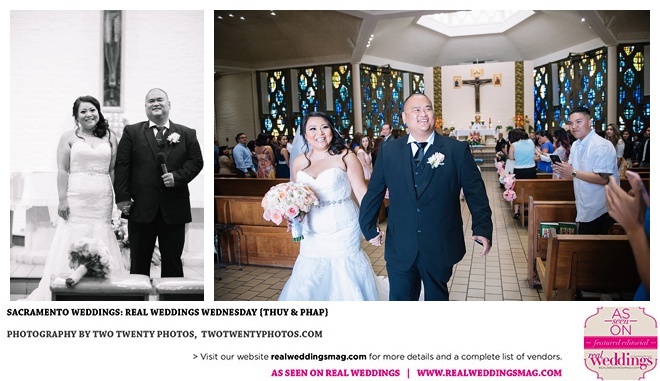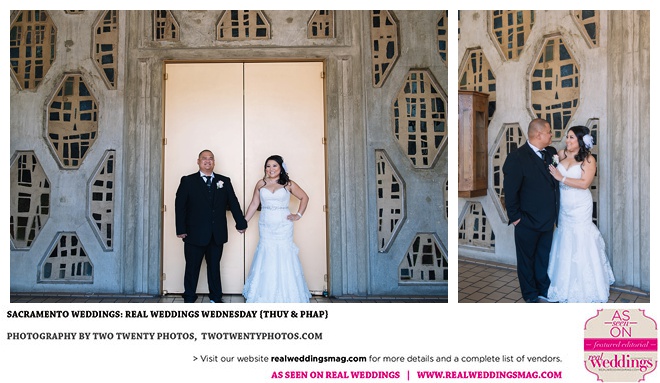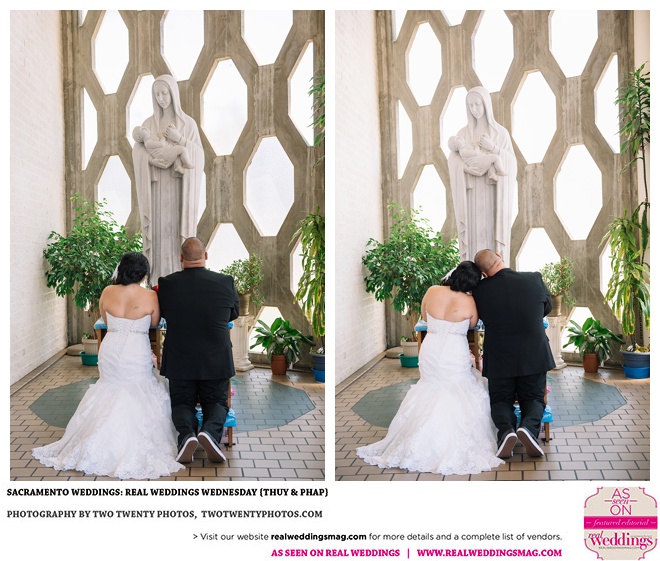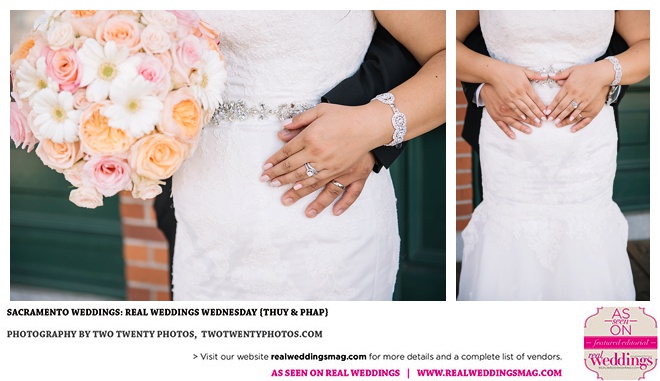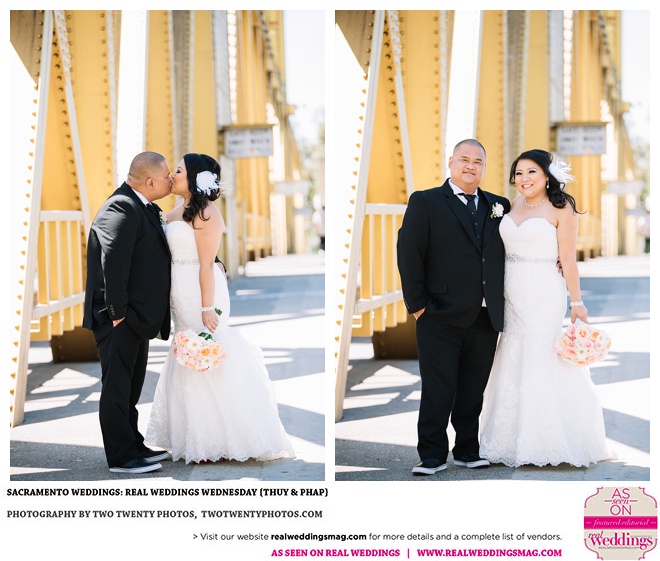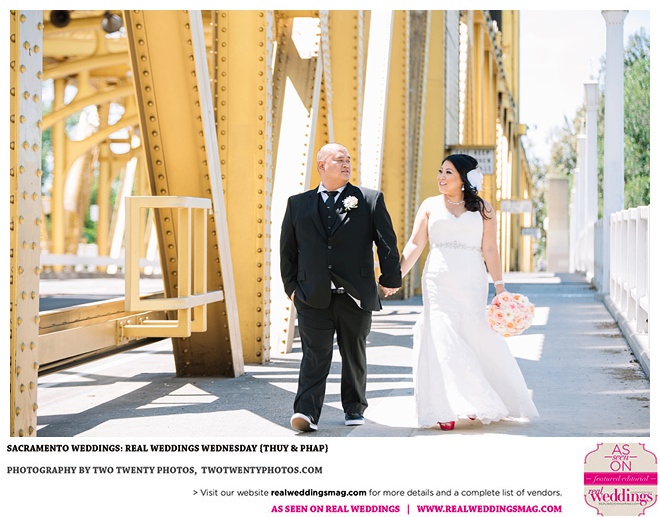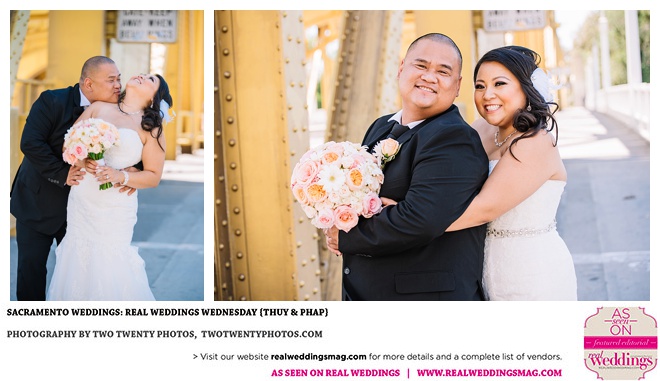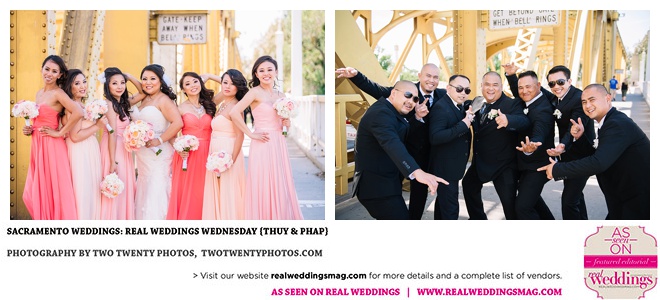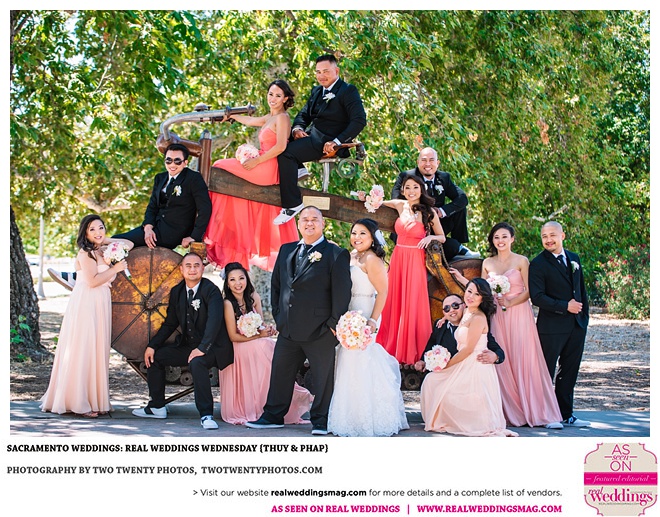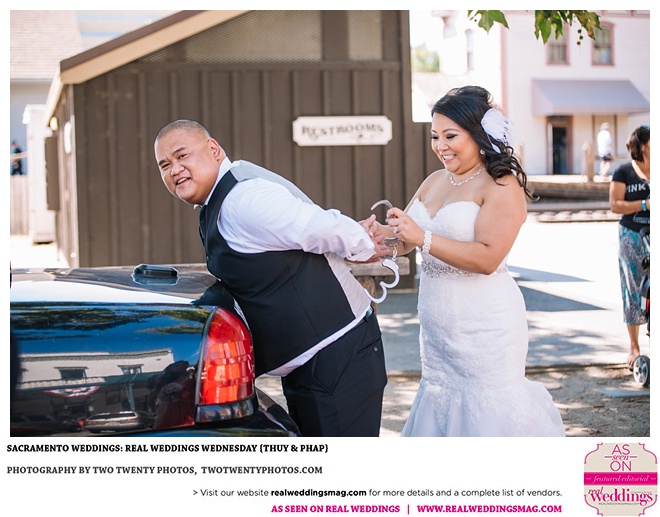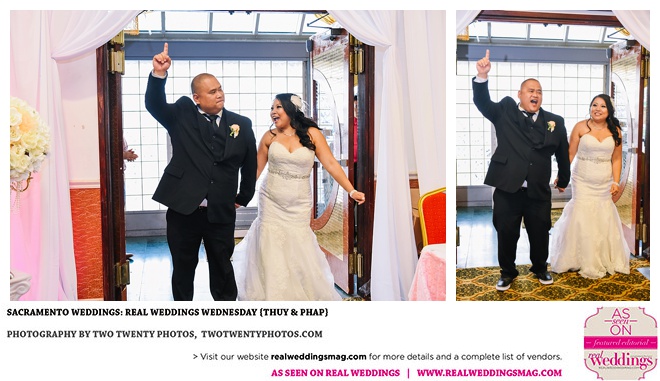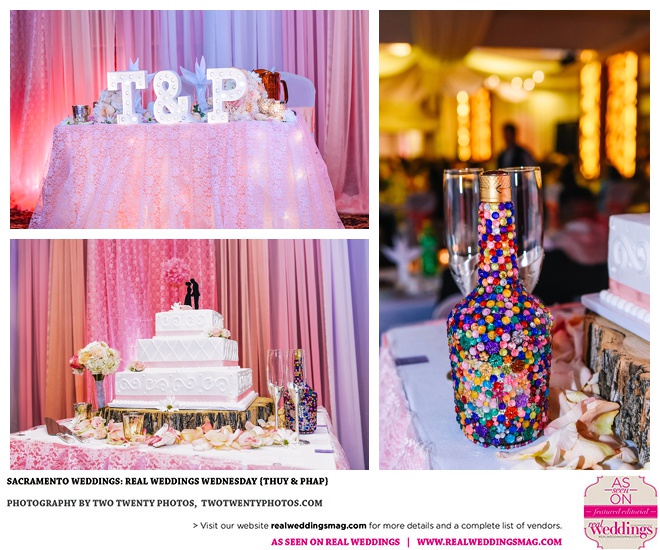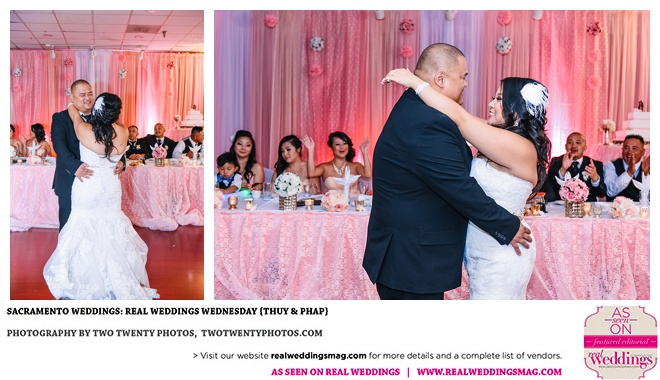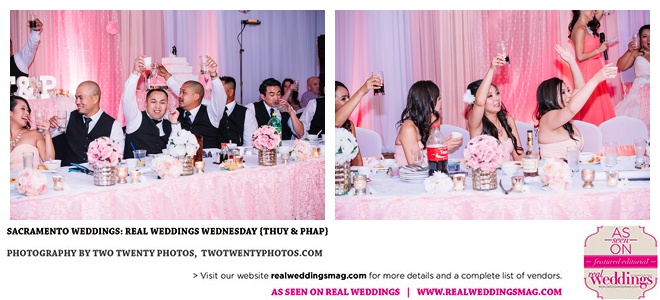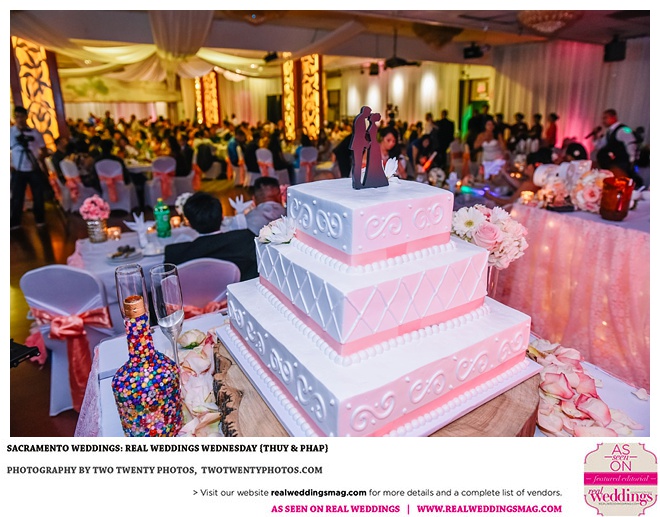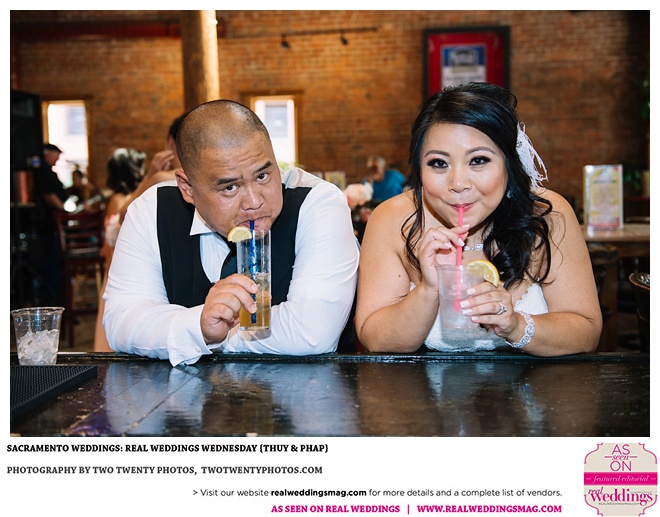 Ceremony Site: St. Luke's Catholic Church
Ceremony Musicians: Don Bosco Youth Group
Officiant: Father Paul Hung Nguyen
Reception Venue and Caterer: The Rice Bowl
Photographer: Two Twenty Photos
Videographer: Passion Studio
Cake/Desserts: The Wedding Center
Favors: Heart Shaped Cork Coaster
Bridal Attire: Wedding dress, hot pink heels, and diamond bracelet from David's Bridal, veil custom made by Claudine by Bridal Perfections, diamond teardrop earrings from JC Penney, and crystal necklace from Nordstrom.
Bridesmaids' Attire: LA Fashion District
Groom and Groomsmen Attire: Suit from JC Penney and shoes from puma (groom has black pair the others have white)
Bride's Hair and Make-up: Orchid Duong
Bridesmaids' Hair: Mary Tran
Bridesmaids' Makeup: Minnie Cao
Invitations: Invitations by Dawn
DJ/Entertainment/Band: Dj Tri
Photo Booth: Btru Photography
Lighting, Décor Rentals, Linens, Flowers, Chair Covers and Ribbons: Amour Florist and Bridal
Other Rentals: Margarita Machine by Margarita Man (7-eleven theme snack bar instead of a sweet bar)
Transportation: Rockstar Limo
Honeymoon Location: Europe (Barcelona, Paris and Rome)
First Dance Song: "I do, Cherish You" by 98 Degrees.
Any advice you'd give to our readers who are planning their weddings right now? Pinterest is a great way to go for color schemes, dresses, every details for the wedding.
Photos courtesy of  Two Twenty Photos.
Blog post by Real Weddings Magazine's Social Media Maven, Aimee Carroll.
Subscribe to the Real Weddings Magazine Blog! Click here:
[subscribe2]