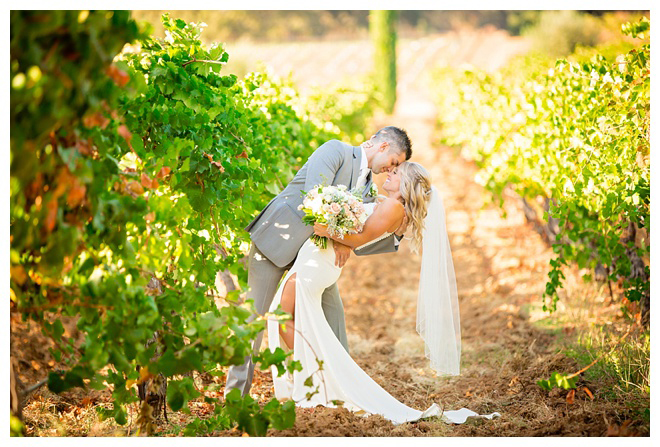 The Couple: Jamie & Cameron
Wedding Date: September 29, 2018
Photography by Ashley Teasley Photography
Tell us a little about you and your beloved: Cameron and I met on a Saturday night at a country bar downtown Sacramento. We danced the night away and he asked me out to dinner the very next night. Sunday night, Cameron picked me up with twelve red roses (seriously!) and took me to what is now our favorite sushi restaurant for our first date. We fell in love quickly and became inseparable.
Then 3 1/2 years later, he proposed. On July 5th, 2017, we arrived in Paris and headed to the Sacré-Cœur Basilica, an incredibly beautiful church that sits atop a hill over looking the city of Paris. We headed up to the top where we asked a girl to take our picture with the city in the background. As she was snapping away, Cameron asked her to take one more. He then turned me towards him, dropped down to one knee, and proposed. I have never been more shocked and happy in my entire life. We celebrated the next day with a champagne lunch on the Seine River – undeniably the best two days of my life.
What was the most amazing part of your day? Most amazing part of our day…hmm, so hard to pick just one! It's a toss up between walking down the aisle and our first dance. Walking down the aisle I remember looking at Cameron and becoming completely overwhelmed with the greatest emotion, completely surreal. I just felt lucky, like wow, this is happening, I am so, so lucky to be marrying Cameron. The first dance had a different feel attached to it, just complete happiness. I don't think I've been more happy or more in love than during the few minutes of our first dance.
What else would you like to share about your big day? All I can think is that it was surreal. I can't believe I experienced something so special, with the man I love so much, in the most beautiful setting, just beaming from all the love and excitement in the air. How incredible that so many people came together to celebrate and support Cameron and I. I had amazing vendors who took care of all the details so I was simply carefree. It was, and always will be, the most beautiful day.
Something that made the day even more special was that we decided to share vows in private after the ceremony. I am forever grateful we shared in private because it gave us a moment to breathe, have a moment just the two of us…and I cried my eyes out so it was nice to have a moment to regroup after the deeply meaningful moment! It was raw, emotional, and just us.
Our videographer, Austen Paul, did mic us up during our moment alone to share our vows, and then overlayed our vows in our wedding video. I couldn't believe it when I watched our video the first time, it was perfect.  You can view it here.
Ceremony and Reception Site; and Caterer: Bella Piazza Winery
Officiant: Kevin Browm, LMFT
Photographer: Ashley Teasley Photography
Videographer: Austen Paul Videography
Wedding Planner: 2Chic Events
Cake/Desserts: Etorre's Bakery
Flowers and Decor Rentals: Flourish
Bridal Attire: The Wedding Party
Bridesmaids' Attire: Show Me your Mumu and Free People
Hair and Make-up: Jenifer Haupt, I Make Beautiful
Invitations: Shutterfly
DJ/Entertainment/Band, Lighting and Photo Booth: SJ Disc Jockey
Transportation: Universal Limousine and Transportation Co. Inc.
Honeymoon Location: Cabo San Lucas, Mexico
Any other of your wedding vendor(s) you'd like to call out that we missed in the above questions? Our rehearsal dinner was held at The Grand Reserve Inn, catered by Mikuni, and it was nothing short of magical.
First Dance Song: "Millionaire" by Chris Stapleton
Any advice you'd give to our readers who are planning their weddings right now? Find a wedding coordinator who you trust, responds quickly, and has a calming presence. It will either make or break the wedding planning experience. Fortunately, I lucked out with my wedding coordinator, Aimee Wendell. She and her team are incredible. Also, stay true to your style, who you are, and what you want out of a wedding, especially if it is different from the norm. Looking out and seeing how much your wedding day reflects you and your partners' personalities will help to make the day feel comfortable and calming.
Anything that you would have done differently if you were given the chance? Everyone says to enjoy the process of wedding planning. I wish I relaxed more throughout the wedding planning process to allow myself to enjoy it more, trusting in the process and the incredible team of vendors who were there for me.
Photography by Ashley Teasley Photography.
Blog post by Real Weddings Magazine's Social Media Maven, Aimee Carroll.
Subscribe to the Real Weddings Magazine Blog! Click here: