Last week we were mad about the boy…but this week, we're gaga for our gals. In addition to sharp selections for grooms-to-be, J. Crew also opened a new concept store on Madison Avenue in New York City. Yep, J. Crew went bridal!
I, personally, was really intrigued to see what the casual clothier will come up with for their new collection. And, you better believe it's as fresh as a garden party on Martha's Vineyard. Here's a sneak peek: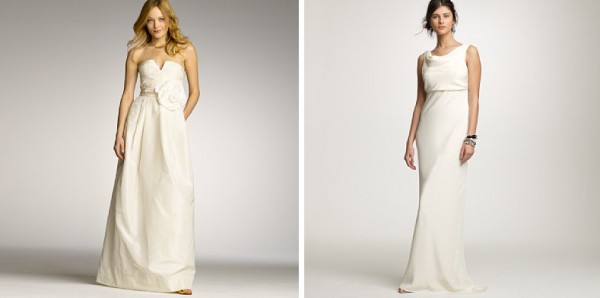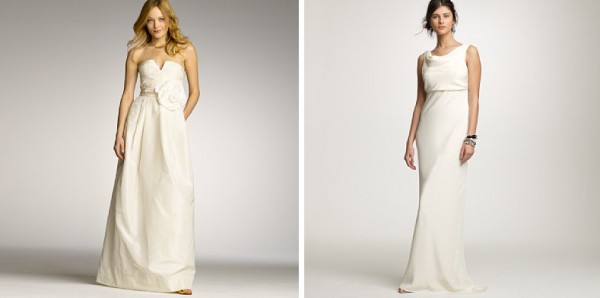 Want to see more?  Check out:  J. Crew Bridal. 
And, it gets even better — if you've followed Real Weddings Magazine at all, you know we love custom millinery. One of our favorite milliners — Leah C. Couture Millinery ("Leah C."), internationally known milliner and designer of hats and veils — has created unique headwear for J. Crew.
It has been "super exciting to work with J. Crew," says Leah Chalfen, owner and designer of Leah C. "The demand for beautiful and unique wedding accessories is rising," she adds, also noting that, "J. Crew has paired Leah C's unique, couture headpieces with J. Crew's flattering, comfortable and simply elegant wedding gowns."
Leah's partnership with the retailer is fitting as J. Crew emphasizes unique accessories and becomes more than just a clothing store. "In the past couple of years we've been looking at elevating every category," said Jenna Lyons Mazeau, executive creative director of J. Crew. Ms. Mazeau notes that "when it's quality, the customer gets it. We're looking at doing special incredible pieces." Molly Carey, designer for J. Crew Wedding Collection and Jewelry Designer is also "so excited because we are now collaborating. Leah C. will be doing some one-of-a-kind bridal pieces for J. Crew´s Wedding Collection!"
Leah C. Couture Millinery creates hats, veils, and hair accessories for weddings and special occasions in New York City and can be seen online at leahc.com.
Here's a sampling of her work…





Blog Post by Always a Bridesmaid Columnist Darren Elms.
Photo courtesy of J.Crew and Leah C. Article cited: Edelson, Sharon. "J. Crew pushes accessories to the front." WWD, Conde Nast Publications, Inc., 2008.
Do you have the new Real Weddings Magazine iPhone and iPad App?
Download it from the Apple App Store Today: REAL WEDDINGS MAGAZINE!
---
---
Looking for local Sacramento wedding vendors?
---
Subscribe to the Real Weddings Magazine Blog!