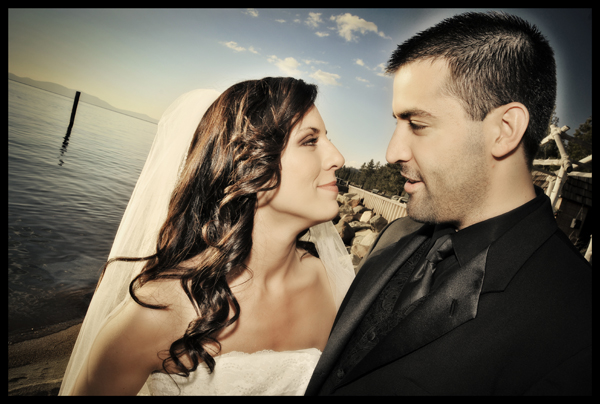 The Couple:  Justina and Pedro Vega
Wedding Date:  June 9, 2010
Photography by Jocelyn McGregor Photography
Tell us a little about you and your beloved:  Pedro and I met our junior year in high school. We had a few classes together and always got along great. After high school we had jobs that were just a few stores down from each other. He worked at a grocery store, I worked at a coffee shop. He would come in and get coffee for himself and the ladies he worked with. That fall, I was turning 18. My friend and I had plans to go to the city and spend the day… she invited him to join us. The day of my birthday her car mysteriously broke down. Pedro said that he was still up for going, and off we went. Ten years later we tied the knot.
What was the most amazing part of your day?  The entire day was amazing, but one moment that sticks out in my mind would be that first look. We arrived at the beach in separate cars an hour before the ceremony to take pictures. I took a few pictures by myself and with the flower girl, who was our daughter Isabella. He then came down and joined us for pictures. That first look of each other is something that I will never forget. We were lucky enough to have our amazing photographer right there to capture that moment.
What else would you like to share about your big day?  The original plan was to have the girls drive up together in one car and the guys drive up in another and not see each other until the wedding. After I had my hair and make-up done we packed the car and headed up to Tahoe as planned. Once we got to the hotel we decided to not be so traditional. We opened up the adjoining rooms we had and spent the day with our friends and each other. It turned out to be an amazing all day event.
Once it was getting close to time we separated got dressed and headed to the beach for pictures. We had a wonderful and intimate ceremony with about 20 close family and friends. After the ceremony we headed to Friday's Steak house on top of the Harrah's casino and had a fabulous dinner. After dinner we headed to the casino with our guests for some gambling. We stayed two nights in Tahoe and continued to have an amazing time with our friends. We came home Saturday night and on Sunday evening we had our reception complete with just under 100 family and friends.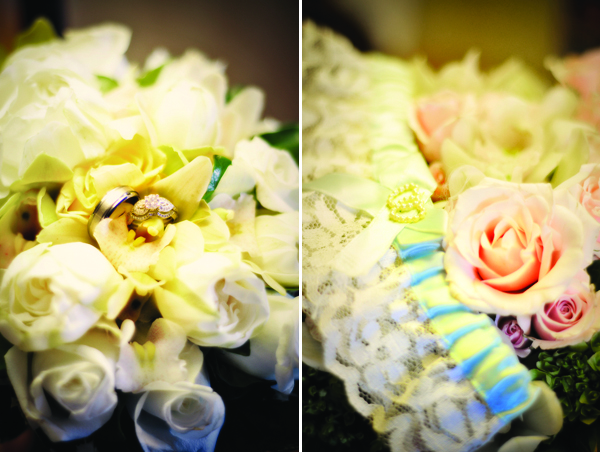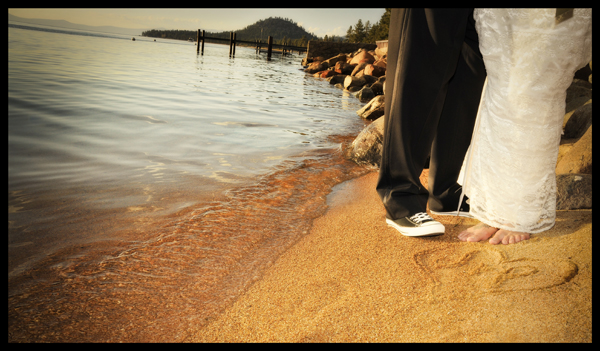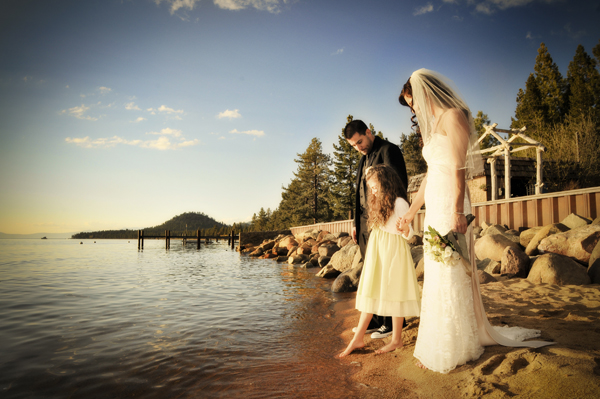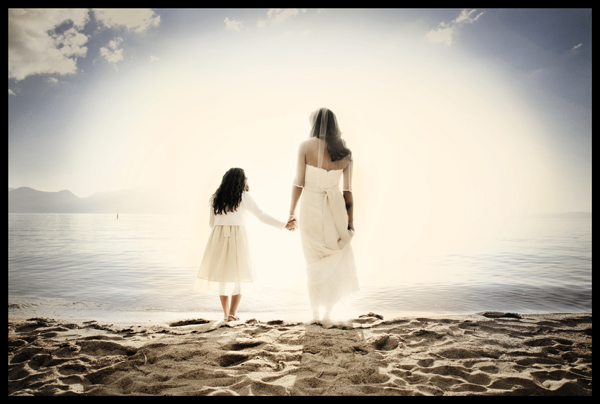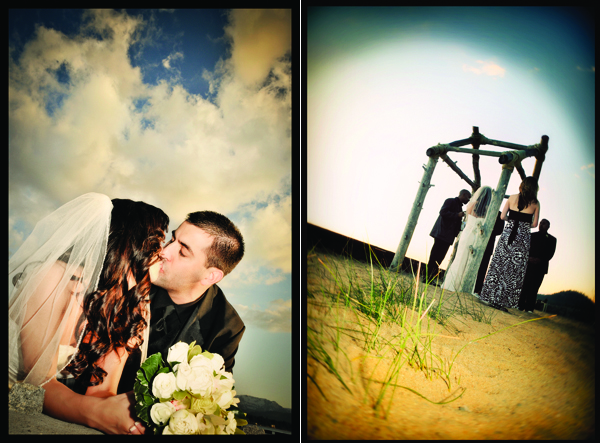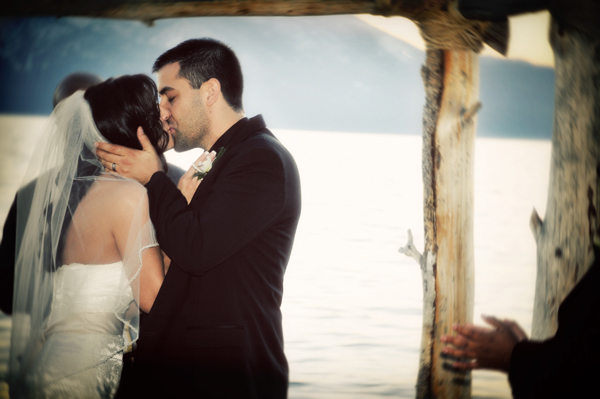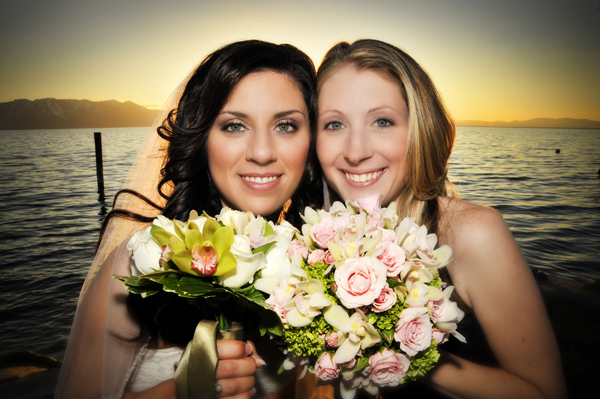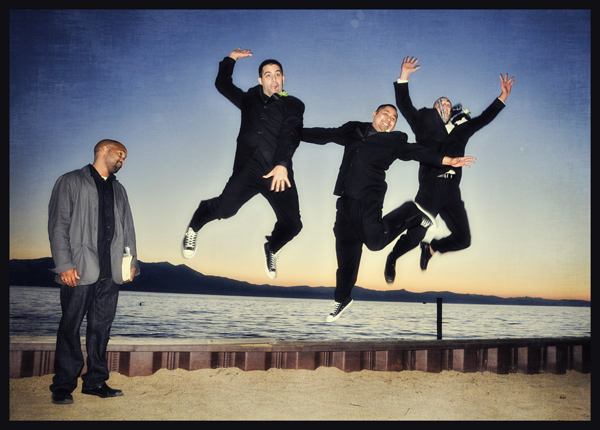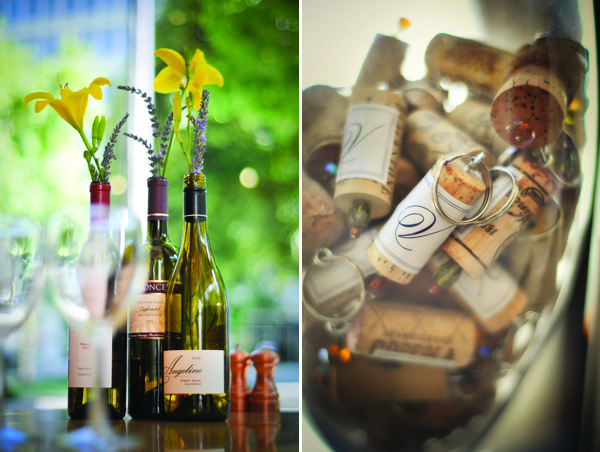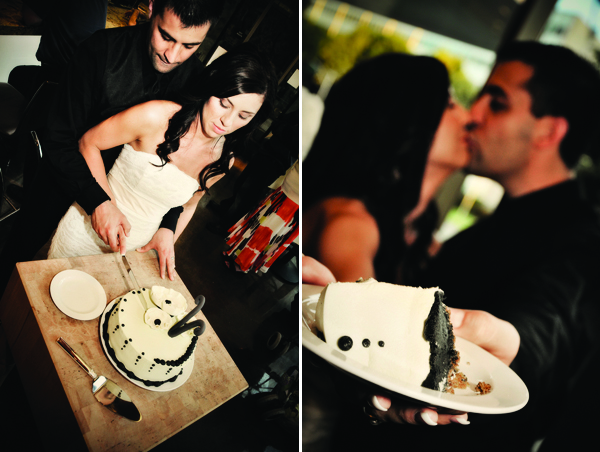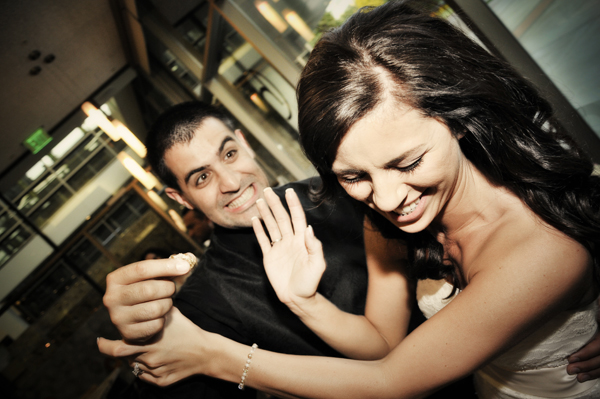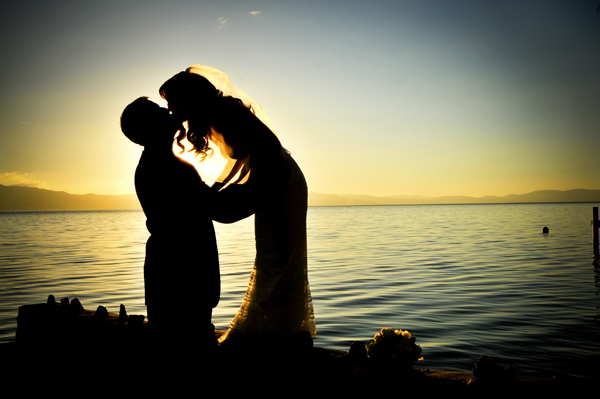 Ceremony Site:  Lake Side Beach in South Lake Tahoe. We chose this beach because it is the same beach my parents were married at 30 years before us.
Reception Venue:  House Kitchen & Bar.  It is right in the middle of the capitol mall area and served as a wonderful location. Half the building is glass windows which made for a beautifully lit reception. They had a wonderful bar set up in the restaurant, complete with televisions in which our photographer played a slide show of wedding ceremony pictures. The restaurant set up into a wall of booth and six long tables for sitting.
The service was wonderful and the staff went out of their way to cater to not only me and my husband but our guests as well. The food was amazing and we are still getting compliments on it. We started with an appetizer and cocktail hour followed by a sit down dinner. The salads were served plated and the rest of the meal was served family style which made for a much more interactive and intimate experience for everyone.
Photographer:  Jocelyn McGregor Photography
Caterer:  House Kitchen & Bar.  We had a cocktail and appetizer hour followed by a sit-down dinner served family style which the family style I highly recommend. It made the guests interact with one another and gave the dinner a more intimate feeling.
Cake:  Custom cakes by Lindsey.  Our cake was just as amazing to look at as it was to eat! It stood about two feet tall. The top layer was a carrot cake (my husband's favorite) and the bottom layer was a champagne cake with whipped cream and fresh berries.
Our cake took a slide at the reception venue. The top tier was perfectly in tact and served as our cutting cake. The whole ordeal turned out to be perfect. My husband had joked with our friend who made the cake saying that he wanted cake in a bowl….well he got it. The manager at the restaurant salvaged the majority of the cake and used an ice cream scooper to put it in bowls and served it. It was perfect!
Flowers:  My bouquet was a gift from my sister in Kauai. She made it from Gardenias in her garden along with orchids and a yellow rose in memory of our mother. She shipped it to me the day of the wedding since she was unable to attend.
My Maid of Honor's bouquet (made with roses and orchids), along with the boutonnieres (orchids) and the flower for the flower girl's hair (gardenias) were done by Dixon Florist.
Favors:  My close friend Lindsey came up with a great idea of wine cork key chains.  We sat at her dining table one night and made them ourselves over great conversation and of course some wine.
Wedding Dress:  David's Bridal. I fell in love with my dress the moment I put it on and before I had even seen it in the mirror. As soon as I slipped it on i knew it was the one. It fit perfect and was everything I dreamed about. It was a very light ivory lace fitted gown. It was strapless with a little bit of sparkle in the lace and had a champagne satin sash.
I found champagne sparkly flats from Steve Madden to match from Macy's, they were perfect for the beach!
Bridesmaid Dresses:  The Maid of Honor's dress was purchased at Macy's.  The Flower Girl's dress was purchased at Nordstrom.
Hair & Makeup: Done by Kara Robinson of Cynde's Place Salon & Spa in Dixon. Kara has been doing my hair for over ten years and is an amazing hair stylist and makeup artist.
Invitations:  Instead of purchasing them, my close friend Lindsey and I decided to hand make the invitations ourselves. They turned out perfect and were much easier to make than I thought they would be. We found all of our supplies at Michael's.
DJ/Entertainment/Band:  We decided to create play lists on an iPod. We picked our songs for the ceremony, the cocktail and appetizer hour of the reception and the dinner portion of the reception as well.
Honeymoon location:  South Lake Tahoe
Any other of your wedding vendor(s) you'd like to call out?  Regusci Winery.  My in-laws bought the wine for us (it is one of my favorite wines). We served their Merlot and Chardonnay at the reception.
Venetzia Fine Jewelry at the Palazzo in Las Vegas. We worked with a good friend of my sister's, Traci Blackbird, who is the manager and she's amazing. We bought both rings though her. My husband's ring was a tungsten band with a white gold inlay. She and my husband designed my engagement ring and matching wedding band together, which then became the inspiration for the wedding itself — vintage.
Friday's Station Steak and Seafood restaurant on top of Harrah's casino in Lake Tahoe for providing an amazing and intimate after ceremony dinner for us and our guests.
Any advice you'd give to our readers who are planning their weddings right now?  Take a deep breath and enjoy it.. Your day will turn out just as it was meant to be…perfect.
Anything that you would have done differently if you were given the chance?  We did a very "loungy" reception which was very much so us — cocktail and appetizer hour with a full dinner to follow. Music from the era of Nat King Cole and Frank Sinatra was playing the entire time and it was lovely. We didn't do the full on reception complete with dancing and I think that the only thing I would go back and add was the dancing.

Photos courtesy of Jocelyn McGregor Photography.
Do you have the new Real Weddings Magazine iPhone and iPad App?
Download it from the Apple App Store Today: REAL WEDDINGS MAGAZINE!
---
---
Looking for local Sacramento wedding vendors?
---
Subscribe to the Real Weddings Magazine Blog!