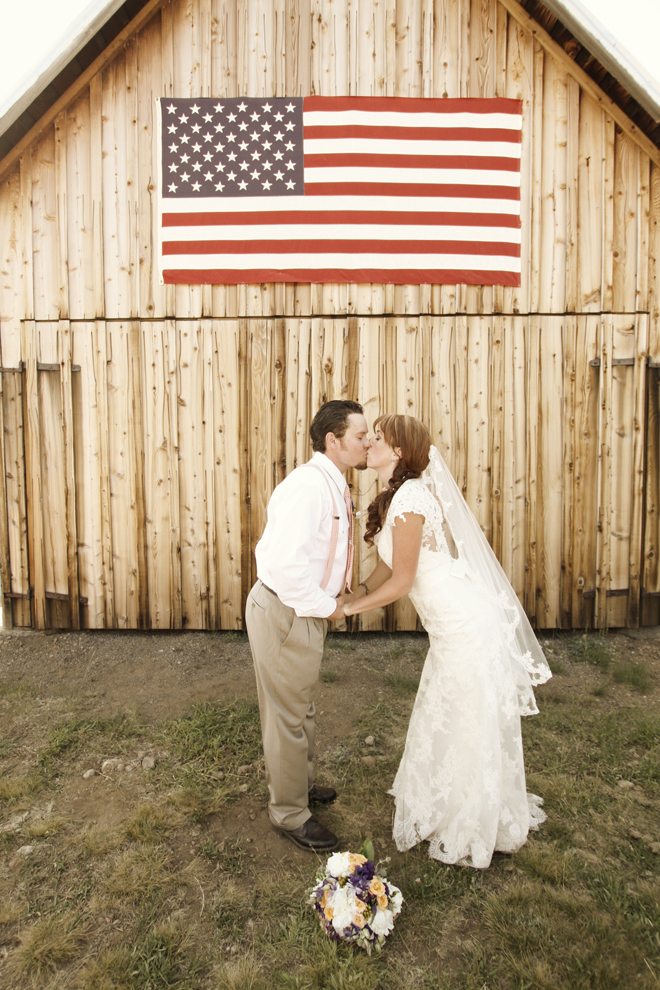 The Couple:  Chandell & Adam
Wedding Date:  July 21
Photography by Artistic Photography by Tami
Tell us a little about you and your beloved:  Five years ago, I lived in the Bay Area while Adam lived in our home town of Placerville. Our best friends Kim and Ben, who are now married, knew we would make the perfect couple and tried continuously to make the love connection.
On my 25th birthday we all went to dinner in San Francisco.  The waiters consisted of an all male staff that would come over and sing you happy birthday while dirty dancing with you and feeding you cake.  I was so nervous I belted out that Adam was my boyfriend and he didn't like it when other guys touched me, so the waiter turned the fork over to Adam and made him dance and feed me instead. I was mortified, but excited, when he took the fork and that is where the love connection happened!
We spent the first  two years in a long distance relationship traveling back and forth every weekend to see each other until I moved back home to Placerville.
Adam conspired to propose to me with my family and kept it a secret for six months.  My family and I are huge NASCAR fans, and NASCAR is part of our weird traditions.  The first time I ever introduced Adam to my parents was at a NASCAR weekend event in Sonoma.  He wanted to include my parents in his proposal and knew how special it would be for me.  He planned and arranged for us all to attend the NASCAR race in June of 2011.  His parents must have called four times that day waiting in anticipation for him to ask!  All decked out in our full NASCAR attire he got down on his knee and asked for my hand in marriage.
What was the most amazing part of your day?  All the love in the air.  So many people came together to help out with our big day, putting in personal touches everywhere you looked, that it was truly overwhelming!!!  The location of our wedding could not have been in a more beautiful location — it was even more special that we were able to tie the knot at a family residence that is very close to our hearts.  Every step of the wedding had something made by friends and family.
For our guestbook our friend Sarah painted an 11×7 canvas with a tree that included beautiful leaves outlined for guests to include there thumbprints on as they arrived. Guests then walked along a path that was lined with hay bales and hand painted signs made by the bridesmaids. As I walked down the aisle to Element of Soul playing acoustic "Save my Soul,"  Adam awaited for me patiently alongside his youngest brother who married us.
After the ceremony, the reception site was also emotionally overwhelming.  Some friends went out early in the morning and collected wild sage, ferns and lavender for table decorations.  Guests were greeted with homemade kettle corn made from scratch, and made their way over to the elaborate homemade bar made by the groom himself.  Friends of ours even made our wine and signature cocktails!  As we danced away on the dance floor my dad built and painted, we snacked on the various desserts my mom and great aunt made from Canada. It was so perfect!!!
What else would you like to share about your big day?  Family and people we love are very important to us and we were truly blessed to have everyone with us. We are very grateful that both of our dads were there to be with us on our special day.  Both of our fathers, one right after the other, fought hard to battle cancer and ended up beating the odds in perfect time for our celebration.
Ceremony Site & Reception Venue:  Celio Ranch (private residence)
Photographer:  Artistic Photography by Tami
Hair & Make—Up:  Cosmos Salon
Bridal Attire: Flair's Bridal
Bridesmaids' Attire: David's Bridal
Invitations: Michaels
Flowers: Placerville Flower Market. Wild sage, lavender and fern gathered from the property.
Caterer: Gordon's Backyard BBQ — best BBQ ever!!!
Favors:  Handmade truffles
DJ/Entertainment/Band:  Element of Soul and DJ Zephyr. The band was amazing and so much fun for people of all ages!
Photo Booth: PhotoBASH Photobooths
Honeymoon Location: Traveling the East Coast for two weeks
First Dance Song: "In It" by Element of Soul
Last Dance Song: "Save my Soul" by Element of Soul, featuring the Bride & Groom
Any other of your wedding vendor(s) you'd like to call out:  Our photographer Tami felt like family!  She captured so many special moments and every picture turned out amazing!  Plus, she was fun and encouraging to be around!  All of our venders were great!!!
Any advice you'd give to our readers who are planning their weddings right now?  In the end all that matters is you and your groom surrounded by the people you love.  It goes by so fast take some time for you and your groom to stand back look…. and enjoy! Oh and to remember that stuff will inevitably go wrong, and to not freak out and remember what the day is all about in the first place!
Anything that you would have done differently if you were given the chance?  Nothing! I didn't want the night to end! It really is like a dream.
Photos courtesy of and copyright Artistic Photography by Tami.
Subscribe to the Real Weddings Magazine Blog! Click here: [subscribe2]