Good afternoon, everyone, and happy Real Weddings Wednesday! We have a very special treat for you all today as we celebrate Mansha and Aaron's stunning, multi-day wedding. With beautifully incorporated details and traditions from both cultures, expect vibrant colors; intimate pre-wedding ceremonies, jaw-dropping saris, gowns and suits (and pantsuits!), amazing floral arrangements — courtesy of Strelitzia Flower Company along with classy, timeless rentals from We Do Designs! This is one gorgeous love story you won't want to miss. Happy Wednesday, and happy reading!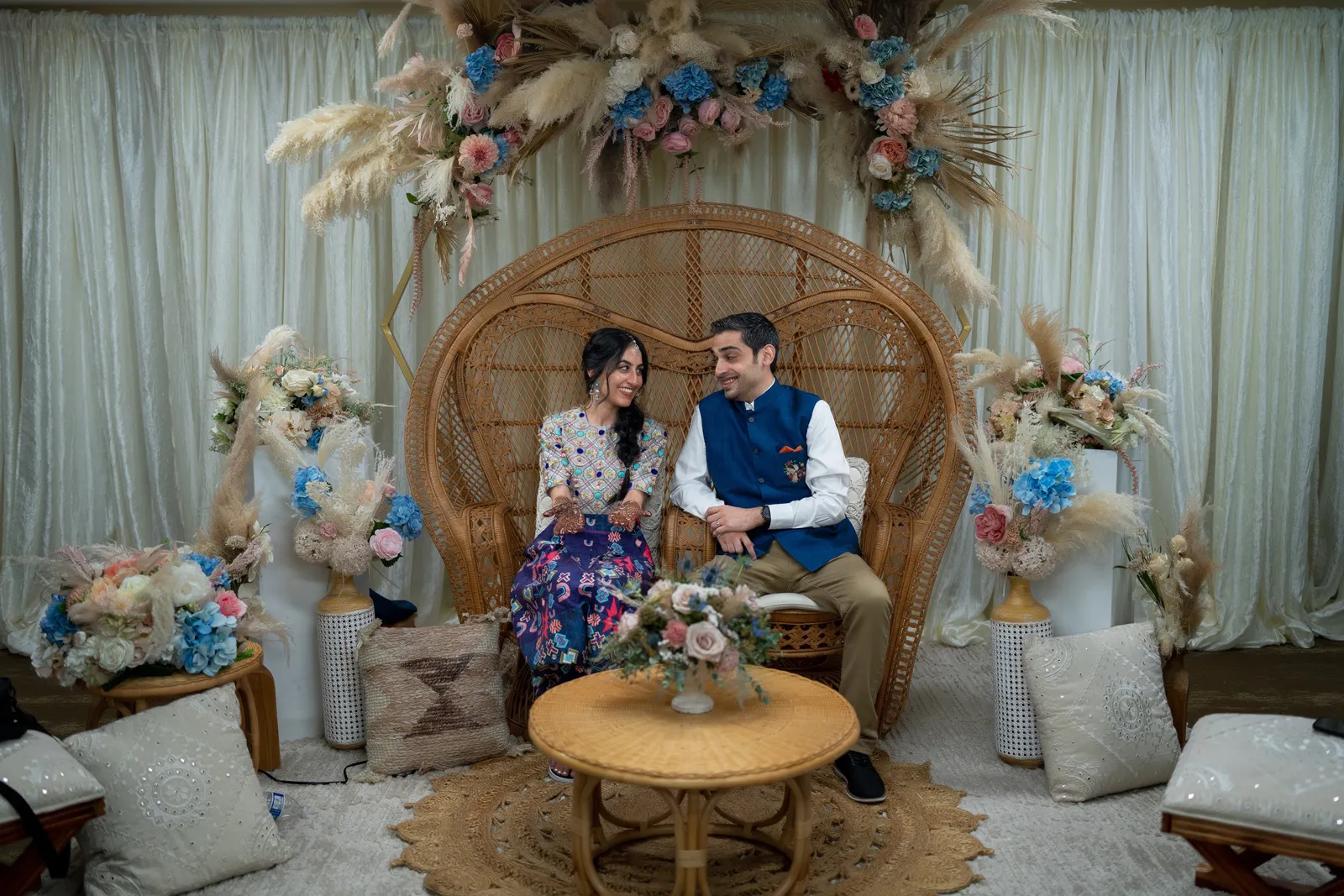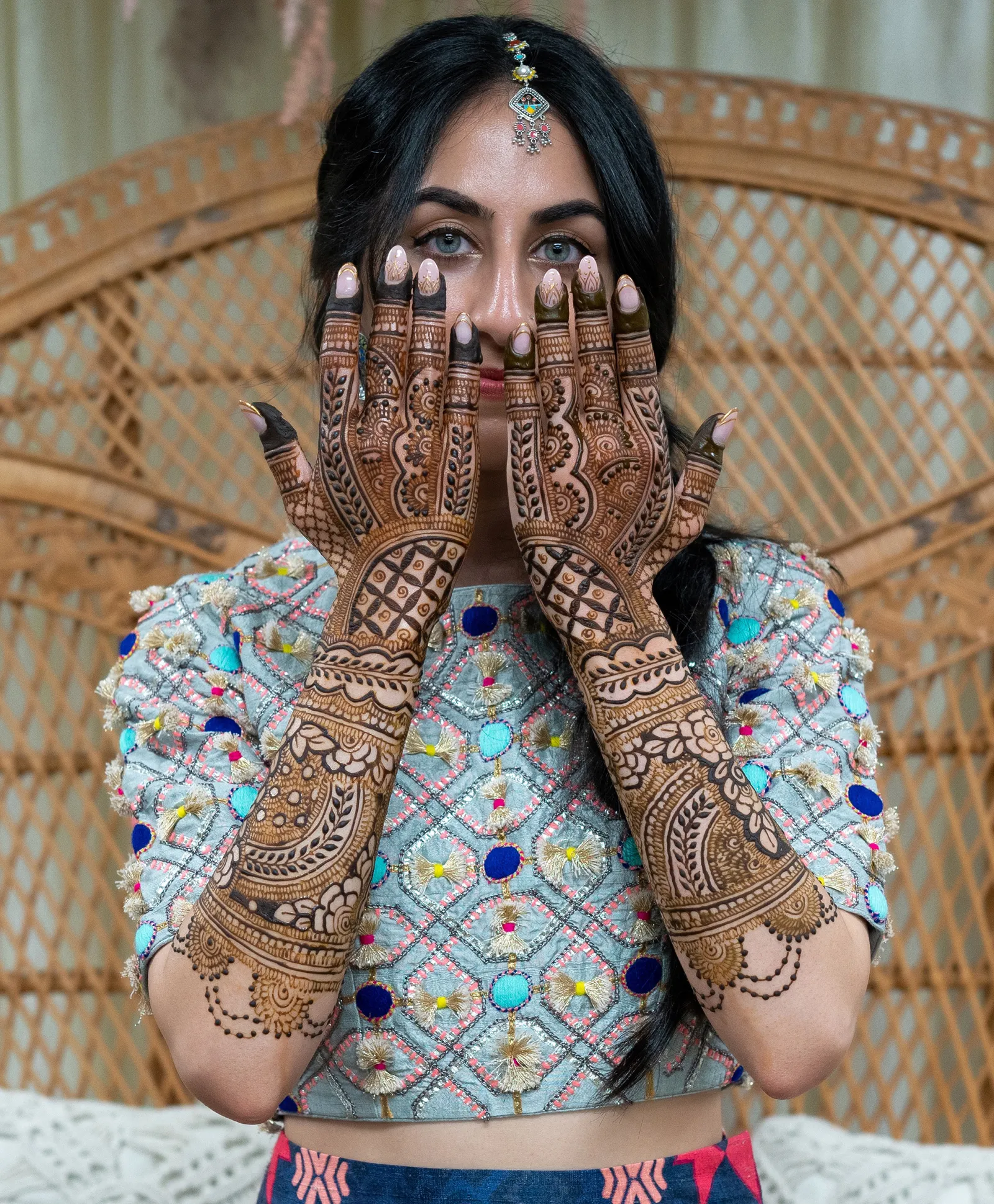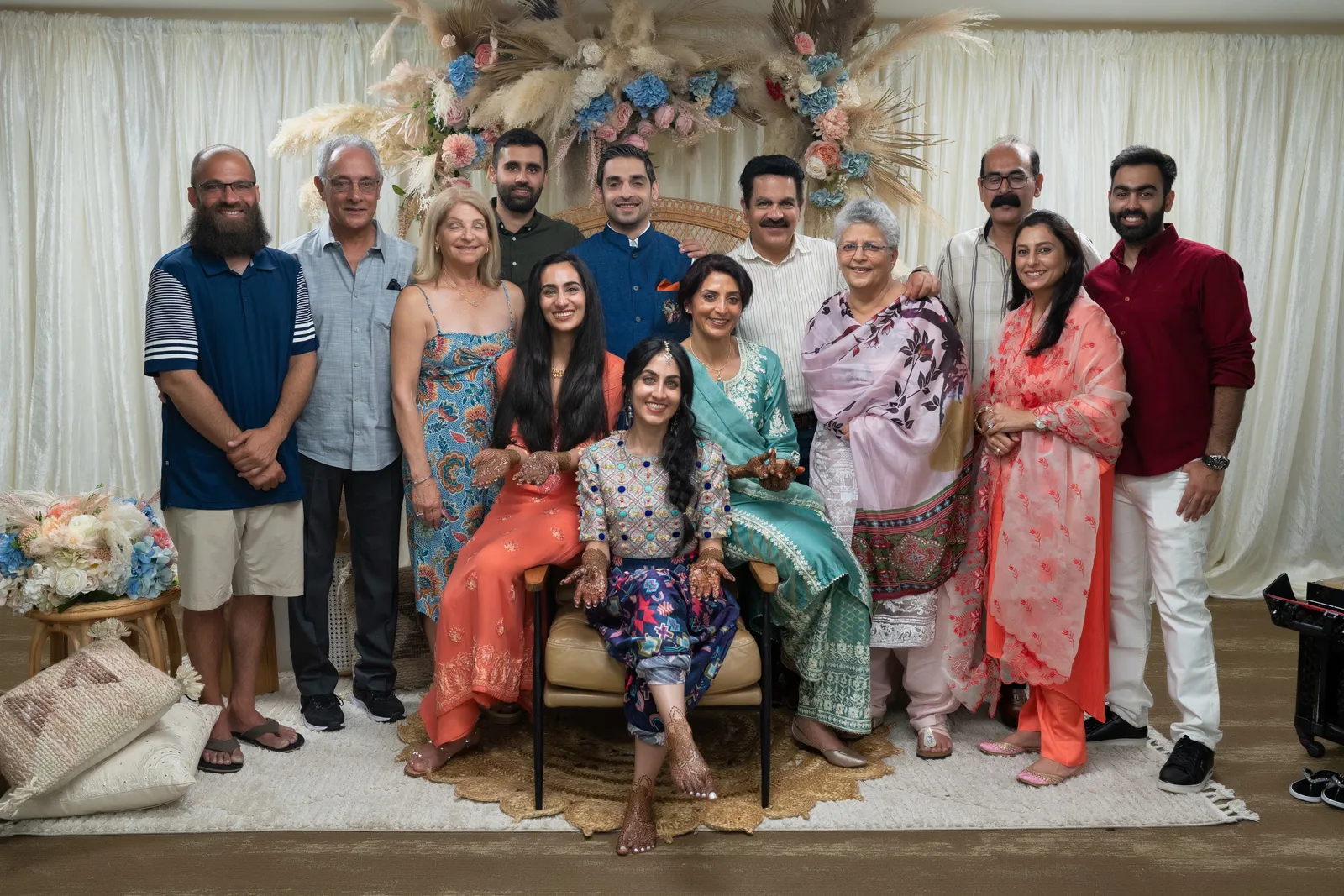 Tell us a little about you and your beloved.
We met six years ago while working at the same consulting company. We talked briefly, but did not think much of it (little did we know…). A few months later, we found ourselves sitting next to each other at yet another work event. We hit it off and spent the majority of the evening talking to each other as opposed to paying attention to the event. Over the next few years, our friendship evolved into a relationship. Together, we navigated learning about each other's cultures, switching jobs, and moving to new cities. One Saturday afternoon in February 2021, my parents and I were walking to the Ferry Building in San Francisco to meet a family friend when I felt a tap on the back of my shoulder. I turned around and was met with a huge bouquet of two dozen red roses. Aaron peaked his head out from behind the roses and handed me the bouquet. As that was happening, my parents stepped away and secretly turned on their cameras to start recording. In front of the magnificent Bay Bridge and beautiful San Francisco Bay, Aaron got down on one knee and asked me to marry him. I answered: Yes, of course! After the proposal, the two of us got dinner at an Italian restaurant in North Beach, San Francisco. We still enjoy going to that restaurant to relive those special moments. We got married in my hometown: Chico, CA. Since we had many out-of-town guests, this turned into somewhat of a destination wedding. The inspiration behind the wedding was modern traditionalism. We wanted each day to feel distinct and modern yet preserve the beautiful traditions they were based on. We also wanted the wedding to reflect the fusion of two cultures – Indian and American, Hindu and Jewish, etc. For that reason, we planned one completely Western event (the Cocktail), one completely Indian event (the Sangeet), and one fusion event (the Wedding). We also had a small pre-wedding mehndi (henna) event on the day most of our guests started arriving in town and a small haldi ceremony (pre-wedding blessing) event the morning of the wedding. The theme of the Cocktail was rustic glam. Set at a local winery, the decor was dark and moody with deep red florals (to match my outfit) interspersed with dried grass and wine barrels lit up by a custom neon sign with our wedding hashtag on it. We also had a welcome table with jumbo Jenga blocks for guests to write fun date night ideas on before they entered the venue. For the Sangeet event, our vendors transformed my family's backyard into a colorful bazaar with a custom structure draped with vivid pink, orange, yellow, and green fabric accented by hanging Jaipuri umbrellas. We also had colorful lounge furniture for guests to rest on after getting mehndi (henna) applied or while snacking on Indian street food, tables decorated with bazaar-inspired centerpieces (Indian tea kettles, chai cups, etc.), a photo booth station with an Indian taxi prop, and a 'Bangles & Baubles' favor table with traditional jewelry, bangles, and purses for guests to enjoy. In the months leading up to the wedding, we sourced each of these party favors from India and individually wrapped them in colorful bags. They were a huge hit with our guests (so much so that we did not have any leftovers after the Sangeet event was over)! The inspiration behind the wedding decor was a modern English garden (like Indian Bridgerton). Contrasting the beautiful greenery at our venue, The Palms in Chico, CA, the decor in the outdoor space was an ombre pink color theme from our welcome gate draped in ombre fuschia to cream fabric to the strings of fuschia, pink, blush, and cream flowers hanging from the tree tops to the roof of the ceremony space (a beautiful gazebo) decorated in rows of flowers. We also had about 100 custom-made bamboo cane lanterns hanging from the trees throughout the outdoor space. At night, these lanterns provided stunning ambient lighting. Our favor table contained hundreds of custom candles created by a local candle company in gold tins with stickers containing our name and monogram on them. The decor in the reception hall indoors was meant to contrast the outdoor space with a cream, white, and gold color theme. The decor consisted of a custom grand chandelier with hanging florals, mirrors, and lights, oversized floral centerpieces with gold vases on all tables, and a grand white dance floor with our wedding monogram on it. This is the same monogram that we used on our digital save the dates and invites as well as on our hotel welcome bags. The neon sign with our wedding hashtag accented the wall behind the head table while the main bar had custom bar signs with our signature drinks on them: 'Let the Fun Be-gin' White Linen (hers) and 'Whiskey Business' Old Fashioned (his).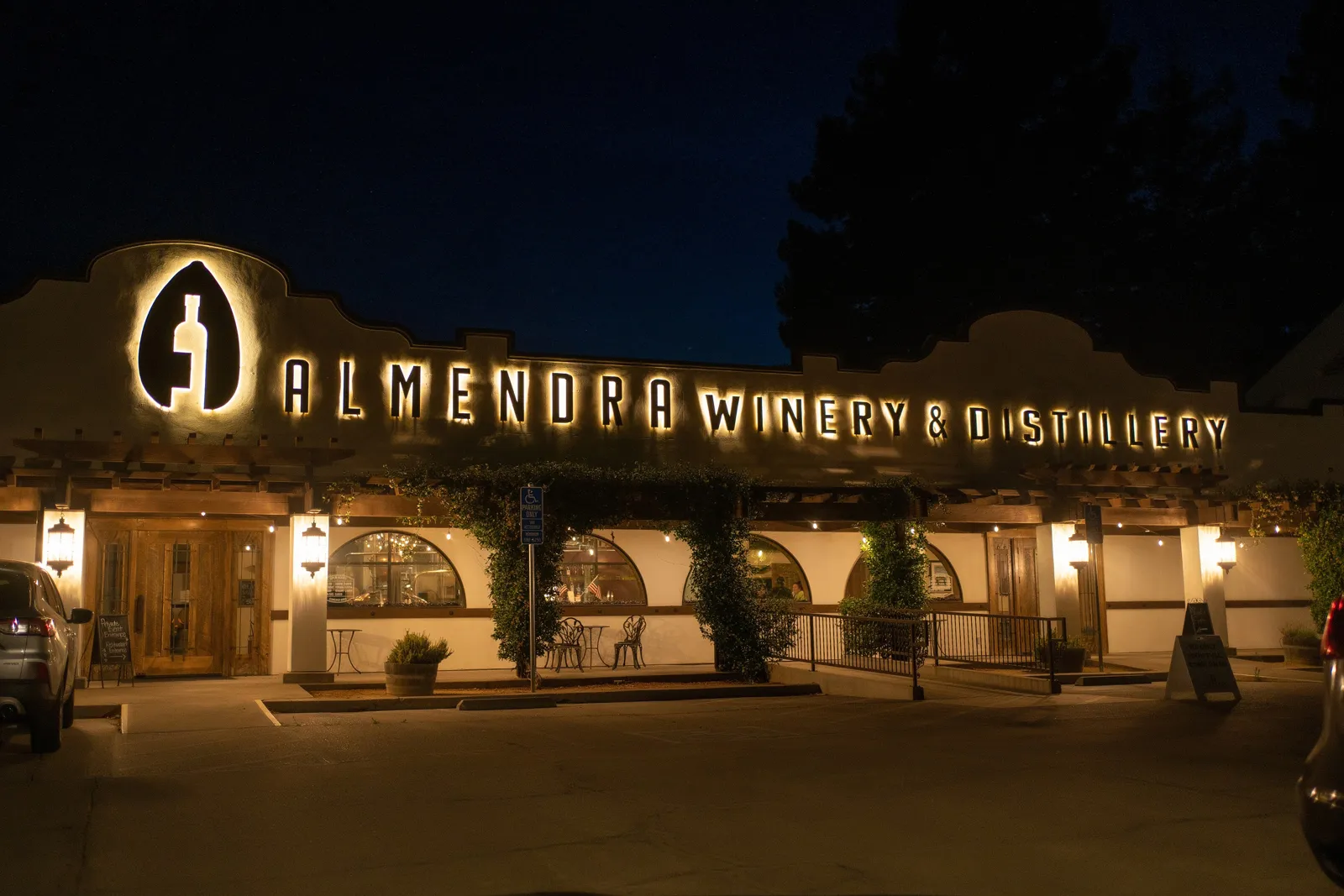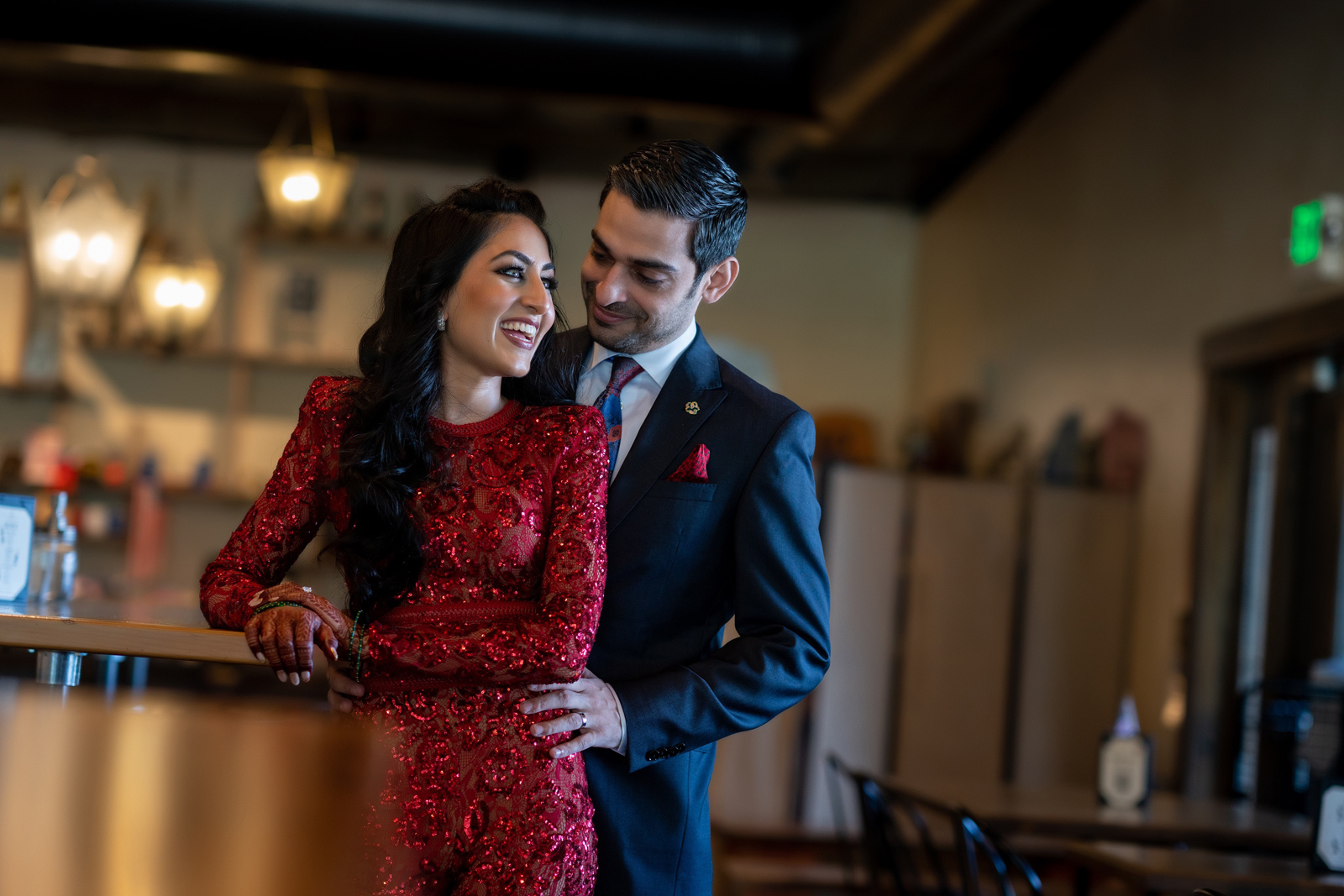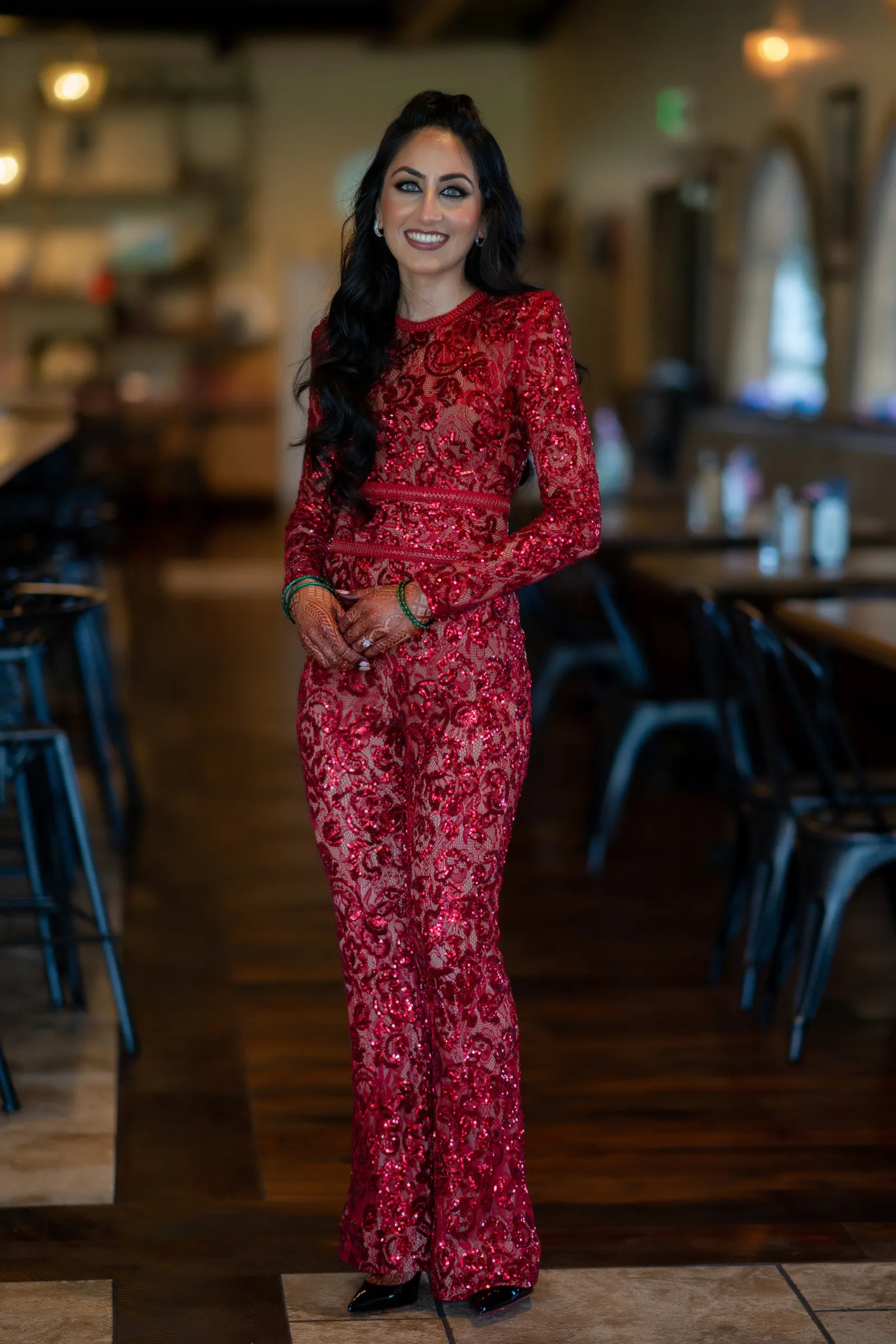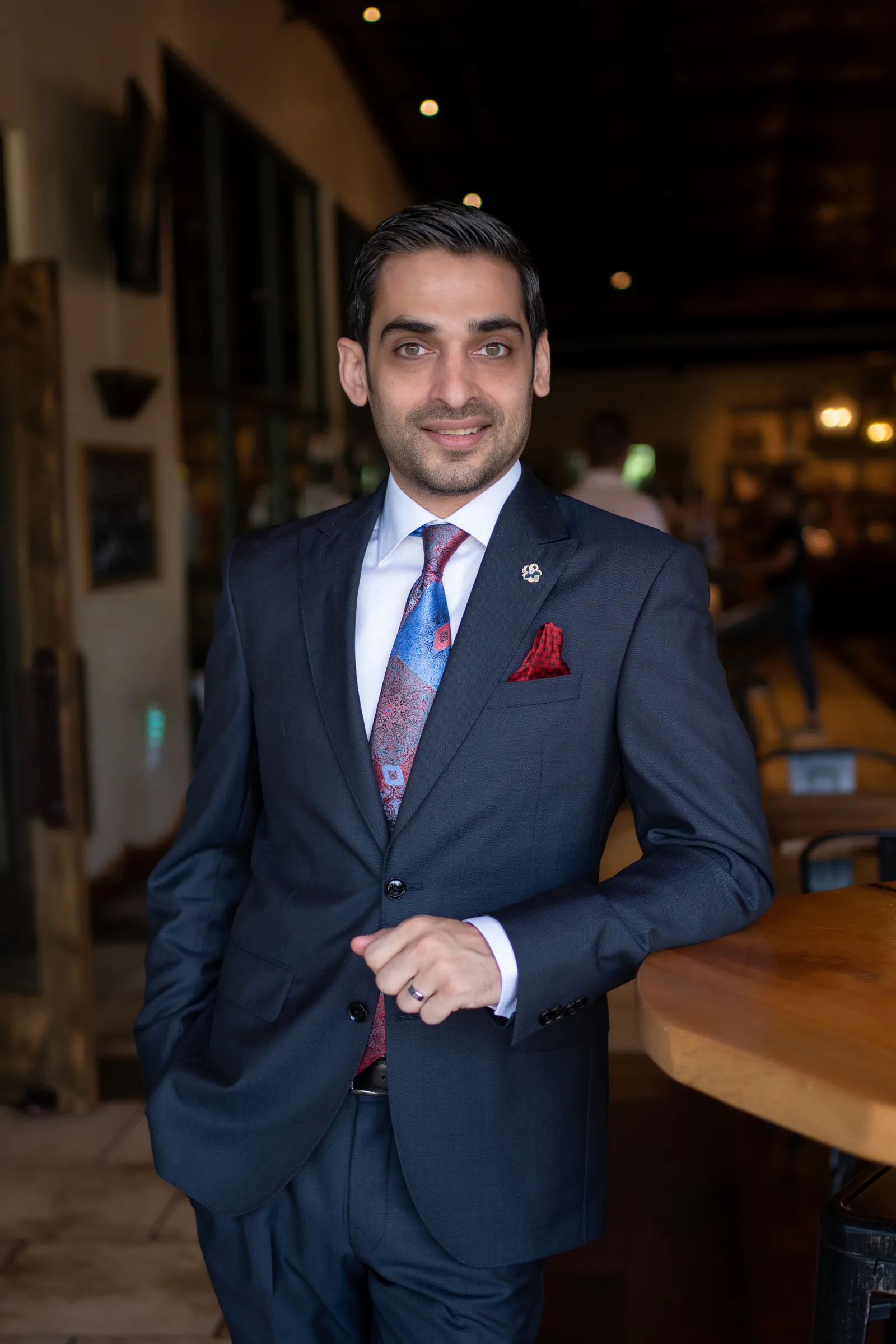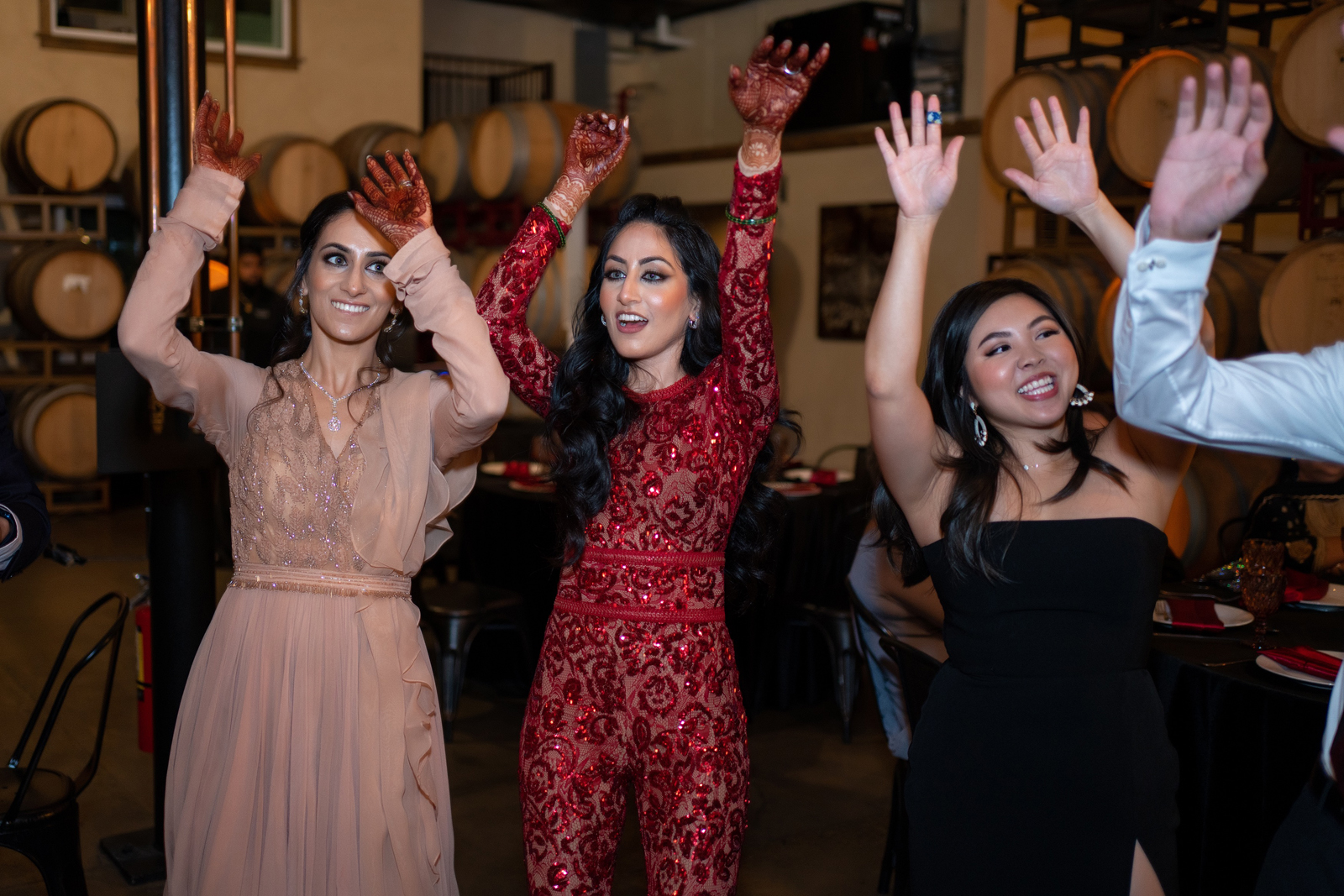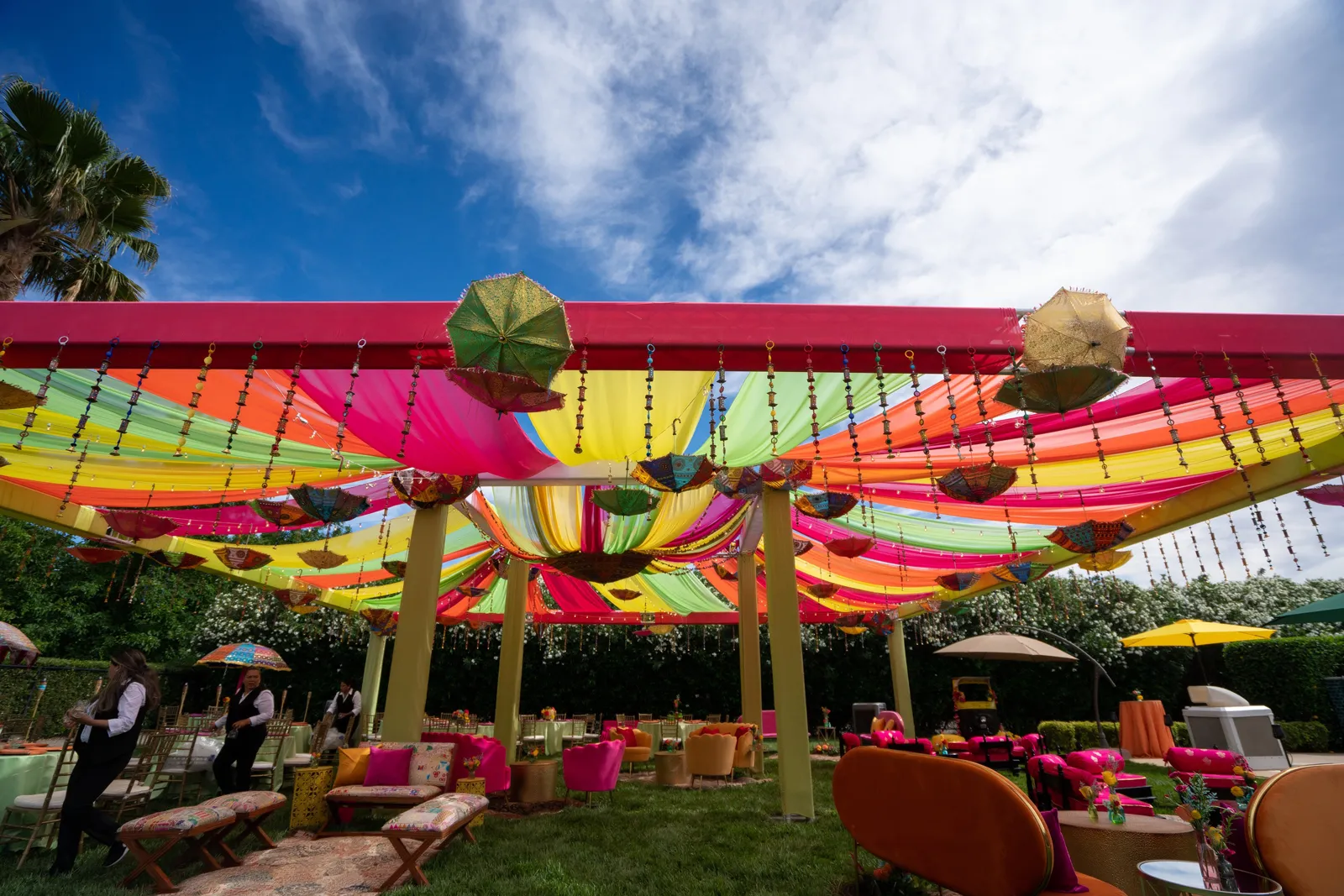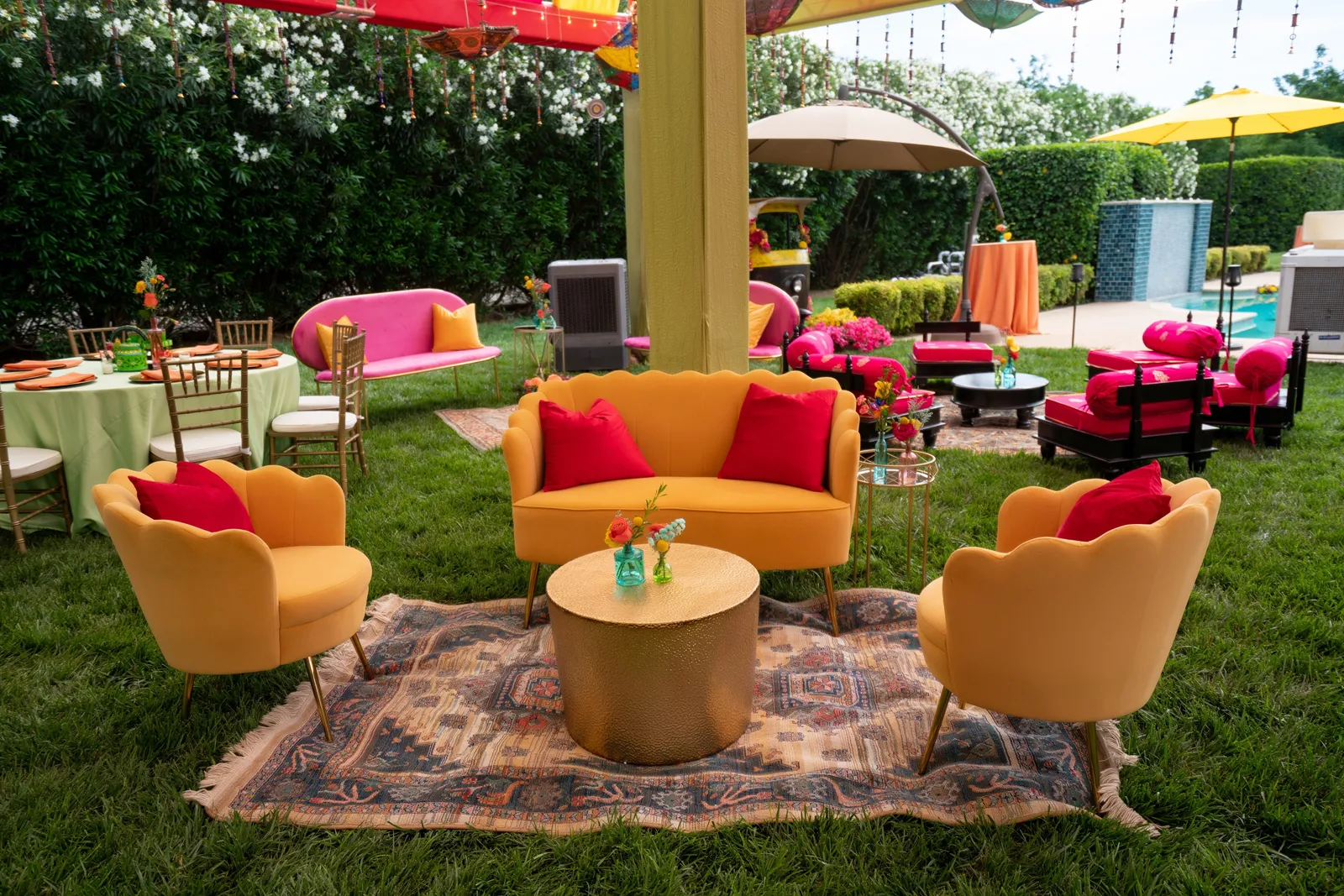 Photos courtesy of and copyright visionOne Studios used with permission.