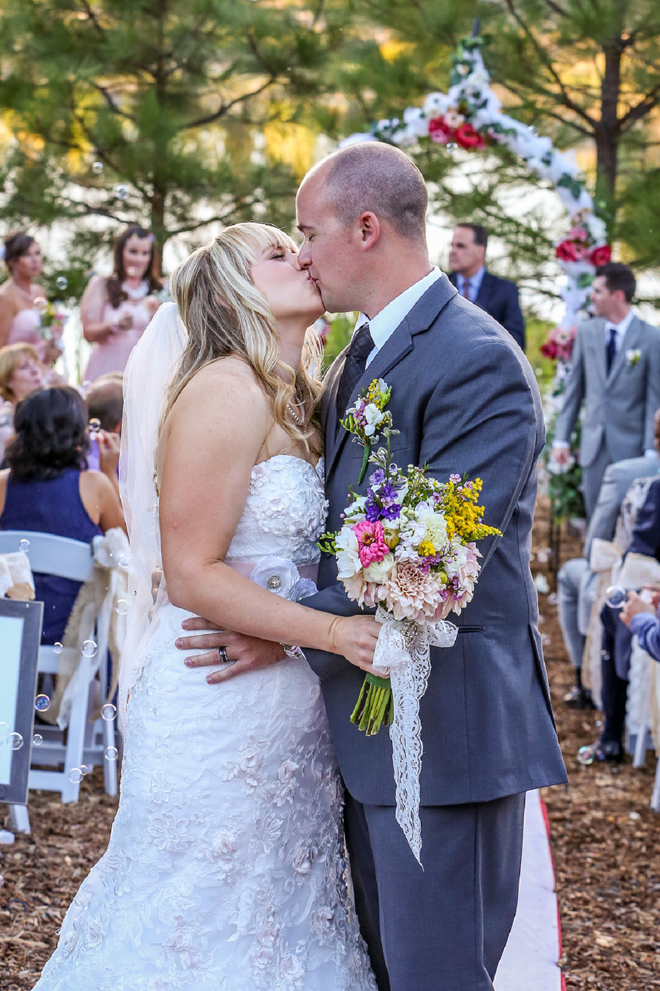 The Couple: Holly & Matt
Wedding Date: September 28, 2013
Tell us a little about you and your beloved: 
How we Met (Holly's perspective)
Our first date was at Burger's & Brew in Davis. I was living in Davis at the time and Matt was working there at the time. I figured what guy wouldn't fall in love with a girl who loved burger's and brew, right? Lucky for me I soon discovered that Matt was a craft brew aficionado, and now enjoys brewing his own beer with his two close friends.
I remember the day of our first kiss, he certainly won me over by taking me to the Second Saturday Art Walk in Sacramento. It was that day I knew he was something special. We continued to date and learn more about each other. The first few months we spent time supporting each others athletic endeavors, my triathlon and Matt's monthly half-marathon's, all whilst getting to know each other better.
I have many memories of our firsts together. Our first concert (Airborne Toxic Event), first big trip (New York), and the first I love you. I had been hoping he would say it first, but after a perfect day at a Giants game I finally mustered up enough courage to tell him. It was a great day and it has just kept getting better since.
We've celebrated many important firsts and we can't wait to celebrate even more.
The Proposal (Matt's perspective)
At the beginning of the year I knew I wanted to ask Holly to marry me. I wanted to do it in a memorable way, and hopefully when she would not expect it. We had been planning a trip to Europe, and one of our stops was going to be in Munich, one of my favorite places to visit. Having been there a few times before, I wanted to think of some new experiences we could share, and remembered that one of the tours takes groups to a castle just a few hours outside of Munich. That was it! I knew I had the perfect location, plus it helped to think that after I asked her, Munich would now have to be one of her favorite places as well, thus guaranteeing another visit.
Step one was complete, now I needed to find the ring. I had little to no knowledge about what goes into an engagement ring, so I called one of my groomsmen, Jesse, to see what wisdom he could share. He gave me a few pointers, but overall I still felt in the dark, and I knew I needed to get the ball rolling. Then I caught a break. On an impromptu trip to the mall to get a birthday present for my mom, I asked the sales woman if she could tell me a bit about their engagement rings, and I actually learned quite a bit about color, clarity, sparkle…. well maybe not that last one. It only took a few pieces before I found the one, and within the hour I was taking it home.
The big day finally came, we had made it to Munich, and after the train ride we arrived in the south west end of Bavaria and at the Neuschwanstein Castle. It was a chilly, slightly rainy day. The last thing I needed to do was pick out "the spot". I overheard our tour guide talking to another couple, and they asked about a bridge with a waterfall, he promptly responded "don't worry, we will have plenty of time to see Mary's Bridge and it's view." Hmmm.. bridge, waterfall, castle, sounds like just the spot. So after the tour through the castle, we re-grouped to head to the bridge. Once we got there we were greeted by a narrow foot bridge covered with camera touting tourists (ourselves included). I thought to myself, alright, here we go, and I turned to Holly to see if she was ready to take the walk out onto the bridge. It was at this time I learned something new, and very important about my bride-to-be, she does not like heights, especially overcrowded foot bridges that have a slight give in the wooden planks when you walk onto them. I tried my best to encourage her to come out to the middle, but she was not having it and retreated to the comfort of solid ground.
Now I had to improvise. When everyone was finished taking in the sights, our tour guide informed us that we were going to head back to the train station and I knew my time was running out. We walked past the castle, toward the entrance. I tried to walk as slow as possible to fall behind the group, so I could convince Holly that I wanted one more picture together near the castle. She agreed and we hustled over to an open area. I asked a couple who were sitting nearby if they would mind taking our picture. They didn't speak English, but my hand gestures and handing him my camera were a part of the universal tourist language. Holly had taken up her spot in front of the castle, and as I came to join her my hand fumbled in my pocket. I pulled out the little black box from my pocket and went down on one knee, "Holly, I love you. Will you marry me?"
And the rest, as they say, is history.
What was the most amazing part of your day? For me, the most amazing part was sharing our vows in front of our family and friends and being able to celebrate our special day with the people we love the most.
Ceremony and Reception Site: Private Residence
Ceremony Musicians: Matt's Aunt and Uncle, Rob and Christine Bonner
Officiant: A family friend, Judge Gene Gini
Photographer: Pyxie Studios
Videographer: And Ever Films
Caterer: A family friend, Placer County District Attorney Scott Owens
Cake/Desserts: Cake Craving
Flowers: Lauren Olsen and Staci Maliszewski
Bridal and Bridesmaids' Attire: David's Bridal
Hair: Nikki
Make-up: MAC Makeup
Invitations and Signage: Holly Bonner Designs
DJ/Entertainment/Band: DJ Jim Mangus
Décor: DIY
Furniture and Linen Rentals: America's Party Rental
Honeymoon Location: Maui, HI
First Dance Song: "The Book of Love" covered by Airborne Toxic Event
Any advice you'd give to our readers who are planning their weddings right now? Don't stress about the tiny details, you won't remember them all on your big day. Just focus on enjoying this very special moment in your life and enjoy the process however stressful it may be. I highly recommend a videographer, it captures the story that pictures just can't. It is all such a whirlwind, it happened so fast and I am so happy we can re-live it in our photography and videography.
Anything that you would have done differently if you were given the chance? I would just try to relax more and enjoy all of it and not let little things stress me out. It will all work out in the end.

Blog post by Real Weddings Magazine's Social Media Maven, Aimee Carroll.
Photos courtesy of and copyright Pyxie Studios.
Subscribe to the Real Weddings Magazine Blog! Click here:
[subscribe2]