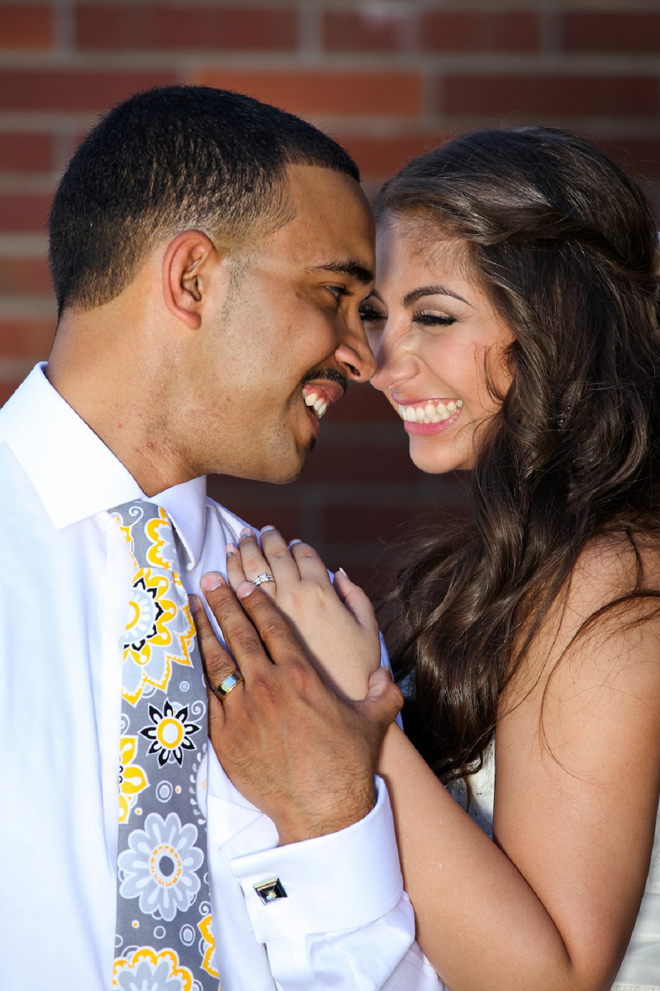 The Couple: Gina & BJ
Wedding Date: June 22, 2013
Tell us a little about you and your beloved: BJ and I met through our mutual friend, Kyran, at our friend Cory's party. Thanks boys! We talked and talked everyday. Eventually, he asked me out under the starry night sky in the rain.
BJ proposed on our anniversary and had the whole day planned out. I was clueless! He started the day off with a present which turned out to be a blender. Yea, I wasn't that excited about it but A for effort. Then he took me to an early dinner and gave me a card along with a matching set of jewelry. The topper was he surprised me by taking me to this concert I had been bugging him about for months but he had told me it was sold out.
At the end of the night, I came home and in the living room were beautiful rose petals and a full bouquet with lit candles around it that spelled "Will you marry me?". My family was there to capture the moment. BJ had everything planned out. I knew when it came to planning the wedding he'd be there every step of the way.
What was the most amazing part of your day? I was so happy to finally say, "I do" and start my life with my husband! Knowing that we did all the planning and spending ourselves made us feel confident that we could handle anything in the future. But, I also know we both were so happy to share our day with our family and friends.
BJ and I both lost a grandparent before our wedding. It was difficult for us to plan our special day knowing that they wouldn't be there. So we put our planning on hold so we could grieve and help our families. We got through it together and everyone was so very loving and supportive.
What else would you like to share about your big day? It goes by fast, so be sure to have fun. Dance the night away! I loved seeing pictures of us with smiles on our faces because we took the time to enjoy our day! Make the rounds and take pictures with your guests. And, of course EAT!
Ceremony Site: Kingdom Hall of Jehovah's Witnesses
Officiant: Lawrence Troxler Jr. (Groom's Father)
Master of Ceremonies: William Huntley
Reception Venue: The Elk Grove Event Center
Photographer: Pyxie Studios. We clicked instantly with Jaymie's bubbly personality. Who doesn't love a cute chick that takes awesome photos and rides motorcycles?! Jaymie and her husband are one fun couple!
Wedding Planner: Benita Evans. She also happens to be my dear cousin and I couldn't have done it without her. She helped me with everything and kept me calm! She really was just what I needed.
Caterer: With the help of our awesome friends the Newland's, we cooked and prepared our dinner feast! We started a few days before the wedding. It was crazy and some long nights but we had fun! We had a lot of help making the food and it turned out wonderful.
Cake: Sugartime Cakes. My cousin, Amy, designed and made our wedding cake. It was perfect! BJ also made the acrylic cake stand that we filled with lemons.
Favors: The sweet bar, as we called it, was a bar full of candy and desserts. We both thought back to the many weddings we've attended. We always noticed how many people would leave their favors or later throw them away. Who can resist sweets?! But, again this was something we made ourselves and prepared days before the wedding. We really couldn't have finished it all without our family and friends!
Flowers: Leann Newland. The bouquets and boutonnieres were beautiful. She even helped my hubby by creating a bouquet presented to me the morning of the wedding.
Bridal Attire: Enchanted Bridal & Tuxedo Shoppe
My husband and I entered a wedding contest through a linen company. The winner received a $5,000 wedding package. We were the runner up. Although we didn't win, Jennifer from Enchanted Bridal & Tuxedo Shoppe, who was one of the judges, told me to still come see her.
Being on a tight budget, I was afraid I wasn't going to find something I liked, but I was determined. I took my mom, aunt, cousin and maid of honor. When we got there I was told that I would get a discount on my dress for taking part in the contest.
Trying on dresses was fun but when I finally found "the one" I cried like a big baby. I knew it was the one I'd be wearing when I walked down the aisle. It was beautiful! And, then the icing on the cupcake…when I was told the dress was on clearance and that it was a comp dress! We all cried and I am eternally grateful to Enchanted Bridal & Tuxedo Shoppe for the wonderful gift they gave me.
Bridesmaids' Attire: ASOS
Hair Stylist: Natasha Karver. She's one of my dear friends!
Hair Stylist Assistants: Sunila Obera and Kaylee Corosu
Makeup Artist: Pearl Ware. My very talented cousin made up me and all my girls!
Invitations: Vistaprint
DJ/Entertainment/Band: Smart Sound Entertainment. DJ Twirl is my go-to guy! He knows what to play and his rates are awesome.
DIY: We saved a lot of money by making things ourselves. We purchased our own linens instead of renting. My mom and I also bought some sequin fabric that we cut and sewn to go over some of the table linens. We made our own backdrop using PVC pipe to go behind out sweet bar along with a garland.
With the help of our Grandma Wanda, we made a quilt blanket that was used as a guest book. We also created our center pieces with branches and lemons, bought our own vases and borrowed mason jars.
We bought some cardboard letters that spelt out "MR" & "MRS" and our initials. We did many other DIY projects for our wedding, but you get the idea!
Honeymoon Location: Oasis Sens Resort in Cancun, Mexico
Any other of your wedding vendor(s) you'd like to call out that we missed in the above questions? Yes, my wedding gown alterations from Keepsake Bridal Alterations.
First Dance Song: "Stay Together" by Ledisi (Featuring Jaheim)
Any advice you'd give to our readers who are planning their weddings right now? Start early! It helped relieve so much stress. DIY when possible, search for deals and do not be afraid to ask for help! Don't compare your wedding to others. As you can see, I had a lot of family and friends who used their wonderful talents to help us and we are so appreciative of them. In the end, we got the wedding we wanted.
Anything that you would have done differently if you were given the chance? Each wedding is unique. There were so many wonderful things that happened that day. Our day was full of no regrets.
Blog post by Real Weddings Magazine's Social Media Maven, Aimee Carroll.
Photos courtesy of and copyright Pyxie Studios.
Subscribe to the Real Weddings Magazine Blog! Click here: [subscribe2]