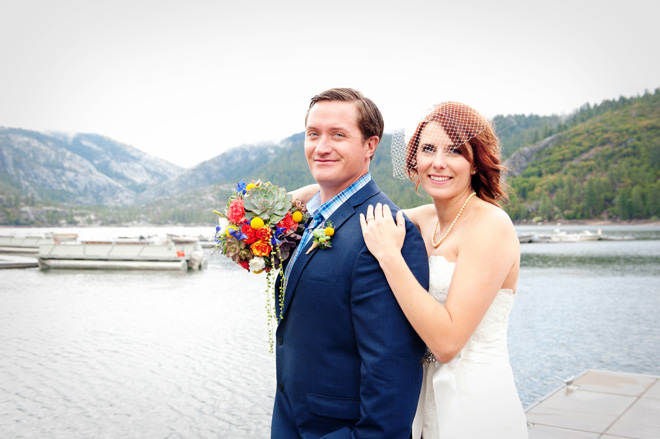 The Couple: Jaime & Joe
Wedding Date: September 21, 2013
Photography by Shoop's Photography
Tell us a little about you and your beloved: We met bartending together at the Bonn Lair Pub in East Sacramento. We knew each other for about three years before we started dating. He continually asked me out during that time, but I continued to shoot him down.
I then went on a vacation with my family and friends to Sun Valley, Idaho and had too much to drink. I broke down crying and sobbing. Everyone asked what the problem was and I said, "I love Joe Dempsey". Joe had finally won me after all those years. He picked me up from the airport from that trip and we have been together ever since; five years now.
What was the most amazing part of your day? It was great to see everyone there. Joe's family all came out from Buffalo, NY and we had friends there we haven't seen in years. It was special to have them all there….. huddled together…under umbrellas, all getting to know each other!
What else would you like to share about your big day? Well, it rained. And, it didn't just rain a little, it poured rain from sun up, past sun down. At one point before the ceremony someone yelled, "It stopped raining!" I was so pleased until they then exclaimed, "Now it is hailing!" Everyone was a good sport about it though. Oh, and it was freezing. It even snowed later that night.
But, on the bright side, there was no wind. At one point we went down to the lake to take photos. During this time, Joe's mom and five sisters sat around a table in their cabin and did a whole rosary of Hail Mary's praying it would stop raining…. The only time during the whole day that we got any blue sky pictures was down at the lake while they were praying! We literally pulled up to the lake and it was pouring, the sky parted for 5 minutes during our photos, and then the clouds sealed the sky back up and the rain proceeded again. Funny how that happened.
Lastly, the band ROCKED! Everyone had so much fun dancing. We found an area on the deck to huddle into where we weren't getting wet. (Did I mention this was an all outdoor wedding and reception? Water was EVERYWHERE, there was no escaping it!) In the end we had a very memorable day and were told continually that it is very lucky to have rain on your wedding day. I think they are right.
Ceremony Site: Pinecrest
Ceremony Musicians: Craic Haus
Officiant: Margaret Dempsey (Joe's Sister)
Reception Venue and Caterer: The Steam Donkey
Photographer: Shoop's Photography
Wedding Planner: Jaime/Val Huffman
Cake/Desserts: Elinor Goetter
Flowers: Bear's Florist and Jaime Huffman
Favors: Donations to various charities
Bridal Attire: House of Fashion. Altered design by Jaime Huffman.
Bridesmaids' Attire: The girls chose whatever they wanted in blue.
Hair: Vanessa Slater
Make-up: Noelia Hernandez
Invitations: Jaime Espinosa
Signage: Karrie Mathson
DJ/Entertainment/Band: Craic Haus
First Dance Song: "Bobcaygeon" by The Tragically Hip
Any advice you'd give to our readers who are planning their weddings right now? Don't worry, you will survive and it will be over before you know it. Your wedding day will fly by. I suggest you drink heavily.
Anything that you would have done differently if you were given the chance? If given the chance, I guess I would have chosen a different day so we could have seen and enjoyed the wedding with no rain. That is the only thing I would have changed.

Blog post by Real Weddings Magazine's Social Media Maven, Aimee Carroll.
Photos courtesy of and copyright Shoop's Photography.
Subscribe to the Real Weddings Magazine Blog! Click here: [subscribe2]