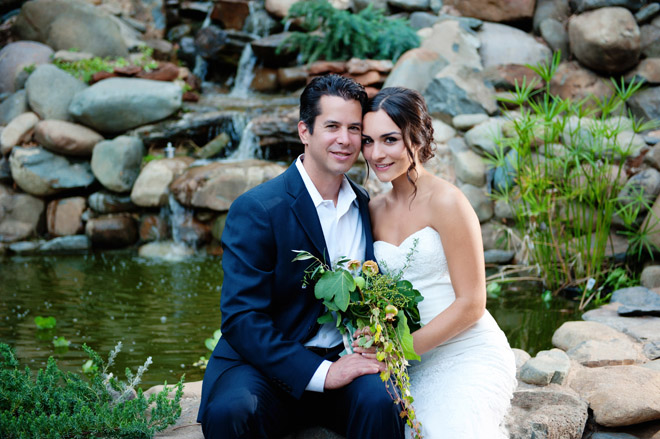 The Couple: Denize & Dain
Wedding Date: September 14, 2013
Photography by Shoop's Photography
Tell us a little about you and your beloved: Dain proposed to me March 9, 2013 on a secluded beach along the Oregon Coast the only other soul present was our dog, Kiva. We had a not-so glamorous picnic when we got back to the car consisting of canned tuna, an avocado, and some yummy crackers…Probably one of the best tasting meals we've ever had (I'm sure the happiness of the day had something to do with it).
As for the wedding planning, it didn't begin until August 2nd, the day after the California Bar Exam. I had graduated from law school in May and was studying for the bar exam over the summer. Needless to say, the last thing on my mind was flower arrangements. I did have the sense about me to get a dress and confirm a photographer before my exam prep began. When August 2nd hit, I made a check list and started making calls. Everything came together beautifully in the end.
What was the most amazing part of your day? For me it was feeling completely loved by every one who was present. We had a total of 34 guests and 9 of them were kids, so each person was a special member of our family and you could really feel the love and support. For Dain, well he says it was seeing me for the first time in my dress walking towards him. That moment was something special, I cried the whole way over to him.
What else would you like to share about your big day? We were thrilled to have been able to do a dual ceremony wedding. Being Persian, I grew up envisioning my wedding day with a Persian ceremony. Dain isn't Persian, but he has such great admiration and curiosity for my culture that it was a no brainer to include the Sofreh Aghd ceremony. My dear friend and mother figure, Sholeh, arranged the Sofreh for me.
Ceremony and Reception Site: Private Home
Ceremony Musicians: I walked down the aisle to a classical song that blended western and Persian instruments, I've always loved the song but it had a special meaning for us two with the blending of our cultures.
Officiant: My amazing mother-in-law, Melode. She's not just a loving mother, but a beautiful soul.
Photographer: Shoop's Photography
Caterer: Whole Foods
Cake/Desserts: Karen's Bakery
Flowers: Two wild flower bouquets from Whole Foods flower section. I just split them up and placed them in mason jars. My bouquet was made by my mother-in-law from a fig branch, an olive branch and some other herbs and shrubs.
Bridal Attire: Miosa Bride
Hair: I found a design I liked and my sister-in-law was up for the challenge. We did a test run the weekend before and it looked great.
Make-up: DIY
Invitations: Personal Phone Calls
DJ/Entertainment/Band: We were blessed to have had our niece, Shayna, sing two songs she had picked out. Her sweet voice brought me to tears. When she wasn't blowing us away, I had a spotify playlist I had made playing in the background.
Lighting: I purchased christmas lights and paper lantern lights from cost plus and my brother in law climbed the trees and hung the lights perfectly. I also bought some tikki torches from home depot that we scattered around. lastly we floated tea light candles in mason jars on the tables.
Furniture and Linen Rentals: Amador Party Rentals
Honeymoon Location: We still haven't taken one! Two lawyers makes for a busy schedule. Oh, and we're thrilled to be welcoming our first child this August so this honeymoon better happen soon.
Any advice you'd give to our readers who are planning their weddings right now? Keep it simple and be creative, the best part of the day is letting go of control and just enjoying the ride.
Anything that you would have done differently if you were given the chance? Not a thing.

Blog post by Real Weddings Magazine's Social Media Maven, Aimee Carroll.
Photos courtesy of and copyright Shoop's Photography.
Subscribe to the Real Weddings Magazine Blog! Click here: [subscribe2]