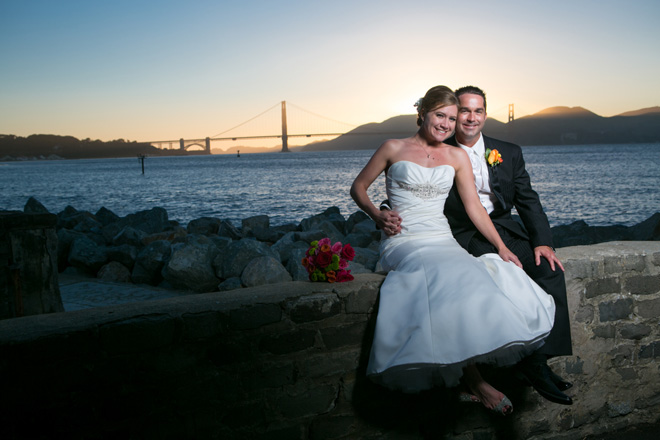 The Couple: Jenny & Dan
Wedding Date: June 29, 2013
Photography by Bogdan Condor Photography
Tell us a little about you and your beloved: Dan and I met on a blind date. I had recently reconnected with my college roommate Melissa, and she had been telling me for months how she wanted to set me up with her boyfriend's roommate, Dan. She tried multiple times to get us to go on a double date with her and her boyfriend, but I had been on several blind dates before and decided that I did not want to risk our rediscovered friendship, so I kept turning her down. Finally she stopped asking me and instead invited me to come into San Francisco to have dinner with her and a group of old college friends. I was excited I had not seen these friends in about 8 years. I showed up to the restaurant all excited and nervous to see old friends but when I opened the front door instead of seeing a group of old friends I saw Melissa, her boyfriend, and Dan. Once I got over my initial shock, we had a great dinner.
Then, a little over two years from that very day Dan surprised me again but this time it was with a trip to the Ritz Carlton in Half Moon Bay. This trip was one which a friend of his had gotten "through work" but could not use so gave it to Dan and I. Once again falling for a "story" Dan got me to this beautiful hotel, then at sunset on the bluff overlooking the ocean, he asked me to marry him. I of course said yes and that set off a year of wedding planning.
What was the most amazing part of your day? Dan and I got married in San Francisco in the Marina area where we met in June. June is usually one of the foggiest times in San Francisco. and so I had a feeling that the day might be foggy and gloomy. Someone was defiantly watching over us because when I woke up that morning and could see the sun shining over the Golden Gate Bridge and I knew that the whole day was going to be amazing!
What else would you like to share about your big day? I had a few things during the planning phase of the wedding that I would say did not go according to plan, but everyone was right, on the day itself all of that stress fell away and the day was wonderful even with the little bumps along the way!
Ceremony Site: The Chapel of Our Lady at The Presidio of San Francisco
Ceremony Musicians: Aleron Strings
Officiant: My Brother-in-Law, Alan Bodtker
Reception Venue and Caterer: St. Francis Yacht Club
Photographer: Bogdan Condor Photography
Videographer: OneDay Pictures
Wedding Planner: A Savvy Event
Cake/Desserts: Kara's Cupcakes
Flowers: Honey Pear Floral Design and Signature Bloom
Favors: Sweet Clementine
Bridal Attire: Clarissa Bridal Salon
Bridesmaids' Attire: David's Bridal
Hair and Make-up: Katie Nash Beauty
Invitations: Savor The Date
DJ/Entertainment/Band and Lighting: Joel Nelson Productions
Chair Cover Rentals: Especial Yours Corporation
Transportation: Classic Cable Car Charters and Ride the Ducks
Honeymoon Location: Maui, Hawaii
First Dance Song: "Angel" and "Better Together" mix by Jack Johnson.
Any advice you'd give to our readers who are planning their weddings right now? Try to enjoy this time as much as possible, although it is stressful, it will hold so many great moments that you will remember forever.
Anything that you would have done differently if you were given the chance? I wish we would have gone around to each table to say hello to everyone, but the dinner goes by so fast that we just ran out of time. Other than that, it truly was the perfect day!

Blog post by Real Weddings Magazine's Social Media Maven, Aimee Carroll.
Photos courtesy of and copyright Bogdan Condor Photography.
Subscribe to the Real Weddings Magazine Blog! Click here: [subscribe2]