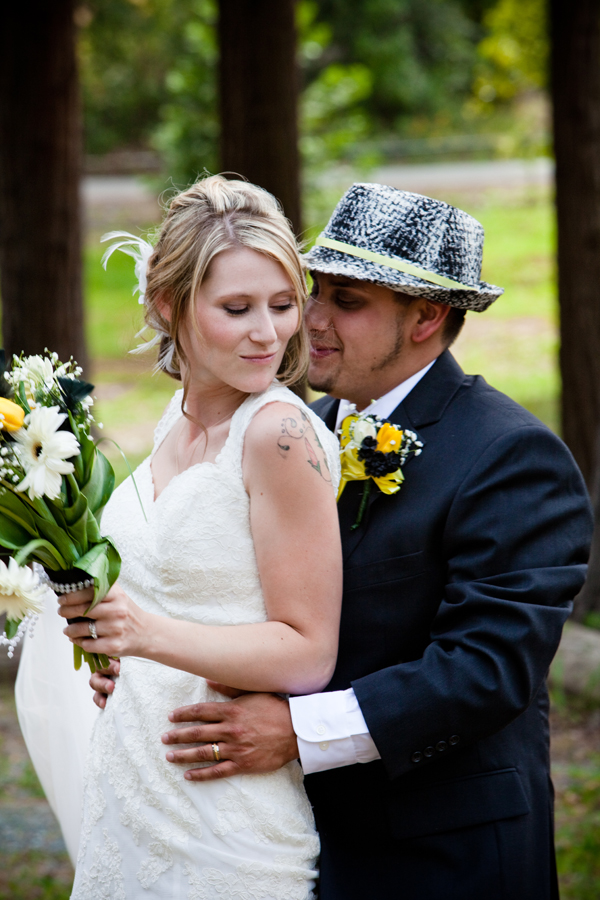 The Couple:  Keeley Ahart and Ben Michael
Wedding Date:  June 11, 2011
Photography by Fisher Photography 
Tell us a little about you and your beloved:  Our first date was 9-11-07, and he took me to an awful restaurant followed by a horrible movie, ha ha! We had so much fun that we repeated the event for our one year anniversary, even going so far as to see the sequel of that ridiculous movie! We're best friends, no exaggeration, and I love him to the moon!
What was the most amazing part of your day?  The entire ceremony was gorgeous (my mom did practically everything), but the most amazing part of the day was in the morning when we were setting everything up. We were all running around putting things together when my best friend and maid of honor tells everyone to look at the sky! We all stopped to look, and were awed by the sight. There was a beautiful, soft solar ice ring surrounding the early morning sun. Cell phones were out immediately!!! Everyone agreed it was a blessing.
What else would you like to share about your big day?  My mom, Julie Ahart, impressed everyone with her wedding planning abilities! She made all of the decorations, including living floral centerpieces, adorable guest gifts, all of the flowers and a beautiful cake! She truly thought of everything and was the biggest help! She even surprised me and all of the bridal party with a spectacular gift basket complete with snacks, little liquor bottles, aspirin, stain remover, safety pins and countless other little things that came in SO handy! Love you mom!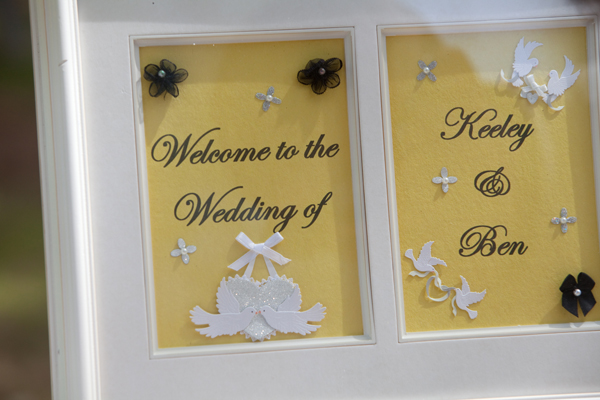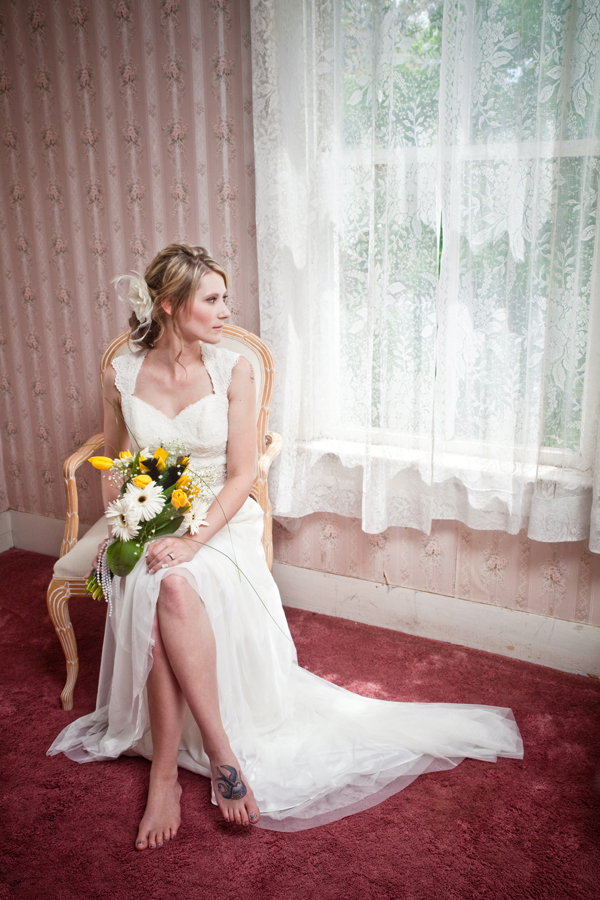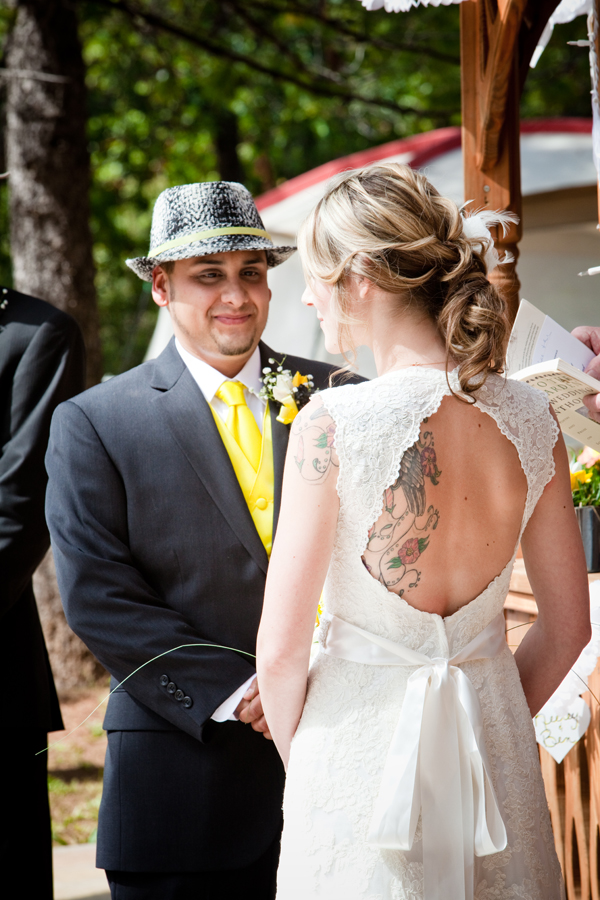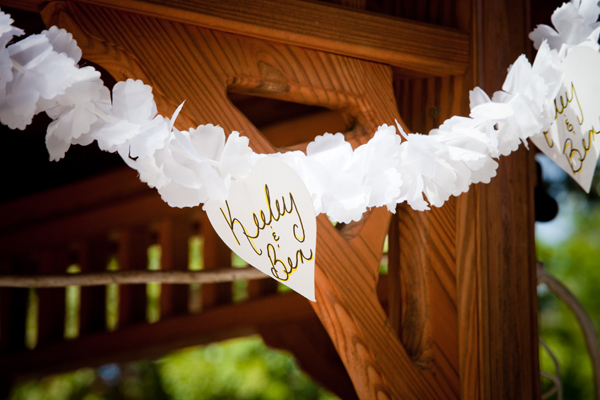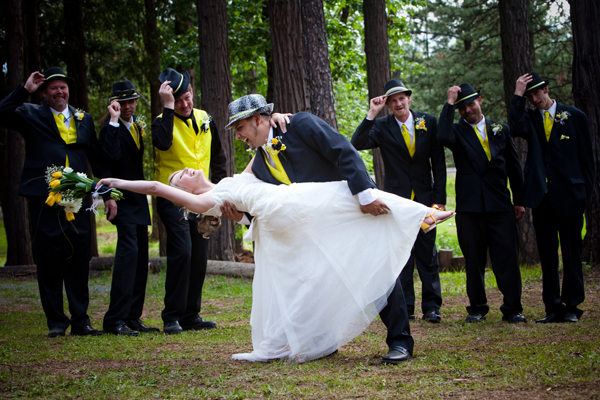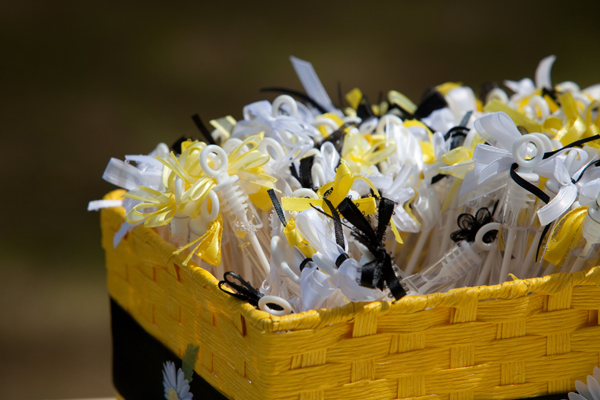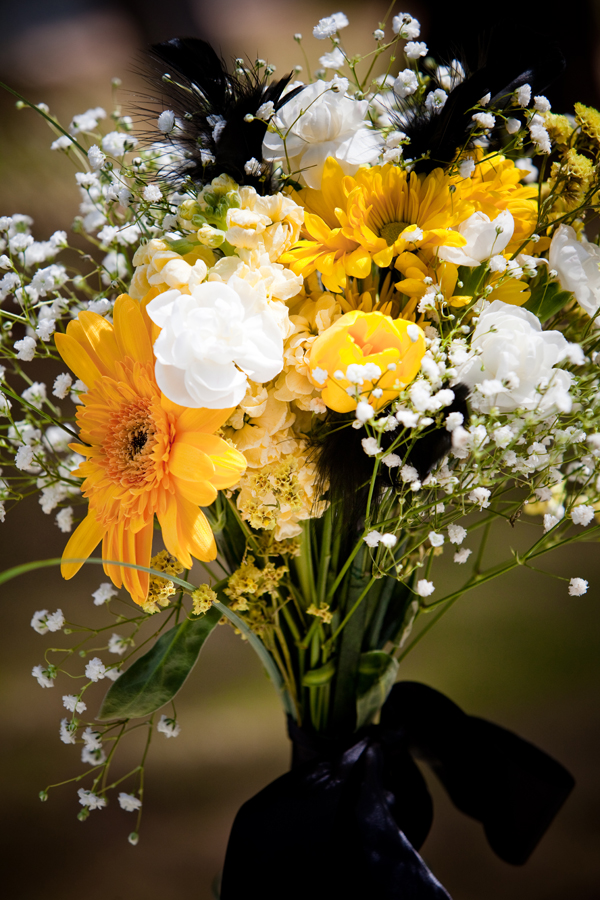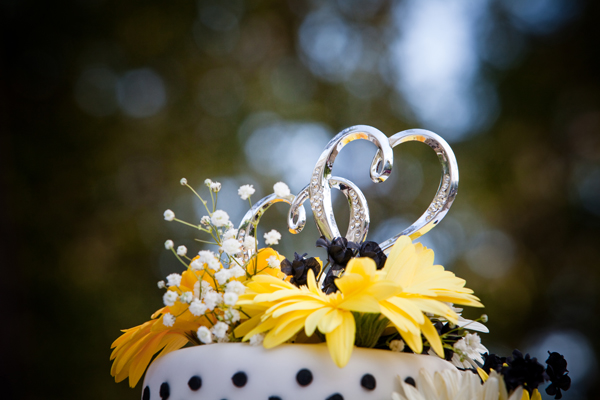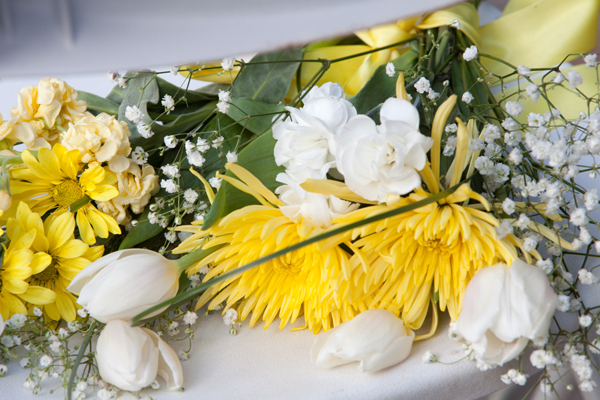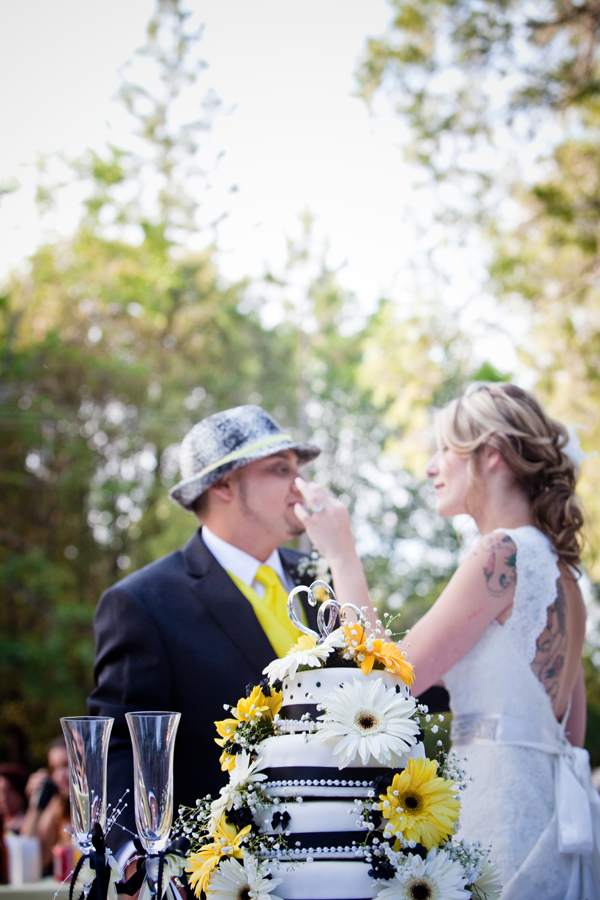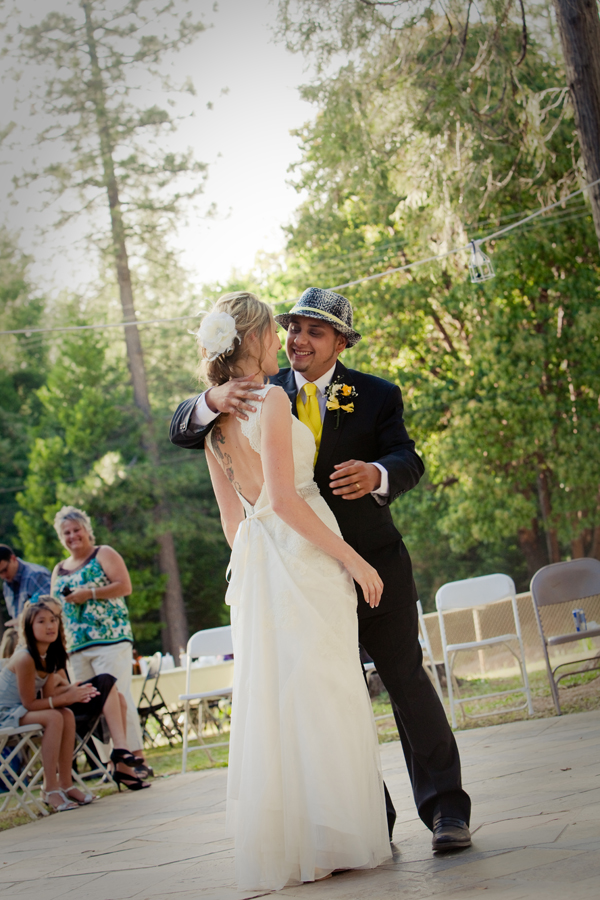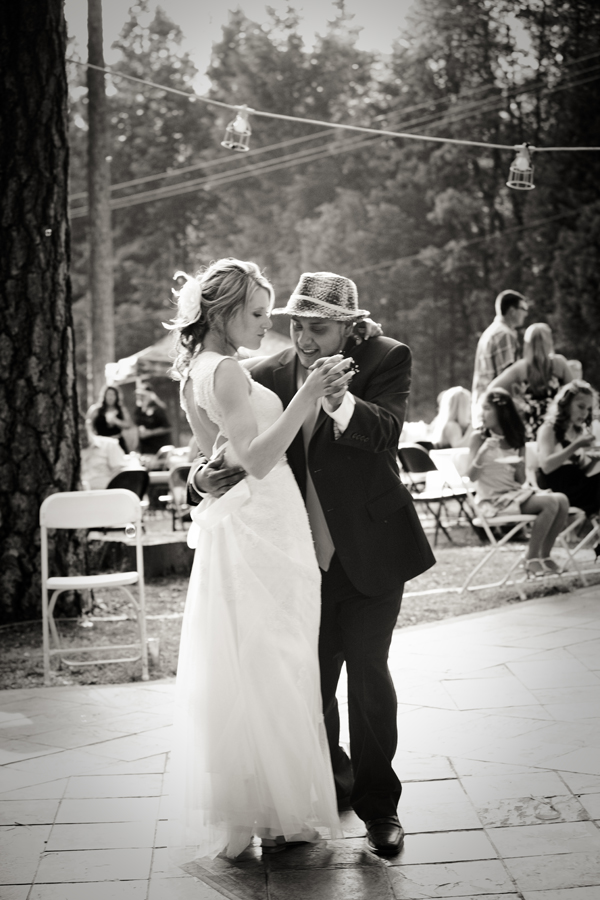 Ceremony & Reception Site:  VFW Park
Photographer:  Fisher Photography
Wedding Planner:  My mom
Caterer:  My dad and grandparents spent the entire day before the wedding boiling meats so they could go straight on the BBQ!
Cake:  My mom!
Flowers:  My mom!
Favors:  My mom was very busy.
Wedding Dress:  David's Bridal. To my surprise, I went to a good friend's wedding only weeks before my own and she was wearing the EXACT dress I had bought!!! Such a small world! I thought my choice was so unique, but I guess we both have great taste.
Bridesmaid Dresses:  I let my bridesmaids choose their own black dresses of any style! I wanted them happy, comfortable and out of debt!
Hair:  Melissa Prato
Makeup:  DIY
Invitations:  More Than a Mailbox
DJ/Entertainment/Band:  The good ol' iPod controlled by our friend's Mikey the "P" and Bubba.
Honeymoon location:  We're still honeymooning! Everywhere we go!
Any other of your wedding vendor(s) you'd like to call out?  I have to give credit to Uncle Randy, who kept the chicken from burning while we said our vows, Longtime family friend Bruce who married us, and Jodie Fisher for being our photographer! Jodie was on scene for more than 10 hours and she fit in like family! Thank you so much Jodie!
First Dance Song:  "Big Me" by The Foo Fighters (the acoustic version)
Any advice you'd give to our readers who are planning their weddings right now?  Involve your family as much as possible! It will make the event so much more special and the family will love to be part of your special day as more than just a spectator. There are countless tasks that even a crazy aunt or wild sibling can't mess up! Trust me.
Anything that you would have done differently if you were given the chance?  Relax!

Photos courtesy of Fisher Photography.
Do you have the new Real Weddings Magazine iPhone and iPad App?
Download it from the Apple App Store Today: REAL WEDDINGS MAGAZINE!
---
---
Looking for local Sacramento wedding vendors?
---
Subscribe to the Real Weddings Magazine Blog!