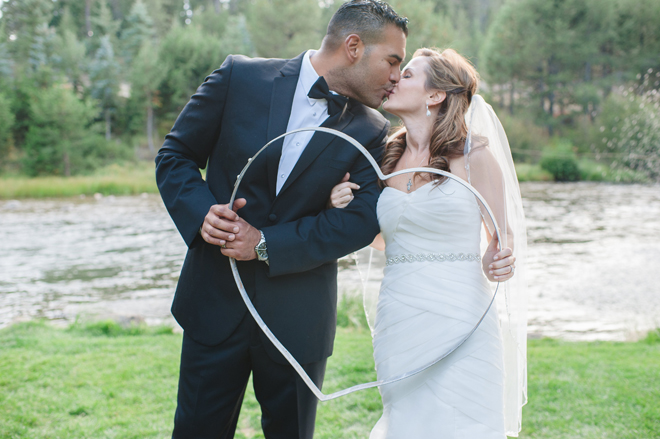 The Couple: Nicole & Gerald
Wedding Date: August 24, 2013
Photography by Marcie Lynn Photography
Tell us a little about you and your beloved: My uncle sponsored a firefighter charity event and invited me to go with his group and I went! His friend since childhood, Michael, is an Oakland firefighter and was one of the event chairs. I had just moved back to California and was a little down in the dumps because I didn't have much of a social life and didn't know many people after 13 years in Texas.
We were in the lobby area for the first couple of hours which happened to be near the bar. Gerald was bartending along with 3 other guys that night. We shared a couple of smiles but never spoke. A few days later the firefighters, while back at the station, were reviewing the night's events. Gerald described a girl with a black dress and leopard shoes (a highly intoxicated lady was pointing them out to everyone that night). Out of 24 fire stations in Oakland, Gerald and Michael (my uncle's friend) were at the same station. Michael heard the conversation and set up a date for us.
What else would you like to share about your big day? We had a surprise wedding! We went to San Francisco City Hall and posed for photos for a fake wedding that we then posted on social media. We told everyone that we eloped! Then we planned a big reception in Lake Tahoe. Truth was that we were actually getting married at the "reception" in Lake Tahoe!
We loved getting to surprise all of our guests and letting them know that we didn't actually get married at City Hall, we were getting married that day! Revealing to my dad and seeing the relief on his face that he didn't miss out on his only daughter's wedding was amazing. It meant the world to him to walk me down the aisle
We wanted something unique, something nobody had ever seen before and certainly weren't expecting! We wanted our guests to feel comfortable and relaxed, like they were just going to a backyard BBQ party.
Ceremony and Reception Site: Painted Rock Lodge
Officiant: Lawrence Hom, Oakland Fire Department Captain
Photographer: Marcie Lynn Photography
Videographer: Lake Tahoe Films
Wedding Planner and Flowers: KMK Design
Caterer: Gordon's Backyard BBQ & Catering
Cake/Desserts: Cookies homemade by family members
Bridal Attire: Pre-owned Wedding Dresses
Hair: Chelsey Burtis
Make-up: Natalie Cusson
Signage: Emily Van Orden on Etsy
DJ/Entertainment/Band: All in the Details
Honeymoon Location: Turks & Caicos

Blog post by Real Weddings Magazine's Social Media Maven, Aimee Carroll.
Photos courtesy of and copyright Marcie Lynn Photography.
Subscribe to the Real Weddings Magazine Blog! Click here: [subscribe2]