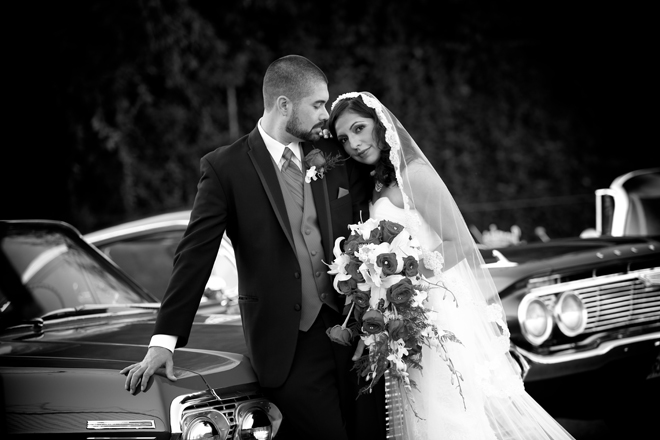 The Couple: Angelica & Michael
Wedding Date: October 26, 2013
Photography by Unforgettable Portraits
Tell us a little about you and your beloved: We always saw each other with mutual friends and everywhere we went! Eventually, I approached him and gave him my number. 10 years later here we are!
The proposal caught me off guard for sure. It was Christmas Eve 2011 and he has a big Italian family, so it was loud. We were getting ready to open presents but my focus was on his cousin's iPhone. I didn't have a smart phone then (I know!) and I was playing with it when he kind of just stood up and walked in front of me, got down on one knee and asked me to marry him. I cried and was kind of shaking my head, I was thinking like, is this really happening!?! Of course I said yes and everyone was so happy for us. They were probably thinking…finally!
He let me have full control of the wedding planning. I always asked his opinion and he kept me grounded! I know about his passion for cars so it was a no brainer to have it at the auto museum. Pinterest really helped, too! My bridesmaids would beg to differ for the sole purpose of the DIY projects! Family and friends played a big part, without them it wouldn't have been so spectacular!
What was the most amazing part of your day? It's really hard to pinpoint exactly what was the most amazing part! The whole day was amazing. My husband loved the drive in the cars. Everyone was honking and waving at us, made me feel like a princess! We did an old school cruise down Broadway.
What else would you like to share about your big day? We added small touches of us by having Ken and Chun Li from the game Street Fighter as our cupcake toppers. My husband likes video games, so his groomsmen gifts were video game cufflinks. My favorite books were on the tables, there was a candy bar and the table names were our favorite movies. We were announced as man and wife by being driven onto the dance floor, sitting in the back of a Ford Galaxy 500 convertible! We had so much fun, the day was awesome!
Ceremony Site: St. Rose Church
Ceremony Musicians: Rollie Mamauag
Officiant: Father Lollar
Reception Venue: California Auto Museum
Photographer and Videographer: Unforgettable Portraits. Catherine Sackett is amazing.
Engagement Shoot Photographer: Temple Photography
Caterer: El Patron Mixed Cuisine. They even made my husband his own plate of tri-tip! It wasn't on the menu.
Cake/Desserts: Vanilla Bean Bakery
Flowers: Yolanda Florists. Yolanda did an amazing job! She listened to ALL my ideas and incorporated them exceptionally!
Favors: DIY. They were small black and white damask boxes with 5 white almonds in it. They represented Health, Happiness, Fertility, Wealth and a long life together. It's an Italian tradition.
Bridal Attire: Miosa Bride. Mike did a great job! I had no idea what I wanted, he could clearly see that after the 9th dress. He came back with the most gorgeous gown I have ever seen! Michael and his groomsmen went through Jos. A Bank. They looked very dapper!
Bridesmaids' Attire: House of Fashion. They did a great job!
Bridal Jewelry: Macy's. Also, my Nina Ana (Godmother) gave me her pearl necklace. It was my something old.
Hair: Salisa Campos from Alchemy Salon. My hair was beautiful.
Make-up: Cesar Rivera MUA. He always does great work!
Invitations: David's Bridal. I enclosed it with a wax seal (it reminded me of Harry Potter but it took forever).
DJ/Entertainment/Band: DJ Big Al Ruiz of ALifornia Entertainment
Photo Booth: SnapJoy Photo Booths. This was on of the best parts of the wedding! Young and old had a great time. It was one of my favors as well.
Lighting and Décor Rentals: Yolanda Florists. It was more than I ever expected! She did a wonderful job!
Transportation: Stockton Impala Car Club. We opted for no limo and had old school Impalas!
Honeymoon Location: Honolulu, Hawaii. We went for a magical week. Halloween happened to be the following day and we had a blast walking around as Bride and Groom! It was our first time swimming with turtles, too!
Any other of your wedding vendor(s) you'd like to call out that we missed in the above questions? I'd like to give an extra thanks to Hallie at The California Auto Museum. She did a great job helping with…..everything!! Also, Thank you to The Citizen Hotel. I was able to get ready in a beautiful room and have our wedding night there, too! And, the Grange Restaurant provided the wine.
First Dance Song: "I Only Have Eyes For You" by The Flamingos. My Father-in-Law also happened to love this song. He said it's his favorite of all times! We didn't know until later that night.
Any advice you'd give to our readers who are planning their weddings right now? Breathe! We were engaged for over a year and that really helped with trying to really convey what we wanted. When the times get rough remember what the real point of the wedding is. Marrying that special someone who you'll spend your life with!
Also, I would have splurged for a day of wedding planner. Just for the little things that I found out after the wedding. (The champagne wasn't served and little things weren't passed out or delivered but other than that it was perfect!)
Anything that you would have done differently if you were given the chance? I would have tried to take time to take everything in! The wedding day went by so fast, it was a blur! Thank God for the videographer!
The night we came home from our honeymoon I turned to my Husband (I love saying that) and said, "Does it feel like we just had this huge party (the wedding), hopped on plane, swam, ate, hiked, ate, swam with turtles, drove around an island twice, swam and ate and hopped back on a plane and boom. Here we are, watching Conan, like a regular night." He said it felt like a dream, too.

Blog post by Real Weddings Magazine's Social Media Maven, Aimee Carroll.
Photos courtesy of and copyright Unforgettable Portraits.
Subscribe to the Real Weddings Magazine Blog! Click here: [subscribe2]