Are you dreaming of beautiful weddings like we are? Well, here to inspire you, it's Real Weddings Wednesdays! Today, we present LáRae & Mike! Enjoy!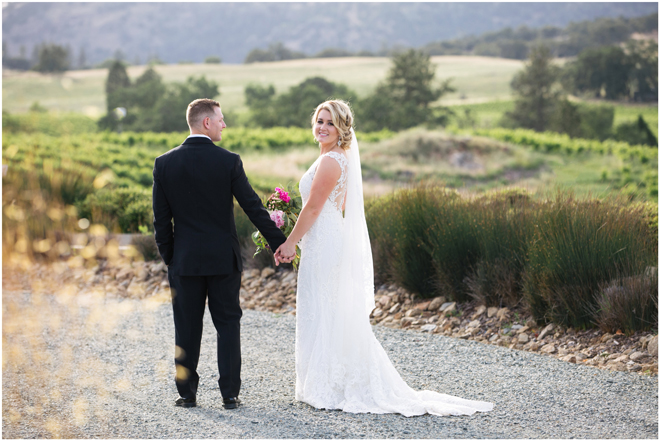 Tell us a little about you and your beloved: We met at a dinner with friends, at Mikuni in Downtown Sacramento. Our first date was at Powerhouse Pub in Folsom (so classy, we know). After four years of dating, Mike proposed on a snowy hilltop overlooking our favorite spot, Lake Tahoe. Mike and I were both very busy with new career changes so we had a long engagement and go married a year and a half later at Helwig Winery.
What was the most amazing part of your day? The amazing sunset the Lord blessed us with. It lasted forever and was a stunning backdrop to our reception.
What else would you like to share about your big day? Andy and Melanie (from Andrew & Melanie Photography) are so great. We did our engagement photos with them as well, which helped us both feel more comfortable. We're so happy we chose them to capture our big day! Our DJ Matt (from Extreme Productions Entertainment) was the absolute best. He had everything running so smoothly, music was perfect, he was hilarious, and he was so mellow when several things went awry… making them feel no big deal to me during the hustle and bustle. Also, my flowers. I LOVED my flowers. Melissa and the whole team at Placerville Flowers on Main serious nailed it. They were exactly as I imagined.
Venue: Helwig Winery
Officiant: Gene Graves
Photographer:  Andrew & Melanie Photography
Videographer: Indigo Sky Studios
Caterer: Beth Sogaard Catering (now So Good Catering)
Cake and Desserts:  Timothy's Bakery
Flowers: Placerville Flowers on Main
Bridal Attire: Sheryl Giles Bridal
Hair Artist: Sandra B Beauty / Sandra Bandimere
Makeup Artist: Gina Scheiber Makeup
Invitations: Vistaprint
DJ/Entertainment: Extreme Productions Entertainment
Honeymoon Location: Moorea, French Polynesian
Any advice you'd give to our readers who are planning their weddings right now? Seriously, don't sweat the small stuff. Everything comes together how it should be. Even if you have a planner, assign some friends to check in on things before the ceremony in case the things that are most important to you aren't the way you hoped.
Anything that you would have done differently if you were given the chance? Eloped… lol just kidding. Kind of. Really, we wish the night was longer. There is a noise ordinance in Amador county which requires music to be off at 10pm. Ceremony didn't start until 5 because of venue operating hours. We really wished we had at least another hour. Just a good thing to consider when venue shopping.
Photos and video courtesy of and copyright Andrew & Melanie Photography used with permission.

Want more Real Weddings Wednesdays Inspiration? Click here!