Cheers to the middle of the week because it's Real Weddings Wednesdays! Today, we present Tiffany & Jesse who reconnected and planned a rustic wedding featuring a warm yellow color palette with pops of blue.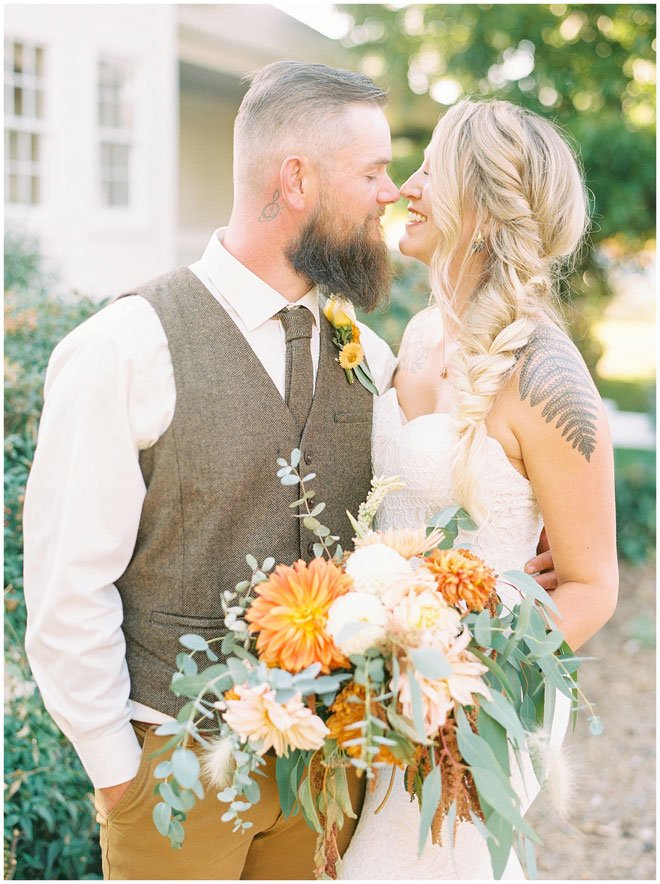 Tell us a little about you and your beloved. We were friends in the past but had completely lost touch over the years. Then on Halloween unbeknownst to us we were at neighboring house parties. Due to a friendly conversation over the fence by some other party goers the parties combined into one. As everyone poured into the front yards to meet we saw each other. We spent the rest of night talking and have been together ever since. To say I hadn't been dropping Jesse "subtle" hints on the engagement ring for some time would be a lie, but somehow he still managed to completely surprise me. That morning as we got ready for our day he asked if I wanted to head to our favorite swimming spot on the river. Worried that the water was getting too chilly to swim I declined subsequently destroying his whole surprise proposal plan. Instead we met a friend for brunch at one of our favorite restaurants. Both of them, who are normally chatter boxes, where dead silent. I started to feel awkward. Did I smell? Did someone die? What was going on? From there we went to out local tap room and played a few games, with the same looming awkwardness. As we left and headed to our favorite bar where we had our first date, I decided to duck into the restroom to see if I did smell. I put on deodorant, and I couldn't smell anything. What could possibly be going on? As I emerged from the restroom to join Jesse at the bar he had already had my drink waiting for me. I took my seat. He tells me that he saw that I was looking at engagement rings that morning. Which is true, a week or so prior to this conversation he convinced me that the ring I was absolutely obsessed with had a bad review and that we should look elsewhere. So I had desperately been looking for one similar. I told him yes and pulled up a photo of a ring on my phone and told him, "It looks like this," as I showed him. He then showed me a photo on his phone of my dream ring asking, "Does it look like this?" Then not a second later he moves his phone to reveal a beautiful wood ring box holding my dream ring and pops the question! Completely stunned I took a bit to respond but managed to choke out a yes and we were engaged.
What was the most amazing part of your day?
Marring my best friend.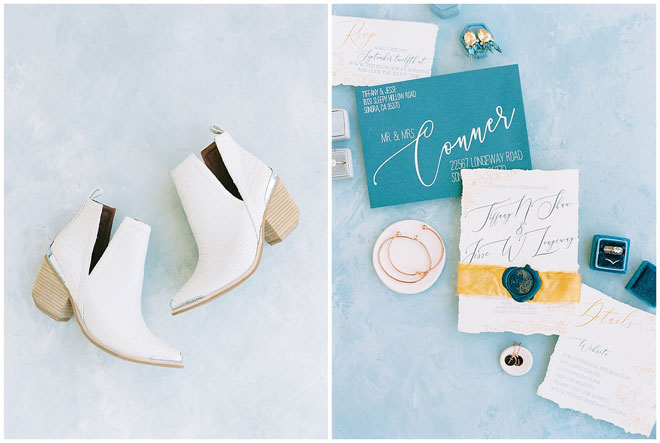 What else would you like to share about your big day? We encountered a lot of obstacles in the process of planing our wedding. From needing to move homes right before the wedding, to week-long power outages, to loosing our venue three different times. It was rough. Even on the wedding day we had issues. From continual power outages, my poor mother hitting a deer while picking up the marriage license and more. It definitely felt like we were being tested at some points. I'm just glad we had a good sport system and were able to make it. After all of it we definitely feel like we came out on the other end of it a stronger couple then before.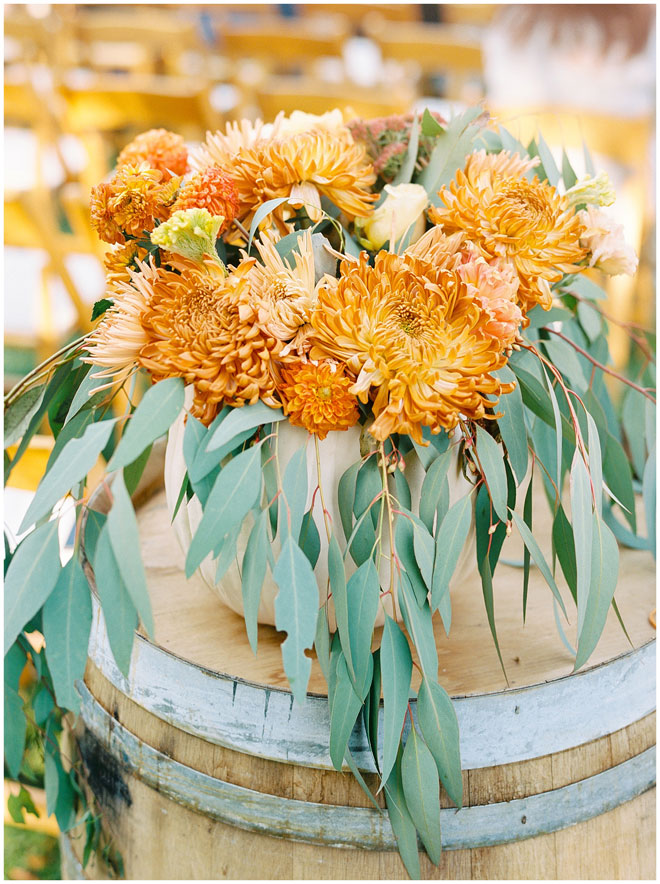 Ceremony and Reception Site: Private Estate
Officiant: Albert Standfield
Ceremony Musicians: Jungle Jim Media
Photographer: Ashley Baumgartner Photography & Calligraphy
Videographer: Fritz de Guzman Videography
Wedding Planner: Calin Wivell
Caterer: Smoking B's BBQ
Cake and Desserts: Calculated Whisks
Flowers: DIY from Wild Bloom Farm and FifityFlowers.com
Rentals: Standard Party Rentals
Bridal Gown: Bridal Vault
Bridesmaids Attire: Renzrags
Hair: Braided Blonde Locks
Any advice you'd give to our readers who are planning their weddings right now? Don't sweat the small stuff and focus on what really matters. Say "I Do" to the love of your life, but also stand your ground when it comes to pushy family and friends. It's you day do it how you want.
Anything that you would have done differently if you were given the chance? I loved our wedding and overall I'm glad we chose to celebrate with all our friends and family but it was a very stressful experience getting to the finish line. If I had another shot at it, knowing what I know now, I probably would have just eloped somewhere beautiful where it was just me and my husband with out all the hustle and bustle…well and a photographer because keepsakes are definitely a necessity!
Photos courtesy of and copyright Ashley Baumgartner Photography & Calligraphy, used with permission.

Want more Real Weddings Wednesdays Inspiration? Click here!