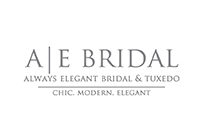 1199 Butte House Road, A

Yuba City, CA 95993

&

236A Broadway Street, A

Chico, CA 95928
alwayselegantbridal.net

530-755-4282, 530-487-7110
Always Elegant Bridal and Tuxedo is a full service wedding boutique committed to providing innovative and quality service to our clients.
Always Elegant Bridal and Tuxedo excels at creating the vision of the perfect wedding by actively listening, understanding and planning accordingly.
Our personal, and very hands-on approach, is both pleasant and unpretentious.
Styling brides for over 18 years, Bree Gianassi Little, owner of Always Elegant Bridal and Tuxedo has diligently focused her attentions at not only providing professional and attentive care to making dreams come true, but also at expanding her offerings to include bridal wear and accessories for the entire wedding party through Always Elegant Bridal and Tuxedo and exquisite invitation and favor design at Wedding Tulle.
Our mission is to see through your eyes and reflect your personal style as we get to know you and understand the ambiance you want to create. From finding the ideal wedding gown to helping you select your custom wedding stationery, we will provide inspiration and advice as we collaborate in creating your incredible day. Your wedding will be a day that is truly a romantic celebration that will be felt remembered by all.
Call today to make an appointment with a bridal stylist 530-755-4282.
0 out of 5 stars (based on 0 reviews)
Excellent0%
Very good0%
Average0%
Poor0%
Terrible0%
There are no reviews yet. Be the first one to write one.
Top