Jackson Catering & Events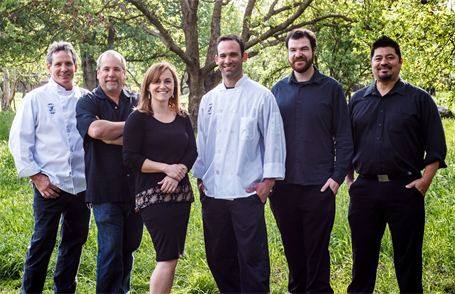 has so much to offer in the way of food and beverage services.
Celebrating their sixth year in business, Executive Chef and owner, Chris Jackson, continues to keep his focus on the highest quality cuisine and does so with an extensive list of offerings.
Not only will they travel to your venue to provide catering services, but they also have their own restaurant!
Located on Fulton Avenue in Sacramento, they are open for lunch and take dinner reservations and can also accommodate rehearsal dinners and engagement parties for approximately 50 guests!
Here's a taste of what you will find on their menus:

Appetizers:
·      Mini Corn Cakes with tomato fondue, caramelized onions and smoked bacon
·      Fresh Pear Purses with pears, brie and candied pecans wrapped in pastry
·      Marinated grilled shrimp tostadas
Plated Menu:
·      Bacon Wrapped Chicken Breast with artichoke potato cake, caramelized spring onion and Madera reduction
·      Grilled Certified Angus Beef Filet Mignon with Mascarpone Whipped potatoes, Cabernet reduction and grilled red onion relish
·      Pecan Crusted Sea Bass with roasted vegetable potato ragout
Dessert Menu:
·      Decadent Dark Chocolate Terrine with crème anglaise and fresh berries
·      Short cake with seasonal fruit macerated in Grand Marnier, country biscuit and lavender-honey whipped cream
*Buffet and Stations menus also available.
Is your mouth watering yet? This is just a sampling of the delicious eats you will experience with Jackson Catering and Events. It's easy to see why they were selected as Caterer of the Year for the third consecutive year by the National Association of Catering & Events, Sacramento chapter.
For more information about Jackson Catering & Events, log on to Jacksoncateringevents.com or call 916-483-7300. Visit them at 1120 Fulton Ave, Suite N in Sacramento.
Make sure to "like" Jackson Catering & Events on Facebook HERE for updates!
Photos courtesy of  Jackson Catering & Events.
Tune into the Real Weddings Blog next week to check out another featured vendor…!
---
Blog post by Real Weddings Magazine's writer, Kelley Saia. 
Subscribe to the Real Weddings Magazine Blog! Click here:
[subscribe2]