The deadline to enter The Blissful Bride Contest is TODAY! Did you turn your application in? Hurry, email it over by midnight for chance to win a fabulous prize package valued at $2,997!!

Real Weddings Magazine and Jennifer Gilchrist The Blissful Bride Coach, are thrilled to offer this special contest exclusively for local Real Weddings readers! One lucky couple will be chosen to work with Jennifer Gilchrist The Blissful Bride Coach throughout their wedding planning experience, and their Blissful Bride journey will be shared with the Real Weddings Magazine community.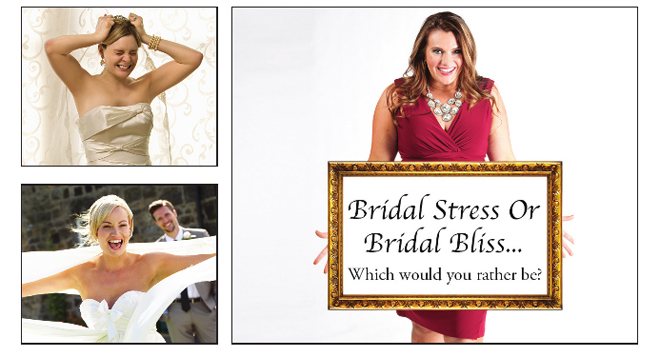 The winning prize package includes:
Blissful Bride Coaching Package.

Module 1 – Blissful Breakthrough
Take a look at what's causing you stress and find out what's in between you and your dream wedding.Module 2 – Blissful Clarity
Get crystal clear on what YOUR dream wedding looks like so that a plan can be created that supports you in having it.

Module 3 – Blissful Resourcing
Review your hair and make-up vision, learn how to create a balanced self-care schedule in which you are making time for your wedding , play, workouts, etc., hiring a support team of professionals, and creating a family and friends plan that supports you.

Module 4 – Blissful Bridal Plan
Create your Blissful Bridal Plan, including your Wedding Week Bliss Plan, your Wedding Day Bridal Bliss Plan, building your Day-Of support team and a photography plan so you can embody radiance in your photos.

Module 5 – Blissful Life
Follow up after wedding to set the tone for your success in your marriage as you begin a new chapter in your life.

(8) 60 minute 1-on-1 coaching sessions with Jennifer Gilchrist The Blissful Bride Coach.
(8) guided healing meditations downloads to support you throughout our coaching sessions and beyond.
Topics include: Clarity of Vision, Clear loving communication with others, Bringing in more peace, Letting go of worry, Good nights sleep, Day of Wedding Intention Setting, and Releasing Stress from body.
Training series teaching you easy mediation tools and intention setting.
(4) 15 minute SOS laser coaching calls to be used anytime though out your engagement when you need a little support.
From Bridal Stress to Bridal Bliss 2 part Audio Training Download.
– Call 1: "4 Secrets to Avoiding Massive Meltdowns While Planning the Wedding of YOUR Dreams"
– Call 2: "How to Make Every Moment of Your Wedding Day Blissful"
Total Value of Prize: $2,997
DEADLINE TO RECEIVE ENTRIES IS OCTOBER 27, 2014. PLEASE EMAIL YOUR COMPLETED APPLICATION, ALONG WITH ONE PHOTO OF YOU AS A COUPLE TO: Contest@Jennifer-Gilchrist.com OR MAIL APPLICATION TO ADDRESS LISTED ON APPLICATION. ANY ENTRIES RECEIVED AFTER OCTOBER 27, 2014 WILL NOT BE ACCEPTED.
Doesn't this sound amazing? Who wants to win?
For more information about Jennifer Gilchrist The Blissful Bride Coach, log on to Jennifer-Gilchrist.com.
Also, make sure to follow Jennifer Gilchrist The Blissful Bride Coach on Facebook HERE, Twitter HERE, Pinterest HERE, YouTube HERE, LinkedIn HERE and Google+ HERE.
Blog post by Real Weddings Magazine's Social Media Maven, Aimee Carroll.
Photos and information courtesy of Jennifer Gilchrist The Blissful Bride Coach.
Subscribe to the Real Weddings Magazine Blog! Click here: [subscribe2]