Happy Friday Real Weddings readers! Just a friendly reminder that the Whole Hearted Wedding Expo at Whole Foods Market Folsom is TOMORROW, February 28th, from 11 a.m. – 2 p.m. Will you be there?
Stop by this event for your FREE copy of Real Weddings Magazine and our planning resource, Real Weddings Magazine's The Planning Guide! Plus, enter to win $50 to Visconti's Ristorante from our booth at this show!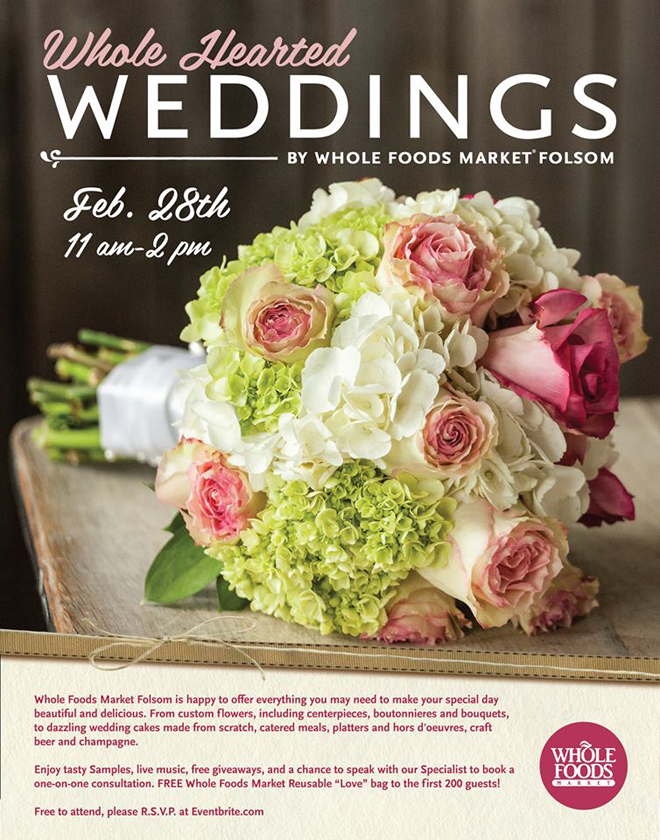 Here are the details for this fabulous event:
When: Saturday, February 28, 2015
Time: 11 a.m. – 2 p.m.
Where: Whole Foods Market at 270 Palladio Parkway in Folsom
Cost: FREE Admission.
About: Whole Foods Market Folsom is happy to offer everything you may need to make your special day beautiful and delicious. From custom flowers, including centerpieces, boutonnieres and bouquets, to dazzling wedding cakes made from scratch, catered meals, platters and hors d'oeuvres, craft beer and champagne.
Enjoy tasty samples, live music, free giveaways, and a chance to speak with their specialist to book a one-on-one consultation.
FREE Whole Foods Market Reusable "Love" bag to the first 200 guests!
For more information, please click here.
Be sure to tell them you found out about the event from Real Weddings Magazine!
Hope to see you there!
Photo courtesy of Whole Foods Market Folsom.
---
BRIDAL SHOW TIPS!
Before you head out to the area's bridal shows, check out this handy little list of tips to make the most of the experience:
Create a "wedding" only email— you'll want to have a specific email address just for your wedding business. You'll be getting a lot of information sent to the email that you register with at bridal shows, so it's nice to have it all in one place separate from your work and/or personal email.
Don't go it alone—bring a bridesmaid, your mom or a friend (or dare we suggest, your fiancé?). It will be helpful (and more fun!) to have their input and advice.
Bring labels—many vendors offer prizes and contests, and additionally, you may want to request more information from selected vendors. By bringing pre-printed labels, you will save time and the hassle of having to complete this information booth after booth. Information that you might want to include: your name, address, phone, email, fiancé's name and when you're getting married.
Bring a notebook—no matter how good your memory is, you'll want to take some notes on vendors and ideas that catch your eye.
Bring a sturdy tote bag—you'll be picking up business cards, brochures, etc. Or, come to the shows where Real Weddings Magazine will be and we'll give you one of our groovy reusable bags!
---
Blog post by Real Weddings Magazine's Social Media Maven, Aimee Carroll. Subscribe to the Real Weddings Magazine Blog! Click here:
[subscribe2]