Hi, I'm Judy Fields. I'm the personal concierge at Whole Foods Market Roseville. I've worked in this role for over 5 years, and I'm here to share why you shouldn't dismiss the idea of a grocery store – well, Whole Foods Market specifically, as I'd argue our quality is hands above the rest – for your wedding.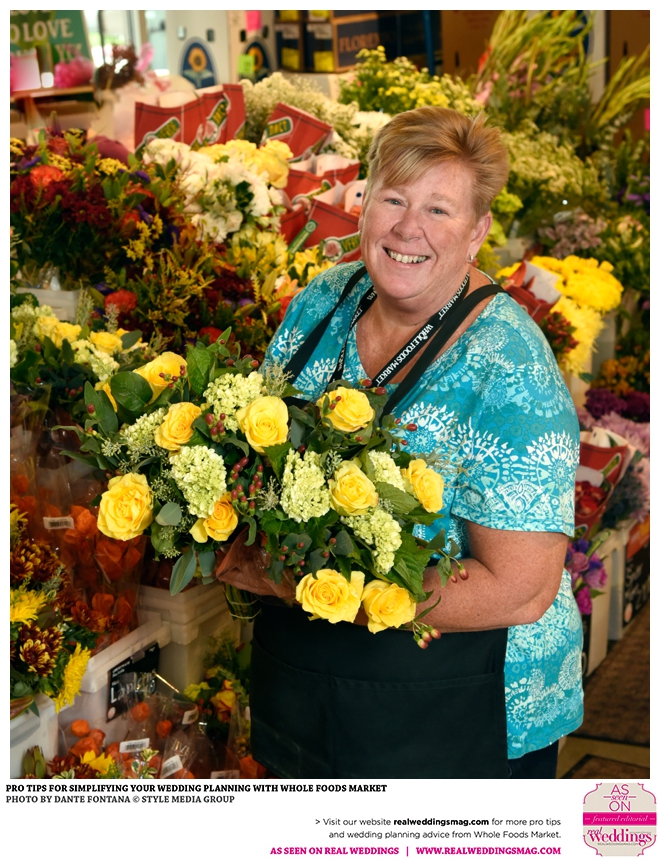 The best thing about grocery stores for weddings is that we can actually save you tons of time and money. We're your planner, caterer, bakery, wine/beer supplier, flower shop, gift basket maker, and delivery service all under one roof.
My entire job is one-on-one relationships with our clients. It gives me absolute joy to work with the diverse and beautiful people of our community.  I pair old-time attention with modern-day convenience with free personal event planning and shopping services. And I love every second of it.
People always ask how it works to partner with us for a wedding. Well, the simple answer is, however it works for you! But perhaps more comprehensively: first, you and I sit down to discuss your vision and determine what you want and need. Your options are simply limited to imagination here. We do everything from grilled grass-fed beef to gummy candy buffets; centerpieces to bridal party bouquets; local beers and wines to champagnes for toasting.
Of course, you won't pick anything without tasting it first!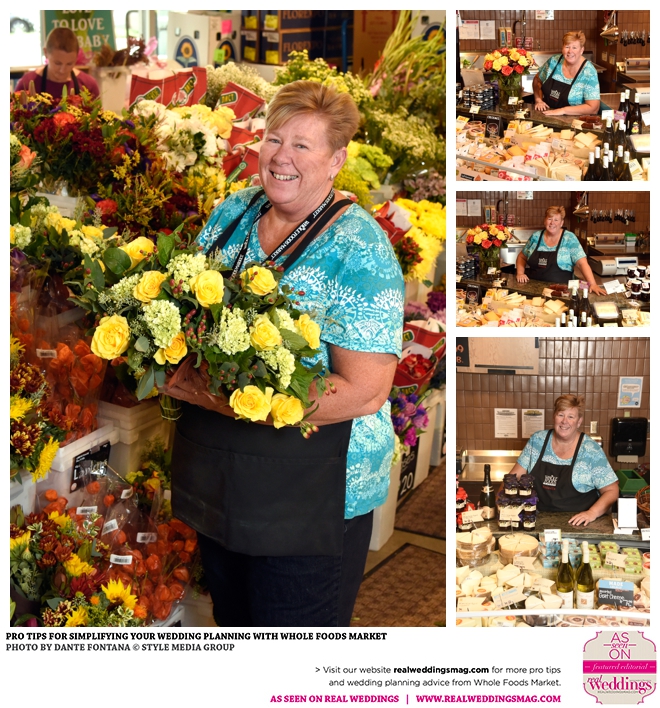 Here are some pro tips to get the most out of working with Whole Foods Market:
–        Ask for a sample.
It's part of the Whole Foods Market experience!  We want our customers to experiment. Our corporate policy includes a "give it a try" component that means you can ask to sample just about anything before you buy it.
–        Work with us to build a menu that suits all your guests.
Some guests are gluten free. Definitely vegetarian, maybe vegan. We can provide you with a great menu for any budget, and we're great at accommodating special diets. Of course what matters most is deliciousness. Good thing our catering rocks.
–        Get to know our CCP.
Whole Foods Market Roseville has a Certified Cheese Professional who's like a sommelier, but for cheese. She will help you build your cheese plate, and she'll tell you things like, "Local cheeses are delicious because they're aged on the coast and the salty air soaks into the rind – you can taste the ocean in the Humboldt Fog."
–        Create a Pinterest account for floral inspiration.
Share your board with us; this will help us get a better feel for your style and better assist you.
–        Save money with case discounts.
That open bar isn't going to stock itself. Whole Foods Market Roseville offers 10 percent off six bottles of wine or more – and on any item purchased by the case (energy bars! nail polish! apples!)
–        Use our personal shopping service.
Don't worry about visiting our store for your weekly shop while you're getting in shape for your wedding. We'll shop for your list and only your list, which means you stick to your budget and your diet, if you're on one.
–        Let us deliver.
We will deliver your catering, groceries or your Wedding Cake on your special day. Full transparency: there is a small fee.
Bonus: Whole Foods Market has these services built in, so as your concierge my only interest is in making your day great. I'm not earning a percentage of what you're paying for the food or flowers. I also work every day in the store with the people executing each element of your wedding, which means communication happens quickly and easily. And if there's a hiccup? Here we're all accountable because we're all on the same team.
I hope you'll give us a shout. Contact us at NC.ROS.Concierge@wholefoods.com TODAY!
For more information about Whole Foods Market, log on to wholefoodsmarket.com. And, be sure to "like" Whole Foods Market Roseville on Facebook at facebook.com/WFMRoseville.
Blog post by Judy Fields at Whole Foods Market. Photos courtesy Dante Fontana © Style Media Group.
Subscribe to the Real Weddings Magazine Blog! Click here:
[subscribe2]