The tradition of brides wearing their mother's wedding dress began as the product of necessity; purchasing a new dress was a frivolous expense that many families could not justify. Even as the economy improved and the wedding industry flourished, the tradition continued for the sake of, well, tradition. And what a sweet, sentimental tradition it was. However, the custom eventually faded as tastes and trends changed from generation to generation. Brides continue to include something "borrowed" in their wedding look, but rarely is that "borrowed" item the dress.
For one family, however, this tradition is very much alive. Modern bride, Heather, has made old new again. Heather is not only opting to wear her mother's wedding dress, but also her grandmother's, her grandmother's sister's, her grandmother's cousin's and her grandmother's sister-in-law's dress. Actually, it's all the same dress, worn five times. Heather will be the sixth person to walk down the aisle wearing the dress originally worn in 1961.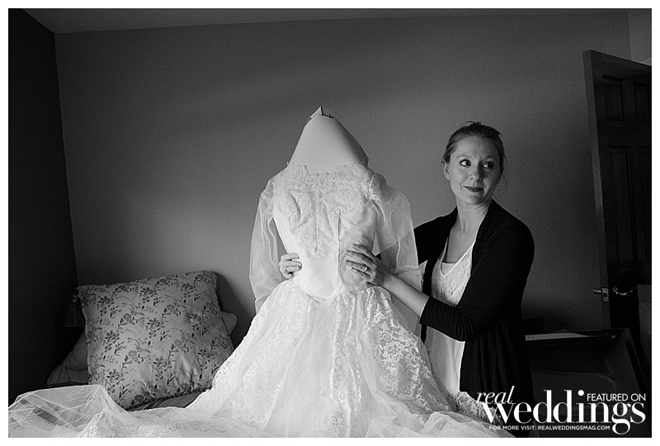 The use of the same dress did not begin as a tradition; it was worn by some of these women out of convenience and practicality, but mostly because Janice (Heather's grandmother) just had really good taste. The women who chose to wear the dress enjoyed the idea of not having to hunt for a dress of their own or pay for a whole new dress, but the real reason they wanted to wear it was because it simply is so beautiful.
There were others in the family who wanted to wear the gorgeous gown, but Janice was fairly picky about who actually got to wear it, and always set strict guidelines for caring for the dress. Janice made it clear that it was her dress and only on loan to those she allowed to wear it. The beautiful dress always came up in conversations and Janice would always imply that Heather would one day wear it. In fact, the restoration box that the dress was stored in donned the title "Heather's Dress."
When Heather got engaged she knew she wanted to wear her grandmother's dress. However, after being used so many times, worn and altered by so many brides of differing sizes, wearing the dress would not be as easy and magical as simply slipping it on. Heather's mom Kimberlyn was the most recent to wear it and the smallest woman to wear it. It had been taken in so significantly that Heather was not sure it was even going to be possible for her to wear it. When Heather realized how much work it was going to take to be able to wear the dress, her mom questioned if it was the right choice. Heather, however, would not consider any other options. She began searching vintage alterations and heirloom dress restoration experts. She began by a simple Google search, expecting to have to travel to San Francisco or another large city to find someone with this type of expertise. At the top of the Google search was Carole Kinney, who not only had the resources, expertise and passion to take on this special project, but also happened to live nearby. After a brief conversation with Carole, Heather knew she had found the woman to make her dress dreams a reality.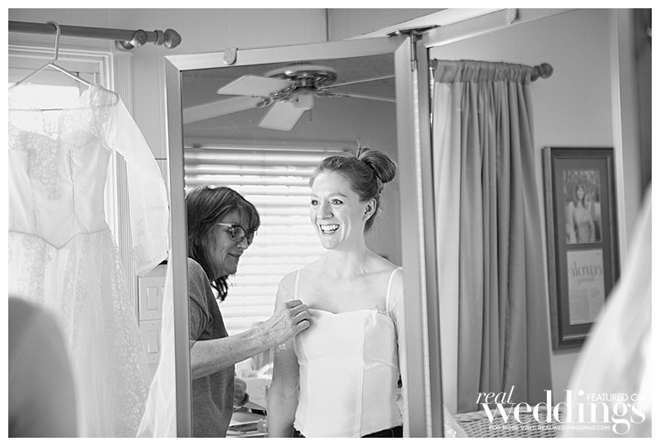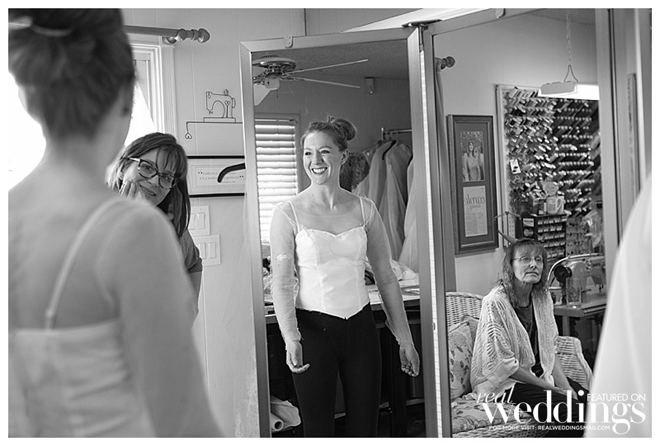 Although the dress has been altered to fit each bride, the style has remained the same. Heather will be the first bride to alter the style, opting to make small changes to the dress since the bodice has to be remade to fit her anyway. The process began with Carole making a mock bodice to ensure the fit and design was right before cutting into the actual dress. Because the dress had to be let out to fit Heather, Carole had to add in some extra lace. Thankfully she has a collection of vintage lace including pieces that match almost identically. Restoring and reconstructing the dress has been a delicate process and an absolute labor of love. Heather feels a great deal of gratitude for Carole and sometimes can't even believe she found the perfect person so close to home. Heather's photographer and friend, Kim Sayre, has also been instrumental in the process by documenting the entire thing.
How does Heather feel about the tradition continuing on after her? She says she would absolutely allow her daughter to wear the dress and would be open to future generations using it or even disassembling it to use fabric from it in their own designs, but would never expect anyone else to wear it unless they wanted to.
Sadly the origin of the dress, Janice, passed way. Although she will not get to see Heather walk down the aisle in her dress, surely she would be full of joy seeing her granddaughter wear this special gown she was always meant to wear.
-Kelley Saia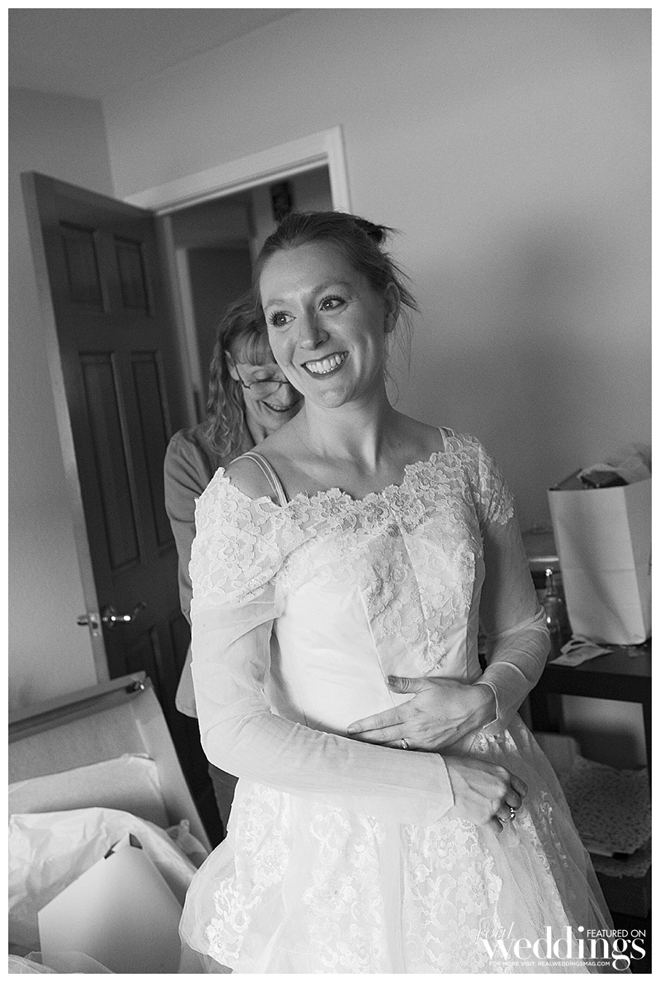 Blog post by Real Weddings Magazine's Blog Writer Kelley Saia.
Photos by Kim Sayre Photography.
Subscribe to the Real Weddings Magazine Blog! Click here:
[subscribe2]