Did you know that we only use real brides as our models for the shoots that we do?  It's true!  In this post in the series for "Secret Garden," we introduce you to our cover model finalist, Olivia, and you get to see more of her gorgeous photos here!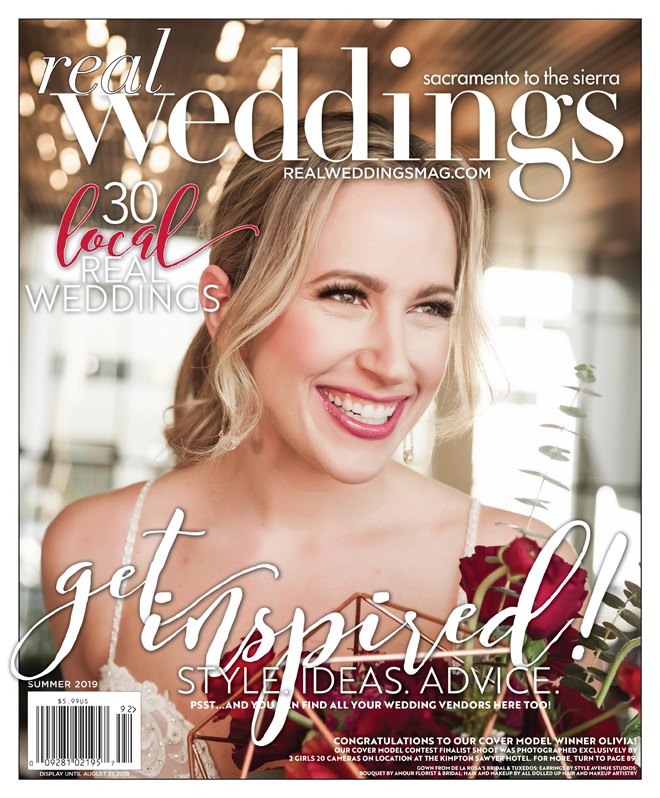 Why did you enter this contest?
Olivia: I fit the criteria: 1. bride and 2. NorCal gal. Nonetheless, while this little joke is partly true, I also hopped at the opportunity to try a bunch of different bridal styles, flowers, gowns and "get ups" to help inform my decisions for my own big day! And I hope seeing a gal like me in the stylings will also help other brides-to-be too!
What did your partner think about you entering this contest? What was their reaction when you were selected? What was your reaction when you were selected?
Olivia: When I was chosen, James was ecstatic for me to have this once-in-a-lifetime experience. Despite his energy, he wasn't surprised because he "was excited for Real Weddings' readers to see [my] spunk and beauty that he loves each and every day and forever more!" When I heard the news that I was chosen as a finalist, I was surprisingly calm—it felt too good to be true. When I arrived on set though, my heart started racing, and I couldn't stop smiling!
Tell us about your cover model experience.
Olivia: From dawn until dusk, this shoot was one of my favorite parts of being engaged so far! I showed up at 7 a.m. on a Monday with dry hair and a full night's sleep under my belt. My "glam team" immediately set to work, (having set up at 6 a.m.!) powdering my nose, curling my hair, testing dresses and holding out bouquets. I was constantly flattered and impressed by the awesome energy each team member brought to the shoot; my glam team was unbelievably friendly, kind and encouraging through each of the 17 (yes, 17!) looks.
My favorite part of the day was when I showed up to the hotel bar area in a more traditional look and, after photographing it, everyone agreed the setting deserved a more dramatic, va-voom look. I was hurried downstairs and into a form-fitting, vintage-style gown that, upon my return, received a great whooping welcome. The sort of excitement everyone had in putting together the look so quickly and the sort of knowledge and attentiveness to each detail in doing so was awe-inspiring!
Tell us about your love story. How did you meet? What was the proposal like?
Olivia: I call James "Dr. Dino" because, as a child, he unilaterally decided that he would only answer to the name "Dinosaur" for about a year and a half. He still carries this spunk, goofiness, and determination through his personal life amidst friends and family as well as in his professional life. While many people know him as Dr. Clark, I just know him as the kind of guy that turns on the space heater to replace him on mornings that he leaves early, the kind of guy that orders coffee for himself at brunch but lets me hold it to warm my hands, and the kind of guy that will always be the first one on the dance floor, leading me there no matter the song. Born and raised in Chicago, we actually met because we disagreed on the meaning of "Chi- Town" – me insisting it means Chico, him and the rest of the world insisting it means Chicago. He moved to Sacramento in 2015 to begin residency but was also attracted to the city's proximity to Lake Tahoe skiing, San Francisco concert venues, and Sierra foothill camping. Indeed, his energy and determination to enjoy these offerings has inspired me to do the same – taking me on exponentially more adventures in the last three years than I could have ever imagined.
My favorite memory of James is the morning I sat for the California bar exam, the exam to qualify to be an attorney. He woke up early to make me breakfast, which was awesome, but he also put on a tuxedo-printed T-shirt and kept up a repertoire of accolades, a performance he proudly told me was all to provide a fully "complimentary breakfast." Under the heavy weight of the greatest stress of my life, I burst out laughing to the point of tears. This sort of thoughtfulness, care, and attention is something his friends, colleagues, patients, and especially me are humbled to have in our lives and are the better for it each and every day.
The proposal…On our second date, we closed out Shady Lady Saloon in Midtown Sacramento on a cold Tuesday in February by playing truth-or-dare for five hours. I think that was as good a proposal as any. But really, James formally proposed in the crystal blue Caribbean waters off the coast of Mexico on the bow of a catamaran. While we had talked about getting engaged a few times and actually been ring shopping two weeks before, never in my wildest dreams did I think that he would propose so shortly after with the ring of my dreams, having already gotten the blessing of my sisters and parents. My favorite part, besides the whole thing, was that he had painstakingly made a custom ring box, hiding the process of fusing the various woods and cutting it to form in our garage. While the ring sits on my hand, the box sits on my dresser where I marvel at it each and every morning, a representation of the sort of surprises and creativity that he will fill the rest of my life with, plus a healthy amount of elbow grease.
It was a beautiful day on the catamaran with a variety of people from all over the world. We stopped to snorkel and stopped to visit the famous white sand beaches of Isla Mujeres then ended at an extensive Mexican lunch buffet. We all got off the boat but, when we went to sit down, James asked that he and I take another photo on the beach. While admittedly hesitant to leave the plate of delicious food I had just built, I nonetheless followed him not to the beach but back to the boat. Once we boarded, the boat pulled away from the dock and I hurried to explain how we just wanted a picture! Little did I know James had coordinated with the crew (in Spanish, funny enough, a language he does not speak) to get this private time together. Further, he had befriended another passenger to covertly sneak on the boat behind us to take pictures of the event, a thoughtfulness for which I will forever be grateful. He spoke of the adventures we had had, the adventures we had ahead of us and how he would be honored if I would agree to do them together with him as man and wife. So he asked, I said yes, and the rest is history!
Trying to get a hold of our families with the time change and connectivity issues from a foreign country is a story for another time…
Tell us about your wedding.
Olivia: This is an excellent question, as it's just a few months away we should probably start planning that. KIDDING! Since both of our families are coming from the Midwest, it was important to us to showcase our favorite things about Sacramento in our ceremony. As such, we wanted an outdoor wedding near the main city on a Saturday in Spring and found just that! We are getting married on June 29, 2019 at Scribner Bend Winery in Clarksburg. My favorite part of wedding planning is doing so much of it together! Tasting foods, sipping wines, trying music, and just gossiping about all our ideas along the way. The most important thing for him was the DJ and the most important thing for me was the photographer, we got those each nailed down and it's just been smooth sailing ever since. (DART and Tre Creative, respectively) I actually knew the exact photographer that I wanted: my high-school-friend-turned-wedding-photographer, Chelsey!
While other details are still coming together, I am sure our wedding will have lots of plants and personal touches. Our siblings will stand next to us as chiefs of the wedding party and our housemate Daria will be our officiant. I have lived with Daria since law school so when I moved in with James and into our new home it only made sense that she came with! Daria has known us both, laughed with us, cried with us, planned, schemed, and danced with us on countless occasions and there is no one we'd rather have.
Really the most important thing for us in wedding planning is that our friends and family have a good time and feel the love and elation that we feel each and every day that we are together. As such, the dance floor will open as soon as possible and close as late as possible, the food will be abundant and the drinks will be flowing! It'll be a great time to kick off the rest of our lives together!
If you could offer any advice to future brides what would it be?
Olivia: It's your day, make it your own! Be open and gracious to suggestions but ultimately go with your gut!
Also don't think that a little creativity can't go a long way. We thought potted plants would never fit our budget. However, by hitting some awesome plant sales and propagating some sprouts ourselves then pricing out and building our own pots, it'll be a reality and, unbelievably, under budget!
THE DETAILS
VENUE
The Kimpton Sawyer Hotel
916-399-4730  |  sawyerhotel.com
PHOTOGRAPHER
  2 Girls 20 Cameras  |  Ashley King and Gabby Terrasi
916-580-8200  |  2girls20cameras.com
VIDEOGRAPHER
5 Star Wedding Films and Photography  |  Rodger Sargent
916-905-5782  |  5starweddingfilms.com
HAIR AND MAKEUP FOR OLIVIA
All Dolled Up Hair and Makeup Artistry  |  Melissa Oretta (Hair) and Lynsee Stewart (Makeup)
 530-206-7775  |  alldolleduphairandmakeup.com
HAIR AND MAKEUP FOR ERICKA
Halo Salon & Day Spa  |  Alexis Reynolds (Hair)
916-782-8842 | halosalondayspa.com
Happily Beautiful Makeup Artistry & Skin Studio  |  Happi Ybarra (Makeup)
530-632-0607  |  happilybeautifulmakeup.com
GOWNS
Always Elegant Bridal & Tuxedo
530-755-4282  |  530-487-7110  |  alwayselegantbridal.net
The Bridal Box
 916-742-4638  |  thebridalbox.net
The Clothes Mine
209-267-0417  |  theclothesmine.com
De La Rosa's Bridal & Tuxedos
916-983-3400  |  delarosasbridal.com
Diamond Bridal Gallery
916-521-9856  |  diamondbridalgallery.com
My Martha Design Boutique
530-622-6009  |  mymarthadesign.com
Second Summer Bride
916-330-4422  |  secondsummerbridesac.com
SHOES
DSW  |  dsw.com
ACCESSORIES
Always Elegant Bridal & Tuxedo
530-755-4282 | 530-487-7110  |  alwayselegantbridal.net
Chloe + Isabel  |  chloeandisabel.com
Deepa Gurnani  |  deepagurnani.com
Hair Comes the Bride  |  haircomesthebride.com
Luxurious Bridal
209-400-1915  |  luxuriousbridal.com
Macy's | Moka Davis, My Stylist@Macy's Roseville Galleria
916-787-3310  |  macys.com/mystylist
Mariell  |  mariellonline.com
Sorrelli Jewelry  |  sorrelli.com
Style Avenue Studios
916-812-1114  |  styleavenuestudios.com
Twigs & Honey  |  twigsandhoney.com
USABride  |  usabride.com
FLOWERS
Accents by Sage Floral Design
916-799-6242  |  accentsbysage.com
Ambience Floral Design & Gifts
916-786-6851  |  ambiencefloral.com
Ames Haus Design
916-730-1635  |  ameshaus.com
Amour Florist & Bridal
916-392-8168  |  amourmoments.com
Bloem Decor
916-447-2001  |  bloemdecor.com
The Bloom Lab
916-996-5572  |  thebloomlab.com
Carson Valley Florist
775-266-9285  |  carsonvalleyflorist.com
Curious Floral
916-812-2506  |  curiousfloral.com
Hillside Blooms Floristry
530-320-4216  |  hillsidebloomsfloristry.com
Morningside Florist
916-635-9891  |  morningsideflorist.com
Paradise Parkway Event Productions
916-384-5520 | paradiseparkway.com
Picture Perfect Petals
760-846-0922  |  pictureperfectpetals.com
Placerville Flowers on Main
530-622-1121  |  placervilleflowersonmain.com
Relles Florist
916-441-1478  |  rellesflorist.com
Rodarte Floral Design
916-799-3625  |  rodartefloraldesign.com
Strelitzia Flower Company
530-758-5050  |  weddingsbystrelitzia.com
Visual Impact Design
916-489-3746  |  visualimpact-design.com
Wild Flowers Design Group
916-899-1289  |  wildflowersdesigngroup.com
WHOLESALE FLOWERS
Wholesale Flowers from FiftyFlowers.com
877-507-6737  |  fiftyflowers.com
STYLED DECOR VIGNETTES
DESIGNER, FLORAL DESIGNER AND SELECT DECOR  
Ames Haus Design
916-730-1635  |  ameshaus.com
SELECT RENTALS AND DECOR
Blossom Farm Vintage Rentals
 530-681-8937  |  blossomfarmrentals.com
SELECT RENTALS
Sacramento Event Co.
916-837-3684  |  sacramentoeventco.com
SELECT RENTALS
Standard Party Rentals
888-200-6513  |  standardpartyrentals.com
SET LINENS, PILLOWS AND DRAPING
Creative Coverings
775-359-6733  |  creativecoverings.com
DECOR FLOWERS
Designed by Ames Haus Design
Wholesale Flowers from FiftyFlowers.com
877-507-6737  |  fiftyflowers.com
SET CAKES  
Batter Up Cakery
707-439-8299  |  batterupcakery.com
BALLOONS
The Party Concierge
916-440-8080  |  partyconcierge.com
PUBLICATION
Real Weddings Magazine
Special thanks to our real bride models, Ericka and Olivia, and to all of the professionals who contributed to this feature!