We admit…we're a little late on this post, but…as we get ready to crown our new cover model winner next week, we'd like to introduce you to our cover model finalists from the current Winter/Spring 2016 issue and share a few more photos from that shoot!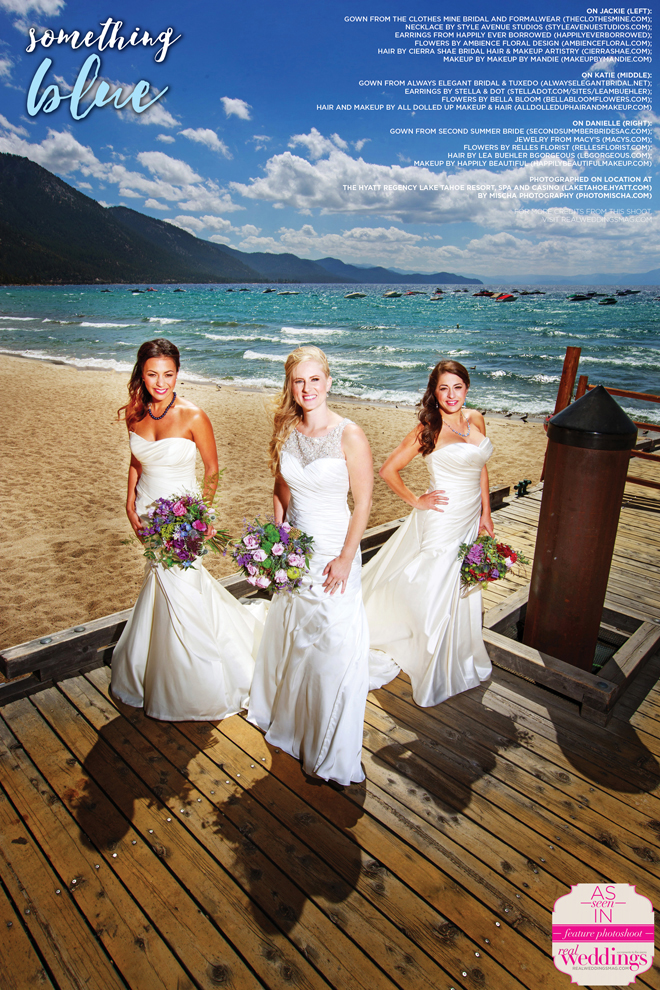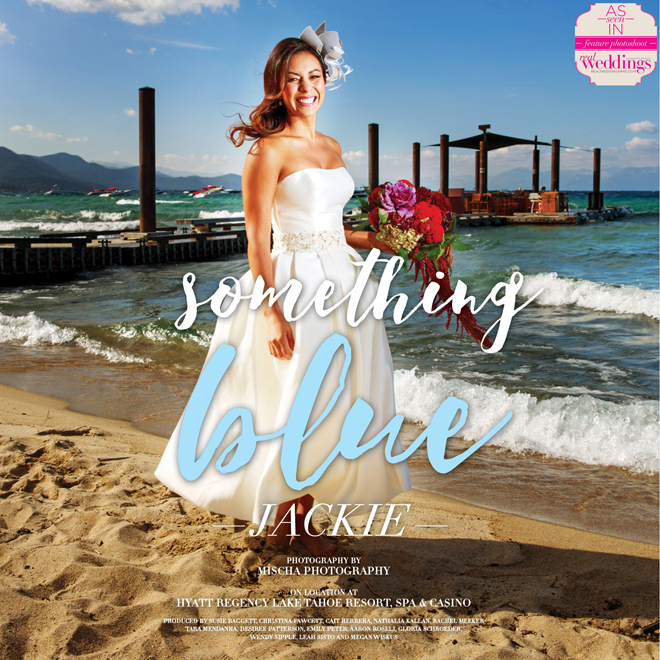 Why she wanted to enter the contest:
Jackie, who is deep in the wedding planning process, turns to Real Weddings for inspiration and as a planning tool. Until her engagement photos, Jackie had never been professionally photographed. She had such an amazing time during her engagement session that she thrilled to hear about another chance to be in front of the camera. She relishes the idea that she is only a bride once and wants to soak up every moment of it.
Her love story:
Jackie and her fiancé are huge country music fans. They both attended Stagecoach Music Festival last year and found themselves at the same after-party. They danced the entire night away, and just celebrated their one year anniversary back at Stagecoach. One week later, Adam proposed in Lake Tahoe. Some of their favorite memories from their one-year courtship were in Lake Tahoe, so taking a trip there was nothing out of the ordinary. Jackie thought they were going up with friends and family to celebrate her 31st birthday. Adam proposed on the pier near their family cabin. After saying "yes," Jackie turned to discover that all of their friends and family had witnessed the entire proposal.
Their Wedding Day:
Jackie and Adam will wed at St. Joseph's Parish, the church Jackie group up at, in Marysville. The reception will be held at Jackie's parents' 20-acre ranch where she was raised. Though the guest list has climbed to around 250 people Jackie hopes to make it romantic, intimate, and full of flowers, lights, delicious comfort food, and a whole-lotta country. They have booked a live country band to show their guests a really great time.
What her fiancé said about the cover model contest:
Adam was very excited for Jackie. He was, however, a bit jealous when he heard the shoot was in Lake Tahoe. Although he wasn't able to join her at the shoot, he did join Jackie up in Tahoe where they enjoyed the rest of the weekend together.
Her "cover model" experience:
Jackie really appreciated the entire process, especially the application questions. She found that it really forced her to slow down a bit and reflect on this amazing time in her life. The morning she learned she was a top 10 finalist, she was en route to hike Mt. Tallac in Tahoe with Adam and a friend. She says that the excitement gave her the energy to complete the grueling hike. The day of the shoot, Jackie immediately connected with her hair and make-up team. So much so, that they are going to be her beauty team for her own wedding! She was exhausted at the end of the shoot, but was lucky enough to be joined by her fiancé and mom for a weekend of relaxation in beautiful Lake Tahoe. Now that is the way to wrap up a photo shoot!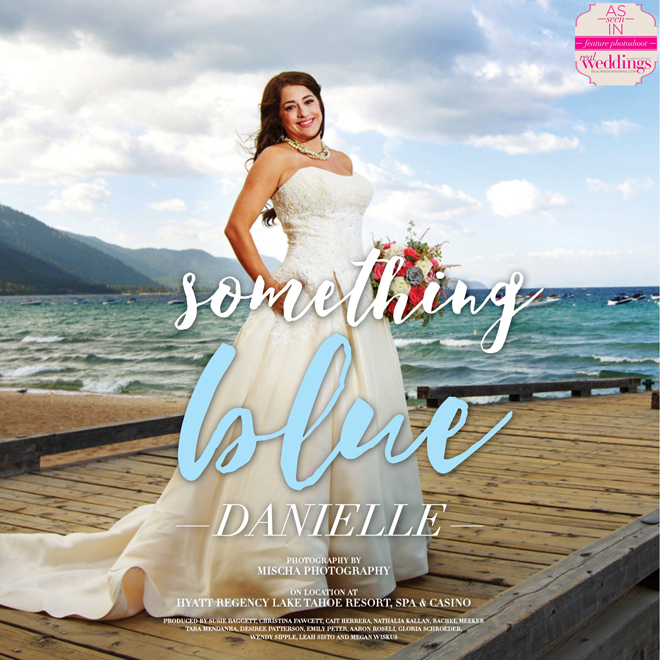 Her love story:
Danielle and Colin met as finalists for the 2012 Sacramento's Most Eligible Bachelor and Bachelorette contest. They laugh when they look back on their first date, because the events that happened are very much indicative of the relationship they have today. For example, Danielle arrived late, but could not let Colin know since her phone was dead, and Colin, who had arrived early already ordered them food and arranged for her to sit facing the TV, so she could watch the Giants' game. Although it wasn't exactly the first date that you see in the movies, it was a memorable one, and they both seemed to know it was a good fit.
Their wedding day:
Their wedding day was even better than they ever anticipated. It was a pure celebration of love and both families coming together. One of Danielle's favorite photos from the day is the one of all four of their parents holding hands walking down the aisle after the ceremony. They all had the largest grins and it still brings tears to Danielle's eyes.
What her husband thought about her entering this contest:
Colin was Danielle's number one advocate for this opportunity. She was away on business when the application was due, so Colin hand-delivered the packet to make sure it got there on time. Colin is quite the ham and does not shy away from the spotlight, so his first question upon hearing that Danielle was a finalist was: "Do I get to do it too?"
Her "cover model" experience:
Danielle really enjoyed the application process. It gave her an opportunity to reflect on her wedding day and the planning experience. The day of the photo shoot brought about a few different emotions. For starters, she was a quite nervous. She felt that her first few shots were rather stiff and robotic. However, she credits her transformation from robot to supermodel to her hair, make-up, and stylist team. She said that they made her truly feel like a real model. By the end of the day, Danielle was laughing and dancing with her team and they felt like a bunch of girlfriends hanging out. The experience was exhausting, but Danielle said that during those moments of feeling tired, she tried to look around and take a moment to appreciate the gorgeous backdrop, the wonderful people, and the incredible memories she was making.
Her love story:
Katie and Jonathan's love story is a long one; 10 years in the making. They met during Katie's first semester of college when they had a class together, but they didn't end up dating until about six months after the class had ended. Their journey through education and career took them to Fresno and then Stockton, but they were together through it all. After nine years of dating, Katie noticed a small box wrapped under the Christmas tree. Jonathan assured her that it wasn't what she thought it was. Around that same time, Katie's great friend Marissa arranged for a girls' day and night out before Marissa had her baby. After a great day, the girls set off to Seascape resort in Aptos. Around sunset when they were heading down to the beach for S'mores, Katie noticed seven chairs too many around the campfire. She then noticed Jonathan walking toward them with a small box in his hand. After his proposal, Jonathan's mom, aunts and cousins all came down off the beach as part of the surprise. They had recorded and photographed the entire thing. Katie was amazed that after nine years of dating, and certainly an expectation of a proposal soon, Jonathan was still able to surprise her.
Their wedding day:
Katie and Jonathan married at the end of 2015 back at Seascape Resort where the proposal took place. The ceremony was held on a bluff that overlooks the ocean and the reception was in a ballroom onsite. The large wedding party consisted of nine bridesmaids, nine groomsmen, three flower girls and one ring bearer. The entire day was filled with romantic colors and flowers and guests enjoyed an assortment of pie, rather than cake!
What husband thought about her entering the contest:
Jonathan was incredibly supportive of the idea and was not at all surprised that Katie was selected as a finalist. Katie, on the other hand, was very surprised.
Her "cover model" experience:
Katie found the application process to be difficult, only because she has a hard time writing about herself. She also didn't realize how badly she wanted to be selected as a finalist until she was invited to the top 10 interviews. Once she was selected as a finalist, she finally let herself relax and enjoy the experience. She loved every minute of it. She loved having different hair and makeup than she would normally pick out for herself, and she loved getting to wear so many different gorgeous dresses.
The cover model finalist contest photo shoot Real Weddings Magazine team members who produced this editorial feature include: Susie Baggett, Christina Fawcett, Cait Herrera, Nathalia Kallan, Rachel Meeker, Tara Mendanha, Desiree Patterson, Emily Peter, Aaron Roseli, Gloria Schroeder, Wendy Sipple, Leah Sisto and Megan Wiskus
And, of course, thank you to all of the wedding professionals who contributed to our cover model finalist feature:
VENUE
Hyatt Regency Lake Tahoe Resort, Spa & Casino
775-886-6693  |  laketahoe.hyatt.com
PHOTOGRAPHER 
Mischa Photography
Mischa and Brianne Purcell
916-905-2794  |  photomischa.com
HAIR AND MAKEUP
For Danielle:  
Happi Ybarra, Happily Beautiful (Makeup) 
530-632-0607  |  happilybeautifulmakeup.com
Lea Buehler, Lea Buehler BGorgeous (Hair) 
916-705-5827  |  lbgorgeous.com
For Katie: 
Melissa Oretta, All Dolled Up Makeup & Hair (Makeup)
Lindsay Bradby, All Dolled Up Makeup & Hair (Hair)
530-368-3867  |  alldolleduphairandmakeup.com
For Jackie:
Mandie Fenrich, Makeup by Mandie (Makeup) 
916-505-0487  |  makeupbymandie.com
Cierra Neeley, Cierra Shae Bridal Hair & Makeup Artistry (Hair)
916-436-6002  |  cierrashae.com
GOWNS 
Alma's Bridal Boutique  |  916-434-8084  |  almasbridalboutique.com
Always Elegant Bridal & Tuxedo  |  530-755-4282  |  alwayselegantbridal.net
The Bridal Box  |  916-742-4638  |  thebridalbox.net
The Clothes Mine Bridal and Formalwear  |  209-267-0417  |  theclothesmine.com
De La Rosa's Bridal & Tuxedos  |  916-983-3400  |  delarosasbridal.com
Diamond Bridal Gallery  |  916-521-9856  |  diamondbridalgallery.com
Dreamnette Bridal  |  916-780-4747  |  dreamnette.com
Enchanted Bridal Shoppe  |  916-965-5683  |  enchantedbridalshoppe.com
House of Fashion  |  916-554-7440  |  hofbridal.com
Second Summer Bride  |  916-330-4422  |  secondsummerbridesac.om
ACCESSORIES
Chloe + Isabel  |  Christina Fawcett / Independent Stylist   |   chloeandisabel.com/boutique/itsalwayseveningboutique
Hair Comes the Bride  |  haircomesthebride.com
Happily Ever Borrowed  |  happilyeverborrowed.com
Justine M Couture  |  justinemcouture.com
Macy's  |  macys.com
Arden Fair Mall | 916-925-2845
Country Club Plaza | 916-485-3885
Downtown Plaza  |  916-444-3333
Sunrise Mall  |  916-962-3333
Westfield Galleria at Roseville  |  916-771-3333
Polly Singer Couture Hats and Veils  |  859-533-1426   |   hatsandveils.net
Ruby & Cordelia's Millinery and Fancy Goods  |  rubyandcordelias.etsy.com
Sparkle Bridal Couture  |  916-538-6615  |  sparklebridalcouture.com
Stella & Dot  |  Lea Buehler/Independent Stylist  |  916-705-5827  |  stelladot.com/sites/leambuehler
Style Avenue Studios  |  916-812-1114  |  styleavenuestudios.com
FLOWERS
Accents by Sage Floral Design  |  916-799-6242  |  accentsbysage.com
Ambience Floral Design  |  916-786-6851  |  ambiencefloral.com
Bella Bloom  |  916-498-8588  |  bellabloomflowers.com
Bloem Decor  |  916-447-2001  |  bloemdecor.com
Flourish  |  916-212-5179  |  flourishdesigns.com
Morningside Florist  |  916-635-9891  |  morningsideflorist.com
Placerville Flowers on Main  |  530-622-1121  |  placervilleflowersonmain.com
The Posh Posey  |  916-337-3215  |  theposhposey.com
Relles Florist  |  916-441-1478  |  rellesflorist.com
Visual Impact Design  |  916-489-3746  |  visualimpact-design.com
Whole Foods Market  |  wholefoodsmarket.com/service/weddings-folsom
CATERING
Bocca Catering  |  916-834-3554  |  boccacatering.com
Special thanks to our real bride models, Jackie, Katie and Danielle, and to all of the professionals who contributed to this feature!