Ok, how cute are Alyssa and Corey—our real couple models from our "Sugar" styled shoot?!  They were so obviously in love, and were just so much fun to work with, we really didn't want the day to end. But we think you'll agree, they're one fab couple. In this post, we get to know just a little bit more about this sweet couple!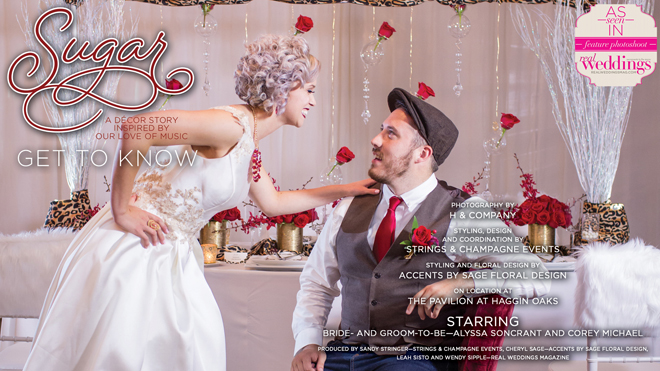 RW: What made you want to model for this shoot?
AS: Originally, I entered the Real Weddings cover model contest. I had never been a part of a professional photo shoot before, and it just seemed like something fun and different to do. When I didn't get selected, I wasn't really upset because I was asked to do this shoot instead. I felt very honored.
CM: I encouraged Alyssa to enter the contest because you never know what might happen. She has the beauty and personality for something like that, so I figured it was worth a try. When she told me that she was asked to do the "Sugar" shoot instead, and that I was going to be a part of it as well, I was excited because I had never done anything like this either.
RW: What was your favorite part of modeling?
AS: I am typically a girly girl and I love makeup and getting dressed up, so changing into all of the different beautiful dresses and having the different looks was amazing. I also loved working with the photographers to figure out the different poses for the shoot.
CM: I love talking and bringing joy to others, so I am naturally a ham. My favorite part was interacting with all the different vendors and professionals involved, and just having fun in an attempt to make everyone's valuable time enjoyable
RW: What was your favorite part of this shoot? Did you relate to the concept?
AS: I just thought the whole concept was great! The song that the shoot was based on is awesome, and I thought everything from the wardrobe to the vignettes were really creative. One of my favorite shots we did was toward the end when we actually got to throw sugar in the air.
CM: It's kind of funny because Alyssa and I aren't the super romantic type—we are definitely more whimsical and easy-going, but I thought the shoot was a great mixture of both romantic and whimsical. I appreciated the creativity involved from the Real Weddings organizers and the photographers.
RW: What do you do for a living?
AS: My two main passions are leading worship at my church and doing makeup artistry. I am one of the main leaders for both our main worship services as well as the young adult service that Corey leads. I am building my makeup portfolio doing freelance work for Smashbox on the weekends, as well as occasionally assisting a friend in the industry doing wedding makeup.
CM: I work for our church, The Life Center, in Orangevale, as well as the Media Director and Young Adult Pastor. I oversee everything technology and marketing related. I have a side business doing freelance graphic design as well.
RW: Tell us about your own wedding.
AS & CM: Our wedding is going to include about 120 guests. It is going to be fun, quirky and elegant all at the same time. Our goal is to creatively capture our relationship in a snapshot to share with our friends and family on this special day.
RW: If you could offer any advice to future couples-to-be, what would it be?
AS & CM: Enjoy the engagement process! We have really enjoyed our time being engaged. It has allowed us to really talk about the future rather than just the day. Spend just as much, if not more time, preparing for the actual marriage that you do just for the one-day party. In the end, the future is what matters most.
The "Sugar" styled shoot was produced by Sandy Stringer—Strings & Champagne Events, Cheryl Sage—Accents by Sage Floral Design, Leah Sisto and Wendy Sipple—Real Weddings Magazine.
THE DETAILS
Venue
The Pavilion at Haggin Oaks  |  916-870-8597  |  sacramentogolfweddings.com
Photographer
H & Company  |  916-742-4570  |  hcophoto.com
Design, Styling and Coordination
Strings & Champagne Events  |  916-397-9346  |  strings-champagne.com
Styling and Floral Design
Accents by Sage Floral Design  |  916-799-6242  |  accentsbysage.com
Cake and Desserts
Studio Sweets  |  707-646-9884  |  studiosweetsca.com
with Azure Entertainment  |  916-915-3802  |  azureexperience.com
Hair and Makeup
DanaeMarie's Salon & Boutique
Hair:  Amber Massa
Makeup:  Lisa Harter
916-272-3626  |  danaemariesalon.com   |  lisamharter.com
Gowns
The Clothes Mine Bridal and Formalwear  |  209-267-0417  |  theclothesmine.com
Diamond Bridal Gallery  |  916-521-9856   |  diamondbridalgallery.com
Enchanted Bridal Shoppe  |  916-965-5683  |  enchantedbridalshoppe.com
House of Fashion  |  916-554-7440  |  hofbridal.com
Second Summer Bride  |  916-330-4422  |  secondsummerbridesac.com
Hair Accessories
Polly Singer Couture Hats and Veils  |  859-533-1426   |   hatsandveils.net
Ruby & Cordelia's Millinery and Fancy Goods  |  rubyandcordelias.etsy.com
Jewelry and Hair Accessories
Hair Comes the Bride  |  800-485-4444   |   haircomesthebride.com
Jewelry
Style Avenue Studios  |  916-812-1114  |  styleavenuestudios.com
Jewelry and Select Attire for Corey
Macy's   |   macys.com
Arden Fair Mall  |  916-925-2845
Country Club Plaza  |  916-485-3885
Downtown Plaza  |  916-444-3333
Sunrise Mall  |  916-962-3333
Westfield Galleria at Roseville  |  916-771-3333
Paperie
Minted  |  minted.com
Linen Rentals
Creative Coverings  |  775-359-6733  |  creativecoverings.com
Plates and Glassware Rentals
America's Party Rental  |  916-339-3544  |  americaspartyrental.com
Lounge Furniture, Chiavari Chairs and Flatware Rentals
Celebrations! Party Rentals & Tents  |  916-773-2133   |  775-773-8900  |  celebrationspartyrentals.com
Draping, Beaded Chandelier Columns with Flowers, White Carpet and Lighting
The Party Concierge  |  916-440-8080  |  partyconcierge.com
Red Velvet Chairs, Music Stand and Silver Sugar Container Rentals
Roots Reclaimed Vintage Rentals  |  530-802-0768  |  rootsreclaimed.com
Custom Décor Signage and Pillows
Swoonable  |  swoonable.net
Videographer
JB Wedding Photography  |  916-220-0159   |   jbweddingphoto.com
Special thanks to our real couple models, Alyssa Soncrant and Corey Michael, and to all of the professionals who contributed to this feature!
Click here to see other posts in the "Sugar" blog series!
Blog post by Real Weddings Magazine's Editor/Publisher Wendy Sipple.
Photos by H & Company / copyright Real Weddings Magazine.
Subscribe to the Real Weddings Magazine Blog! Click here:
[subscribe2]