Real bride model Natalie rocked every look from our Cover Model Finalist Photo Shoot at Old Sugar Mill photographed by James Young Photography, plus her positive attitude and smile made they experience for everyone so fun! Check out her looks and get to know her below!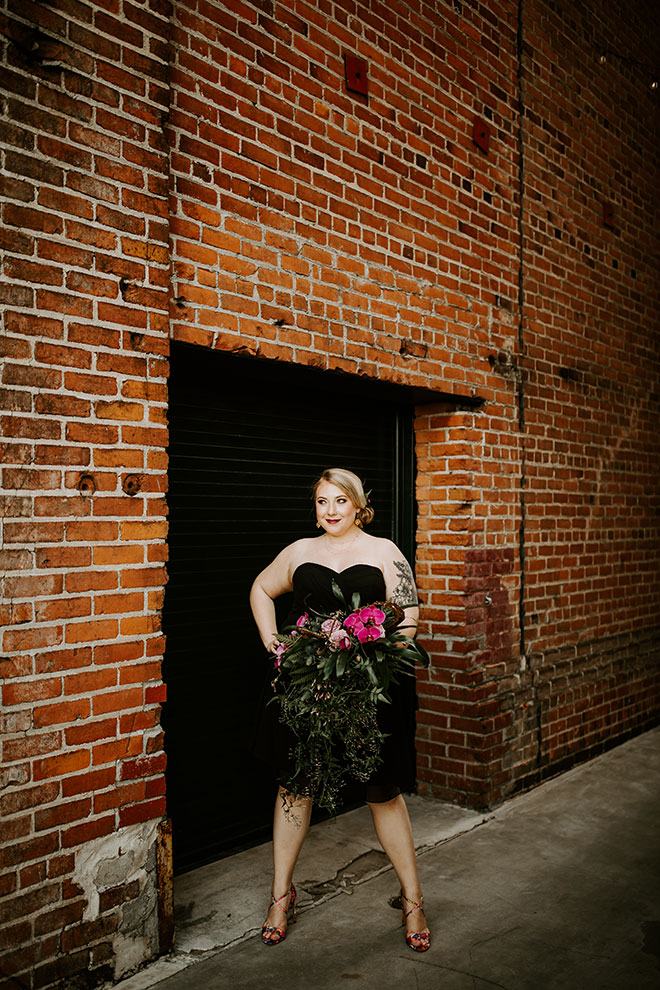 Check out the expanded digital edition here:
Why did you enter this contest?
I wanted to feel beautiful and represent plus size brides! As a real bride with a truly amazing partner, I thought it was such an amazing opportunity to share more about myself and my wedding look. Real Weddings Magazine was a huge part of my wedding planning and I want to give others a piece of inspiration from me as well!
What did your partner think about you entering this contest? What was their reaction when you were selected? What was your reaction when you were selected?
My partner was so excited and thrilled about the contest. He was so excited that I was chosen and can't wait to see how it all turned out. He has always been extremely supportive of everything I do, and this experience was no different!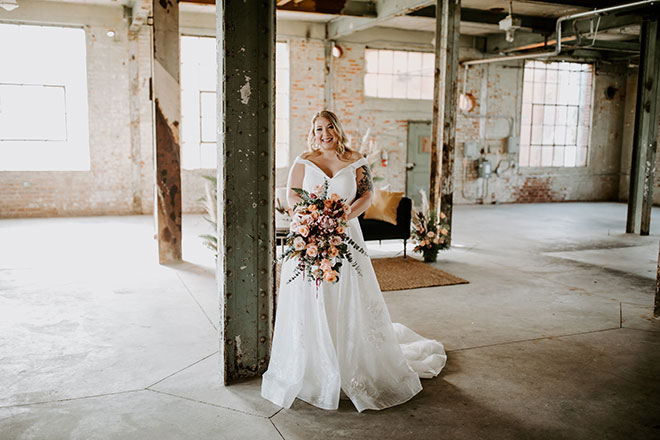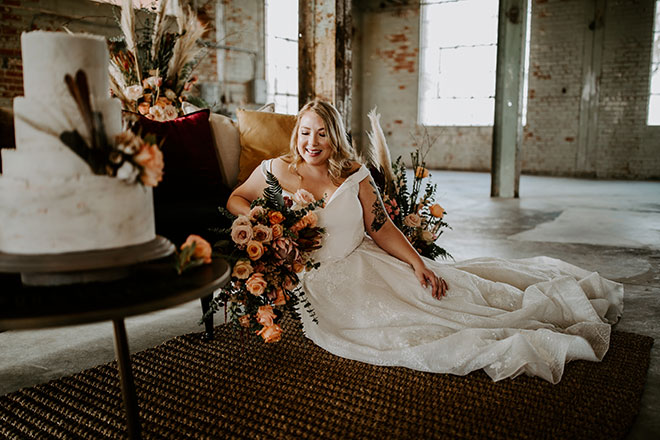 Tell us about your cover model experience. What was your favorite part of the day? How did you feel afterwards?
This experience was so much fun. I have never felt so pampered or important! My favorite part of the day was probably all the makeup trials we got to do and see myself in so many different looks. The entire team was amazing to work with, and no one had anything negative to say about my look or anything! I left feeling so humbled to be a part of something so special, and also felt confident about myself! It was such an incredible experience full of self-love, sass and all around fun!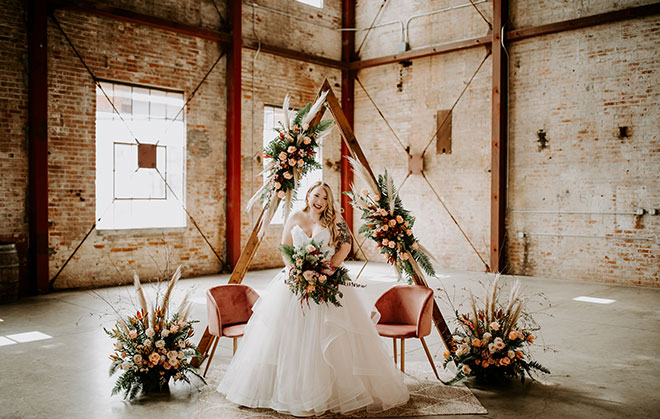 Tell us about your love story. How did you meet? What was the proposal like?
We met in high school and were friends for all four years. Right before I left for college we told each other we had feelings for one another. I was away for two years and during that time we were able to focus on school and our jobs, but always came back to one another. I ended up moving back to be with him and commuting to my university that was two and a half hours away because I was tired of not seeing him every day! Over the years we adopted dogs together, hyped each other up for our careers, and then one random Wednesday night we were on a late-night walk around the Capitol and he popped down on his knee and asked me to be his wife. It was absolutely perfect.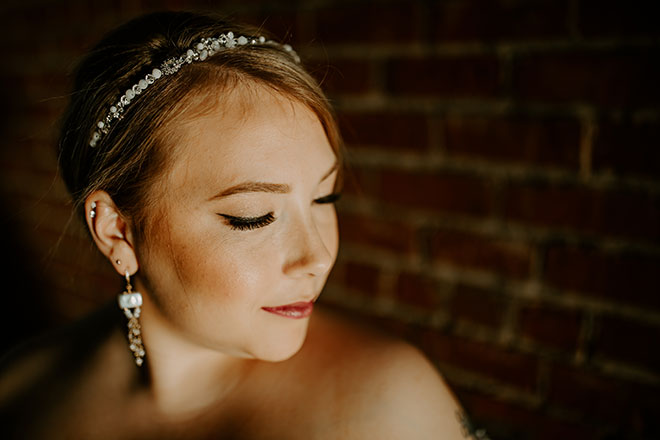 Tell us about your wedding day.
Okay so this is a crazy story. My photo shoot was only fourteen days before my wedding day. We had everything planned and ready to go. Four days before our wedding, our venue called and told us the wedding was canceled due to CDC Guidelines about COVID-19. I was stunned—we had been planning a 100-person wedding and now it was over. The next four days were chaos as we still really wanted to get married that Friday. After four different sets of plans, a lot of tears, and even more wine my family pulled together, and we had a small ten-person ceremony in my parent's backyard. It ended up being very intimate, romantic and incredibly loving. All the stress I had about being a perfect bride was out the window. It came down to just me and my partner and we were able to really speak from the heart. I tell him all the time, there is no one else is rather face a worldwide pandemic with.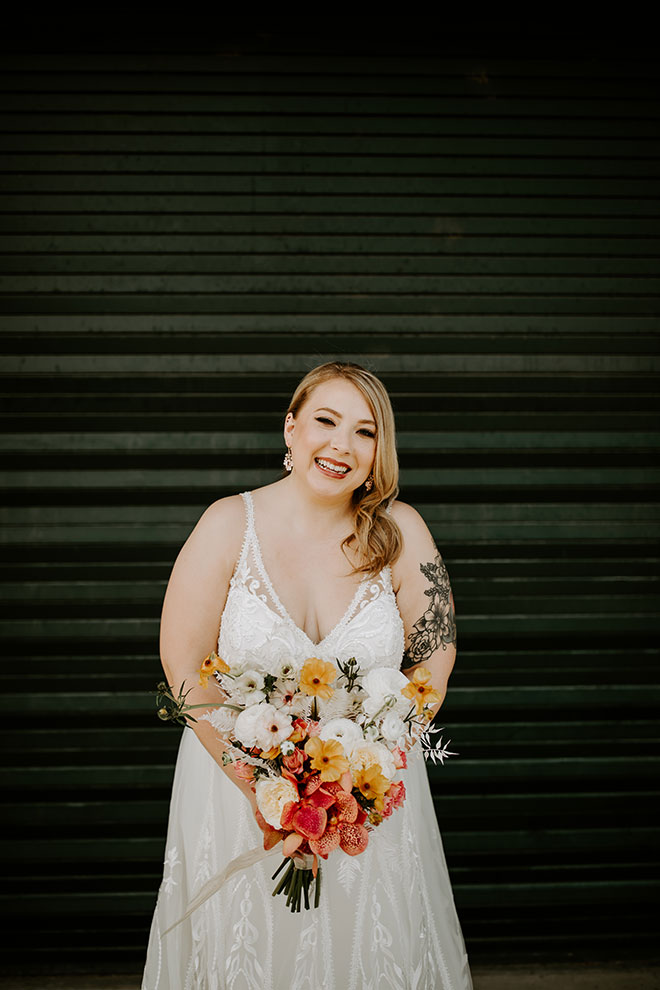 If you could offer any advice to engaged couples what would it be?
I would tell them to relax. It's kind of a joke because the whole wedding planning process people would tell me that your actual wedding day will be out of your control. My biggest fear was that it could rain that day, and then the entire thing was canceled right before my eyes. You just can't predict how anything will happen. Your wedding should be about you and your partner and that is all. If you begin to stress over all the small things you can lose the vision of why you're doing it in the first place. Just relax and breathe. You got this! Even if it goes nothing like you wanted or expected—it will still be perfect because it's your day and your life!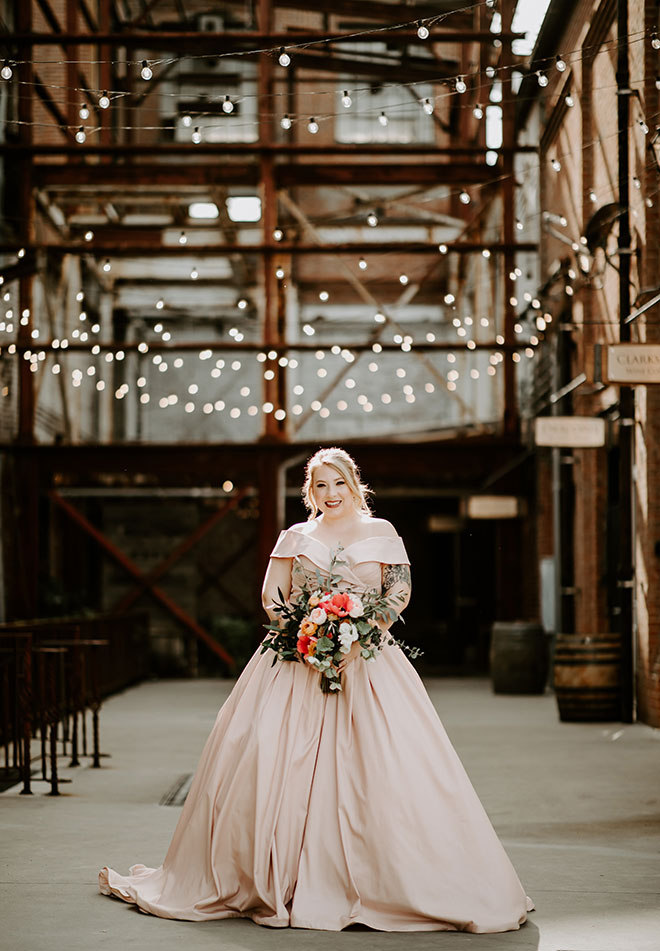 Be sure to like us on Facebook and follow us on Instagram and Pinterest so you never miss a post of inspiration!
THE DETAILS
VENUE  //  Old Sugar Mill  |  oldsugarmillweddings.com  
PHOTOGRAPHER  //  James Young Photography  |  jamesyoungphotography.com
VIDEOGRAPHER  //  JB Wedding Photography  |  jbweddingphoto.com 
HAIR AND MAKEUP FOR CHRISTINA  //  All Dolled Up Beauty + Bridal  |  alldolleduphairandmakeup.com
HAIR FOR NATALIE
Halo Salon & Day Spa |  halosalondayspa.com
MAKEUP FOR NATALIE
Happily Beautiful Makeup Artistry & Skin Studio  |  happilybeautifulmakeup.com
GOWNS
Always Elegant Bridal & Tuxedo  |  alwayselegantbridal.net
The Bridal Box  |  thebridalbox.net  //  The Clothes Mine  |  theclothesmine.com
De La Rosa's Bridal & Tuxedo  |  delarosasbridal.com
Diamond Bridal Gallery  |  diamondbridalgallery.com
Second Summer Bride  |  secondsummerbridesacramento.com
SPARKLE Bridal Couture  |  sparklebridalcouture.com
SHOES  //  DSW  |  dsw.com 
ACCESSORIES
Adora by Simona  |  adorabysimona.com  //  Delicora  |  delicora.com
Erica Koesler  |  ericakoesler.com  //  Hair Comes the Bride  |  haircomesthebride.com
Macy's  |  Moka Davis, My Stylist@Macy's Roseville Galleria  |  macys.com/mystylist
My Trendy Trailer  |  mytrendytrailer.com  //   Olive + Piper  |  oliveandpiper.com
Satya Jewelry |  satyajewelry.com  //  Stella &  Dot  |  stelladot.com
FLOWERS
Amour Florist & Bridal  |  amourmoments.com  //  Bella Bloom  |  bellabloomflowers.com
Bloem Decor  |  bloemdecor.com  //  The Bloom Lab  |  thebloomlab.com   
Curious Floral  |  curiousfloral.com //  Garden of Weedon Designs  |  gardenofweedon.com
Morningside Florist  |  morningsideflorist.com  //  The Party Concierge  |  partyconcierge.com
Placerville Flowers on Main  |  placervilleflowersonmain.com
Rodarte Floral Design  |  rodartefloraldesign.com
Strelitzia Flower Company  |  weddingsbystrelitzia.com
Visual Impact Design  |  visualimpact-design.com  //  Wild Flowers Design Group  |  wildflowersdesigngroup.com
Wholesale Flowers  //  Wholesale Flowers from FiftyFlowers.com  |  fiftyflowers.com
STYLED DÉCOR VIGNETTES
DESIGN, STYLING AND COORDINATOR
Cain Event Planning  |  caineventplanning.com
SET FLORAL DESIGNER  // Wild Flowers Design Group  |  wildflowersdesigngroup.com
with Wholesale Flowers from FiftyFlowers.com  |  fiftyflowers.com
SET CAKE DESIGNER  //  Go West Baking and Events  |  gowestbakingandevents.com
SET RENTALS  //  Blossom Farm Vintage Rentals  |  blossomfarmrentals.com
MOBILE BAR AND CURATED COCKTAILS  //  Salud! Mobile Bar  |  saludmobilebar.com
Special thanks to our real bride models, Christina and Natalie, and all of the professionals who contributed to this feature!