Did you know that in all of the photo shoot features that we do, we use real brides (and grooms, too!) as our models? It's true! We love that these real brides are going through their wedding planning journey, just like you!
Now you get to learn a little bit more about our beautiful bride, Shelagh Schiro! Shelagh rocked our "Vintage Gone Glam" styled photo shoot from the current Winter/Spring 2015 issue! Isn't she stunning?
Thank you for being such a great Real Weddings real bride model, Shelagh! Take it away: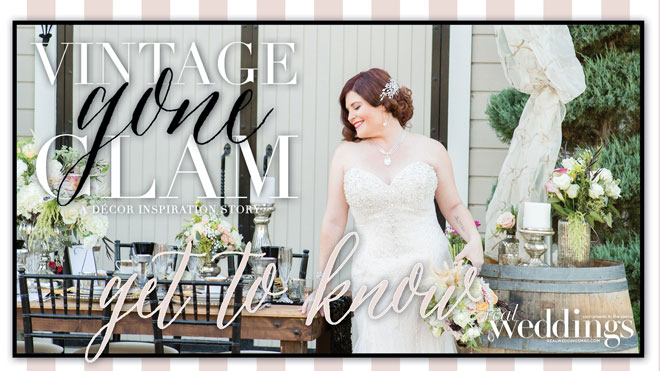 Real Weddings: What made you want to model for this shoot?

Shelagh Schiro: I've always had a curiosity about what it would be like to model, and when a friend of mine suggested I submit an application for the shoot, I felt like it would be a great opportunity to see what it's all about. The timing was perfect, as I was newly engaged. Needless to say, the day was very surreal; it gave me a new appreciation for all that goes into these shoots.
RW: What was your favorite part of modeling?

SS: Admittedly, I'm a bit of a ham when it comes to the camera. I have never been afraid of it or uncomfortable for the lens to be pointed at me. I think my favorite part of modeling was getting into character as a bride, and working with the photographer to create just the right "look" or gesture to capture a moment or feeling. It's the closest I'll ever get to acting, and I love playing the part.
RW: What was your favorite part of the shoot? Did you relate to the concept?

SS: I honestly loved the whole process of makeup and hair, sliding into those beautiful wedding dresses, posing with props, and all the décor and colors. If I had to select my favorite part, it would be holding the sign. I felt so special to have a sign created with our names on it announcing our wedding. The concept matches our esthetic perfectly! We are planning a French vintage glam wedding so it couldn't have been planned better. Perhaps that is why the whole day felt very special—and very real—to me.
RW: What do you do for a living?

SS: I'm an area manager for a major tech corporation.
RW: Tell us about your own wedding.

SS: Our wedding is going to focus on our love of the French countryside and vintage glam. The feel is elegant yet cozy, unique but with classic touches. We want to transport our family and friends to Europe with long, family-style tables, bistro lighting and elegant table settings all along the Sacramento River, under the beautiful oak trees of Northern California at sunset. Our colors are an ombré combination of steel, charcoal, ivory, rose gold and peach. We're foodies, so we'll feature farm-to-fork fare from a local chef and local wines. At the end of the day, we want it to be about our favorite things: food, family and fun (not necessarily in that order).
RW: What did your significant other think about you modeling for this shoot?

SS: She loved it. She was incredibly supportive of the idea because she is all about people living their passions and dreams. Elizabeth has the ability to make me believe I can do anything and challenges me to fear nothing. She inspires me to be the best version of myself and is my constant cheerleader!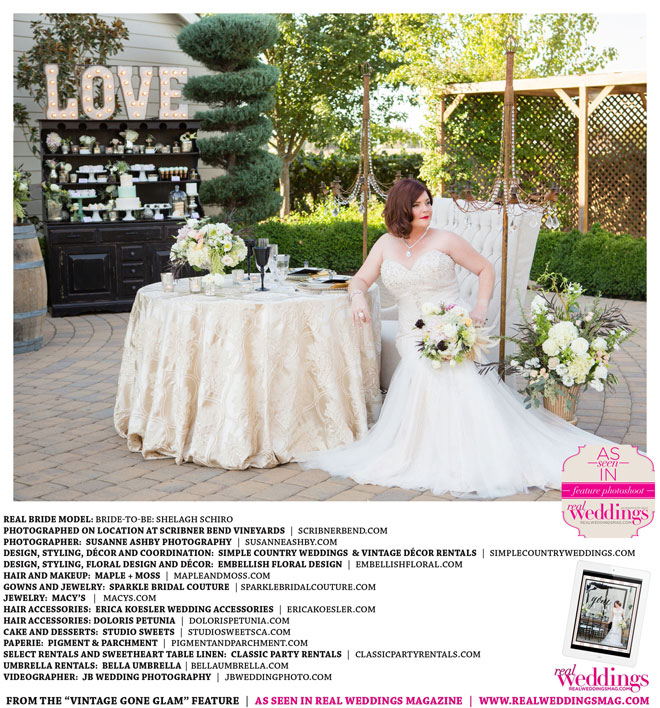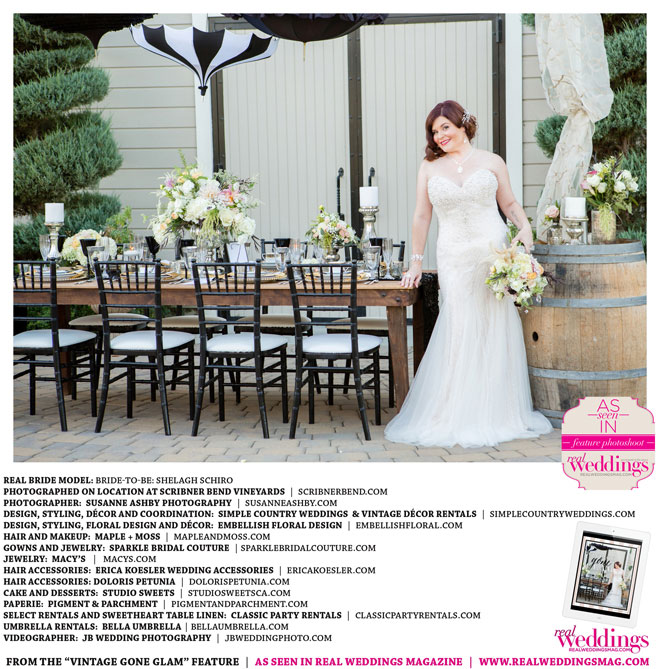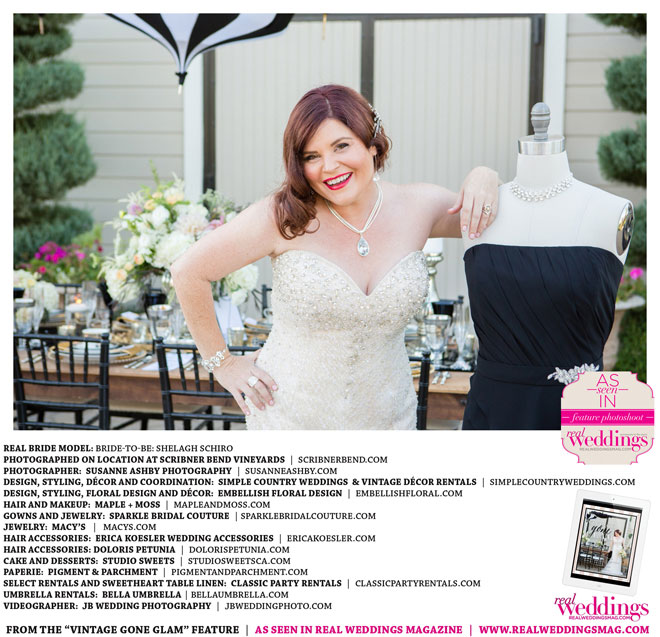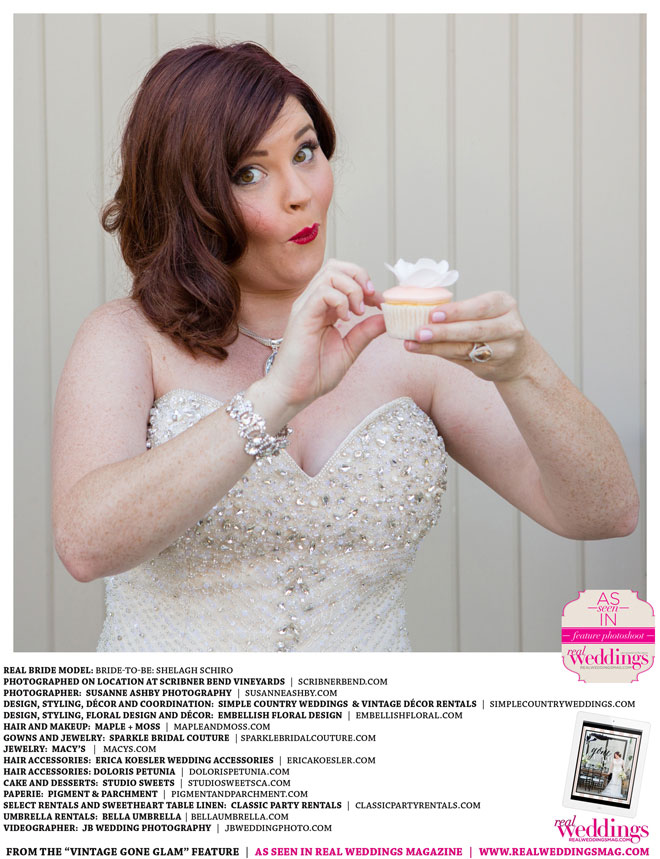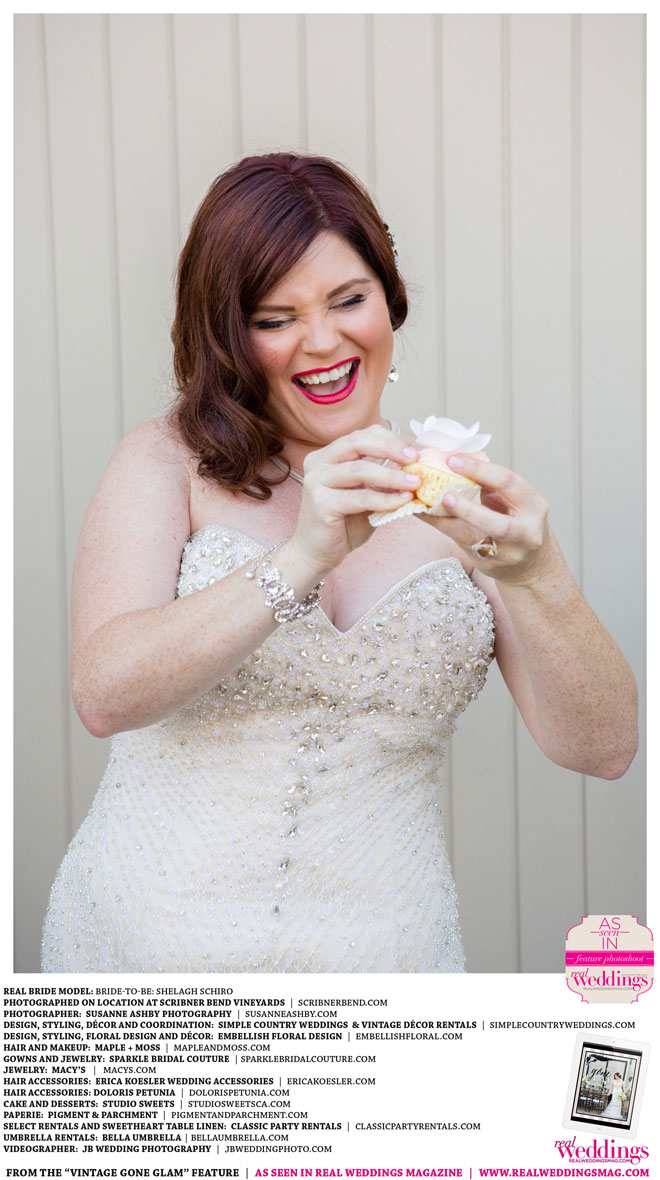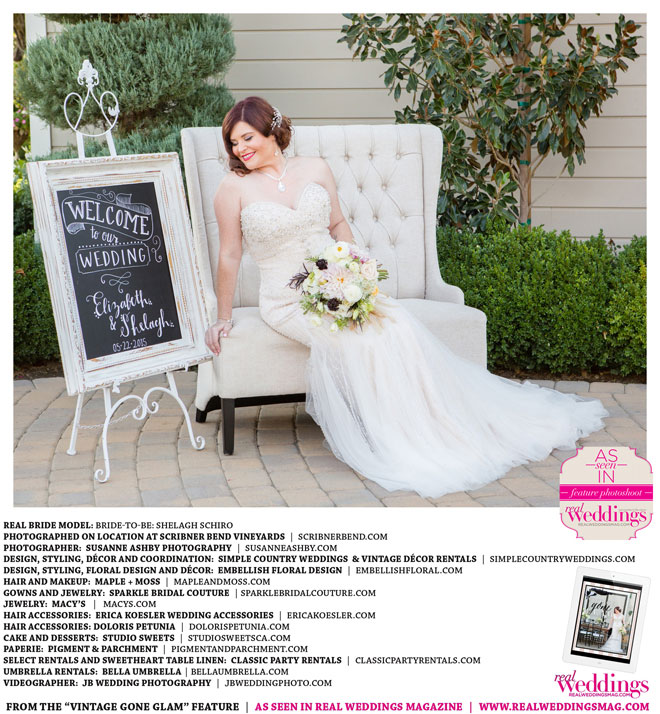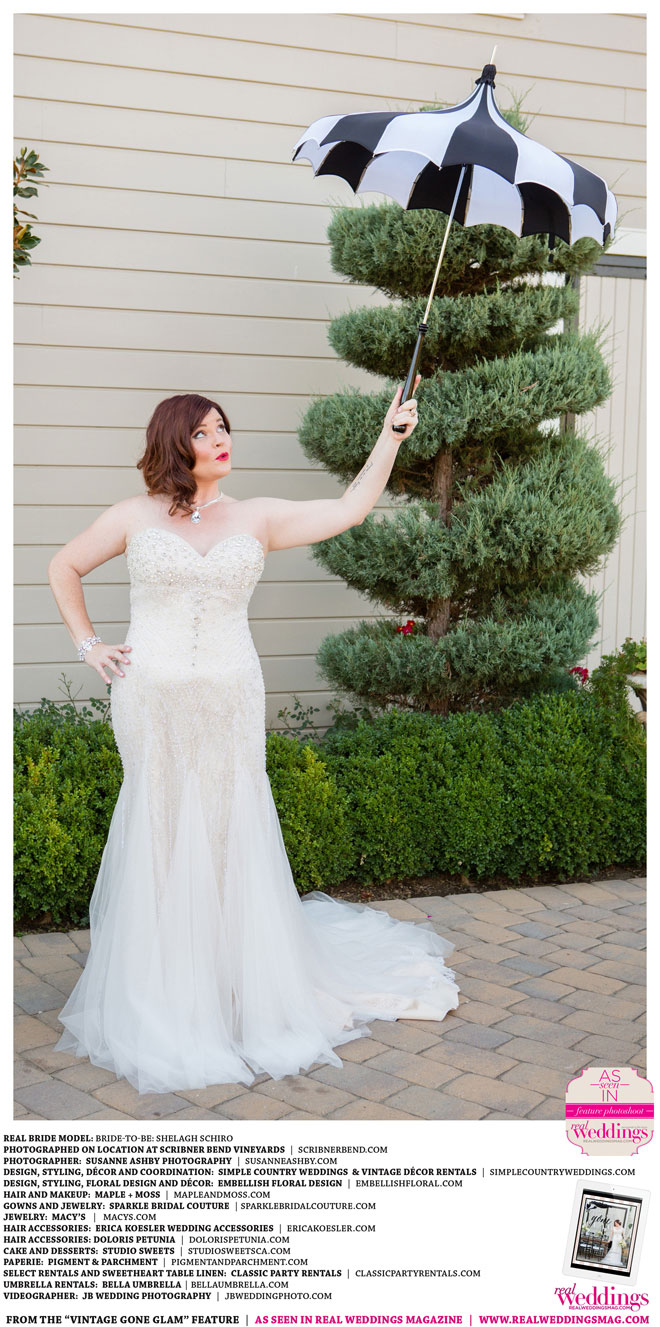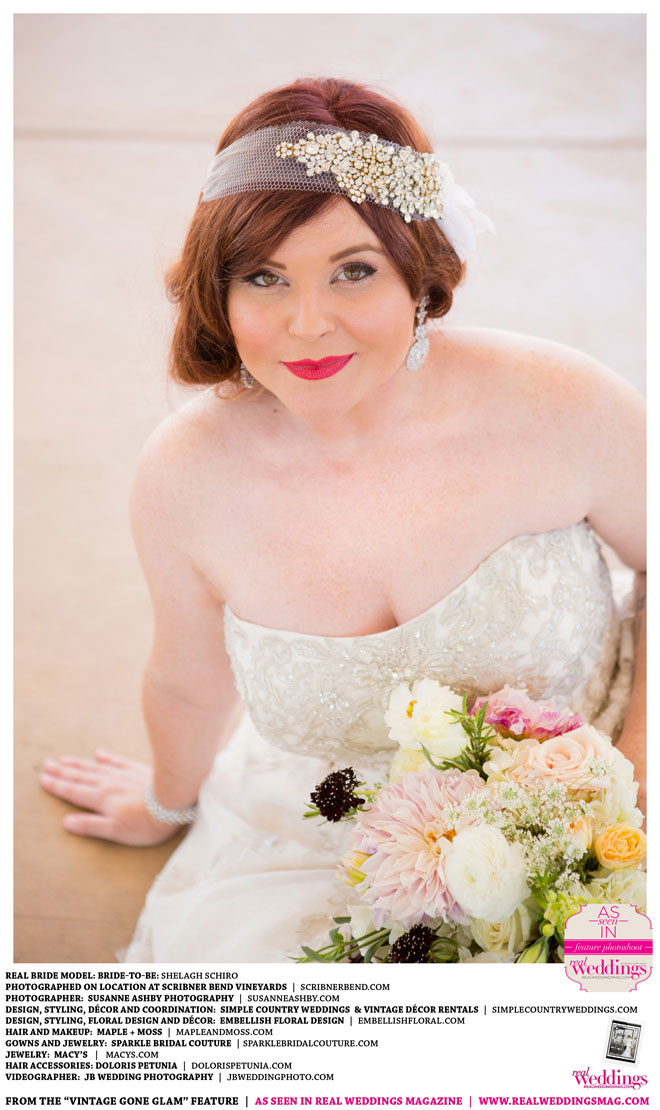 The "Vintage Gone Glam" feature was produced by Ramona Arnold-Simple Country Weddings & Vintage Décor Rentals, Emily Faso-Embellish Floral Design, Samantha Grippe-Studio Sweets, and Emily Peter and Wendy Sipple-Real Weddings Magazine.
Special thanks again to our "model"—Bride-to-be: Shelagh Schiro!
And, thank you to all of the professionals who contributed to this  feature:
Photographed on Location:   Scribner Bend Vineyards  |  
916-744-1803   |  
scribnerbend.com
Photographer:   Susanne Ashby Photography
 |  
susanneashby.com
Design, Styling, Décor and Coordination:  Simple Country Weddings & Vintage Décor Rentals
 |  916-271-6345  | 
simplecountryweddings.com
Design, Styling, Floral Design and Décor:  Embellish Floral Design
 |  209-481-4336   |  
embellishfloral.com
Hair and Makeup:  maple + moss
 |  916-768-2577   |  
mapleandmoss.com
Gowns and Jewelry:  Sparkle Bridal Couture
 |  916-538-6615  | 
sparklebridalcouture.com
Jewelry:  Macy's
  |  
macys.com
Arden Fair Mall   |   916-925-2845
Country Club Plaza   |   916-485-3885
Downtown Plaza   |   916-444-3333
Sunrise Mall   |   916-962-3333
Westfield  Galleria  at  Roseville  |  916-771-3333
Hair Accessories:  Erica Koesler Wedding Accessories
 |  
ericakoesler.com
Hair Accessories:  Doloris Petunia
 |  
dolorispetunia.com
Cake and Desserts:  Studio Sweets
 |  707-646-9884   |  
studiosweetsca.com
Paperie:  Pigment & Parchment
 |  916-705-0782  | 
pigmentandparchment.com
Select Rentals and Sweetheart Table Linen:  Classic Party Rentals
 |  916-444-6120  | 
classicpartyrentals.com
Umbrella Rentals  Bella Umbrella
 |  
bellaumbrella.com
Videographer:  JB Wedding Photography
 |  916-220-0159   |  
jbweddingphoto.com
Blog post by Real Weddings Magazine's Social Media Maven, Aimee Carroll.
Subscribe to the Real Weddings Magazine Blog! Click here:
[subscribe2]