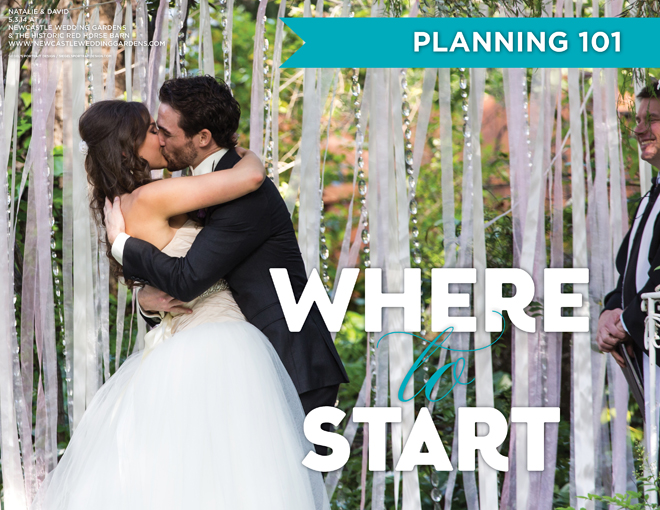 Congratulations! You just got engaged…now what do you do?
To help you get started with your wedding planning, we present the first installment in our "Planning 101" series­ where we'll feature expert advice from local wedding pros to make your wedding day the best it can be. First up, we call on Georgia Barron, Certified Wedding Planner and owner of Newcastle Wedding Gardens and the Historic Red Horse Barn.
---
LOCATION, LOCATION, LOCATION…
You need to find and decide where you will be celebrating your wedding before you can really do anything else! But before you randomly start looking, sit down with your intended and make some notes.
First: Put Together a Tentative Guest List
While it might seem strange to do this first, it makes a lot of sense since it will help you figure out a total guest list number, and help weed out venues that won't accommodate your wedding size. Separate your "in the region" guests into one list and  those who will be coming a long distance on another list. Typically you will get about 75- to 80-percent of your nearby guests attending and about 10- to 20-percent of the out-of-town guests.
Second: Wedding Dates…Yes, Dates (Plural) 
Think about a general time frame or month. I don't suggest selecting an actual date unless your schedule is not at all flexible. If you do so, you might be losing the option to have your wedding at a venue you love that doesn't have a particular date open. Think about your work or school schedules, and when you can easily take time off work to be able to really enjoy your wedding and the honeymoon to follow.
You should also consider the best day of the week for your schedule. Of course, Saturday is always popular but Fridays and Sundays can work just as well. Don't be scared of an "off" day. As long as you let your guests know well ahead of time so they can plan accordingly—these dates shouldn't affect your amount of "yes's." The added bonus is that you may also save money if you are flexible beyond a Saturday, since this tends to be the most popular (and booked!) day of the week for weddings.
Third: Budget
Be realistic. Decide what is most important to you before selecting a random number as your budget.  Every venue and service you select for your wedding offers different pricing and services. Make sure that you completely understand what you will receive for your investment. This takes doing research and visiting locations to decide what is not only in your budget but what is really included. You can't get that information with a phone call asking, "How much does a wedding cost?" There are a lot more factors involved, and, again, every venue offers different packages and pricing scenarios. You need to make appointments and take tours of the venues that you are interested in, and then really compare "apples to apples." Don't sacrifice value and personal service for cost.
Every venue offers different pricing structures and services. You certainly should request an overview of services and pricing (usually something emailed) prior to visiting a venue, but until you actually visit a venue in person and take a tour, you'll just be guessing.  Keep in mind that wedding venues and professionals are typically working on the weekends and if you can make time in your schedule to visit during the week, it will be easier to make appointments. Again, make an appointment before dropping in unannounced for the best service.
If you are sharing the cost with your parents, try to include them in taking tours with you.  It is much easier to have them see a location instead of just trying to convey what you saw or thought.  It is definitely an opportunity to really enjoy the journey together. I would suggest bringing just the decision makers on tours. Random friends and family can sometimes confuse everything with too many opinions that may not reflect your style.
No matter what you decide to do, you will be spending a fair amount of money, so make sure that you will receive the services that are most important to you. Once you've visited all of the venues that you're interested in, narrow down your choices and then request a complete written quote of the services you desire for your wedding. Ask for the quote to include sales tax and any service charges—note that sales tax is required to be added to food and beverage purchases in California; service charges are charged by the majority of venues and catering providers. These service charges are typically added as a gratuity for staff or may include set-up costs. All of this should be spelled out in advance, as you definitely don't want to be surprised later.
Your venue search can take some time so plan accordingly. Most couples plan about a year in advance; some further out and some closer to their dates—just know that the closer your date is, the more likely that it may be filled at your desired venue. You will have more date options with a bit more lead time.
Once your venue and "the date" are selected, the next part of your journey begins: putting together your wedding dream team!
—Georgia Barron, CWP
---
GEORGIA BARRON, CWP—NEWCASTLE WEDDING GARDENS AND THE HISTORIC RED HORSE BARN
Georgia is an award-winning Certified Wedding Planner with more than 20 years of experience in assisting couples to create their personalized weddings. She is a member of  the Association of Bridal Consultants (ABC), National Association for Catering and Events (NACE) and the Association for Wedding Professionals International (AfWPI), and is a Certified Professional in Catering and Events. She and her husband Stephen own Newcastle Wedding Gardens and the Historic Red Horse Barn in Newcastle. newcastleweddinggardens.com
Article appears in the Winter/Spring 2015 Issue of Real Weddings Magazine published by Style Media Group.

Photo of Natalie & David by Siegel's Portrait Design, www.siegelsportraitdesign.com
Photo of Georgia by Sharpe Weddings, www.sharpeweddings.com